The 50 Greatest Jazz Albums…Ever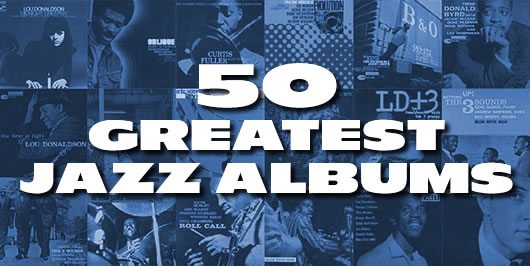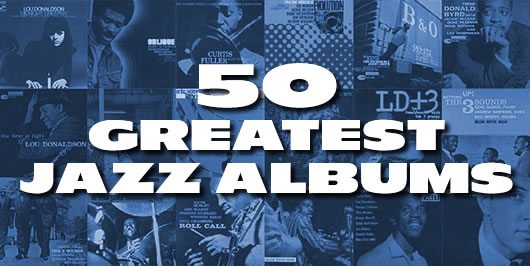 At the end of any year, it's a great time to look back, so we've decided to attempt to come up with a definitive list of the 50 best jazz albums of all time. Impossible, you are probably thinking, and it probably is, but rather than just thinking of our favourites we decided to take a good look through the web to see what other lists there are and combine our findings.
As usual we expect many of you to disagree, sometimes strongly, but as usual we will love hearing from you.
It took us several days of searching, but here's our list of the top 50 jazz albums…
50. Thelonious Monk – Genius of Modern Music vol.1 & 2.
49. Count Basie – the Original American Decca Recordings
48. Bud Powell – The Amazing Bud Powell Vo.1
47. Weather Report – Heavy Weather
46. John Coltrane & Thelonious Monk – At Carnegie Hall
45. Horace Silver – Song For My Father
44. Grant Green – Idle Moments
43. Count Basie – The Complete Atomic Basie
42. Hank Mobley – Soul Station
41. Charlie Christian – The Genius of the Electric Guitar
40. Art Pepper meets the Rhythm Section
39. John Coltrane – My Favourite Things
38. Benny Goodman – At Carnegie Hall 1938
37. Wes Montgomery – The incredible Jazz Guitar of Wes Montgomery
36. The Mahavishnu Orchestra With John McLaughlin – Inner Mounting Flame
35. Clifford Brown and Max Roach – Clifford Brown & Max Roach
34. Andrew Hill – Point of Departure
33. Herbie Hancock – Head Hunters
32. Dexter Gordon – Go
31. Sarah Vaughan – With Clifford Brown
30. The Quintet – Jazz at Massey Hall
29. Bill Evans Trio – Waltz For Debby
28. Lee Morgan – The Sidewinder
27. Bill Evans – Sunday at the village Vanguard
26. Thelonious Monk – Brilliant Corners
25. Keith Jarrett – the Koln Concert
24. John Coltrane – Giant Steps
23. Herbie Hancock – Maiden Voyage
22. Duke Ellington – Ellington at Newport
21. Cecil Taylor – Unit Structures
20. Charlie Parker – Complete Savoy and Dial Studio recordings
19. Miles Davis – Birth of the Cool
18. Art Blakey & the Jazz Messengers – Moanin'
17. Albert Ayler – Spiritual Unity
16. Eric Dolphy – Out To Lunch
15. Oliver Nelson – The Blues and the Abstract Truth
14. Erroll Garner – Concert By the Sea
13. Wayne Shorter – Speak No Evil
12. Stan Getz & Joao Gilberto – Getz/Gilberto
11. Louis Armstrong – Best of the Hot 5s and 7s
10. John Coltrane – Blue Train
9. Miles Davis – Bitches Brew
8. Sonny Rollins – Saxophone Colossus
7. Cannonball Adderley – Somethin' Else
6. Charles Mingus – The Black Saint and the Sinner Lady
5. Ornette Coleman – The Shape of Jazz to Come
4. Charles Mingus – Mingus Ah Um
3. Dave Brubeck Quartet – Time Out
2. John Coltrane – A Love Supreme
1. Miles Davis – Kind of Blue