Sheets Of Sound: John Coltrane, Prestige And The Path To Immortality
John Coltrane's sessions for the Prestige label proved to be supremely fertile and prolific, marking the saxophonist's creative rebirth.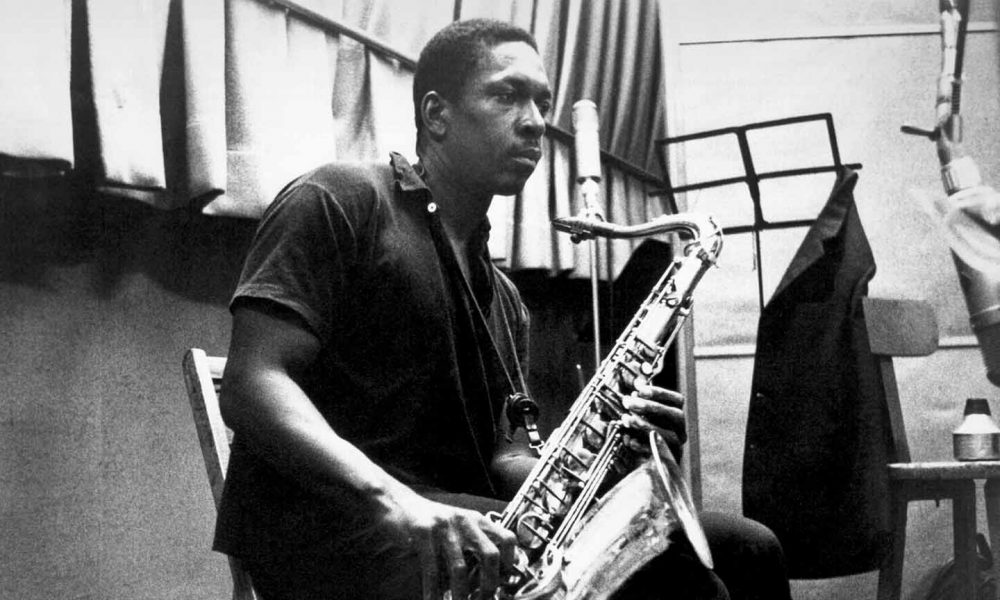 It's 1958 and John Coltrane is looking to rebuild his career. The reputation of the Philadelphia-raised musician, then 32, had seemed in serious jeopardy a year earlier, after his heroin addiction got him fired from Miles Davis' group. As a rising star of the tenor saxophone – the man who had lit up a clutch of Davis albums recorded for both Prestige and Columbia during 1955-56 – the high-flying Coltrane seemed an indispensable component of the trumpeter's band, but the shock of his sacking, in March 1957, brought him down to earth with a heavy jolt. The following year, however, he would emerge reborn, brandishing a new style later dubbed by esteemed jazz critic Ira Gitler as "sheets of sound." This distinctive approach to improvisation took shape across a series of groundbreaking albums recorded for Prestige in 1958 and which are now collected on the 5CD/8LP box set Coltrane '58.
"A richer, fuller, more productive life"
The ejection from Davis' band produced in Coltrane a sobering moment of clarity; the saxophonist realised that he could only progress as both a musician and human being if he exorcised his demons. As Coltrane later referred to it in the liner notes to his 1965 magnum opus A Love Supreme, "During the year 1957, I experienced by the grace of God, a spiritual awakening which was to lead me to a richer, fuller, more productive life."
Conquering addiction wasn't easy but, showing an astonishing sense of resolve combined with the strength of will and character, Coltrane went home to Philly and vowed to quit both drugs and strong liquor, another of his vices. With the help of his family, by May 1957 Coltrane had freed himself from the tyranny of addiction and was ready to work again. On May 31, 1957, he recorded his maiden session as a leader for Bob Weinstock's indie label, Prestige, which resulted in his debut album, Coltrane. While his solo career was beginning to take flight, Coltrane joined Thelonious Monk's band and enjoyed a six-month stint with the pianist/composer. It was during that time that "Trane" began to blossom, working up his groundbreaking "sheets of sound" style.
Blue Train and beyond
Though Coltrane was contracted to Prestige during this period, he did a one-off session for Blue Note in September 1957 which resulted in what most commentators regard as the saxophonist's first classic album, Blue Train, which gave Coltrane's revived career further traction and momentum.
Blue Train (Remastered 2003/Rudy Van Gelder Edition)
With the release of Blue Train, 1958 began auspiciously for Coltrane but it would get even better when he rejoined Miles Davis' band at the start of that year, contributing to the album Milestones a few months down the road. The saxophonist also recorded a slew of material for Prestige during 1958, though much of it was stockpiled by the label and only released when Coltrane had moved to Impulse! and achieved greater fame.
Coltrane '58 charts the beginning of Coltrane's journey to later destinations such as Giant Steps and A Love Supreme. Chronologically sequenced across 37 remastered studio performances recorded, either as a leader or co-leader, for producer Bob Weinstock's label it presents a vivid, song-by-song of the saxophonist's evolution as a musician in a year that would set him on a path to greatness. On these sessions, Coltrane is surrounded by a wealth of jazz talent, including trumpeters Donald Byrd, a 20-year-old Freddie Hubbard and Wilbur Harden. Also in attendance are pianist Red Garland, guitarist Kenny Burrell, and bassist Paul Chambers, along with drummers Art Taylor, Jimmy Cobb and Louis Hayes.
Lush life
Unlike Blue Note, Prestige didn't give its musicians much rehearsal time, preferring to opt for a spontaneous "blowing" aesthetic in a bid to capture molten extemporization forged in the searing heat of a first take. As such, Coltrane served up mostly blues, standards and ballads, rather than original, carefully-crafted material, but they were all vehicles through which he could express himself and develop his own sound and style.
What Prestige did share with Blue Note, however, was its preferred recording location: sound engineer Rudy Van Gelder's Hackensack studio in New Jersey, which was a converted living room in his parents' home. As he did with Blue Note, Van Gelder gave Prestige its own readily identifiable sound, and Coltrane's recording sessions for the label benefited immensely from Van Gelder's sonic expertise.
Lush Life by John Coltrane from 'Lush Life'
During his first 1958 Prestige session, held on January 19 that year, Coltrane laid down a fabulous 14-minute treatment of the Billy Strayhorn ballad "Lush Life." He was joined by two of his Miles Davis bandmates, Red Garland and Paul Chambers, while Donald Byrd sat in on trumpet and Louis Hayes played drums. It's a performance that demonstrates that Coltrane could play in a deeply lyrical manner despite his robust tenor sound. The song later became the title track of an album that Prestige assembled from three different sessions and released in 1961.
Pushing the envelope
Coltrane '58 also highlights the saxophonist's prowess as a balladeer by the inclusion of his delectable readings of the standards "Come Rain Or Come Shine," "I See Your Face Before Me" and "Stardust," which all highlight Coltrane's skill at melodic embellishment.
There are also plenty of uptempo hard bop numbers that capture Coltrane in full flight. His extraordinary "sheets of sound" style is epitomised by "Russian Lullaby," recorded on February 7, 1958 in the company of Garland, Chambers and Art Taylor. Following an ornate, rhapsodic solo piano intro from the dexterous Garland, the track morphs into a propulsive, high-octane number in which Coltrane pushes the jazz envelope to the Nth degree with dazzling improv that anticipates his 1959 song "Giant Steps."
Russian Lullaby (Rudy Van Gelder Remaster)
More classic swinging hard bop comes in the shape of Jackie McLean's Monk-esque groover "Little Melonae," the free-flowing "Rise And Shine" – on which melodic phrases tumble in a cascading torrent from Coltrane's tenor horn – and "You Say You Care," a blithe swinger that finds Coltrane exchanging emotional intensity for a lighter, less febrile melodic touch.
Some of the tracks from Coltrane '58 (including "Big Paul" and the frantic bop number "Freight Train," both written by the session's pianist, Tommy Flanagan) originate from a joint session recorded on March 7, 1958, with noted guitarist Kenny Burrell.
Developing his voice
One of the last tracks that Coltrane recorded for Prestige was "Bahia," a song originally by renowned Brazilian composer Ary Barroso, and which Trane cut at a session on Boxing Day 1958. With its sinuous Latin melody and dramatic use of howling overtones (which Coltrane uses to demonstrate his mastery of a technique in which he played several notes on the sax simultaneously, creating an eerie self-harmonization), it shows the saxophonist developing a facet of his playing which would become a key part of his musical DNA.
Though Coltrane would go on to become a prolific composer after he left the label, the 1958 Prestige sessions show early examples of his writing in the shape of the elegant "Black Pearls," the earthy ballads "Trane's Slo Blues" and "By The Numbers," and the more urgent and advanced "Goldsboro Express," which all show him developing his own voice as a writer.
John Coltrane's tenure at Prestige Records lasted from May 1957 to December 1958. Though relatively short, it proved to be a supremely fertile and prolific period that marked the saxophonist's creative rebirth. As Coltrane '58 illustrates with remarkable clarity, the music he made for Prestige was an important step on Coltrane's road to immortality.