Amy Winehouse's Iconic Glastonbury 2007 Performance
The performance at one of live music's biggest events captures the singer at the height of her powers.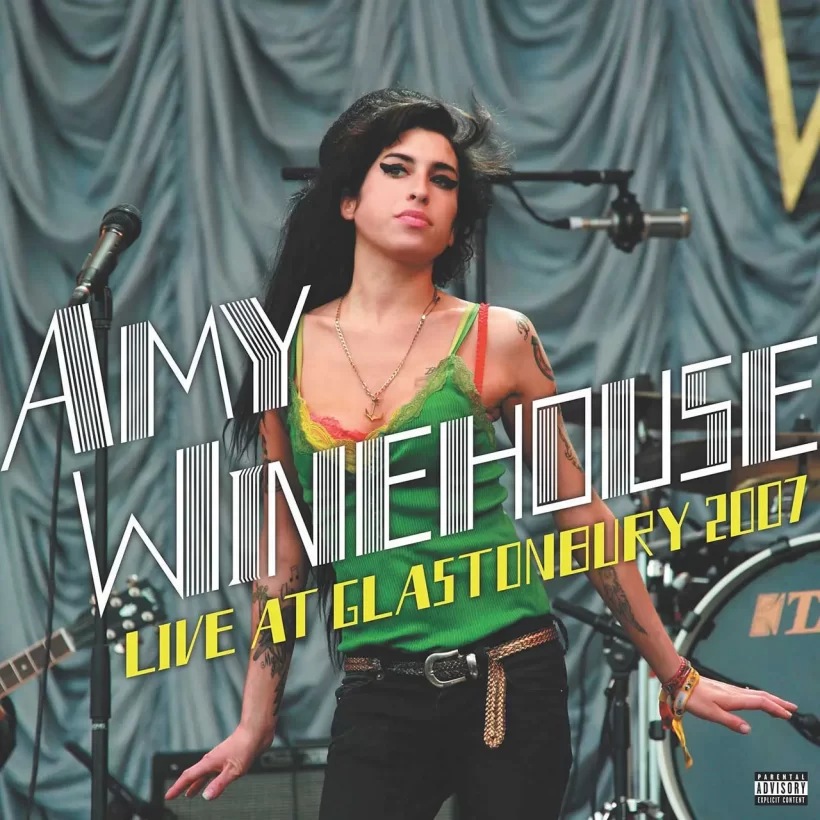 The first half of 2007 was a remarkable time for Amy Winehouse. The year began with her second LP Back To Black comfortably ensconced at the summit of the UK albums chart and in February, the Camden-born singer/songwriter bagged the BRIT award for Best Female Solo Artist. A month later saw Winehouse's smash single "Rehab," a frank self-portrait addressing her battle with addiction, conquer America by breaking into the US Top 10 while its parent album Back To Black rose to No. 2 in The Billboard 200, cementing the singer's international fame. But arguably her crowning achievement came on June 22nd via a triumphant appearance at the world-famous Glastonbury Festival.
Winehouse had performed at Glastonbury before, in June 2004, where she was sandwiched between reggae singer Mikey Dread and blues-rock doyenne Bonnie Raitt in the Jazz World tent and mostly performed songs from her just-released debut album, Frank. Three years later, Winehouse's career was dancing to a different groove; the languorous jazz stylings that defined her debut album had given way to a more robust retro-soul sound on Back To Black, which instantly chimed with the public and helped transform her into a global star. And she had a new image to go with it; Frank's long-haired natural look had given way to a towering beehive hairdo and thick eye-liner, which one critic memorably described as "Ronnie Spector meets the bride of Frankenstein."
Listen to Amy Winehouse's Live At Glastonbury 2007.
Back To Black's success heralded a dramatic rise in Winehouse's stock and saw the singer return to Glastonbury in June 2007 as a headliner on the Pyramid Stage alongside the trendy indie bands Kasabian and The Arctic Monkeys. Backed by a five-piece rhythm section flanked by three horn players and two sharp-suited male backing singers, Winehouse took to the stage and – against the backdrop of dark clouds and falling rain – kicked off with the uptempo "Addicted," a song detailing her love affair with "weed."
That number was just one of ten songs from Back To Black included in Winehouse's set; the album's hit title tune and the Motown-channeling "Tears Dry On Their Own" received huge roars of recognition and approval from the "Glasto" faithful but the most affecting performance came in the shape of the outstanding self-penned ballad, "Love Is A Losing Game," for which Winehouse later won an Ivor Novello award. She prefaced her performance by saying: "This is a song I wrote when I didn't believe in love and then I started listening to the darkness a lot more." Her rendition – perhaps affected by her boyfriend Blake Fielder-Civil's being in prison at the time of her Glastonbury performance – is deeply poignant, revealing a core of fragile vulnerability that lay behind the singer's brash demeanor.
Amy Winehouse - Love Is A Losing Game
Elsewhere in her set, Winehouse sprinkled in some arresting cover tunes. A couple of them were associated with the UK two-tone group The Specials: the Coventry band inspired Winehouse's vibrant revamp of their tune "Hey Little Rich Girl "as well as her ska-style retread of Toots & The Maytals' "Monkey Man." She also reworked soul man Sam Cooke's 1961 hit "Cupid" using a jaunty reggae groove; Winehouse had previously recorded the song for a BBC radio session and was performing it live for the first time at Glastonbury.
Winehouse closed her set with another cover; a song she described to the audience as "one of my favorite tunes from last year" – "Valerie," as recorded by the Scottish indie band The Zutons. Only two weeks before her Glastonbury appearance, Winehouse's producer Mark Ronson had released a solo album called Version that featured her as a guest artist on a soulful repurposing of "Valerie"; it would take the UK singles chart by storm in October 2007.
Winehouse played Glastonbury again. But this was, by far, her best. Live At Glastonbury 2007 is a recording that undoubtedly adds extra luster to her legacy, revealing the London chanteuse as one of the most magnetic and compelling live performers of her generation.