Miles Davis
Miles Davis is one of the most influential figures in jazz and popular music, with an expansive career featuring classic albums like Kind of Blue, On the Corner, A Tribute to Jack Johnson, and Bitches' Brew.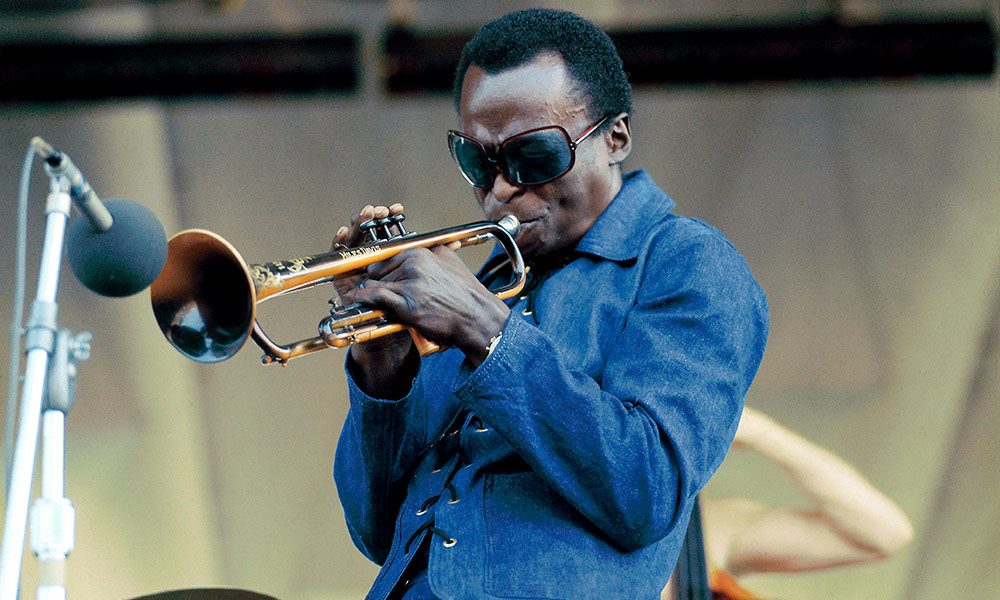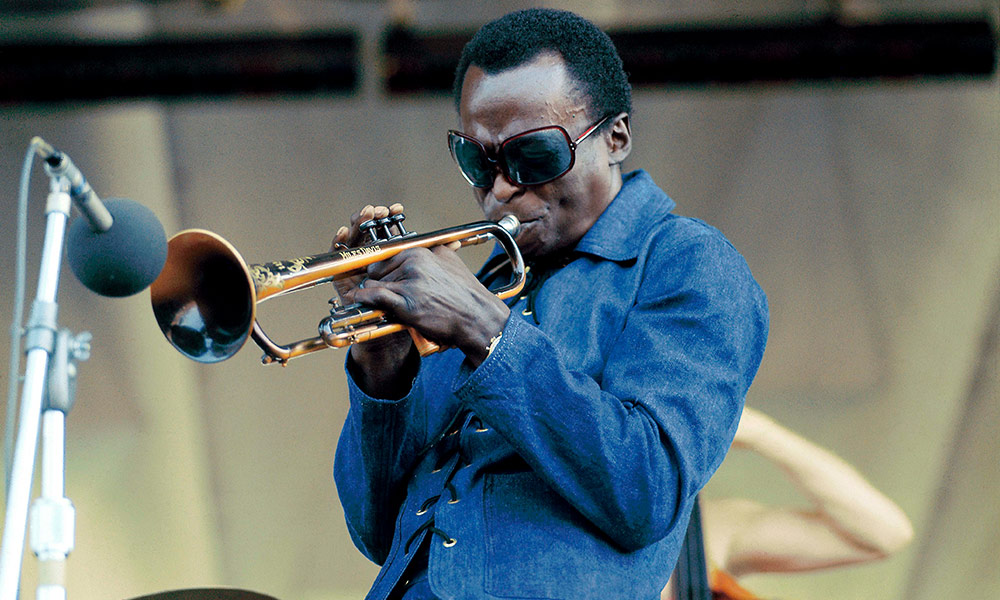 He was a man of contradictions, sometimes angry and arrogant, and on other occasions generous and introspective. He was also a genius who discovered and encouraged others. His haunting tone and constantly changing style allowed him to become involved in just about anything and everything that happened in modern jazz. His unique playing style, with its voice-like quality and tone that was almost free of vibrato, could sometimes be melancholy, at others times assertive. It helped to make him the model for generations of jazz musicians and for jazz lovers the world over. Miles Davis defined cool.
He was not from the poor side of town, but from relative affluence; his father was a dentist and a year after Miles Dewey Davis III was born in May 1926, in Alton, Illinois the family moved to East St Louis. For his thirteenth birthday, Miles was given a trumpet and lessons with a local jazz musician named Elwood Buchanan. By the age of fifteen, he had already got his musicians' union card allowing him to play around St. Louis with Eddie Randall's Blue Devils.
In 1944 the newly formed Billy Eckstine Band arrived in St Louis, their third trumpet player was unwell and so Miles was able to sit in with the band for their two-week engagement. The Eckstine band was already creating a proto-be-bop sound, thanks to two of its members, alto saxophonist, Charlie Parker and Dizzy Gillespie, who was also the band's musical director. The experience for eighteen-year-old Miles was life-changing. He decided to move to New York, the epicentre of the be-bop revolution, to immerse himself in their dogma. Having persuaded his less than enthusiastic parents that a career in music was what he wanted he enrolled at the Juilliard School of Music and began studying classical music in September 1944. Meanwhile, Miles spent his evenings and nights in the clubs of Harlem and 52nd Street studying jazz and playing whenever he could find a band to sit in with.
He made his first recording at WOR Studios, two blocks from Times Square, on April 24th 1945 backing a singer named, Rubberlegs Williams, on what were more pop songs than jazz. In the autumn he joined Charlie Parker's quintet, which included Dizzy Gillespie; they recorded in November when they were billed as the Bee-Boppers. This also coincided with the end of Miles' sojourn at the Julliard; he left to become a fully-fledged jazzman, a fact that his parents, apparently, accepted somewhat reluctantly.
The November session yielded the single, 'Now's the Time' coupled with 'Billie's Bounce'; the first fully-formed be-bop record. In the early part of 1946, Davis headed out to Los Angeles with the Parker band and they recorded a number of sides for the Dial label, as well as playing clubs that included The Finale in Hollywood. Miles also played with Charles Mingus's band on a session and worked with Benny Carter and Billy Eckstine's orchestras.
By the beginning of 1947 Miles was back in New York recording with Illinois Jacquet, but he also continued to work with Charlie Parker as well as playing a session with Coleman Hawkins' All-Stars. Having gained a good deal of experience with others he made his first recording as a leader on August 14th 1947, with a quintet that included Parker on tenor sax, John Lewis on piano, bassist Nelson Boyd and Max Roach on the drums.
By the middle of 1948, after numerous sessions with Parker's band, Miles was showing the restless side of his musical character and wanted to try new things, moving away from what he perhaps saw as the constraints of be-bop. What Miles did next was the genesis of what we've come to call, 'cool jazz'. It was also the start of Davis working with the arranger Gil Evans, who would become a frequent collaborator throughout his career. Evans was thirty-six and already had a reputation for adventurous arranging. It was his ability to arrange skillfully so as to create the impression of a big band, while still maintaining the dexterity of a small group, that particularly appealed to Miles.
The Miles Davis Nonet or Orchestra, as it was sometimes billed, got a residency at the Royal Roost in New York, which also enabled them to broadcast on the radio. With future MJQ member, John Lewis on piano and Gerry Mulligan on baritone sax among the guiding spirits of this band it proved to be a highly creative unit. When they finally went into the studio in January 1949 to record for Capitol Records it was Lewis' arrangements that they recorded. A few months later they were back, this time with Gil Evans' arrangements. Another session in March 1950 was all that the band managed but this really was the Birth of the Cool.
The importance of these sessions and the records they produced are immense. They really were the epitome of cool, intimate records that oozed sophistication for an audience that was looking towards a new world order after the austerity of war. These recordings created the West Coast cool jazz sound from which so many sub-genres became the direct descendants.
While musically these records were not as well received at their first release they set Davis on a musical course that he stuck to over the rest of the decade. In the immediate aftermath of these sessions while Miles continued to record he did so with some lesser sidemen for the next three years or so. He had become a heroin addict, which meant that he performed much less often than he had before.
In 1954 he kicked his habit and began working on what would become the first phase of his small-group recordings. He worked with Art Blakey, Horace Silver, Kenny Clarke, Sonny Rollins, Milt Jackson and Thelonious Monk; it was a sign that Miles was back. One of the foremost releases from this period is the album, Bags Groove which displayed Miles' brilliance alongside Sonny Rollins and Horace Silver. It's been described as a cornerstone of any jazz collection and it richly deserves its place in the Davis canon, although it sometimes gets overlooked for some of the later albums.
The following year Miles appeared at the Newport Jazz Festival where his playing was rapturously received by both the fans and the press. In the wake of this performance, Miles established a quintet that included pianist Red Garland, Paul Chambers on bass, Philly Joe Jones on drums and John Coltrane on tenor saxophone. This is the group that made the Round Midnight album and reestablished Miles's reputation as a live performer throughout the best jazz venues in America.
In autumn of 1956 Miles worked with the Jazz and Classical Music Society on an interesting collaboration arranged by John Lewis. Miles not only played the trumpet but also the flugelhorn showing a side of his playing that had hitherto been largely hidden. It was like a clarion call for what followed in May of 1957. Gil Evans created some stunning arrangements for a jazz orchestra and these would eventually become the album, Miles Ahead. It includes, 'The Maids Of Cadiz', a piece written by Delibes; this was the first piece of classical music that Miles recorded. In 1958 he made an album of Gershwin's Porgy and Bess, following this with Sketches of Spain in 1959; here he plays works by Rodrigo and De Falla. It includes the 'Concerto de Aranjuez' a tour de force by Miles against a sumptuous Gil Evans setting.
Just prior to recording the 'Concerto de Aranjuez', the Miles Davis Sextet recorded what for just about everybody is his greatest album and arguably one of the half dozen most important records of the twentieth century, Kind Of Blue. Besides Miles, Coltrane and Chambers there was his new pianist Bill Evans, Cannonball Adderley on alto sax and Jimmy Cobb plays the drums. The album was recorded over two sessions and pivots not only around Miles's brilliant playing but also that of classically trained Bill Evans. From its opening track, 'So What', it heralds a new kind of jazz. According to Evans, "Miles conceived these settings only hours before the recording dates."
For the next five years, Miles worked with many of the same musicians, although Bill Evans had left to pursue his own kind of exploratory jazz and Wynton Kelly was at the piano, along with Sonny Stitt on alto sax on a very successful European tour in 1960. In the early Sixties, others who appeared with the various incarnations of the Davis' group included, Hank Mobley and Wayne Shorter on Tenor sax, Victor Feldman and Herbie Hancock on piano, Ron Carter on bass and Tony Williams on drums. As well as playing with the band, Shorter also contributed some standout compositions, including 'Nefertiti' and 'Footprints'.
The Shorter, Hancock, Carter, Williams group is known as the 'second great quintet'; it was also the last of Davis's purely acoustic line-ups. By the late Sixties Miles was including electric bass and piano as well as guitar on his recordings, which were a much freer form of jazz. Everything was pointing towards the fusion sound that would come to dominate his playing. In 1969 for the In A Silent Way album, the band included John McLaughlin on guitar, Chick Corea on keyboards, Joe Zawinul on organ and Dave Holland on bass, along with Shorter, Hancock and Williams. This proved to be something of a stepping-stone towards what happened next.
Bitches Brew was a historic breakthrough with its jazz-fusion, in which elements of rock meshed with the jazz idiom. This new style allowed the musicians a much broader creative freedom. Harvey Brooks was added on electric bass, Billy Cobham played the drums, as did Jack DeJohnette. These, plus others, whose background was as much rock as it was jazz created a Miles Davis sound that introduced the trumpeter, whose instrument was electrified for this album, to a whole new generation of fans. It was about as far from 'cool' as could be, but it sold 500,000 double albums and became his best ever selling record – although Kind Of Blue is possibly catching up following the advent of the CD.
From here on, over the next few years, Miles continued to experiment with fusion jazz, introducing Keith Jarrett into the small group, along with percussionist, Airto Moreira. But just as he was continuing to evolve and reinvent his sound he broke both his legs in a car accident.
It was the start of some difficult health problems that plagued him for the rest of his life. He had diabetes, had problems with a hip joint that was attributed to sickle cell anaemia and he had pneumonia that seemed to go on and on. His temperament, which was far from even, may also have been affected by his use of cocaine. He recorded in March 1976 and that was the last time he worked in the 1970s.
Miles began working again in 1980, recording properly in 1981, but in February 1982 he suffered a stroke, which fortunately was not severe. In April 1982 he toured Britain and Europe before returning to America and the recording studio.
He continued to record for Columbia until he had a fairly public spat with trumpeter Wynton Marsalis that ended in the label dropping Miles and putting a lot of money behind the 'new jazz' of Marsalis. Miles even worked with some of the new wave of British rock acts proving he was still keen to be trying new things; even if they were not always musically fulfilling for anyone involved.
Shortly after telling the world that,
"A legend is an old man with a cane known for what he used to do. I'm still doing it".
Miles recorded an album entitled Tutu that exploited modern studio techniques and instruments; it also won him a Grammy.
It is the last really significant recording of Miles's long career. He had somewhat mellowed and was less irascible than during the height of his fame.
According to his former drummer, Max Roach who was battling alcoholism with treatment that was being paid for by Miles. "He was the most generous person." Although Roach only found out that Miles was paying after he got a message while he was in rehab to say. "Tell Max that he's gotta get himself together 'cause he's costing too much money."
Miles Davis's last performance was in August 1991 at the Hollywood Bowl in California, having just returned from a tour in France and an appearance at the Montreux Jazz Festival with the Quincy Jones Orchestra. The man who had once said, "I have to change; it's like a curse," died in September 1991 of pneumonia, respiratory failure and a stroke; he was sixty-five years old.
After he died jazz radio stations across America seemed to play his music almost continuously; they didn't come close to exhausting the supply. During his five decades of recording, from the end of World War II to 1990 his output was prodigious. He recorded in seemingly every known style of jazz – except maybe New Orleans. He did 12-bar blues to full-length concerto-like pieces and created music to suit every known human emotion and mood. Given the size of his output, it's amazing that so much of it is so good. In fact, there's a lot that is remarkable and some of it is the best jazz that was ever put onto tape.