The 50 Best Jazz Drummers Of All Time
From big-band leaders to bebop pioneers and fusion futurists, uDiscover reveals our selection of the 50 best jazz drummers of all time.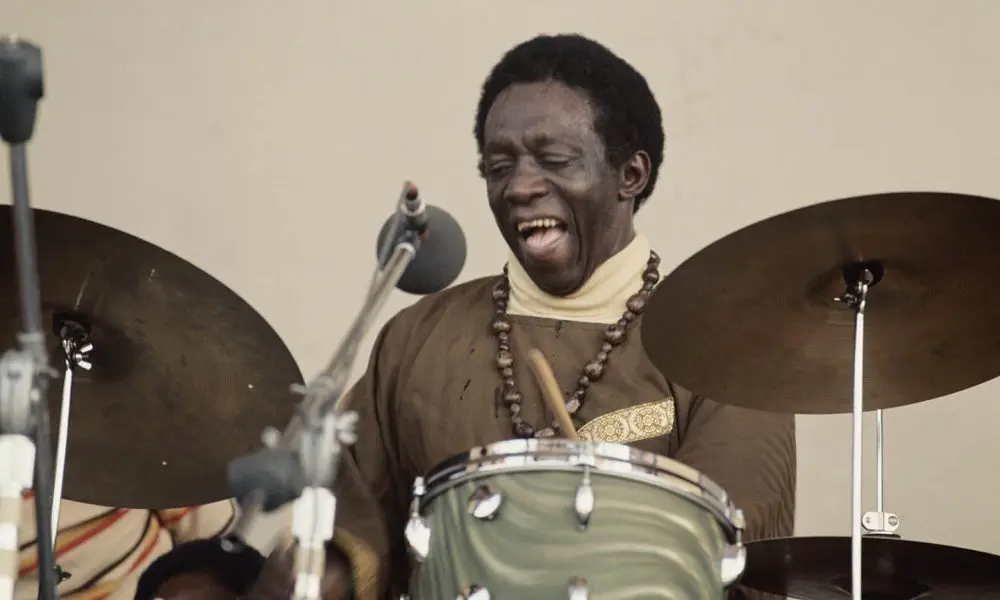 Drummers have often been the butt of jokes, many of which focus on their supposed lack of musicality and dubious time-keeping skills. But the truth is that a band is only as good as its drummer, and the best jazz drummers can miraculously transform a below-average combo into a half-decent one.
In jazz, arguably the most technically demanding form of popular music, a drummer's role is often more exacting than those in the fields of rock and pop. In its infancy at the beginning of the 20th Century, it was the drummers who gave jazz its heartbeat with an intoxicating, eminently danceable groove. But as the music evolved, its requirements changed. After the bebop era, when jazz became more cerebral, the best jazz drummers were expected to match the other soloists in the band with their virtuosity. No longer was their role solely focused on providing a constant rhythmic pulse, they had to contribute to the music in other ways: by supporting and lifting the soloists, building tension and drama, supplying percussive color, and helping to invoke a mood or atmosphere.
The best jazz drummers, then, by the very complex nature of the music, have to be accomplished technicians, and if you've seen the award-winning 2014 movie Whiplash, you'll know that they don't have an easy ride. The standards are exacting. Even so, jazz, in all its various manifestations and hues, has produced a multitude of sensational "tub thumpers" over the years – and they have all helped to transform jazz drumming into a high art form.
While you're reading, listen to our 50 Best Jazz Drummers playlist here.
50: Omar Hakim (born 1959)
Though his innumerable studio credits include playing on pop records by David Bowie, Sting, Kate Bush, and Céline Dion, this New York sticksman's musical foundations are deeply rooted in jazz, as his 80s stints with Weather Report and Miles Davis prove. Boasting a supreme versatility, Hakim is a distinctly modern breed of multi-disciplined drummer who can play anything he turns his hands to consummately well.
Sting - If You Love Somebody Set Them Free (My Songs Version/Audio)
49: Dave Weckl (born 1960)
This Missouri drummer has played on pop sessions for Madonna, Paul Simon, and Robert Palmer, but is best known by jazz fans for his work as part of Chick Corea's Elektric Band during the years 1985-1991. Technically brilliant as well as able to conjure up a commanding visceral power, Weckl is an accomplished bandleader in his own right who has written books and produced videos that give insight into what it takes to be one of the world's best jazz drummers.
48: Tony Oxley (born 1938)
As a former house drummer at Ronnie Scott's in London, Sheffield-born Oxley is one of the UK's best jazz drummers, and has played with a raft of bona fide jazz giants, including Stan Getz, Sonny Rollins, and Joe Henderson. He's also regarded as one of the leading exponents of free jazz, as his stellar avant-garde work with Peter Brötzmann, Anthony Braxton, Cecil Taylor, and John Surman attests. Stylistically, Oxley never resorts to clichés, and, in musical terms, always has something interesting and original to say.
47: Pete La Roca (1938-2012)
Harlem-born Pete Sims adopted the stage name Pete La Roca when playing timbales in several Latin jazz bands during his youth. His first gig of note was playing with the "Saxophone Colossus," Sonny Rollins, in 1957 at the Village Vanguard, and after that he became an indispensable sideman, recording with the likes of Jackie McLean, Joe Henderson, Freddie Hubbard, and Charles Lloyd. Though he could swing with wild abandon, La Roca was also a sympathetic accompanist and could be deliciously low-key on ballads.
46: Manu Katché (born 1958)
One of – if not the – best jazz drummers to come from France, Katché doesn't just play jazz and can be heard on a raft of rock and pop records, including ones by Peter Gabriel, Joni Mitchell, Sting, Dire Straits, Jeff Beck, and Tracy Chapman. In the jazz world, he's played with Herbie Hancock and Jan Garbarek, and has also released several albums under his own name on ECM. His signature style is a finely calibrated blend of precision, flair, and imagination.
45: Jeff Ballard (born 1963)
A long-time musical associate of noted contemporary jazz pianist Brad Mehldau, California-born Ballard has demonstrated his exceptional talent in ensembles led by Pat Metheny, Joshua Redman, and Chick Corea. His style is dramatically dynamic, defined by an infectious sense of brio and fizzing energy.
44: Jeff "Tain" Watts (born 1960)
A true potentate among contemporary skin-beaters, Watts is a Pennsylvanian who has a strong association with both Wynton and Branford Marsalis. His muscular, vigorous mode of playing can be heard on an array of different recordings, ranging from Kenny Garrett and Alice Coltrane to Harry Connick, Jr, and India.Arie.
43: Rashied Ali (1933-2009)
Recruited by John Coltrane in 1965, this Philly-born drummer featured on the saxophonist's most outré albums, including Interstellar Space. He brought a fresh avant-garde sensibility to jazz drumming, jettisoning swing and a constant pulse in favor of abstraction.
42: Norman Connors (born 1947)
At just 16, the precociously-gifted Connors, then still at school, subbed for Elvin Jones at a Coltrane gig in Philly, and, for a time, it seemed as if spiritual jazz would be his calling, especially after a stint playing with Pharaoh Sanders in the early 70s. Though Connors moved into the realm of R&B music, and became renowned as a hit-making producer and procurer of up-and-coming talent, he never forgot his jazz roots.
41: Brian Blade (born 1970)
An adept musical shape-shifter who can convincingly morph from playing rock (Joni Mitchell) and country (Emmylou Harris) to pop (Norah Jones) and folk (Beth Orton), Blade has shown that there are no musical barriers that he can't cross. Despite his myriad sideman appearances, it's with his own jazz-oriented Fellowship Band that he's impressed the most.
40: Terri Lyne Carrington (born 1965)
The world of jazz drumming is mostly an all-male preserve, but the Grammy-winning Carrington – who can play both jazz and R&B with élan – offers a compelling exception to this rule, more than earning her place among the best jazz drummers – female or male. Now a professor at Berklee College Of Music, Carrington was a child prodigy on the drums and rapidly rose to fame playing with the likes of Stan Getz and Herbie Hancock.
39: Billy Hart (born 1940)
Hart started out as an R&B drummer (backing Otis Redding and Sam & Dave) before working in the jazz field with Wes Montgomery, Jimmy Smith, Stan Getz, and Wayne Shorter. Hart's eclecticism and ability to play in several different modes (ranging from R&B and bop to more abstract contemporary jazz) marks him out as a flexible musician not inhibited by musical boundaries.
38: Eric Gravatt (born 1947)
A Philly native, Gravatt took over from Alphonse Mouzon in Weather Report's drum chair in 1972 and played on three of the band's early LPs – his propulsive, polyrhythmic style undoubtedly imbued the group's music with a primal, fiery energy (especially on their Live In Tokyo LP). In the late 70s, Gravatt, unable to support his family as a musician, became a prison guard for several years. More recently, he has played with McCoy Tyner.
37: Mel Lewis (1929-1990)
A graduate of the Stan Kenton "cool school," Lewis (real name Melvin Sokoloff) made his name alongside trumpeter Thad Jones, co-leading the Thad Jones/Mel Lewis Orchestra in the 60s and 70s. Despite being noted for his creative use of cymbals and the warm tone of his drums, Lewis was unique as a drummer because he preferred to blend in rather than stand out when playing in an ensemble.
36: Albert "Tootie" Heath (born 1935)
The younger sibling of saxophonist Jimmy Heath and Modern Jazz Quartet bassist Percy Heath, Tootie made his recording debut with John Coltrane in 1957, and, with his blend of adroit time-keeping and inventive colorization, quickly became a first-call sticksman in the jazz world. One of the oldest surviving players on this best jazz drummers list, Heath is still performing today, aged 82, leading an all-star percussion ensemble called The Whole Drum Truth.
35: Sonny Payne (1926-1979)
Between 1954 and 1965, Payne held the much-coveted drum seat in Count Basie's big band and brought a profound sense of rhythmic swagger, drama, and verve to the jazz aristocrat's music (he appeared on Basie's classic 50s albums April In Paris and The Atomic Mr. Basie).
34: Sid Catlett (1910-1951)
Indiana-born Catlett first made his name in the 30s, working with Benny Carter and Fletcher Henderson before landing in Louis Armstrong's group in 1938. Despite his association with swing jazz, Catlett proved to be a versatile musician and successfully made the transition to bebop by playing with Dizzy Gillespie's groundbreaking band in 1945.
33: Connie Kay (1927-1994)
A lynchpin of The Modern Jazz Quartet from 1955 until 1974, Kay's elegant "less is more" aesthetic and sublime sense of swing resulted in him an being in-demand drummer outside the band. His versatility (he played on Joe Turner's 1954 R&B classic, "Shake, Rattle And Roll," as well as Van Morrison's Astral Weeks album) ensured that he was never out of work.
32: Al Foster (born 1943)
Originally from Shreveport, Louisiana, Foster played on numerous Miles Davis albums in the 70s and 80s, as well as contributing to sessions by McCoy Tyner, Sonny Rollins, and Dexter Gordon. The cornerstone of his style is his ability to maintain a steady but fluid groove that allows rhythmic subtleties while encouraging other musicians to flourish and feed off it.
31: Billy Higgins (1936-2001)
This LA skin-beater first made his mark with the free jazz iconoclast Ornette Coleman in the late 50s, but quickly evolved into a dependable musician who could comfortably switch from hard bop to cutting-edge avant-garde music without missing a beat. His 700 studio credits range from Hank Mobley and Dexter Gordon to Sun Ra and Pat Metheny, making him one of the most in-demand sticksmen among the best jazz drummers of all time.
30: Joe Chambers (born 1942)
A composer, vibraphonist, and pianist, as well as a drummer, Chambers was in-demand in the 60s and played with everyone from Miles Davis (who, among all the bandleaders mentioned here, notched up sessions with the most jazz drummers in this list of the best) and Freddie Hubbard to Bobby Hutcherson and Chick Corea. Though he was fluent in hard bop, his ability to play more abstract, exploratory music gave him a desirable versatility.
Joe Chambers - Ruth (Audio)
29: Chick Webb (1905-1939)
Nowadays remembered as the bandleader who launched Ella Fitzgerald's singing career, Webb was also an innovative and influential drummer before his untimely death, at the age of 34, in 1939. He was a major proponent of the swing style that became hugely popular and dominated jazz in the 30s and early 40s.
28: Harvey Mason (born 1947)
A prolific session drummer, Atlantic City-born Mason has also made a plethora of albums under his own name, as well as being a founder member of the long-running smooth jazz supergroup, Fourplay. While being tight, meticulous, and precise, his drum tracks also show Mason's instinctive sense of oneness with the groove.
27: Louie Bellson (1924-2009)
From Rock Falls, Illinois, Bellson cut his teeth in the big band era, playing behind Benny Goodman, Harry James, and Duke Ellington. He matured into a noteworthy composer and author as well as a virtuoso sticksman whose dynamic, super-swinging, swashbuckling style was indebted to the pathfinding work of Jo Jones.
26: Art Taylor (1929-1995)
A native New Yorker, the largely unheralded Art Taylor was one of the founding fathers of hard bop drumming in the 50s. He performed with many of jazz's major horn players (including Sonny Rollins, Jackie McLean, and John Coltrane) and patented a drumming style that was much more than mere time-keeping, functioning as a meaningful musical accompaniment.
25: Alphonse Mouzon (1948-2016)
The first drummer to play in fusion supergroup Weather Report, and a vital member of Larry Coryell's jazz-rockers, Eleventh House, North Carolina-born Mouzon boasted an energetic style where elements assimilated from jazz, funk, rock, and R&B coalesced in a vibrant, polyrhythmic amalgam. He was a master of breezy, in-the-pocket grooves.
24: Sonny Greer (1895-1982)
The only entry in the best jazz drummers list to be born in the 19th Century, this New Jersey sticks-meister had the distinction of being Duke Ellington's first-ever drummer. He joined in 1924 and stayed with the jazz aristocrat until 1951. What set him apart from other drummers at the time was his penchant for creating tonal color by using gongs, chimes, and other exotic percussion instruments.
23: Idris Muhammad (1939-2014)
Born Leo Morris prior to his conversion to Islam, Muhammad was an in-demand session drummer who played with the likes of Ahmad Jamal and Pharoah Sanders before successfully effecting the transition to solo artist (his 1974 album, Power Of Soul, is deemed a soul-jazz classic). His eloquent style drew from R&B as well as straight-ahead jazz.
22: Lenny White (born 1949)
After making his recording debut as a 19-year-old on Miles Davis' jazz-rock game-changer, Bitches Brew, in 1970, the New York-born White became the drummer with Chick Corea's band, Return To Forever. With a vigorous, energetic style that drew on the vocabularies of both jazz and rock, White was a key architect in the foundation of jazz fusion drumming, and stands as one of the best jazz drummers to emerge in the 70s.
21: Danny Richmond (1931-1988)
New York-reared Richmond started playing music as a tenor saxophonist before gravitating to the drums in his 20s. He had a long and fruitful association (21 years in all) working in Charles Mingus' band, playing on over thirty of the bassist/composer's albums, including the classic Mingus Ah Um. Thanks to his good grounding on the saxophone, Richmond proved an overtly musical drummer who knew how to enhance melodic lines with subtle shading and deft touches.
20: Peter Erskine (born 1954)
A child drum prodigy who began playing at the age of four, Erskine's early start helped earn his place among the best jazz drummers in history. He cut his teeth with Stan Kenton and Maynard Ferguson before joining Weather Report in 1978, where he stayed until 1982. Well versed in the lexicons of jazz in all its different hues, as well as funk music, Erskine patented a distinctive style that is both technically accomplished and emotionally sensitive.
19: Joe Morello (1928-2011)
As a long-time sideman with Dave Brubeck, who had a predilection for experimenting with odd and uneven meters, Morello became well-versed in playing unusual time signatures. His drum solo on Brubeck's signature track, "Take Five," is a masterclass in playing in 5/4 time.
18: Jimmy Cobb (born 1929)
This Washington, DC, drummer's long and impressive CV reads like a Who's Who of jazz. Alongside stints playing with John Coltrane, Cannonball Adderley, Wes Montgomery, and Joe Henderson, Cobb also famously drummed for Miles Davis, appearing on the trumpeter's iconic 1959 LP, Kind Of Blue. Able to blend power with sensitivity, Cobb also knew how to swing with aplomb.
17: Jack DeJohnette (born 1942)
Apprenticed first to Charles Lloyd, then Bill Evans and Miles Davis, Boston-born DeJohnette is an eclectic drummer who can adapt to, and seems comfortable with, any stylistic setting in jazz. His style, which seamlessly combines elements from free jazz, bop, world music, R&B, and rock, is singular and supremely eloquent.
16: Steve Gadd (born 1945)
A versatile drummer who can play anything from straight-ahead jazz to fusion, rock, R&B, and pop, Rochester-born Gadd is perceived as the drummer's drummer. Combining technical brilliance with an innate groove awareness and an intuitive feel for what a song requires in rhythmic terms, Gadd prefers to play the role of consummate team player rather than spotlighted soloist.
15: Paul Motian (1931-2011)
Philly-born Motian came on the radar of jazz aficionados due to his presence in the Bill Evans Trio in the 60s, and later played with another influential pianist, Keith Jarrett. An accomplished master of subtlety, restraint, and delicate colorization, Motian could etch vivid pictures with his rhythm tracks.
Vignette (1997 / Live Instrumental)
14: Billy Cobham (born 1944)
Panama-born Cobham played with Horace Silver and Miles Davis before finding notoriety in the early 70s as the Herculean drummer in jazz-rock behemoth Mahavishnu Orchestra. With his mountainous drum kit – which featured double bass drums and a giant gong – Cobham's thunderous, overtly physical style was fusion's answer to Led Zeppelin's John Bonham.
13: Louis Hayes (born 1937)
This Detroit drummer's career began in the late 50s when he recorded with Horace Silver, John Coltrane, and Cannonball Adderley. Hayes' specialty is his ability to provide a hard-swinging, free-flowing rhythm track that is sensitive to the needs of the soloists.
12: Shelly Manne (1920-1984)
Versatility was Shelly Manne's middle name. Able to switch from swing, bebop, and even Dixieland, to more exploratory jazz styles at the drop of a drumstick, it's not surprising that his flexibility led him to play on countless Hollywood movie scores and TV soundtracks. His sui generis style reflected his multiple influences, and he used his drum kit to expertly convey a panoply of moods and emotions with sound.
11: Philly Joe Jones (1923-1985)
Not to be confused with the big band swing drummer Jo Jones, this Pennsylvania tub-thumper was a prolific sideman who was renowned for hammering on his drum kit extremely loudly. He's mostly remembered as the drummer who injected a dynamic swing feel and effervescent energy into the Miles Davis Quintet during the late 50s.
10: Chico Hamilton (1921-2013)
This prolific one-man drum orchestra from LA was a pioneer of the cool, West Coast sound. Like Art Blakey, he led from the back and proved to be an astute talent spotter. Able to blend power with finesse and a nuanced sensitivity, he used drums like a painter, coloring his music with different tonal shades.
9: Jo Jones (1911-1985)
A crucial member of Count Basie's band between 1934 and 1948, this innovative Windy City drummer (sometimes known as "Papa" Jo Jones) drew up the blueprint for big-band jazz drumming with his prominent use of the hi-hat to keep time (before that, the bass drum had been used for that purpose). He also pioneered the use of brushes on slower, softer songs. A hugely influential drummer.
8: Gene Krupa (1909-1973)
Purportedly the first sticksman to use a bass drum on a recording session, big-band swing meister Gene Krupa can claim to have influenced the format of the modern drum kit. He was also instrumental in establishing the popularity of cymbals and tom-toms. Renowned for his explosive "drum battles" with Buddy Rich.
7: Buddy Rich (1917-1987)
Bernard "Buddy" Rich was one of the most flamboyant drummers in jazz. Renowned for his speed, power, and primal sense of swing, he would show off his prodigious technique by indulging in extended drum solos, which were the precursor of those found in rock music.
6: Roy Haynes (born 1925)
Roy Haynes – whose nickname, Snap Crackle, was purportedly an onomatopoeic approximation of his unique snare drum sound – began as a hard bop drummer in the early 50s before demonstrating that he could play any kind of jazz, even avant-garde, with panache. A master of musical magic.
5: Elvin Jones (1927-2004)
Jones rose to fame with John Coltrane's groundbreaking quartet in the early 60s and immediately distinguished himself by the kinetic forcefulness of his drumming. As well as brute power, he possessed subtlety and knew how to construct a nuanced rhythm track that flowed and was acutely attuned to the needs of a song.
Ascension (Edition I / Pt. 1)
4: Kenny Clarke (1914-1985)
Nicknamed Klook, the Pittsburgh-born Clarke (who was a charter member of The Modern Jazz Quartet) was present at bebop's birth in the mid-40s and was one of the best jazz drummers in the genre's early development. His hallmark was introducing syncopated accents on the bass drum (which the hepcats called "bombs") while beating out a propulsive ride cymbal figure to maintain a swing groove. His style etched the template for all modern jazz drumming.
3: Tony Williams (1945-1997)
Though small in stature, Tony Williams was undoubtedly one of the true giants of jazz drumming. At 17, he was playing with Miles Davis and quickly became regarded as a trailblazer with his intricate patterns and deft rhythmic displacements. He was supremely versatile too – as well as straight-ahead jazz he could play fusion and rock with consummate ease.
2: Max Roach (1924-2007)
Roach emerged in the late 40s as one of bebop's first significant drummers. One of his chief calling cards was using the ride cymbal to emphasize the rhythmic pulse, which was an innovation that brought fluidity and a more subtle type of swing to jazz. He grew to become an expressive sticksman – one of the best jazz drummers in history – who would use his drum set to create contrasting tonalities to underline different elements of a song during a performance.
1: Art Blakey (1919-1990)
A polyrhythmic percussion powerhouse, Art Blakey was a one-man engine room who powered his long-running band, The Jazz Messengers, with a superior sense of swing and syncopation. Sitting atop this list of the best jazz drummers of all time, he was a charismatic bandleader as well as drummer; his trademark was the swelling press roll, which he used to inject a turbo-charged intensity into his driving hard bop grooves.
Moanin' (Remastered 1998/Rudy Van Gelder Edition)
Looking for more? Discover the best jazz pianists and best female jazz singers of all time.