Corinne Bailey Rae
Singer-songwriter and guitarist Corinne Bailey Rae's silky smooth brand of R&B has won her legions of fans on both sides of the Atlantic.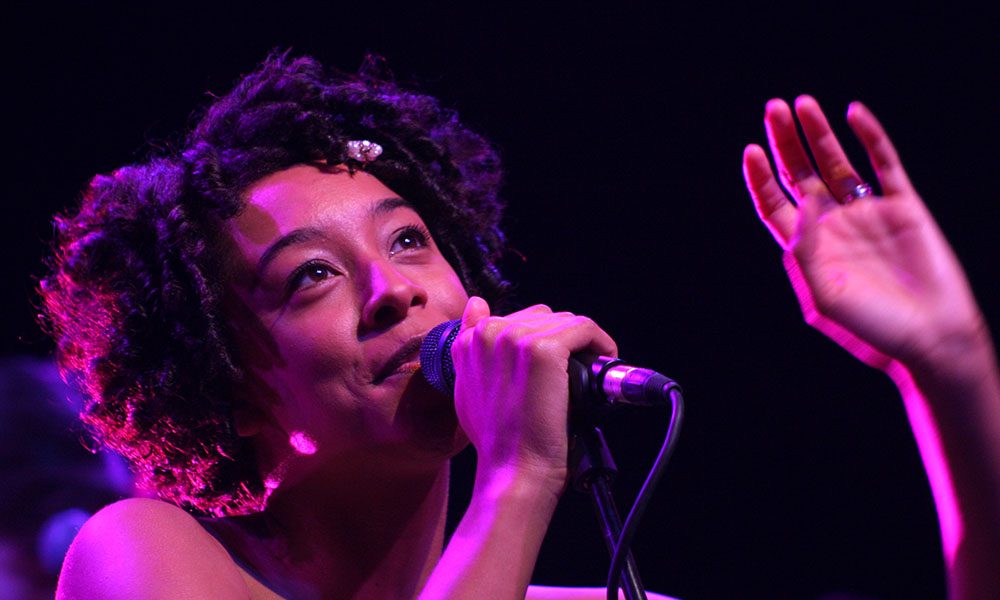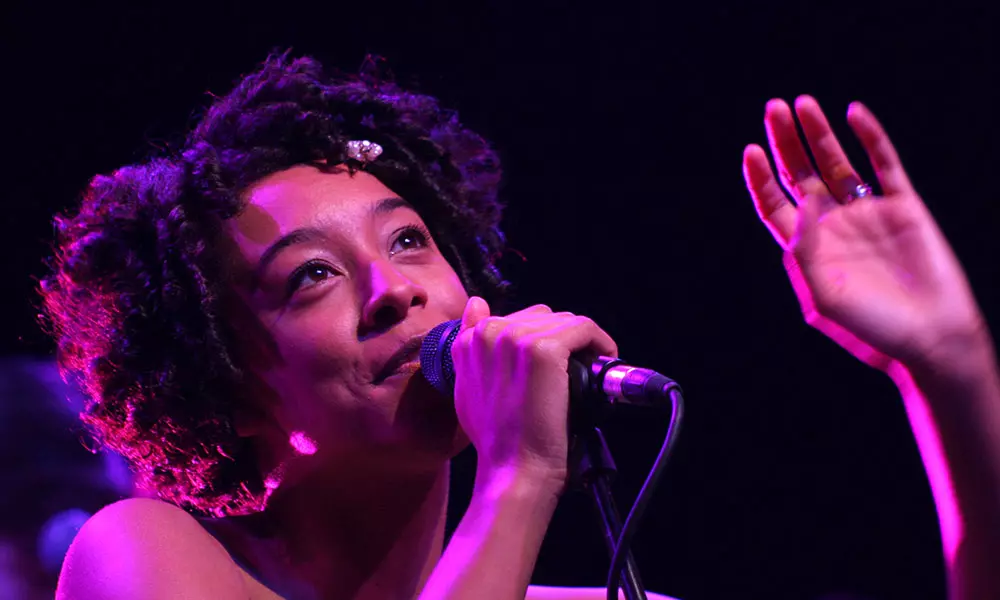 Singer-songwriter and guitarist Corinne Bailey Rae's silky smooth brand of R&B has won her legions of fans on both sides of the Atlantic. While her delicate and graceful voice has drawn comparison with Billie Holiday, her ever-shifting music has embraced a variety of styles ranging from jazz and soul to pop, rock and indie. She's as admired by her fellow musicians as she is by the general public, and has lined up some of America's most distinguished players to work on her latest album, The Heart Speaks In Whispers.
Born Corinne Jacqueline Bailey, in Leeds, in 1979, to an English mother and a West Indian father, she was the eldest of three daughters. Her early musical experiences were dominated by the classical violin, which she studied at school. In her mid-teens, she developed a love for Lenny Kravitz, Jimi Hendrix and Led Zeppelin. She bought an electric guitar and, inspired by the success of female-fronted peers L7, Veruca Salt and Belly, formed the all-girl indie group, Helen. Gigging heavily, they built up a fierce local following. Heavy metal label Roadrunner was impressed enough to offer them a record deal, though it ultimately fell through.
Distraught, Bailey Rae returned to university, where she was undertaking an English degree and took employment as a cloakroom attendant in a Leeds jazz club. It was a job that changed her life. In quieter moments, she was given the chance to sing, and soon found herself developing an affinity for soul and jazz music – all the more so after beginning a relationship with saxophonist Jason Rae, in whose vast record collection Corinne immersed herself. The couple married in 2001 and, with her new husband's encouragement (and a surname change to Bailey Rae), she began writing her own material, subtly melding her indie leanings with soul and jazz.
The new direction led to a number of collaborations in 2003, including with The New Mastersounds on 'Your Love Is Mine', and Homecut Directive's single 'Come The Revolution'. Her reputation growing, Bailey Rae was approached by Artful Dodger's Mark Hill. Their collaboration, 'Young And Foolish', recorded under his alias of The stiX, proved an effective showcase for Rae's distinctive vocals. Released as part of an EP, with an accompanying video in 2005, it caught the attention of EMI bosses, who offered her a record deal.
The success of Bailey Rae's 2006 self-titled debut album proved their faith to be well-founded. Fresh-faced and down to earth, she offered a gentle alternative to her more outré contemporaries. The irresistible, feel-good soul-pop of preceding single 'Put Your Records On' proved a runaway chart hit. Released in February that year, it reached No.2 in the UK charts and came to dominate the British airwaves. The album, which followed swiftly on its heels, is an impeccably crafted musical patchwork of soul, jazz and pop. There are subtle nods to Zero 7 on the graceful Hammond soul of 'Till It Happens To You' and Beatles-esque chord progressions on the pretty 'Choux Pastry Heart'. 'Breathless' is a caramel-smooth slice of modern soul, while there's a neat homage to Stevie Wonder on 'Seasons Change'. But it's Rae's vocals – fragile, delicate, and imbued with enveloping warmth – that defines the album and confirmed her as a major star in her own right. They're at their most effective on the luscious single 'Like A Star': a song which provided the singer with her biggest US hit.
The album debuted at No.1 in the UK album charts, peaked at No.4 in the US Billboard 200, and went on to sell over four million copies worldwide. Such success was backed with critical plaudits come award season, as Bailey Rae scooped two MOBOs (for Best UK Female and Best UK Newcomer), and earned four Grammy nominations.
A busy year spent touring the world was marked with a DVD and album set. Live In London & New York served to illustrate her engaging live presence, and featured spirited versions of album tracks alongside a soulful, jazz-heavy take on Led Zeppelin's 'Since I've Been Loving You'. Later that year, in a measure of her international regard, she appeared on Herbie Hancock's River: The Joni Mitchell Letters, an album which went on to win both Album Of The Year and Best Contemporary Jazz Album at the Grammy Awards.
As she began work on a follow-up album in 2008, tragedy struck when husband Jason was found dead at a friend's flat. Rae's world fell apart and she spent a lengthy period at home in Leeds recovering among friends and family. At length, she returned to songwriting, finding a form of catharsis in its process.
When her second album, The Sea, finally appeared in January 2010, it was a radical departure from her past work. Gone was the breezy pop of the debut, replaced with a mature, introspective collection of rock-inflected songs, while Bailey Rae's voice had developed a newfound range and emotional depth. Both celebrating her husband and tackling her grief with palpable emotion, opener 'Are You Here' begins with the tribute, "He's a real live wire/He's the best of his kind/Wait till you see those eyes." Lead single 'I'd Do It Again' was a meditative ode to love, written after the pair had quarrelled. The beautiful and wistful 'Feels Like The First Time' continues with her reverie before 'The Blackest Lily' ramps things up with its powerful guitar blasts. Other highlights on an eclectic but consistently excellent collection include the neo-soul of 'Closer' and the brooding Jeff Buckley-esque rocker 'Diving For Hearts'. The album finishes with the heartbreaking title track, a song pre-dating her husband's passing, written about her grandfather's death in a boating accident.
Both a grand and affecting statement of loss and a celebration of love, The Sea met with critical praise and commercial success on its release, debuting at No.5 on the UK albums chart and No.7 on the US Billboard 200 chart, while it was also nominated for the Mercury Prize. Still in the process of grieving, Rae set off on tour in early 2010, promoting the album in a busy schedule that took in dates across the UK, Europe and US, before visiting such far-flung places as Brazil, Argentina, Japan, Korea, Indonesia and the Middle East.
She released The Love EP in early 2011. Considerably lighter and airier in sound than The Sea, it contained five cover versions, which included accomplished takes on Prince's 'I Wanna Be Your Lover', Belly's 'Low Red Moon' and Paul McCartney And Wings' 'My Love'. The highlights, however, were a bluesy live recording of Doris Day's 'Que Sera Sera' and a rework of 'Is This Love', which slowed the Bob Marley original to a languorous, sultry crawl. It was an inventive reimagining that won the singer her first solo Grammy Award, for Best R&B Performance.
Retiring once more from the spotlight, Bailey Rae began writing new material for a third album at her home studio in Leeds with producer Steve Brown, with whom she had worked with on each of her previous albums. After years of friendship, the pair fell in love while working on the project, and married in 2013; this newfound sense of happiness shaped a positive-minded batch of songs. Flying out to LA "to let the sunshine in", Bailey Rae was to spend seven months there, enjoying life at her poolside home while reshaping the songs with some of America's most distinguished soul and jazz musicians, including Pino Palladino, Marcus Miller, Esperanza Spalding and Marvin Gaye's drummer James Gadson.
Two tracks from that album, The Heart Speaks In Whispers, were previewed in early 2016, with both demonstrating a new level of sophistication in Bailey Rae's music. 'Been To The Moon' is full of deliciously squelchy synths, adding a welcome dose of funk to her musical template, while 'Green Aphrodisiac', a collaboration with twin sisters Amber and Paris Strother, of King, is a luscious soul number that's blessed with a warm hug of a chorus. With superlative performances from her talented group of backing musicians, and Bailey Rae's stronger-than-ever vocals radiating joy, they represent her strongest music to date and confirm her as the UK's greatest contemporary soul artist.
Words: Paul Bowler
Format:
UK English