Diana Krall
Diana Krall is one of the most gifted and talented musicians to play jazz in the modern era. She digs deep and tells us things about songs like no one else can.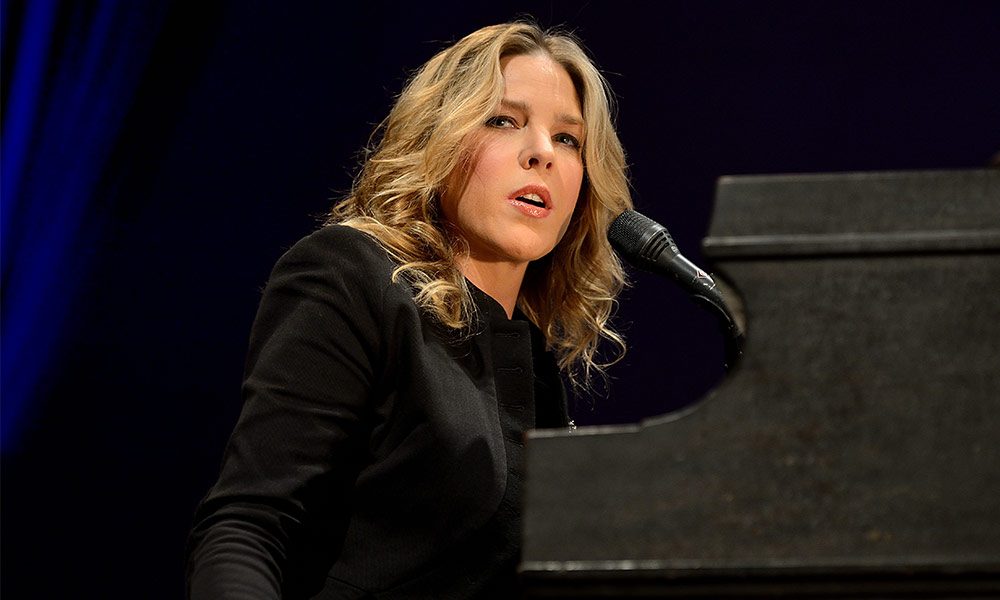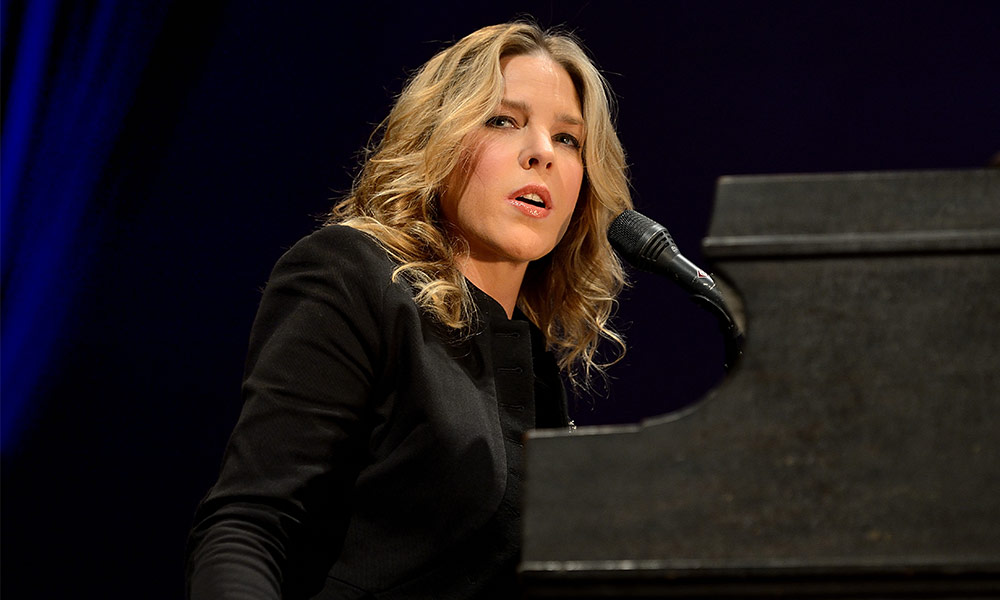 Diana Krall is one of the most gifted and talented musicians to play jazz in the modern era. People talk about Frank Sinatra's gift of timing and ability to get inside a song. Krall is up there with him on the same plane. She digs deep and tells us things about songs like no one else can. Add to that her superb piano playing, the equal of just about anyone, and you have the perfect musical package.
"Diana Krall is one of the most under-appreciated artists. The people who under-appreciate her most of all are the jazz police. Her phrasing, her originality is up there with the best." Tommy LiPuma
Diana Jean Krall grew up in a musical household in British Columbia, with a jazz-loving, piano-playing father and a mother who sang in a community choir. She started piano lessons at the age of four, and by the time she reached her mid-teens, was studying harmony and playing jazz in a local restaurant. She played in a duo at 15, and a trio at 16, learning how to write charts for the trio from the band director at her senior school, otherwise she is largely self-taught, having been hugely influenced by her father's and her school band director's 78 rpm record collections. From early on, Fats Waller was a firm favourite.
Krall continued her musical education with a scholarship to the Berklee College of Music. After graduating, she was persuaded by Ray Brown to go to Los Angeles, where she spent three years playing jazz professionally, before returning to Canada. In 1993, Krall recorded her debut album, Stepping Out, with John Clayton and Jeff Hamilton. Two years later she recorded Only Trust Your Heart on GRP with Tommy LiPuma producing and Ray Brown playing bass. But, it wasn't until signing with Impulse! and her third album All for You: A Dedication to the Nat King Cole Trio (1996) that really put her firmly on the path to international superstardom. This album stayed in the Billboard jazz charts for 70 weeks and was nominated for a Grammy.
However, global success only really came with her move to Verve and the album When I Look in Your Eyes (1999), which earned her a first Grammy, and a nomination for Album of the Year. Notably, this was the first time in 25 years that a jazz album had been nominated for the award. While fiercely loyal to her jazz as first love, her music has become popular with a much wider audience, with her songs frequently being used in popular TV programmes and films and in 2000 she shared a 20-city tour with Tony Bennett.
Since then, Krall's success has grown phenomenally and she is undisputedly one of the best-selling artists of her era, with nine gold, three platinum and seven multi-platinum awards to her name. An element of her consistent success has been that from her second album through the next seven have been produced by LiPuma. She has had eight albums that have reached the top of the Billboard Jazz Albums on release, an achievement that has not been matched by any other artist.
The Look of Love released in 2001, is perfect in every way, from the choice of songs and Diana Krall's superb vocals and perfect piano accompaniment to the delicate and languid Claus Ogerman arrangements, Tommy LiPuma's exquisite production, right down to the cover art. This is a record that exudes class in the best tradition of the great Verve records from earlier decades. Ogerman, who is renowned for his work with Antonio Carlos Jobim, Frank Sinatra and George Benson helped in making it one of her most acclaimed and commercially successful albums, making her the first Canadian jazz artist to have a quintuple platinum album! According to LiPuma, "I put my trust in Claus," while Diana said at the time. "I knew he'd write the right arrangements. Tommy always brings out the best in me."'
This same album also gained her three Juno awards, and a trio of coveted awards: Artist of the Year, Album of the Year and Best Vocal Jazz Album of the Year (2002). In 2003 she won a second Grammy award for her Live in Paris (2002) in the Best Jazz Vocal Album category, a live recording that took place on her world tour, and her first live album. In total, Krall has been awarded eight Juno Awards and numerous other accolades and is regarded as one of the most successful and alluring jazz musicians of all time.
In 2003, Krall married Elvis Costello and the following year released an album The Girl in the Other Room which included some original material, a first for Krall, some co-written by Costello, and ranked 7th Top Jazz Album of the Decade by Billboard. In 2006, From This Moment On was released, an album reminiscent of her earlier work, involving larger ensembles and jazz standards. Later that year, she gave birth to twin boys, but by 2009 was back in the studio, working again with Ogerman to record Quiet Nights, a bossa-nova themed album. In the same year, she also produced an album for Barbara Streisand. Krall's Glad Rag Doll includes covers from the 1920s and 30s drawn from her father's collection, produced with T-Bone Burnett it came out in in 2012.
Diana's 12th studio album is the wonderful Wallflower, produced by David Foster for Verve Records. Essentially a covers album containing favourite country-rock and pop cuts such as 'California Dreamin'', Eagles' 'Desperado', Bob Dylan's title cut (originally gifted to Doug Sahm), 10cc's matchless 'I'm Not in Love' and Crowded House's timeless 'Don't Dream It's Over', the album is also available as a deluxe edition with bonus tracks including The Beatles' 'In My Life', a duet on 'Yeh Yeh' with Georgie Fame and a live take on 'Wallflower'. If that wasn't enough, there is also the Complete Sessions bonus tracks edition, on which Krall pays homage to fellow Canadian greats Joni Mitchell, Gordon Lightfoot and Neil Young, and gets right under the skin of Fred Neil's 'Everybody's Talkin'' with Vince Gill. Bliss.
Richard Havers
Format:
UK English