Stan Getz
The jazz saxophonist from Philadelphia was renowned for his tenor saxophone playing, as well as for popularizing the bossa nova sound in the United States.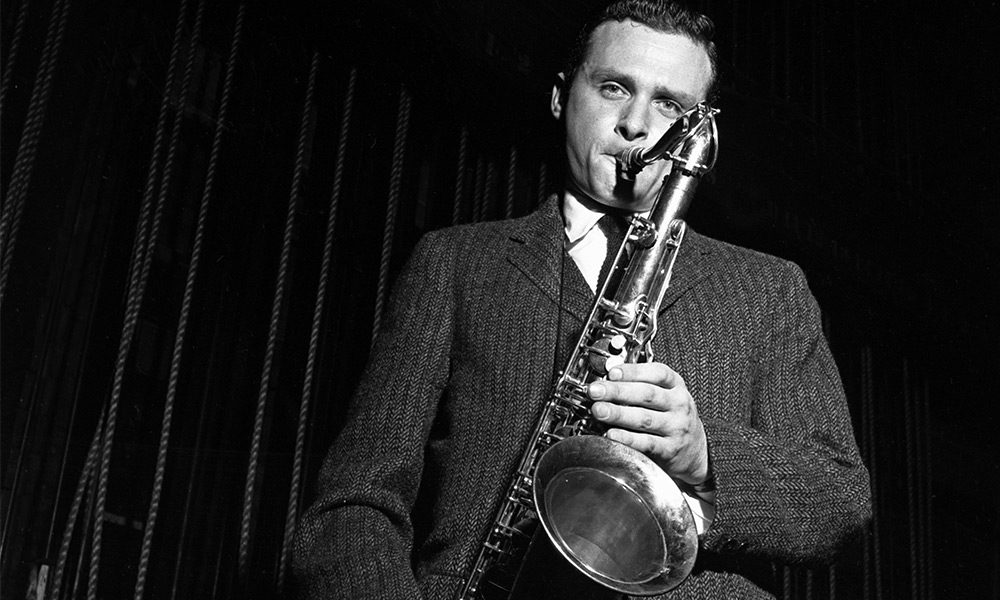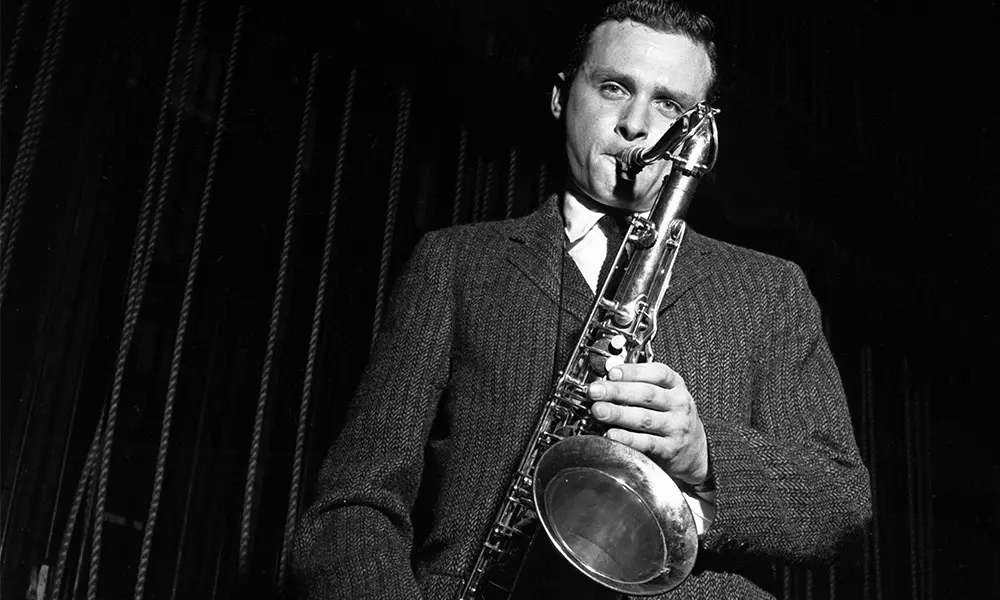 If casual music fans have heard of just one jazz saxophonist or even musician, it is most likely to be Stan Getz. His playing was rich and varied and always encouraged people to listen, none more so than to his mellifluous playing on the early 1960s albums with a bossa nova beat. He acquired the nickname 'The Sound' – it is not difficult to hear why.
"There are four qualities essential to a great jazzman. they are taste, courage, individuality, and irreverence." – Stan Getz
Stan Getz's family emigrated to West Philadelphia from Kiev in 1903 to escape the Ukrainian Pogroms; Stan was born in Philadelphia 24 years later. His father, in search of employment, moved the family to New York City. Despite working hard at school, young Stan's attention soon turned to music and he tried out as many instruments as possible – piano, harmonica, bassoon in the school band – and displayed a photographic memory along with an uncanny ability to play tunes by ear and hum Benny Goodman's solos. Lessons and practice – up to eight hours a day – taught him good sight-reading skills as well as developing his instinctive sense of pitch and rhythm.
When Getz was thirteen years old, his father bought him a $35 alto saxophone, and he was soon playing other saxophones and clarinets but favoured the sound of the tenor saxophone, which he saved up to buy from working a series of jobs and by playing low-paid gigs. In 1941, he entered the All-City High School Orchestra of New York City, which provided a free private tutor from the New York Philharmonic, but his studies began to compete for time with his evening engagements and late-night jam sessions. Dropping out of school in 1942, he was hired by bandleader Dick 'Stinky' Rogers to play at the Roseland Ballroom for $35 a week, joined the musicians' union and a year later was offered a place with Jack Teagarden's band at $70 a week.
Encouraged by his father, Getz went on tour, having to become Teagarden's ward because he was under sixteen years old. However, unlike many other musicians playing with the big bands, it meant that he was too young for the draft, and therefore played with Stan Kenton (1944–1945), Jimmy Dorsey (1945) and Benny Goodman (1945–1946). While he was touring with Kenton, Getz developed a heroin habit – ironically in an attempt to cut down on how much he was drinking. The Pres was a major influence on Getz's early sound; he was especially fond of Count Basie's 'Song Of The Islands' from 1939.
Leaving Goodman and moving to California, Getz found like-minded souls in saxophonists Herb Steward, Zoot Sims and Jimmy Giuffre, who also worshipped Young. They were also friendly with Woody Herman's spotter and were invited to join his Second Herd in 1947. Getz, Sims, Steward and Serge Chaloff together formed a sub-unit called 'The Four Brothers', while Giuffre was taken on as arranger bringing the band great success with his tune 'Four Brothers', tailored to highlight each of the four soloists and then combine them in a typical Herman's Herd's hard-hitting crescendo. The arrangement was so popular that the band became known by the same name, and understandably Getz shot to stardom from a string of popular tracks, especially for his solo on 1948's mellow 'Early Autumn'.
Getz's individual popularity gave him the impetus to leave Herman at the end of the decade and form his own groups: a quartet with guitarist Jimmy Raney, trombonist Bob Brookmeyer and Al Haig on piano, then Horace Silver also on piano, who he 'discovered' in 1950. Significantly, Getz made the first of his many visits to Scandinavia in 1951. After some studio work in New York, he began leading mostly quintets; notably one with Al Haig, Jimmy Raney, Teddy Kotick and Tiny Kahn who appeared with Billie Holiday at the Storyville Club in Boston.
Despite drug problems, ironically made worse by his attempts to give up heroin, Getz had a successful decade in the 1950s. Norman Granz signed him to Clef records in late 1952 and almost immediately he was in the studio to record two weeks before Christmas with Duke Jordan (piano), Jimmy Raney (guitar), Bill Crow (bass) and Frank Isola (drums), and when the album came out early the following year as Stan Getz Plays, it was prescient of what he did over the next decade for Clef, Norgran and Verve.
Stan Getz made a huge number of records under his own name as well as participating in Granz jam sessions with the likes of Count Basie and Buddy DeFranco, and he also recorded with Dizzy Gillespie in 1953. In 1955, he did an album with Granz called The Modern Jazz Society, on which he appeared with the MJQ's rhythm section and trombonist J. J. Johnson among others, and later in the year with Lionel Hampton. His first record for Verve was in 1956 as Diz & Getz, and in 1957 he appeared on Buddy Bregman's excellent Swinging Kicks album of big-band jazz. By 1957, he hardly ever seemed to be out of a studio recording for Verve, including recording with Ella on numbers such as a beauty called 'Midnight Sun'; 1957 was also the year he first appeared with JATP.
He won a string of Down Beat polls in this period but had previously been arrested for attempting to steal morphine from a pharmacist in 1954. He spent several months recuperating after collapsing in Stockholm a year later and then lived in self-imposed exile in Copenhagen in 1958 when he toured Europe to beat his addiction. This did not stop him recording for Verve, however; Granz just used a studio in Stockholm.
Getz returned to the United States in 1961, recording the orchestrated album Focus that he would later name his favourite. Then in 1962 – even though his stylistic move during his stay overseas had been generally towards the edgier material of John Coltrane and Ornette Coleman – a major success that no one could have predicted came with the comparatively subdued 'Desafinado', recorded with Charlie Byrd and released on Jazz Samba (1962). 'Desafinado' made No. 15 on the Billboard pop chart and helped propel the album to the No. 1 spot – jazz did not top the pop album charts. Bossa nova was 'in', and in March 1963 he recorded with the Brazilian pianist Antônio Carlos Jobim and guitarist and singer João Gilberto. The session included 'The Girl From Ipanema', famously featuring the vocals of Gilberto's wife Astrud. The song was a huge crossover hit, reaching No. 2 and only denied the top chart position by The Beatles. Released the following year, Getz/Gilberto made No. 2 on the pop album chart was awarded the Grammy for 'Album Of The Year'; again an unprecedented success for a jazz record.
Having helped to popularize the genre with Western audiences, Getz rarely returned to bossa nova. Instead, he maintained a high standard of output in contemporary mainstream jazz. A highlight from 1967 is the impassioned Verve album Sweet Rain, with Chick Corea, Ron Carter and Grady Tate. Additionally featured were Stanley Clarke and Tony Williams, along with Chick Corea, whose career Getz had helped launch previously, and whom he now also asked to contribute material. The quintet, completed by Airto Moreira, juxtaposed Getz's traditional tone against an electric jazz backdrop.
Of note, also from 1972, is a concert that was originally billed as Ella Fitzgerald backed by Tommy Flanagan and the Count Basie Orchestra. However, Norman Granz invited Getz plus a few more 'surprise' guests. The resulting JATP event at the Santa Monica Civic also featured Harry Edison, Roy Eldridge, Al Grey, Eddie 'Lockjaw' Davis, Oscar Peterson, Freddie Green, Ray Brown and Ed Thigpen. It was one of the first releases on Pablo, Norman Granz's new record label.
Even though his previous successes enabled Getz to live in semi-retirement he continued to tour frequently, often favouring Europe during the summer. In 1975 he played with João Gilberto again, in New York, and the 1980s saw some fascinating collaborations, with Chet Baker in Norway (1983), Helen Merrill (1989) and Abbey Lincoln (1991).
Getz's final recording was made in Copenhagen in 1991, three months before he died, for EmArcy in a duo with his regular pianist of the previous half-decade, Kenny Barron. Getz had continued touring right up until his death from liver cancer.
Words: Richard Havers
Format:
UK English