Gene Krupa
Gene Krupa's place in the history of jazz will be assured due to the fact that he was the first man to ever use a bass drum pedal in a recording studio back in 1927.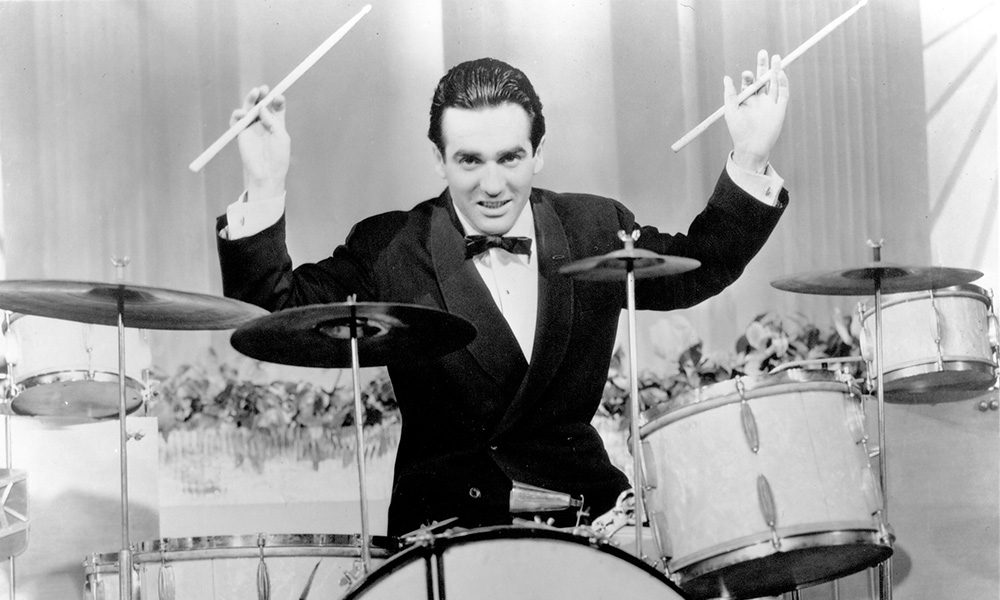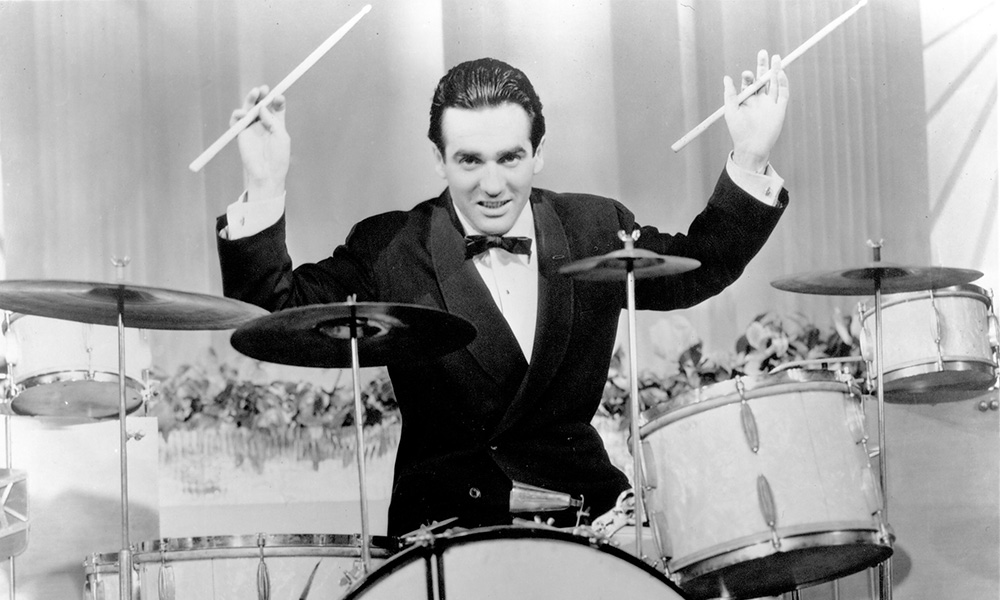 Gene Krupa's place in the history of jazz will be assured due to the fact that he was the first man to ever use a bass drum pedal in a recording studio back in 1927. But he was also a very fine drummer who was so famous from the mid-1930s through the 1950s that Hollywood made a film about his life. He was a showman behind the kit, but a sober, serious and disciplined man who once said. "Drum solos must have substance and continuity." There are many drummers that should have listened to him.
"The Kids and the kittens shagged, trucked, jumped up and down and down and up, and often yelled and screamed at the series of solid killer-dillers." – A review in Metronome magazine of a Krupa gig.
The youngest of nine, his parents were of Polish origin, Eugene Bertram Krupa was born in 1909 in Chicago, Illinois. He began playing the drums at age eleven. His first gig was in 1927 when he became one of Thelma Terry's Playboys. The following year he recorded with the Playboys and then with the Eddie Condon Quartet in New York.
By 1929 Krupa was with Red Nichols and his Five Pennies, along with Glenn Miller on trombone and the twenty-year-old Benny Goodman on clarinet, and over the coming years, he played with Bix Beiderbecke, Adrian Rollini and Joe Venuti before a short spell with crooner Russ Columbo's band. He then joined Benny Goodman's orchestra in early 1935 – it sealed Krupa's reputation.
In July 1937 the Goodman band recorded a long tune stretching over both sides of a twelve-inch 78, clocking in at over eight minutes – the Louis Prima written, 'Sing Sing Sing' featured drumming as no one had heard before. In January 1938, Goodman gave a concert at New York's Carnegie Hall at which Gene played an amazing extended drum solo on 'Sing Sing Sing', the first time such a thing had happened in Jazz. Many of Krupa's recordings with Goodman were re-released by Verve in 1964 as 'The Essential Benny Goodman'. Soon after Krupa left Goodman, two stars in a Goodman band was one too many, to form his own band and in the early 1940s, it gave Anita O' Day her big break.
Krupa abhorred segregation and racial intolerance. In November 1941, his band were in York, Pennsylvania, hoping to eat at a restaurant before a gig, where Krupa got into an argument with a police officer over whether Roy Eldridge could eat with them. He later forfeited a $10 bond for failing to appear in court to answer a charge of disorderly conduct. In 1943 Krupa was busted in Hollywood for possession of Marijuana; he served almost three months in prison but was released when the man who had been the state witness withdrew his evidence – there was a strong whiff of a trumped up charge.
After reforming his band, Krupa got Anita O'Day back as his 'girl singer' and they did a great version of 'Opus One' together in 1945. Krupa also became interested in Bop; Gerry Mulligan began writing arrangements for the band and clarinettist Buddy DeFranco joined. It was in February 1945 that Krupa first appeared with Jazz at the Philharmonic in Los Angeles; it was the first of many and his later drum battles with Buddy Rich became part of JATP folklore.
By the early Fifties, the big band days were over for Krupa, but he kept working in a small group format. His first studio session for Clef was in 1952 and there were many more for the label, as well as for Verve, up until 1964.
In 1959 the movie about Krupa's life starred Sal Mineo; what it lacked as a factual recreation, it made up for with an excellent soundtrack that Krupa recorded. He had a heart attack in 1960 and while he did get back to work, he finally retired in 1967. In 1970, like so many great musicians, he came out of retirement and continued working until 1973. His last appearance was, fittingly, a reunion of the Benny Goodman Quartet; two months later he died. Gene Krupa encouraged more people to take up drumming than most any of his contemporaries – a proud legacy.
Words: Richard Havers
Format:
UK English