Best Lionel Hampton Songs: 20 Jazz Essentials
A huge figure in American music, here's an introduction to the flamboyant bandleader and stage entertainer.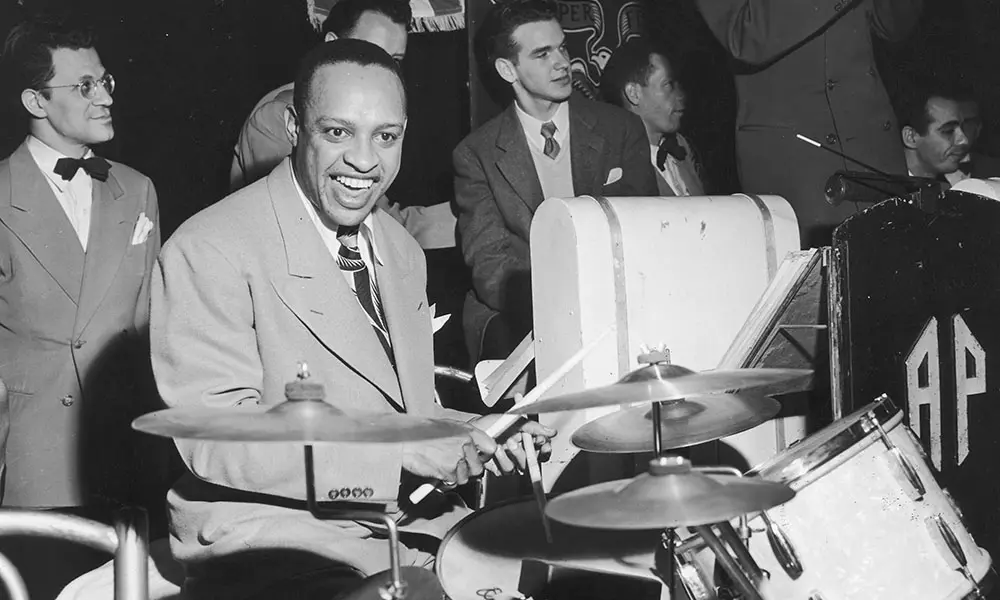 Lionel Hampton, whose career embodied the swing age of jazz, was a huge figure in American music, not only as a flamboyant bandleader and stage entertainer, but also as a pioneering figure in rock 'n' roll. (His 1942 recording "Flying Home," featured a pulsating saxophone solo by Illinois Jacquet that set the driving tone for later rock records.) Hampton, who played piano and drums, also gave the vibraphone a lasting place on the jazz bandstand after his ground-breaking recordings with Louis Armstrong in 1930. In short, it's hard to overstate Hampton's importance, which is why the Grammys, in recognition of his enormous contribution to music, awarded him a posthumous Lifetime Achievement Award in April 2021.
Listen to the best Lionel Hampton songs on Apple Music and Spotify.
Lionel Hampton, music pioneer
Lionel Hampton's rhythmically sophisticated vibraphone performances influenced a generation of future players, including Milt Jackson and Bobby Hutcherson. Hampton, who was born in Louisville, Kentucky, on April 20, 1908, played with Louis Armstrong on several recordings in 1930. During a break in their session, the pair came across what Hampton later referred to as a "vibraharp," in a side room. Trumpeter Armstrong asked Hampton if he could play it. Hampton, who said he thought the keyboard was similar to that of a xylophone, which he had studied in Chicago, pulled the instrument into the studio, plugged it in, and played a solo that he had memorized from Armstrong's record "Cornet Chop Suey." Armstrong was bowled over by the sound and asked Hampton to play the instrument on the Eubie Blake song "Memories of You." It was, according to most jazz historians, the first time the vibraharp was used on a major jazz recording.
Hampton's melodic skills made him a sought-after session musician throughout his career. In 1936, he played in a magnificent quartet with clarinet maestro Benny Goodman, pianist Teddy Wilson, and drummer Gene Krupa. Together, they created some of the classic small-band swing era recordings, and their group was a noted and pioneering example of racial mixing in an era of segregation: nobody had ever traveled with an integrated band before. "Hampton had a tremendous sense of rhythm, and he transferred that to the vibes," remarked Dan Morgenstern, director of the Institute for Jazz Studies at Rutgers University. "He could really swing, and that's what captured Benny Goodman. Hampton had a great ear and could improvise." Among the quartet's wonderful recordings is a version of the jazz classic "Moonglow."
Three years later, when the vibraphonist was traveling with Goodman's band, Hampton was nervous about having to fly from Los Angeles to Atlantic City, the first time he had been on a plane. He began whistling a melody to keep his mind off the upcoming flight. When Goodman asked him what it was, Hampton replied, "I don't know. We can call it 'Flying Home,' I guess." This swing anthem later became one of his showstopping theme tunes. During one frantic rendition at Harlem's Apollo Theater, the audience's stomping caused the balcony to crack. Hampton's fevered 1942 recording of "Flying Home" for Decca Records is regarded as a precursor to rock 'n' roll. The record also had a big influence on young musicians, including Ornette Coleman, who said it was his favorite tune as a young jazz fan.
The inspirational bandleader
"I cut my teeth writing arrangements for Lionel Hampton, and there was no better school in the world than the Lionel Hampton Orchestra," said Quincy Jones, who first worked for Hampton at the age of 15. "Hamp was the consummate jazz artist, he taught me how to groove," added Jones, who was particularly fond of Hampton's wonderful version of "September in the Rain."
When Hampton launched his own orchestra in 1940, it soon became a traveling academy for some of the greatest jazz stars of the 20th century. The musicians Hampton brought in included trumpeter Clifford Brown, saxophonist Dexter Gordon, and singers Dinah Washington and Betty Carter. Hampton took young vocalist Washington under his wing – persuading her to change her name from Ruth Jones – and their fine work together was captured in a Carnegie Hall recording for Decca Records, including the track "Evil Gal Blues." "Lionel Hampton taught me the value of showmanship. With his band I learned what this business is about," Washington remarked years later.
Evil Gal Blues (Live At Carnegie Hall / 1945)
Another protegee was guitarist Wes Montgomery, who recorded with Hampton on the 1949 song "New Central Avenue Breakdown." At the time, Hampton's orchestra was gaining popularity and his version of "Rag Mop" broke into the Billboard top 100 chart in February 1950. Milt Jackson said that one of Hampton's key qualities was the "inspirational way he played in front of a band." He also knew how to pick good sidemen, recording alongside saxophonists Stan Getz and Coleman Hawkins, pianist Chick Corea, and trumpeter Dizzy Gillespie.
This trait of being able to identify the right musical partners continued throughout his career. In October 1964, he recorded the album You Better Know It!!! for the Prestige/Impulse label. It featured Ben Webster on tenor saxophone and included a scintillating version of Duke Ellington's "Ring Dem Bells," a song that showed off Hampton's singing and scatting skills. Hampton's contribution to music was later recognized by the University of Idaho, whose school of music is named after the vibes master, the first university music school to honor a jazz musician in such a way.
A talented composer
Lionel Hampton learned rhythm and composition theory when he was growing up in Chicago in the 1920s, working out scales and harmonic extensions that would be a key part of his songwriting work in later years. Among his finest compositions are "Red Top" – co-written with Ben Kynard – a stunning cover version of which appears on Erroll Garner's Concert by the Sea. Another Hampton classic is "Hamp's Boogie Woogie," which he cut with acclaimed bass player Ray Brown and pianist Oscar Peterson.
Hampton, guided by his shrewd business partner and wife Gladys, was clever in his choice of high-impact arrangements, music loaded with brass and blues solos. The high-energy songs satisfied a post-war audience's hunger for entertainment. His catchy song "Hey! Ba-Ba-Re-Bop," released in January 1946 and featuring Herbie Fields on alto saxophone, went to No. 1 on the R&B JukeBox chart for 16 weeks. Other memorable Hampton compositions include "Midnight Sun" – a favorite of organ great Jimmy Smith – and his four-part symphonic jazz work "King David Suite," inspired by a visit to Israel. A film was made of his performance of the suite with the St. Petersburg State Orchestra.
The charismatic entertainer
Lionel Hampton's vibrant personality made him a natural for Hollywood and the musician appeared in seven major movies, including Pennies from Heaven alongside Bing Crosby. He also appeared with Little Richard in the 1957 picture Mister Rock and Roll. Celebrated jazz drummer Roy Brooks, who saw Hampton in concert in 1938, described the star in action. "He may be the only drummer I've seen dance on a drum…. He'd do a jig on a tom tom drum, sometimes he'd fall through and jump up out. He was really something."
Hampton laughed off criticism of his act, saying that his antics were eventually imitated. "They used to say, 'here comes the circus.' And now all of them do it. All that jive came from us," he told DownBeat magazine in the 1970s. He was a born showman, whether on signature tunes such as "Jivin' the Vibes" or with his memorable solo improvisations on the ballad "Stardust." Hampton could bring his own personality to whatever song he covered, including his 1955 recording at the Schola Cantorum, Paris, for his album Lionel Hampton and His French New Sound Vol. 1. The album includes a sweet version of "Crazy Rhythm," featuring the famous singer Sacha Distel on guitar.
Hampton was versatile, too, and his excellent drumming underpins "Chasin' with Chase." He loved using drumsticks and said once, "it seemed to me that drumming was the best way to get close to God." His frenetic stage persona – featuring a wide smile as mallets flew and sweat poured from his brow – was still evident when I saw him play in London in 1979, even though he was in his 70s by then. A highlight was the song on which he played a frantic piano solo using just two fingers. Hampton kept playing up until his death at 94 on August 31, 2002.
Lionel Hampton, an imaginative interpreter of classic songs
Lionel Hampton's melodic and harmonic imagination was extraordinary, allowing him to bring his own fresh interpretations to a score of jazz classics, including "Dinah," "How High the Moon" and "Honeysuckle Rose." One of his most haunting interpretations is "I Cover the Waterfront." Hampton played on a version of the song in the 1940s, when his orchestra accompanied Billie Holiday at New York's Majestic Theatre. It was a tune that Hampton returned to again and again, including a striking version for Decca Records.
Lionel Hampton "How High The Moon" on The Ed Sullivan Show
Hampton made his mark during a time when prejudice was a major obstacle for Black musicians in American life. Even at the height of his fame, he was told by a door attendant at The Ed Sullivan Show to enter once the lights were dimmed so the white audience would not "be offended" by seeing black people in the audience. In late life, Hampton would tell younger Black musicians about his difficulties touring the south in the 1930s with Goodman's band. He was proud to have taken his music on tours of Africa and was delighted to play alongside President Clinton in 1997 at a special concert where Hampton was presented with the National Medal of Arts. "I want to be remembered for spreading happiness and goodwill," he said.
Think we missed one of Lionel Hampton's best songs? Let us know in the comments below.