Best Dizzy Gillespie Pieces: 20 Jazz Essentials
Without Dizzy Gillespie, jazz would look and sound very different today – and lack some of its boundless joy, too.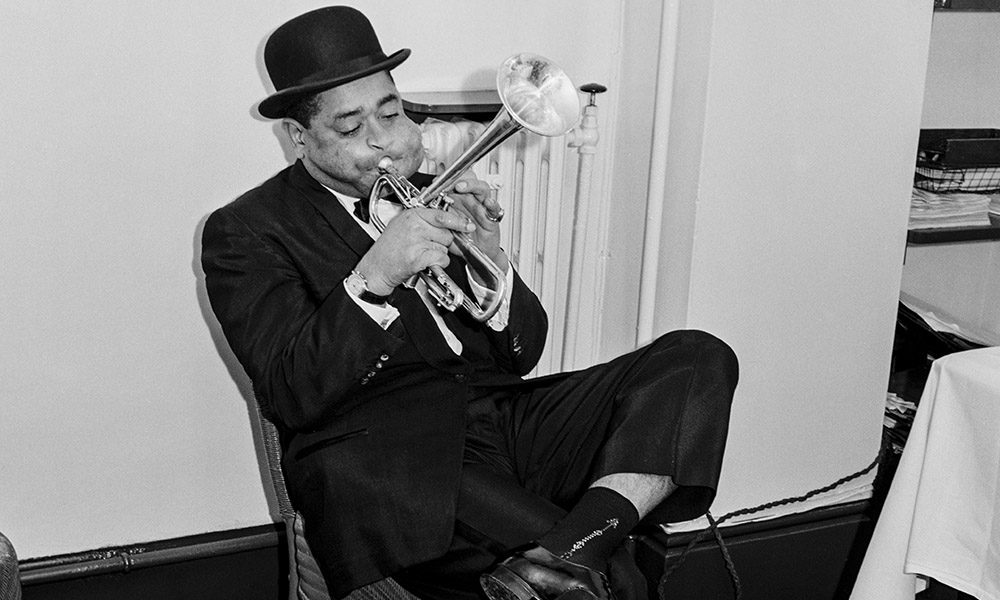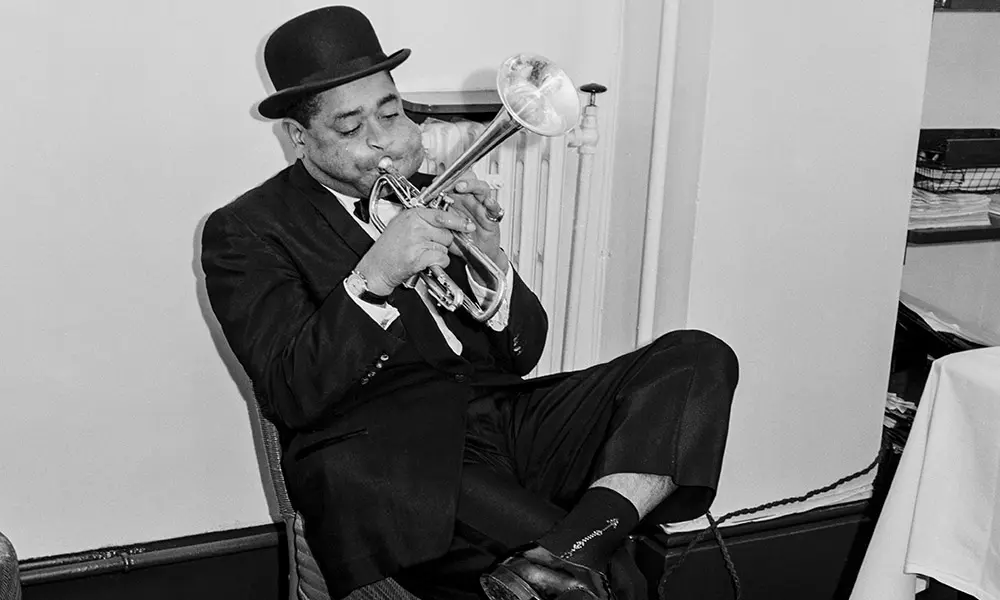 Trumpeter Dizzy Gillespie didn't just co-lead a musical revolution. He did it with style. While alto saxophonist Charlie Parker was said to perform "as though his shoes were nailed to the floor," Gillespie hammed it up onstage. And what came out of his horn – with the bell bent skyward – were some of the most hyper-modern sounds in jazz history. Bird and Diz may have had opposite demeanors, but their friction sparked a new musical paradigm. Together, they took danceable swing music, added an ocean of harmonic information, and hit the accelerator.
Gillespie's showmanship didn't make him any less studious – far from it. A natural teacher with an encyclopedic knowledge of harmony, Gillespie understood the importance of passing on his discoveries to new generations. His disciples included Miles Davis and Lee Morgan; the latter even copied his bent-trumpet style in tribute. Gillespie's career lasted half a century, encompassing big bands and small bands. Oh, and you can thank him for jazz fashion, too; if bebop conjures images of berets and spectacles, that's because Diz rocked them first.
If you're unfamiliar with bebop, Parker is the first figure to check out. His influence was so vast that music itself couldn't contain it; painters, poets, and graphic novelists are still trying to wrap their heads around him. Gillespie was his most crucial co-conspirator, one partly responsible for proliferating a new harmonic and rhythmic vocabulary. In short, without Gillespie, jazz would look and sound very different today – and lack some of its boundless joy, too.
"Dizzy needed Bird's melodic genius, and I think Dizzy gave Bird more harmonic meat on the bone so he could deal with it," trumpeter and cornetist Graham Haynes says. "I think Dizzy didn't get the credit for the genius he had because he was like a comedian, a stand-up type of guy. Bird would just play. He didn't talk to the audience. He would if he had to, but it was very brief. Dizzy was kind of like Louis Armstrong; he had to communicate with the audience and make them feel at ease."
Listen to the best Dizzy Gillespie pieces on Apple Music and Spotify.
John Birks "Dizzy" Gillespie was born in 1917 in Cheraw, South Carolina, as the youngest of nine children ("Only seven of us lived long enough to get a name," he darkly noted in his 1979 memoir To Be, Or Not… To Bop.). His relationship with his bricklayer father, James Gillespie, went about as deep as the weekly beatings he doled out on his children. But James also played piano in a band and stored their instruments in their living room.
When Dizzy was 10, his father died, by which time he had tried just about every instrument in the house. His education continued by way of trumpet and piano, and when the Gillespie family moved to Philadelphia in 1935, Diz soon began playing in clubs. While in Frankie Fairfax's band, he learned many of the solos by the trumpeter who would become his idol and primary influence: Roy Eldridge.
Two years later, Gillespie moved east to New York to join Lucky Millender's band and ended up with Teddy Hill's group instead. After cycling through several other ensembles, he got a break and joined Cab Calloway's band in 1939. Soon after, Gillespie recorded his first major track alongside some of the most pivotal musicians of the day in Lionel Hampton's group.
The big band leader
In September 1939, Gillespie recorded the swinging "Hot Mallets" with Hampton, tenor saxophonists Ben Webster, Coleman Hawkins, Chu Berry, and alto saxophonist Benny Carter.
As Ted Gioia lays out in 1997's The History of Jazz, another crucial aspect of this period in Gillespie's life were jam sessions with Bird, pianist Thelonious Monk, and drummer Kenny Clarke at Minton's and Monroe's Uptown House in New York. At the time, the old guard was hostile to the new sound they were making; Calloway denigrated it as "Chinese music."
In 1941, Calloway's new trumpeter Jonah Jones fired a spitball at him on the bandstand. The leader turned on an innocent Dizzy, who retaliated by pulling a blade on him backstage and cutting him. Just like that, Gillespie was out.
Gillespie didn't have much problem finding more work, though. He went on to play with luminaries from Benny Carter to Woody Herman, eventually joining Earl Hines' band as a musical director. While with Hines, Gillespie composed the fiery "A Night in Tunisia." The 1946 version of this tune with tenor saxophonist Don Byas and vibraphonist Milt Jackson was inducted into the Grammy Hall of Fame in 2004.
Gillespie also worked with the brilliant pianist and composer Mary Lou Williams, who arranged "In the Land of Oo-Bla-Dee" for his band in 1949. In his memoir, he praised her as "always in the vanguard of harmony."
Gillespie recorded many versions of "Tunisia" over the years, and some of jazz's greatest hard bop artists gave it a go, too. On their 1960 album A Night in Tunisia, Art Blakey and the Jazz Messengers supercharged it into a ferocious drum showcase.
Also worth checking out from Gillespie's big-band recordings: his elegiac take on "I Remember Clifford," which the tenor saxophonist Benny Golson wrote in tribute to the fallen trumpeter Clifford Brown, from 1957's Dizzy Gillespie at Newport.
The bebop pioneer
1945 was a pivotal year for Gillespie. That February, he recorded defining versions of his compositions "Groovin' High" and "Blue 'n' Boogie" with a sextet that included tenor saxophone great Dexter Gordon.
"Groovin' High" was based on the chord changes to the Paul Whiteman-popularized tune "Whispering" and became one of Diz's signature tunes. "Blue 'n Boogie" later inspired classic renditions by Miles Davis, Wes Montgomery, and Sonny Rollins.
Gillespie and Bird had swum in similar circles before, with the pair playing together in Hines' big band. But that year, they banded together in earnest, recording an irresistible single with pianist Al Haig, bassist Curly Russell, and drummer Sidney Catlett.
"I believe that the history of jazz will remember as an essential date the point in May 1945 when five black musicians recorded 'Hot House' and 'Salt Peanuts,'" the French critic André Hodier declared in 1999's Groovin' High: The Life of Dizzy Gillespie.
Gillespie also recorded "Shaw 'Nuff," which displays his facility with running octaves at blazing tempos without sacrificing clean articulation, and "Dizzy Atmosphere," a whirlwind composition with Bird based on George Gershwin's "I Got Rhythm" changes.
Late in the year, Gillespie's band headed to Los Angeles, where Bird stayed and entered an adrift, drug-induced period. In February 1946, the group – with Don Byas in Parker's place – recorded "52nd Street Theme," a percolating Thelonious Monk tune.
"[T]hey were the ones who came to me with questions, but they got all the credit," Monk complained of Bird and Diz two decades later. "They're supposed to be the founders of modern jazz when most of the time they only interpreted my ideas… Most musicians know this, which is why they all adopted '52nd Street Theme.'"
Also of interest: his take on Bird's "Relaxin' at Camarillo," which Bird titled after a six-month stay in a California mental health facility. The tune appears on Diz 'N Bird at Carnegie Hall, recorded in 1947 and released on CD half a century later. (For more primo Bird and Diz, check out, well, Bird and Diz, their classic joint studio album from 1950.)
Relaxin' At Camarillo (Live)
For more small-group Gillespie, seek out his version of the moonlit standard "There Is No Greater Love" and his original "Woody 'n' You." "The tune just popped out on a record date I had with Coleman Hawkins," Gillespie recalled of "Woody 'n' You" in his memoir. "The song came right from the chords, and I named it… after Woody Herman because he liked my writing so much."
There Is No Greater Love (Take 1)
The Afro-Cuban developer
Gillespie's budding interest in Afro-Cuban jazz accelerated thanks to Chano Pozo, a percussionist, dancer, and composer well-known in Cuba. For Pozo's debut with Gillespie's big band in September 1947, he contributed "Cubana Be – Cubana Bop."
"It was the most successful collaboration I ever seen with three people," Gillespie later gushed. "Because I could see what I wrote and I could see what [arranger] George [Russell] wrote, and I could see the contribution of Chano Pozo. George Russell came back and spread out what I had written and what Chano had done, and it was beautiful."
Some other classic Pozo and Gillespie co-writes: "Manteca," which loosely means "greasy" and seamlessly slides between Latin and swing rhythms, and "Tin Tin Deo," which Pozo wrote with Gil Fuller and went on to become a Diz classic.
"Dizzy's love of Cuban music is so interesting because people acted like it was this big leap, but in another way, it was a reconnection," percussionist Adam Rudolph says. "If you research New Orleans music and the bamboula, what people call the clave, Bo Diddley and all of that, there's this huge connection. For him to reconnect it like that, that was a big deal."
For more inspired braidings of the bebop and Cuban traditions, listen to "Con Alma" from Gillespie's 1954 album Afro, a prime example of Gillespie adding sophisticated harmonies to already rhythmically multilayered Afro-Cuban music. Also, check out his take on Antonio Carlos Jobim and Vinicius De Moraes' "No More Blues," which can be found on 2004's Dizzy For President.
The later years
In 1956, Gillespie went on tours sponsored by the State Department, an undertaking that also involved Louis Armstrong, Dave Brubeck, Benny Goodman, and Duke Ellington.
After that "Jazz Ambassadors" program wrapped up, Gillespie remained an ambassador for the music in his own right, leading small groups with sidemen like a young Quincy Jones, a then-teenaged trumpeter Lee Morgan, alto saxophonist Phil Woods, and pianist Wynton Kelly.
In 1968, Gillespie converted to the Baha'i faith, which hinges on the idea that humanity is part of one family – a concept that defined the latter period of his life. While Gillespie stayed mostly in first-gear creatively in the ensuing decades, he remained a first-rate trumpeter and educator.
Although the jazz world he once reigned over was crawling with imitators, they knew he was still the boss. For stellar late-period Gillespie, check out 1974's Dizzy Gillespie and Oscar Peterson, a duet album between himself and the piano giant. Their original "Mozambique" shows how his abilities remained undimmed.
Gillespie died of pancreatic cancer in 1993 at 75. "[M]aybe my role in music is just a stepping-stone to a higher role," he wrote at the end of his autobiography. "The highest role is the role in the service of humanity, and if I can make that, then I'll be happy. When I breathe the last time, it'll be a happy breath."
Think we missed one of the best Dizzy Gillespie pieces? Let us know in the comments below.