Ella Fitzgerald And Verve – How It All Began
On January 25, 1956, Ella Fitzgerald recorded for Verve Records for the very first time. It was the beginning of a resurgence in the singer's career.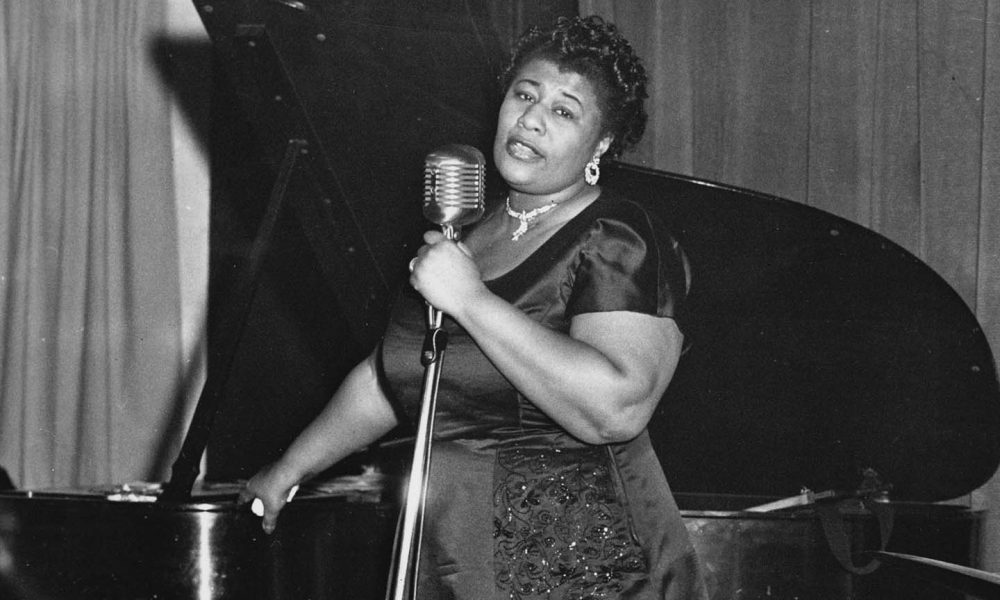 Ella Fitzgerald was, in so many ways, the making of Verve Records. Norman Granz had been running Clef for over half a decade and had created Norgran to differentiate between the kinds of jazz he was recording. He could perhaps have placed the singer on that imprint, though Granz's perception that it was for "the cooler crowd" may have prevented him from taking that option.
Granz had extricated Ella from her Decca contract with the "trade-off" of the soundtrack to The Benny Goodman Story. It was Granz's ambition to re-ignite Ella's career, having been critical of what Decca had given the singer to record – he needed to be sure he got it right.
"When I recorded Ella, I always put her out front, not a blend. The reason was that I frankly didn't care about what happened to the music." – Norman Granz
Let's Do It (Let's Fall In Love) (Lyric Video)
When the announcement came that Granz was forming a new label on Christmas Eve 1955, it may have even come as a shock to some people in the industry. As recently as a month earlier, Billboard was speculating that Granz, despite being a confirmed jazz fan, found the operation of his labels the least enjoyable of his "tied-in" business ventures. Having used the lure of a gig with Jazz at The Philharmonic, Granz had got recording contracts with just about every big name musician in jazz. So much so that both George Avakian Columbia's head of jazz and his opposite number at RCA Victor were finding it difficult to keep up with Granz. It was only Blue Note, another label with the independence of mind to operate outside a major label that had a roster of artists matching Verve.
The first that many people outside Granz's circle heard of his new label was on New Year's Eve 1955, when the music industry trade press began reporting the coming of Verve Records. It was announced that Verve was to be an all-pop operation – i.e. artists that might break into the pop charts – and that Granz was starting Down Home Records to specialize in Dixieland jazz, which was having something of a revival; Granz was to run Down Home, and twenty-four-year-old Buddy Bregman would run Verve Records on a day-to-day basis. Granz would, of course, continue to run Clef and Norgran.
Artists specifically mentioned that would be represented by Verve were Count Basie and "his warbler," Joe Williams, Anita O'Day, Buddy Rich, and Gene Krupa. Bregman's first signing was the long-forgotten Toni Harper.
No one knows why Norman Granz decided to call the label Verve. No one seems to have asked him why; it just was. In December 1937, a quarterly magazine about the arts named Verve was founded by Efstratios Tériade to be "the most beautiful magazine in the world." The cover of the first issue was a painting by Matisse. By the early 1950s, as Granz was spending more time in France and pursuing his interest in art, Picasso was among the artists whose work was featured on the cover. It seems possible given Granz's subsequent friendship with Picasso and ownership of so many of his paintings that this could have been the motivation behind the naming of his new label.
Two weeks into 1956, Granz announced that Ella, who had been with Decca for two decades, was going to be recording for Verve as well as hinting that there would be other big-name signings. So pleased was Granz that he took a full-page advert in Billboard to proudly display the company's logo under a banner headline that shouted, "We Got Ella!"
On January 25, Ella went into the recording studios for her first session for her new label. The Ella recordings were not for a new album; they were four songs that were designed to be singles and the session was at the Capitol Studios in Los Angeles with an orchestra conducted by Bregman that featured the cream of LA session men, among them trombonist, Milt Bernhart, famous for his trombone solo on Sinatra's "I've Got you Under my Skin." Also in the band was guitarist Barney Kessel, saxophonist Bud Shank, the Harry "Sweets" Edison on trumpet, and drummer Alvin Stoller.
The first song Ella ever recorded for Verve was "Stay There," which came out in the spring of 1956 as a single, coupled with "A Beautiful Friendship," from a session in March. The latter made the lower reaches of the charts, and in doing so was Ella's first hit for three years, justifying Granz's ambition.
Two weeks after Ella's first session, she was back in the studio with Buddy Bregman and an orchestra recording what is arguably the defining record of her career and one that helped Verve to become the quintessential jazz label of the 1950s. Ella, Granz, and Bregman went to Capitol's studio in Hollywood and spent three days recording what was to be Ella Fitzgerald Sings The Cole Porter Songbook. The combination of Ella and Porter is irresistible and whether up-tempo or down-tempo, Ella's three-octave range voice soars effortlessly as she makes each song come to life. All helped by the cream of L.A. session men and Buddy Bregman's arrangement that oozes sophistication way beyond his twenty-four years. It is a perfect record.
Interestingly Granz had initially wanted Nelson Riddle to do the arrangements for Ella but he refused, probably because he was committed to Frank Sinatra's recording career at this point. Granz, while taking a chance on Bregman, would later reveal to his biographer Ted Hershorn that he was not at all bothered about the band's arrangements. It was all about Ella's voice.
Listen to the best of Ella Fitzgerald on Apple Music and Spotify.