Blue Note And Hip-Hop: How A Jazz Label Continues To Shape Music
Blue Note and hip-hop have become inextricably linked. The label has been sampled countless times and now signs artists that merge jazz and rap.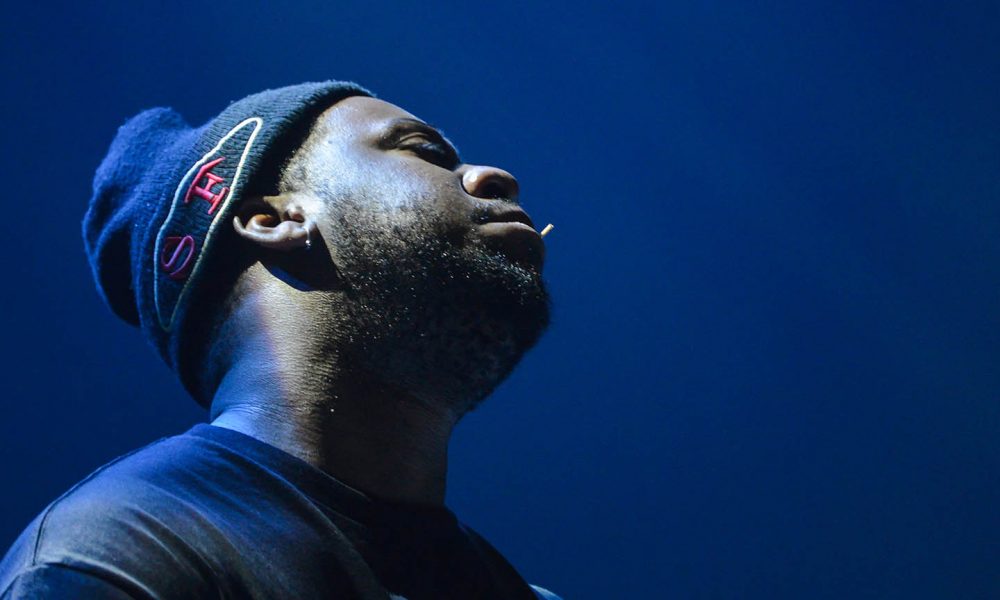 The idea that jazz and hip-hop were two fruits from the same tree was contentious to some people – especially old-school jazz buffs – when, in the late 80s, Quincy Jones acknowledged the relationship between the two. "Bebop and hip-hop, in so many ways, they're connected," he said at the time. "A lot of rappers remind me so much of bebop guys in terms of improvisation, beats, and rhymes." But jazz is arguably second only to soul music in its influence on hip-hop; and, within that, the relationship between Blue Note and hip-hop is inextricably entwined.
"Hip-hop sprang from jazz poetry and 'the dozens'"
Though some were unconvinced by Jones' belief that Charlie Parker and Kool Moe Dee were musically related, the Thriller producer went further in explaining the shared roots of jazz and hip-hop: "Few rappers realize the genre sprang from West African griots through Delta slave songs to jazz poetry and the comedic trash talk of 'the dozens,'" he said.
Over time, Jones' assertion that jazz and rap were siblings rather than strangers gained currency. What aided the acceptance of this viewpoint and seemed to prove its veracity was the emergence of hip-hop tracks built on samples of old jazz records. For an aspiring hip-hop producer armed with Akai 900 sampler, Blue Note Records' catalogue, containing almost 1,000 albums, proved to be a veritable treasure trove of potential beats and grooves. One of the first hip-hop acts to actively access the Blue Note canon was A Tribe Called Quest, who debuted in 1990, embodying the notion of jazz and rap being intimately related.
While many in the music industry – from the labels and the producers right down to the artists themselves – during the late 80s and early 90s were arming themselves with lawyers to fight the copyright infringement that sampling represented, Bruce Lundvall at Blue Note Records saw the potential that hip-hop had to draw interest to his label's history. In 1992, when a British hip-hop group led by Geoff Wilkinson called Us3 made a track that featured an unauthorized sample from an old Grant Green Blue Note record, Lundvall signed the band and then gave them carte blanche to trawl the Blue Note archives for beats. Sampling Herbie Hancock's 1964 track "Cantaloupe Island," Us3 reconfigured an old jazz side into a fresh hip-hop track called "Cantaloop (Flip Fantasia)," which became a big US hit. This vindicated Lundvall's decision, and the relationship between Blue Note and hip-hop flourished exponentially during the 90s.
US3 - Cantaloop (Flip Fantasia)
Plundering the vaults
Though Us3's Hand On The Torch was the first hip-hop LP on Blue Note, it wasn't the last. In 1997, the group released their second album, Broadway & 52nd (named after the area in New York where bebop was born), for the iconic jazz label that Alfred Lion and Francis Wolff had established 48 years earlier. It was a time when sampling, which had caused confusion for the music industry when it first emerged in the mid-80s, had been legitimized. If you got permission to use it and paid the composers royalties while acknowledging the original song, then anyone could sample anything. It had become the most lucrative new development in the music industry and some of Blue Note's musicians soon became financial beneficiaries of the new technology as the label's vaults were plundered for beats and samples.
The connection between Blue Note and hip-hop gave the label credibility with a younger audience – especially one that listened to rap but wanted to know more about its roots – and this development led to the label's resurgence. Strengthening the relationship, Blue Note began a long-running compilation series called Blue Note Break Beats, which featured the label's most-sampled songs, as well as a Rare Groove series that reissued vintage albums that were of significance to the hip-hop community. At the same time, the label began signing exciting new artists who played jazz but were influenced by hip-hop – people such as saxophonist Greg Osby, trumpeter Tim Hagans, and guitarist Charlie Hunter; bands like Medeski, Martin & Wood, and New York retro-funk trio Soulive; and, from Europe, Swiss-born trumpeter Erik Truffaz and French "nu jazz" artist St Germain.
As the 90s gave way to the 00s, Blue Note continued to be at the forefront of the jazz-rap intersection. In 2003, the label allowed DJ and producer Madlib – at that time regarded as one of the most creative beatmakers in the world – to remix a bunch of old Blue Note tracks. The end result was Shades Of Blue: Madlib Invades Blue Note, where the man born Otis Jackson, Jr, put a fresh new spin on music by Donald Byrd, Bobby Hutcherson, Horace Silver, and others.
Blue Note emerges glistening
In 2005, Blue Note made most their most significant signing of that decade in terms of developing the relationship between jazz and hip-hop, bringing a young Texan pianist called Robert Glasper to the label. He could play glistening acoustic piano like Herbie Hancock but was also no stranger to electric keyboards and was deeply influenced by hip-hop (and he would later play on albums by Common and Kendrick Lamar). Glasper's debut LP, Canvas, was largely straight-ahead in style but his second album, In My Element, had a more pronounced hip-hop influence, especially in terms of its grooves, beats, and looped-like piano sections. 2009's Double Booked, an album that was half straight-ahead jazz and half R&B-meets-hip-hop, was a game-changer and set the pianist on a path that would culminate in the genre-bending Black Radio album in 2012. Its sequel, 2013's Black Radio 2, cemented Glasper's position as a leading jazz musician who also straddled the worlds of R&B and hip-hop. More recently, Glasper has put together a Blue Note supergroup, R+R=NOW, whose 2018 debut album, Collagically Speaking, went even further in bringing Blue Note and hip-hop closer together.
Since Glasper's arrival – and, indeed, success – Blue Note, in the Don Was era, has expanded its roster of jazz musicians who are inspired by hip-hop. One of them is bassist extraordinaire Derrick Hodge – also a member of Glasper's Experiment band – who's recorded two albums for the label so far, has also collaborated with Common and Kendrick Lamar, and makes music with strong hip-hop inflections.
I Stand Alone - Robert Glasper Experiment featuring Common & Patrick Stump
Then there's Californian trumpeter Ambrose Akinmusire, who joined the label in 2011 and immediately impressed with his distinctive horn sound on his critically-acclaimed debut, The Heart Emerges Glistening. Four albums later, in 2018, he released his most significant opus yet, the highly politicized Origami Harvest, which is a thrilling synthesis of post-bop and cutting-edge hip-hop (it also has the distinction of being the first Blue Note record to bear a "Parental Advisory" sticker).
Traces of hip-hop's DNA can also be found in the multi-hued music of saxophonist Marcus Strickland and his band, Twi-Life (their 2018 album, People Of The Sun, features veteran rapper Pharoahe Monch) and Nashville soul-jazz singer Kandace Springs, whose second album, Indigo, was produced by noted jazz drummer-turned-rap producer Karriem Riggins.
Blue Note and hip-hop: inextricably entwined
Imagine for a moment that you could draw a family tree delineating all of the interconnections between Blue Note hip-hop. You would find a complex diagram criss-crossed with a multitude of links showing that Blue Note's history is inextricably intertwined with the evolution of hip-hop.
Indeed, the label, which first started back in 1939, has been instrumental in marrying those two forms of music. And that's why Blue Note has always been in the vanguard of chronicling cutting-edge developments in African-American music. The iconic label is as relevant today as it was when Alfred Lion and Francis Wolff documented the hard bop boom in the late 50s, and, thanks to the artists on its current roster, the relationship between Blue Note and hip-hop promises even more forward-thinking music to come.
Follow the Blue Note's Jazz Meets Hip-Hop playlist for more essential Blue Note and many more contenders for the best Blue Note samples.