"You Have No Choice But To Be Relevant": Robert Glasper Talks 'Collagically Speaking'
Robert Glasper talks about R+R=NOW's debut album, 'Collagically Speaking', and why it's rare to be "so good at what you do but with no ego".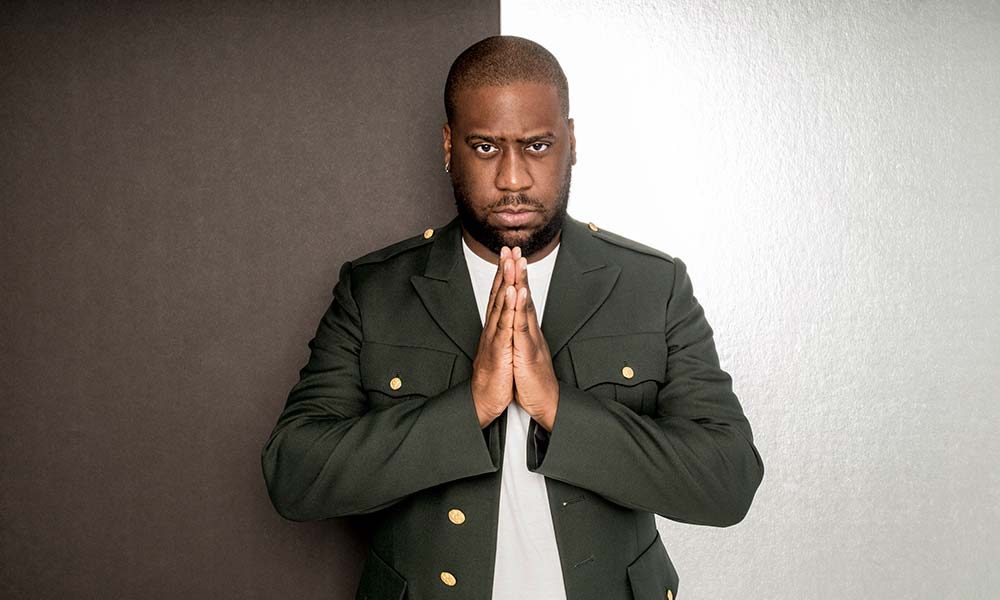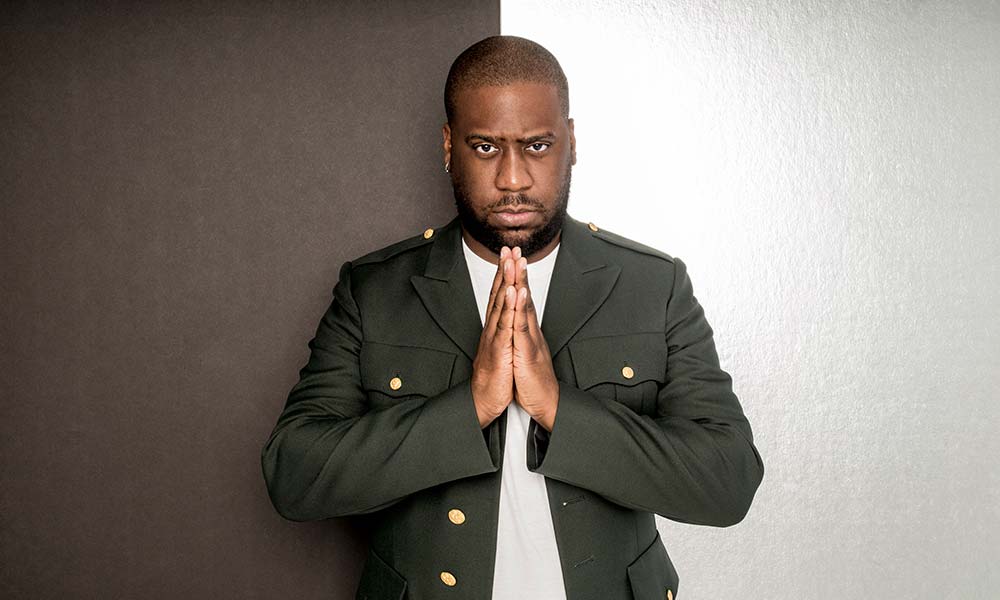 For a variety of reasons, supergroups can sometimes fail to live up the hype surrounding them, resulting in some profoundly disappointing musical outcomes. Not so in the case of R+R=NOW, whose debut album, Collagically Speaking, released on Blue Note on 15 June 2018, made headlines for all the right reasons.
The band, a sextet, was the brainchild of jazz keyboard maven Robert Glasper, who, as his participation in the Blue Note All-Stars project revealed, is no stranger to big-name ensembles. Together with trumpeter Christian Scott aTunde Adjuah, saxophonist/vocoderist Terrace Martin, keyboardist and beatbox specialist Taylor McFerrin, bassist Derrick Hodge and drummer Justin Tyson – all of whom have already made their distinctive mark in urban music – Glasper assembled a sextet of like-minded spirits whose collective sound and style blurs the lines between jazz, hip-hop, R&B and ambient music.
Listen to Collagically Speaking right now.
The group, says Glasper, first came together for the SXSW festival in Texas last year, where they were billed as Robert Glasper & Friends. "The festival asked me to do something different and play with a group I'd never put together before," reveals the Dallas-born pianist. "So we got together, did one show and it was awesome." When it was time to record a new album for Blue Note, Glasper decided that he wanted to reunite with the band in the studio. "Those specific guys are all trailblazers in their own right and they have an individual voice," he says. "I felt like it would be a great collaboration between all of us because we all bring something different to the table and understand each other."
Though the group was his initial idea, the triple Grammy-winner doesn't consider himself the leader and wanted to create a more democratic unit in creative terms. "I wanted to make a record that when you listen to it, you don't know who the leader is," he says. "There's no piano solo on every song screaming, 'I'm the leader.' I think that's also what makes it such a balanced album."
Also, what makes the group unique, says the 40-year-old pianist, is the absence of egotism. "That's why I chose those specific guys," he says. "First of all, everybody just brings originality and their own thing. There are other guys I could have chosen that, musically, could do the same things but they have egos, which affects the music and the whole vibe. I specifically chose these guys because there's none of that – and that's a rare thing: to be so good at what you do but with no ego."
The band's name, R+R=NOW, might seem like a conundrum to the uninitiated, but for Glasper it's a clear and simple concept: "I made the band's name an equation," he laughs, explaining that "R+R" stands for "reflect and respond". "I got the 'reflect' part after watching a Nina Simone documentary on TV," he recalls. "She said, 'As artists, it's our job to reflect the times.'"
Collagically Speaking (Album Trailer)
In contrast, the "Respond" part of the band's name was inspired by a quote closer to home – from Glasper's buddy, bassist and fellow Blue Note recording artist Derrick Hodge, when they were working together in the studio on a Terrace Martin solo album. "Derrick played something that we thought was amazing and he said, 'I'm just responding, man,'" Glasper recalls. "It was enlightening to hear him say that and it became the second word of the band's name. Then I made it an equation by adding '=NOW' because I think if you're reflecting and responding to what's going on, you have no choice but to be relevant, in the moment, and of the now."
Having explained the band's name, Glasper then feels obliged to translate the album's title, Collagically Speaking – because you won't find the word "collagically" in any dictionary. "I made up that word," says Glasper with a hearty chuckle. "It comes from the word 'collage', because, for me, this album is an audio collage. In fact, I was going to name it that, but I felt it was too obvious. I felt Collagically Speaking was a better description because we were speaking in a musical language that is natural for us without thinking about it… and it came out in a collagical way."
With its multi-layered textures, shimmering tone colours and discursive musical dialogue, Collagically Speaking lives up to its title. It presents 11 songs, ranging from reverie-inducing R&B grooves ('By Design') and funked-up fusion ('Resting Warrior') to eerie electronic soundscapes ('HER=NOW') and collisions of jazz and hip-hop ('The Night In Question'). What unites these disparate songs is spontaneity. Nothing was rehearsed or premeditated.
"Everything you hear was written five minutes before we recorded it," laughs Glasper, who says the album was recorded in only four days but, ironically, took longer to mix. "Every song you hear is one take. We didn't do anything twice." The music is intuitively put together, created by six exceptionally gifted musicians tuning in to each other's individual vibes. "We were just listening to each other," says Glasper, "and reflecting and responding on the record."
Collagically Speaking is an album where mood, groove and texture triumph over traditional jazz-style soloing. Though he's a virtuoso pianist, on this album Glasper is content to ride the grooves. He says that a supporting role like that gives him great pleasure: "I absolutely love it. I genuinely love adding colours and just grooving. That's very, very rare when it comes to jazz musicians. Most of them want to bust their load over everything but I genuinely love colours and space because it makes me feel like the listener."
Many of the lead melodies come from trumpeter Christian Scott aTunde Adjuah, who also shows that, like Glasper, he can contribute textural nuance and background colour. "The way he incorporates his trumpet is so dope because it doesn't sound the same on every song," enthuses Glasper. "He has gadgets and pedals that manipulate the sound and make things really cool, interesting, and mysterious. They make each song have its own story. His style of playing just really meshes with us because he can easily play background with the trumpet and add ambience."
Also key to the band's sound is Terrace Martin. He can be heard on vocoder and keyboards, and it's his unique sensibility, together with his experience as a producer, that helps to blend the jazz and hip-hop elements so cohesively on Collagically Speaking. "Me and Terrace go way back," explains Glasper. "We met when we were 15 years old at a jazz camp in Denver, Colorado, and have stayed friends." Though Martin started as a jazz saxophonist, he swapped sides, so to speak, and became a successful hip-hop producer. According to Glasper, Martin is "one of the main ingredients in the whole crossover world, crossing over from jazz to hip-hop, and hip-hop to jazz, and blurring those lines".
As a producer, Martin was behind Kendrick Lamar's groundbreaking 2015 album, To Pimp A Butterfly, which Glasper also played on. "Terrace brought all the cool jazz cats onto that record," states Glasper, who believes that the album was as important to the jazz world as the hip-hop one. "It really tilted the industry and the music world," he says, acknowledging that Martin's presence gives R+R=NOW credibility in the hip-hop realm. "Terrace has a lot of respect in the hip-hop world as a producer. So it's like he's energised hip-hop and now is coming back over to the jazz world, and that helps us out with him having so much respect in those worlds."
The band is augmented by several cameo slots on Collagically Speaking – there are spoken-word contributions from actors Omari Hardwick, Terry Crews and Amanda Seales, as well as appearances by rappers MC Stolley, yasiin bey (formerly known as Mos Def) and Moonchild singer, Amber Navran. "Almost everybody on the record was actually there at the recording studio just hanging out," says Glasper, explaining the album's guest spots. "They weren't supposed to be on the record at all. They just came to hang but happened to jump on because they were there in the moment. It wasn't planned. A lot of my records are like that."
Though, thematically, Collagically Speaking confronts humanity's failings – hatred, racism, bigotry and sexism – and addresses and reflects upon what Glasper calls "the challenging times we live in", the final track, the peaceful 'Been On My Mind', gives us a glimpse of redemption. After the final note, Glasper poses the question, "What is love?" which is answered by yasiin bey, who says, profoundly: "Love is God's signature on all of creation."
Glasper agrees that love is the solution to the world's problems. "I think it's the answer to most things," he observes. "If you loved everybody like your mum, dad, brother or sister, then there would be no racism. There would be no hate crimes against LGBT people and people who are different. The basic principles of love would just cancel out most of those things."
Just prior to the release of Collagically Speaking, Glasper appeared – playing with the Blue Note All-Stars – in Sophie Huber's acclaimed documentary, Blue Note Records: Beyond The Notes. "It was great. I saw it for the first time at the Tribeca Film Festival," he reveals. "I knew that the All-Star group was going to be in it, but I didn't know that it was going to be centred around us." The film captures the moment when Glasper's musical hero, Herbie Hancock, together with fellow jazz legend Wayne Shorter, join the session. According to the pianist, it resulted in "the greatest musical moment of my life".
Producing that session was Blue Note's boss, Don Was. Glasper, who's been with Blue Note since 2005, says that Was is not a typical record executive. "He's like a god walking around the office," laughs the pianist. "The cool thing about Don is he understands the artist in a true, real fashion, because he's an artist himself. He was a musician first, then he became a producer. Now he's in the corporate chair but he has a cool way of dealing with things because he's always for the musician."
Collagically Speaking is out now and can be bought here.
Format:
UK English