Nina Simone
Nina Simone was one of the most influential and acclaimed artists in soul and R&B and was equally acclaimed for her civil rights activism.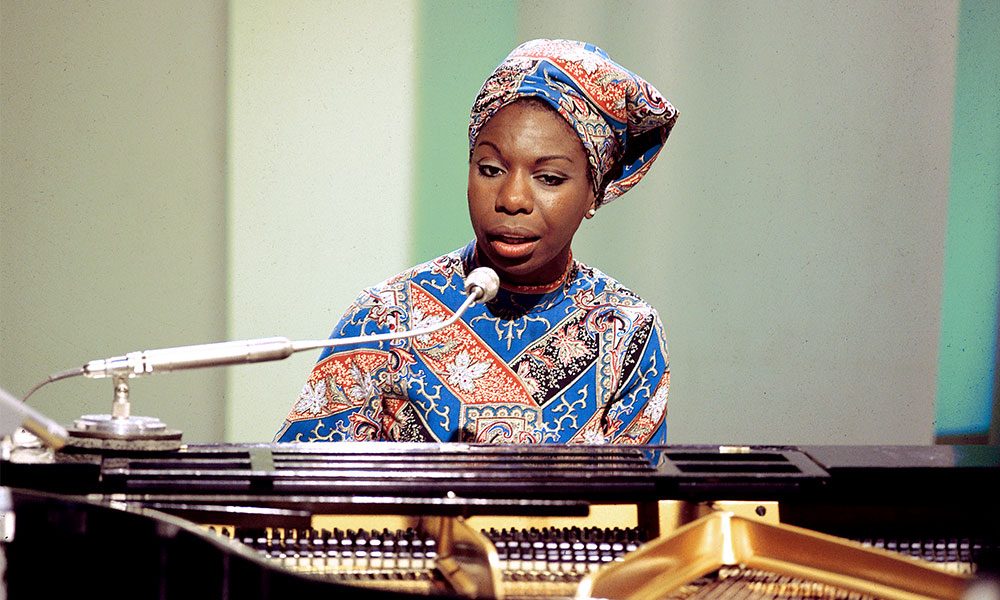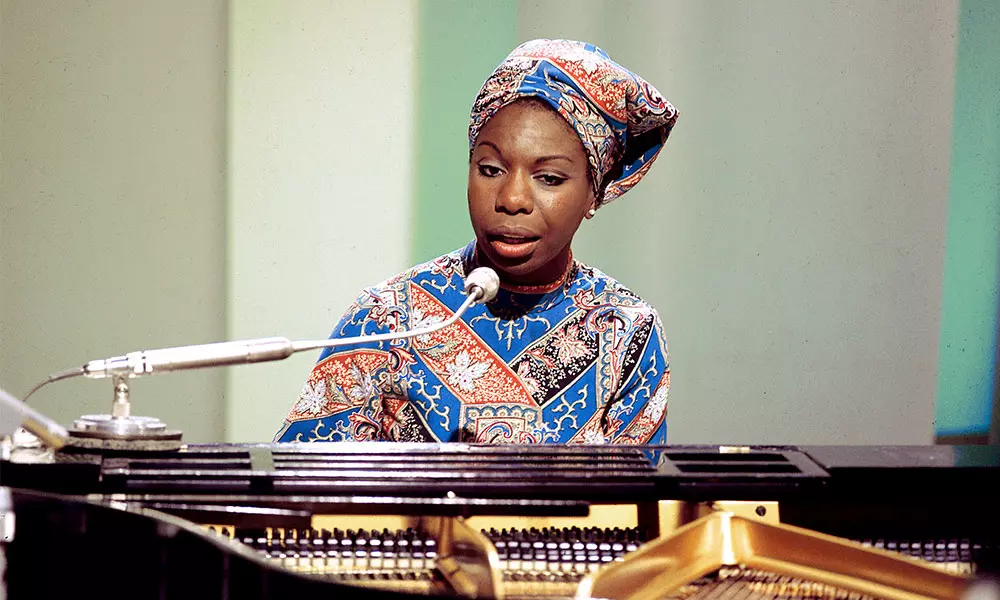 As with so many other jazz greats, gospel music and the church would shape Nina Simone's musical direction. She was difficult to work with at times, but her singing was always fabulous; never afraid to try to do different things she stands alone as a unique voice in contemporary music. A committed supporter of Civil Rights she often wore her politics on her sleeve, which made her enemies, but her legions of fans forgave her when she played the piano and sang with such unadulterated passion.
Simone was born Eunice Kathleen Waymon on 21 February 1933 in Tyron, North Carolina and her mother was a Methodist minister and her father a handyman and preacher, and Simone would play piano and organ in the church. She displayed a precocious talent for playing by ear when she was only three years old and received tuition in classical music – her favourites were J. S. Bach, Chopin, Brahms, Beethoven and Schubert. She passed out of high school top of her class and won a scholarship to the Juilliard School in New York. When her family moved to Philadelphia, Simone failed to get into the reputable Curtis Institute of Music, despite giving an outstanding audition. She suspected racial motives behind her rejection and the sabotage of her career as a classical pianist.
'I started to think about myself as a black person in a country run by white people and a woman in a world run by men.' – Nina Simone
Resorting to teaching music to help support her large family – she was one of eight children – she also performed popular songs in bars in Atlantic City, adopting her stage name, created from 'Niña' – a Hispanic boyfriend's pet name for her – and the surname of a French film star that she had seen on a poster. Word quickly spread about this amazing newcomer, mixing pop, jazz and blues with classical influences, and singing in a beautiful rich contralto, she soon began receiving a lot of attention.
A recording of her performing made its way to Syd Nathan, and she was signed to Bethlehem Records, the jazz imprint of his King Records. In a single thirteen-hour session in December 1957, she recorded fourteen cuts, enough material for her debut record and subsequent releases. Her debut album, Little Girl Blue (1958) is an outstanding record. Besides her hit single, it includes one of her best-known tracks, "My Baby Just Cares For Me", as well as her own "Central Park Blues", which she made up in the studio and recorded in one take.
In August 1959, "I Loves You Porgy" broke into the Billboard charts and made it to No. 18 late in the summer; considering her talent and reputation, it is surprising that this became Simone's only Top 20 hit on the American pop charts. She later revealed: 'The music I played, to which I dedicated mystery, was so inferior. That was why I put as much of my classical background as I could into the songs I performed and the music I recorded, to give it at least some depth and quality.'
For Nina Simone, playing jazz and blues was only ever considered a stopgap until she could reignite her classical career and when she did find success as a popular performer it established an internal dichotomy and an animosity towards the recording industry that has been suggested as partly responsible for her subsequent mental illness.
Additional factors would include consternation at receiving no royalties under her first contract, and illegal release of her recordings, robbing her of dues worth millions of dollars. 'You know, I made thirty-five albums and they bootlegged seventy! Oh, everybody took a chunk of me', she would complain to her audience at the Montreux Jazz Festival in 1976. Her paranoia was exacerbated by advancing schizophrenia and her behaviour could be extreme at times, arriving late for concerts and then refusing to play until there was silence – 'I expect and deserve respect' – or simply shouting 'Shut up!' in heated arguments with her audience.
Leaving Bethlehem Records as soon as it was possible, Simone signed with Colpix in 1959, staying with them until 1964, and when making an active decision to dedicate her art to a worthwhile cause – the civil rights movement – she signed with Philips Records. Her first release was Nina Simone In Concert (1964), which includes songs specifically about civil rights, in particular, "Old Jim Crow" and the astounding "Mississippi Goddam". In 1994, Simone had a hit in the UK with "Feeling Good" following its use in a VW commercial on television; it is taken from I Put A Spell On You (1965). Her period with Phillips was a productive one, and following Polygram being acquired by Universal her records have been released by Verve.
Simone would introduce more civil rights material into her performances, such as the anthemic "To Be Young, Gifted, And Black". Disillusioned with racism in the United States, Simone left in 1970, living first in Barbados, then Liberia, Switzerland, Paris, the Netherlands and finally, the South of France. Simone received three honorary degrees, the last one from the Curtis Institute, the school that had rejected her half a century before, awarded only two days before her death from breast cancer.
Words: Richard Havers
Check out the Nina Simone vinyl and CD collection from the Jazz Center Stage store here.