Oscar Peterson
The Grammy-winning jazz pianist from Montreal was referred to as the "Maharaja of the keyboard" by Duke Ellington.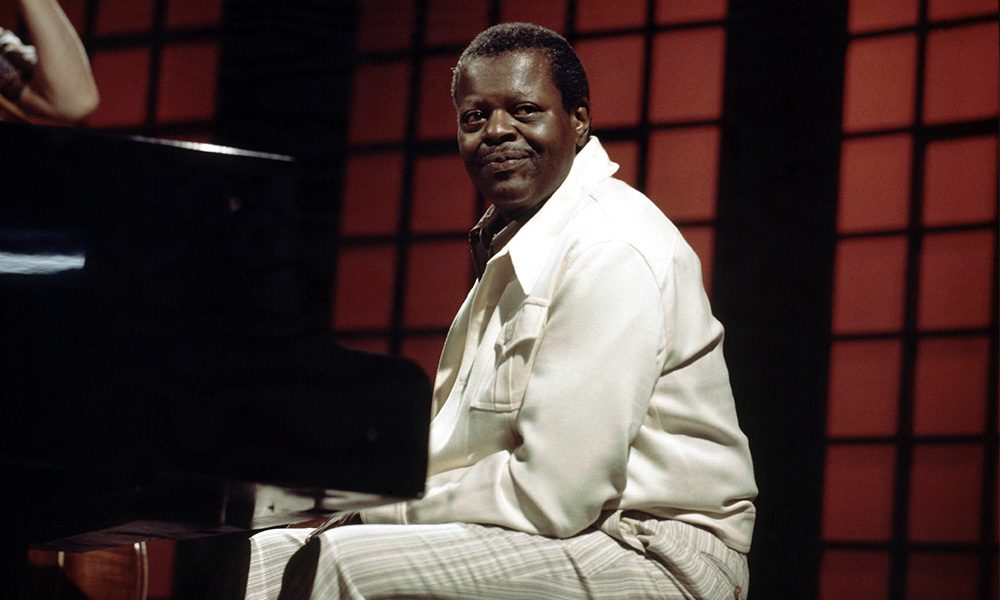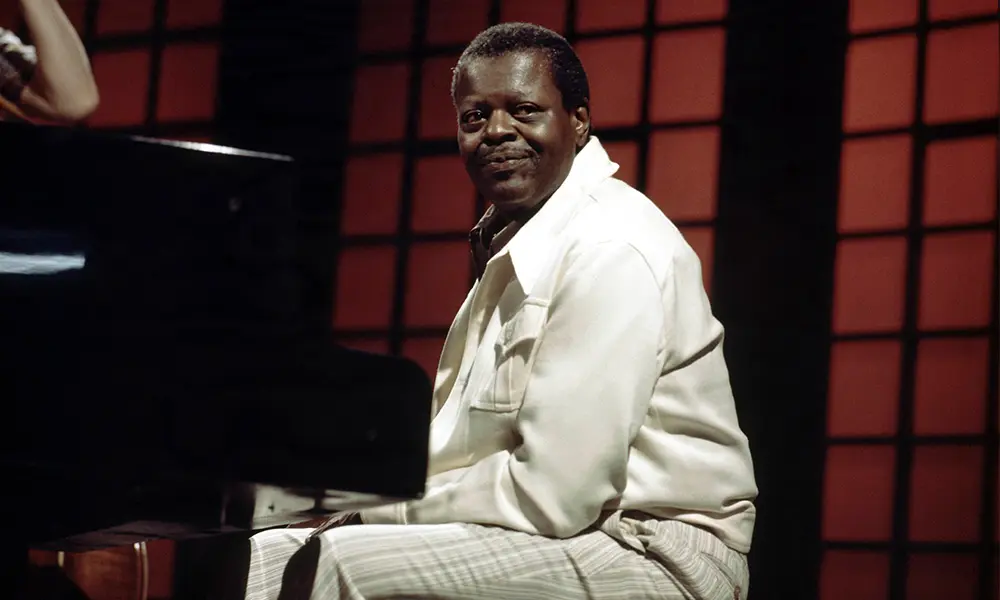 Oscar Peterson is one of the most recorded jazz artists in history. His brilliance at the keyboard has been an inspiration for countless pianists who heard him in their formative as well as later years. His abilities as both a bandleader and an accompanist helped in creating his momentous recorded legacy but it is genius for getting inside a song that makes his piano playing so special. If you listen to no other jazz pianist then listen to O.P
"It is not just because he's a fellow Canadian that I admire Oscar Peterson's work so much. Growing up listening to him inspired me to love jazz and learn the piano. When I was a teenager I went to see him and he inscribed a photograph to me in his beautiful handwriting saying, 'Keep working on your music.'" – David Foster, composer, arranger and chairman of Verve Music Group.
The man nicknamed the 'Maharaja of the Keyboards' by Duke Ellington was the fourth of five children born to a couple that had emigrated separately to Canada from the West Indies. Young Oscar grew up in the English-speaking black neighbourhood of Little Burgundy in French-speaking Montreal. He first learnt the trumpet before switching to the piano at an early age, being taught first by his father and older sister before his exceptional talent made it necessary for him to have professional lessons. His teacher was a Hungarian classical pianist who had studied under a pupil of Liszt.
Peterson's first professional engagement was with a local band in Montreal while he was still a teenager. After a couple of years, he formed his own trio, and after getting slots on CBC, his radio appearances brought him fame across the country.
While his early influences had been boogie-woogie piano as played by the likes of James P. Johnson, he graduated in his teenage years to listening to Teddy Wilson, Nat King Cole and Art Tatum. Peterson loved Tatum in particular, and he soon began imitating aspects of his playing style.
Under the influence of his Hungarian piano teacher Paul de Markey and his older sister Daisy, Peterson developed a love for classical music that never left him. He was a big fan of Rachmaninoff's piano concertos as well as Bach's preludes. He was known throughout his career to incorporate quotes from both of them, along with other classical musicians.
Being popular in Canada was one thing, but being big in America was something else. Peterson's U.S. breakthrough came as a result of Norman Granz hearing him play live on the radio while being driven to Montreal Airport in a taxi in 1949. Instead of flying home, Granz asked to be taken to Montreal's Alberta Lounge so he could meet Peterson. Shortly afterwards Oscar Peterson made his debut at the midnight concert of Jazz at the Philharmonic at Carnegie Hall on 18 September 1949. In order to circumvent labour laws, Granz 'invited' Peterson up from the audience, where he just happened to be sitting, to play three numbers with Ray Brown and Buddy Rich. 'I Only Have Eyes For You', 'Fine And Dandy' and 'Carnegie Blues' appeared on the Mercury/Clef 10 in. album Oscar Peterson At Carnegie in 1952.
In March 1950, Peterson went into the studio along with Ray Brown on bass, for his first session for Clef. Among the sides he cut were 'Debut', along with 'Tenderly' that became his first single. It was the start of a career with Norman Granz's labels that would last for much of the rest of his life, during which his recorded output was phenomenal.
Later in 1950 he joined the JATP tour as a fully-fledged member and was rarely absent thereafter. He also did a number of sessions, including his first for Clef as a trio when Barney Kessel was added on guitar; Peterson was now in the environment in which he felt most comfortable.
Besides recording under his own name he did many sessions for Granz with his trio, or sometimes as part of a quartet backing other artists. In March 1952 he recorded with Billie Holiday what would become her first Clef album, Songs By Billie Holiday – Solitude. Later in the year, he worked with Fred Astaire on The Fred Astaire Story.
Peterson's talents were recognized in both 1952 and 1953 when he was voted No. 1 player in America in the Down Beat poll. In all he won the Down Beat poll on twelve occasions, helped by his four 12 in. LPs, Oscar Peterson Plays Cole Porter, Irving Berlin, George Gershwin and Duke Ellington; the songbook idea in action well before Ella began recording her series in 1956.
When JATP began touring Europe in spring 1952 Peterson was a regular fixture, helping to spread his popularity across the whole continent. In 1955 Peterson played 'A Night of Jazz' at the Royal Albert Hall in London with Ella. While the full JATP show was refused permission to play because of objections from the British Musicians' Union, Peterson was allowed in to play because he was Canadian and the union did not consider singers to be real musicians.
With the formation of Verve, Peterson became even busier, recording multiple sessions in both his own name and as an accompanist. His album In A Romantic Mood became one of the first three releases on Verve in February 1956. The following year, in an effort to pitch Peterson not just as a pianist but also as a singer, the album Soft Sands was released – however, he was always a much better pianist.
He worked with Ella and Louis Armstrong on their duet albums, and recorded another with Satchmo, Louis Armstrong Meets Oscar Peterson (1957). Along with Ella, Oscar was one of Granz's key assets, both on record and in concert. In the autumn of 1958, Granz promoted concerts across the United States as 'An Evening with Ella Fitzgerald and the Oscar Peterson Trio'. Peterson had an innate sense of swing, and when called upon on any of the Ella and Louis records, he swung like mad – just listen to 'I've Got My Love To Keep Me Warm' or 'A Fine Romance'.
In May 1959, Oscar Peterson recorded the excellent album Sonny Stitt Sits In With The Oscar Peterson Trio. Besides working with Stitt, Ella and Louis, Peterson recorded albums under his own name with Milt Jackson from the Modern Jazz Quartet, Stan Getz, Ben Webster, Buddy DeFranco and Lester Young. Among his other highlights from this time are On The Town (1958), Oscar Peterson At The Concertgebouw (1958) and The Jazz Soul Of Oscar Peterson (1959)
He stayed with Verve through the mid-1960s and during this time recorded one of his most successful records, which is still a big seller: 1963's Night Train. One of the tracks on the album is 'Hymn To Freedom' that with added words became one of the crusade songs of the Civil Rights Movement led by Dr. Martin Luther King, Jr. According to Peterson, "A few months after the session, Norman and I were discussing the album and he brought up the possibility of having lyrics put to the tune. He contacted a lady by the name of Harriette Hamilton, and asked her to write the lyrics, which she did, and thus was born the true 'Hymn To Freedom' song as we know it today." Two of his 1960s recordings that are a must-hear are A Jazz Portrait Of Frank Sinatra and West Side Story.
Peterson founded a Toronto jazz school in the 1960s, calling it the Advanced School of Contemporary Music. He also spent a lot more time writing music and proved himself a gifted composer. He wrote The Canadiana Suite (1964) in the early 1960s, and music for several Canadian films including Big North and The Silent Partner (1963). He also wrote a jazz ballet, a suite called 'Africa' and the 'Easter Suite' commissioned by the BBC, and a suite for the Olympic Arts Festival of the Calgary Winter Olympics in 1988.
He was made a Companion of the Order of Canada, Canada's highest civilian honour. He won eight Grammy Awards (including a Lifetime Achievement Grammy), and the 1993 Glenn Gould Prize. Anyone who works as hard as Peterson has to be determined, and he proved his level of determination in 1993; after a stroke in which he lost the use of his left hand, within a year he had returned to tour the world playing the piano. He continued to perform until shortly before his death in December 2007.
Oscar Peterson truly was a jazz giant whose star is sometimes unjustly eclipsed by some players who have led shorter or more chaotic lives. His recorded legacy would take weeks to listen to if played continuously back-to-back, and among it, you will be hard-pressed to find anything that is not exemplary; most of it is brilliant.
Words: Richard Havers