Nat King Cole
The late singer and pianist was famous for songs like "Sweet Lorraine" and "Too Young," as well as for being the first African-American man to host a national TV show.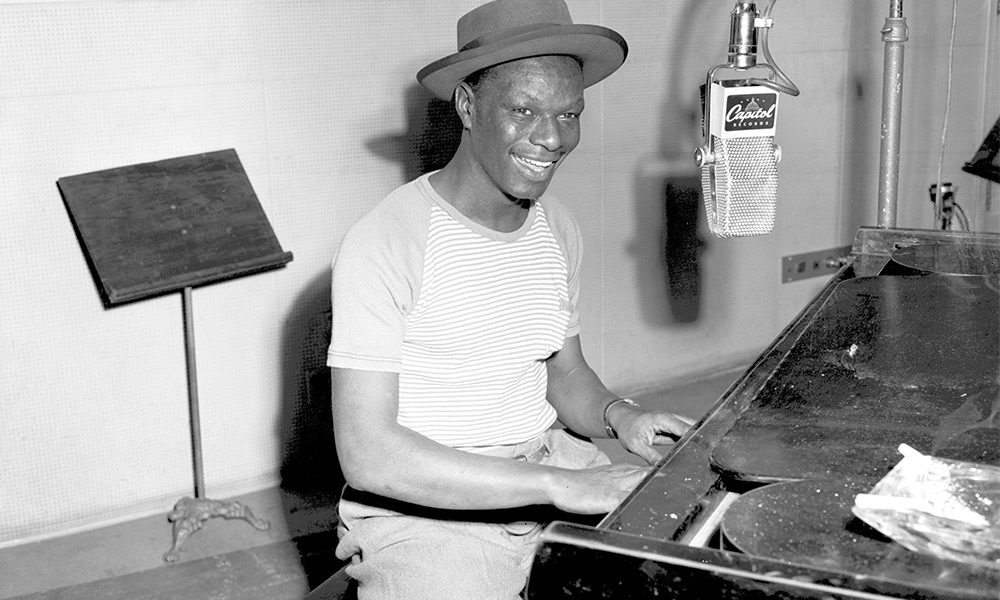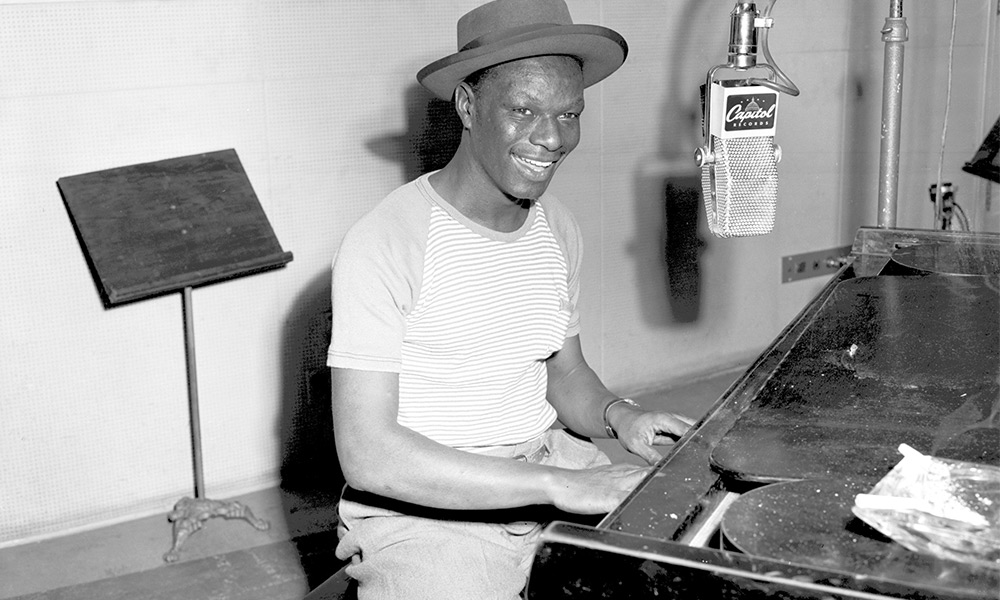 It's not difficult to understand why Nat 'King' Cole was so loved and respected as a singer and pianist. With his jazz leanings, his blues undertones and a voice as smooth as silk he appealed to just about everyone…Black or White. Along with Louis Jordan, the man they dubbed the 'King of the Jukeboxes and Louis Armstrong, Nat blazed a trail for Black performers in America. According to Time magazine, "He wasn't corrupted by the mainstream. He used jazz to enrich and renew it and left behind a lasting legacy. Very like a king."
He was the first black performer to have his own regular radio show and later he s became the first to have his own regular TV show. His approach to the tensions created by segregation was a softer, less confrontational than by some and yet his quiet, dignity helped to make a difference in America.
Nathanial Adams Coles' family moved from Montgomery, Alabama, where he was born in 1919, to Chicago before he was five years old. As a child he sang in church, his father was a preacher, and was encouraged by his mother who was an amateur pianist. His ability to 'pitch-perfect' and seemingly able to quickly pick out a tune on the piano made it seem that Nat was bound for a life in music. His father was none too keen on the idea of a life spent playing the sort of jazz and blues that his son liked to listen to on the radio.
His older brother Eddie who played bass encouraged him and soon the two were leading a band that played on Chicago's south side. Things seemed to come to an abrupt halt for sixteen-year-old Nat when Eddie left to join an orchestra in New York. However, that didn't last long and Eddie was soon back in Chicago and the brother's band was now going out as Eddie Cole and His Solid Swingers.
He made his recording debut in July 1936 for Decca with brother Eddie's band; the influence of Earl Hines playing style, particularly on Honey Hush, can be heard in the piano breaks. Nat also had his own band and he would frequently play Hines' arrangements. Soon after Nat recorded for the first time he left Chicago and ended up in Los Angeles, the beginning and the end of Route 66; which would become one of Cole's biggest hits in 1946. He had fallen for a dancer named Nadine who had persuaded the producers of a revival of Eubie Blake's revue, Shuffle Along to let Nat play the piano. The show was touring and on the way, the two of them got married and although the show was far from successful by the time they ended up in California they decided to stay.
Playing up and down the California coast the band began to gain a solid reputation and Nat, in particular, was drawing admiring comments from the jazz fraternity and particularly other piano players who marvelled at his talent. He also gained the moniker 'King' from a club owner; it certainly stuck.
Eventually, Nat was offered a residency at the Swanee Inn on North La Brea Avenue, just south of Hollywood. The place was small so a three-piece was the only option – the King Cole Trio was born; Nat enlisted bassist Wesley Prince and guitarist Oscar Moore to play with him, and inspired choice as both men were well known in Hollywood studios added to which the three of them got on really well.
The first time they recorded in 1939 they did so as King Cole's Swingsters, over the next three years they laid down some great jazz as the King Cole Trio with songs such as 'Hit That Jive Jack' and 'I Like To Riff' that are firmly rooted in the genre. Then in July 1942, Cole recorded with saxophonist, Lester Young and bass player Red Callender. Amongst the sublime sides were 'I Can't Get Started', 'Tea For Two' and 'Body and Soul'. The impeccable performances and especially Nat Cole's piano playing shows off his jazz credentials and instantly negate any critic who sees the man as just a 'nice crooner'.
In November 1942 the King Cole Trio recorded, 'That Ain't Right', which went to No.1 on the R&B charts. The following year 'All For You' repeated the success as well as crossing over onto the Billboard chart. A switch to the newly formed Capitol Records brought national recognition when, in early 1944, 'Straighten Up and Fly Right' became a big hit; it was apparently the theme of one of his father's sermons. Later in 1944 Cole appeared at the very first Jazz at the Philharmonic along with Illinois Jacquet, Jack McVea and other jazz stars.
Following his switch to Capitol Nat King Cole was rarely off the Billboard best-sellers list. While he worked with big studio orchestras from 1946 onwards his earlier work owed more to the juke joints than to the ballrooms and concert halls. After playing at the Paramount in New York with the Stan Kenton Orchestra in 1946 Cole got a radio series becoming one of the very few to get commercial sponsorship during a period when 'white was still right' as far as advertisers were concerned.
Nat's drift away from his roots continued and there was a change in his personal circumstances when he divorced Nadine and married Maria Ellington. His new wife's background was solidly professional Boston, a good deal more upper class than show-biz; this despite the fact that Maria sang with Duke Ellington's Orchestra – although he was no relation. Such was Cole's success on Capitol that it was the revenue from the sales of his recordings that helped the label to become so important.
In 1948 Cole recorded 'Nature Boy' with a string orchestra; it was a smash hit. The song's composer, eden ahbez (he liked his name spelt in lower case) lived, so legend has it, underneath the first L of the 'Hollywood' sign on Mt. Lee in the Hollywood Hills. ahbez who was born Alexander Aberle in Brooklyn, New York in 1908 had written his song about a "strange enchanted boy" "who wandered very far" only to learn that, "the greatest gift," "was just to love and be loved in return." One day ahbez hustled Nat Cole's manager, giving him a manuscript copy of the song. Cole immediately recognized the old Jewish melody of the song, but liked the words and decided to record it. It's arguably the song that changed Nat Cole from a jazz singer to a popular singer.
Nevertheless, his influence had spread to many jazz piano players including Errol Garner, Bill Evans, Charles Brown and Ray Charles. For the next two decades Cole was one of the biggest things on the R&B charts, and no slouch on the mainstream Billboard charts, as his records increasingly crossed over to the white audience. Interestingly, one of his best-known songs, 'Unforgettable' (recorded in 1951), was not one of his biggest single releases.
In the Fifties and Sixties Cole recorded with both Nelson Riddle and Gordon Jenkins, like his Capitol label mate Frank Sinatra; for a while, he was even bigger than Sinatra because in the early fifties, before Frank signed to the Los Angeles label, Cole could do no wrong. He also appeared in several movies during the Fifties, including 'St Louis Blues' in which he played W.C. Handy to self-proclaimed 'Father of the Blues'. He also had his own television series but the issue of his colour may have prevented him from becoming more successful on the small screen. According to Nat, "Madison Avenue is afraid of the dark."
For such a mild-mannered man and a singer of some of the most romantic ballads to come out of the 1950s, it's perhaps strange now to think that Cole should find himself at the centre of some very unpleasant controversy in 1956. Cole was on tour with the British bandleader, Ted Heath and his orchestra in Alabama when he was attacked by some white men for daring to appear on the same bill as a white band. Rather than trade insults with some bigoted sections of the community Cole decided to do things in a different way.
He supported the Civil Rights movement with money, culminating in1963 when he announced that he was giving $50,000, worth close to $400,000 today, to organizations fighting for civil rights in the South. He pledged the money from his concerts in Los Angles that were sponsored by the National Association for the Advancement of Colored People. His gesture led to other black performers doing likewise.
Cole, a heavy smoker, was diagnosed with lung cancer in 1964. He died the following year, aged 45. In March 2000, with Ray Charles as his presenter, Nat King Cole was inducted into the Rock and Roll Hall of Fame. The man who once said, "Critics don't buy records. They get 'em free," was a twentieth-century great who died far too young. He left us with one of the most wonderful recorded legacies ranging from pure jazz to sublimely romantic ballads.
As Nat himself once said, "Singing a song is like telling a story. So I pick songs that I can really feel." And that is what characterises his approach to a song…but never forget he was also a great jazz piano player.