101 Of The Best 50s Songs: Essential Music From A Pivotal Decade
This list of the best songs of the 50s celebrates far-ranging sounds that changed music forever.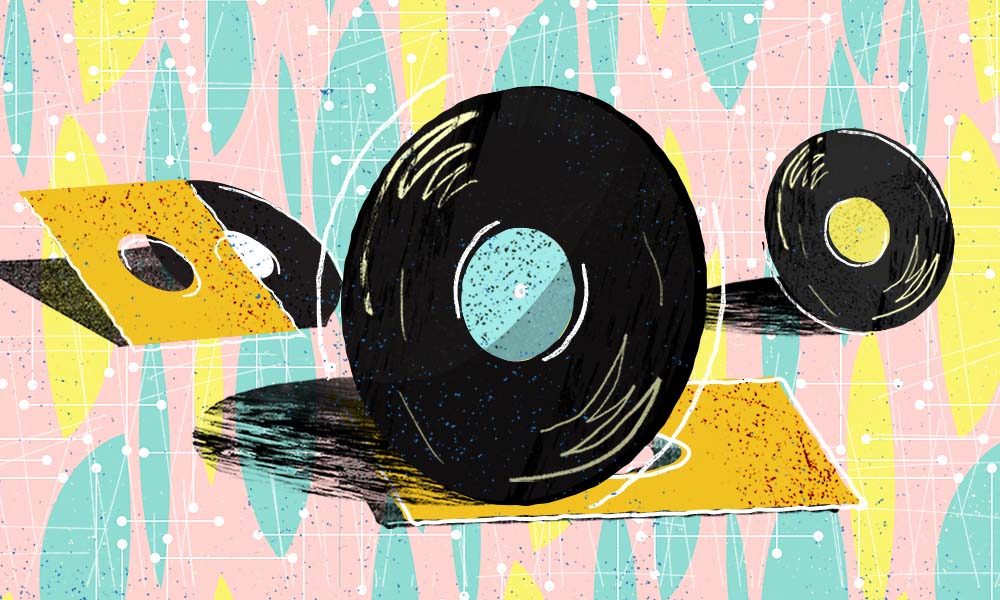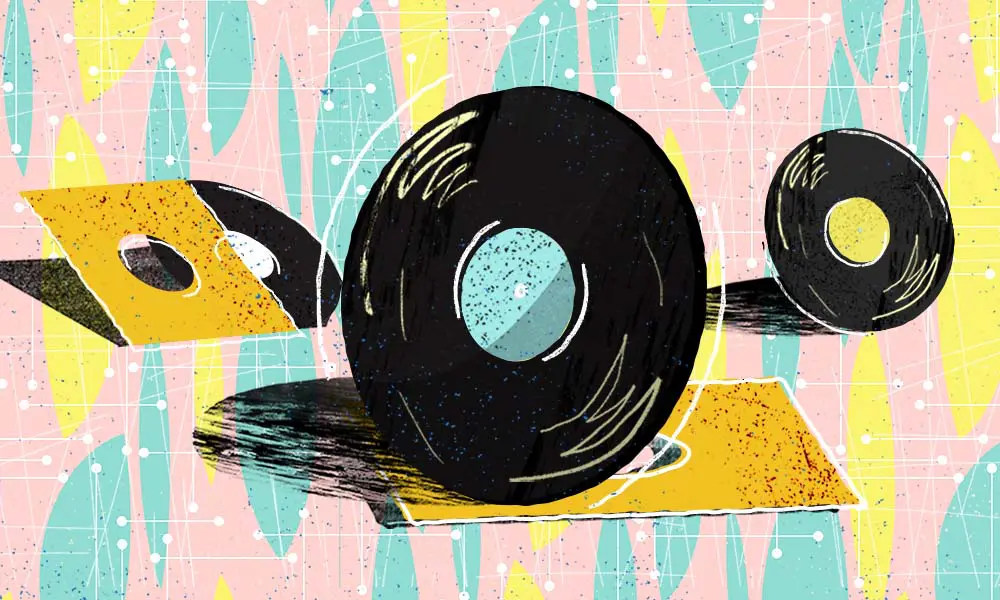 The best songs of the 50s. It wasn't easy to construct such a list, we'll admit. And we must begin by saying that this list is not the definitive top 100 songs of the 50s. What we're trying to do here, instead, is set you up with some incredible music from the 50s that you can use as a jumping off point to explore the decade further. That's why we only included one song per artist in this list. (That way, we could squeeze as many artists into this as possible.) So, without further ado, enjoy the list!
Looking to explore some of our best songs of the 50s? Check out our playlist on Spotify.
101: The Four Aces – Love Is a Many-Splendored Thing
Commissioned for the 1955 film of the same name, this Four Aces song eventually won the Academy Award for Best Original Song. It's since gone on to become a pop culture touchstone, appearing in movies across the decades.
100: Bob Lee – Wanted for Questioning
"Wanted For Questioning" was the only single Bob Lee ever recorded with the Mike Moore Orchestra. It was released on the Dot label in 1957, with a swaggering, grooving drum beat and an infectious piano line that sounds pulled straight from a different era.
99: The Chords – Sh-Boom
Long before the term "one-hit wonder" had been coined, The Chords were known for their breakthrough smash "Sh-Boom" and…little else. The group never again reached the same heights, but this song's outstanding impact is more than enough to solidify their legacy.
98: Ilunga Patrice, Misomba Victor and Friends – Mamwana Kufika Munda (My Love Is Upset)
"Mamwana Kufika Munda" was a powerful piece of rumba music, a tune that Ilunga Patrice, Misomba Victor, and friends recorded and were eventually remastered by Hugh Tracey. The song is the centerpiece of a Dust-to-Digital reissue in conjunction with the International Library of African Music.
97: Clarence 'Frogman' Henry – Ain't Got No Home
"Ain't Got No Home" by Clarence 'Frogman' Henry manages to simultaneously be one of the definitive songs of the blues era, and a kitschy, playful ballad of a bygone era. The first verse of the song is sung in Henry's natural voice, the second in a falsetto, and the third in a frog's voice.
96: Tony Bennett – Because of You
Long before Tony Bennett was celebrated as one of the defining voices of the 50s, he was a struggling singer. "Because of You" was his first major hit song, reaching No.1 on the Billboard charts and staying there for ten weeks. From humble beginnings, "Because of You" helped launch one of the biggest careers in music.
95: Johnny Burnette & The Rock'n'Roll Trio – Train Kept A-Rollin
Tiny Bradshaw created "Train Kept A-Rollin," but Johnny Burnette and his group turned it into one of the best songs of the 50s. It's widely cited as a rock and roll staple, plus Burnette's innovative guitar work introduced distortion as a thrilling, intentional artistic choice.
94: Julie London – Cry Me A River
Long before Justin Timberlake was around, Julie London popularized the phrase "cry me a river" thanks to her hit of the same name. A performance of the song by London in the 1956 film The Girl Can't Help It helped to make it a bestseller, though it likely was destined for 50s notoriety regardless.
93: Rodgers and Hammerstein – Shall We Dance?
Rodgers and Hammerstein's "Shall We Dance?" is the rare show tune that appeals to both Broadway diehards and the casual music consumer. There's just something about the playful yet tension-filled ambiguity in the track that appeals to confused lovers across the world.
92: Miklos Rozsa – Overture (Ben Hur)
The melodic refrain of Miklos Rozsa's "Overture" likely could have been a powerful music moment of the 50s on its own. But set alongside the film Ben Hur, the composition took on a new life, accompanying one of the best films of the classic Hollywood era.
91: Paul Anka – Diana
"Diana" is one of the biggest songs of the 50s, but songwriter Paul Anka's visionary style spanned multiple eras of popular music, including multiple comebacks in later decades with songs like "(You're) Having My Baby" and "Hold Me 'Til the Morning Comes."
90: Jean Bosco Mwenda – Masanga
Jean Bosco Mwenda's "Masanga" showcases the renowned guitarist in full flight. His unique style of playing would make its way to just about every corner of sub-Saharan Africa.
89: Tito Puente – Ran Kan Kan
Tito Puente didn't need vocals to create a hit. "Ran Kan Kan," from his 50s smash hit album, Mamborama, features little aside from staggeringly innovative arrangements. The solos by members of his orchestra occasionally steal the show, but it's Tito's skills as a vibraharpist on "Ran Kan Kan," that carries the tune.
88: Marius Constant – Twilight Zone Theme
French composer Marius Constant wrote the indelible parts of The Twilight Zone theme song for a song library the network was compiling for the show. When they put two of the strange pieces together, it became one of the most memorable TV theme songs ever, and an iconic bit of 50s music.
87: Bernard Herrmann – Scene D'Amour
Bernard Herrmann was one of the most important soundtrack composers ever, and Vertigo was among his greatest achievements. It was just one of the films that Herrmann worked on by iconic film director Alfred Hitchock.
86: Sonny Boy Williamson – Don't Start Me To Talkin
When Trumpet Records folded, Sonny Boy Williamson was without a home. Checker Records gave him a flyer, and in his first studio session, Williamson churned out "Don't Start Me To Talkin," one of the best songs of the era. The song was a cultural force, a Chicago blues hit that helped define 50s music.
85: B.B. King – 3 O'Clock Blues
B.B. King's version of "3 O'Clock Blues" was one of the best-selling R&B songs of the 1950s, and proved to be the launching pad for his vaunted career. The tune was first popularized by Lowell Pulson in the previous decade.
84: The Diamonds – Little Darlin'
The Gladiolas and Elvis Presley both released staggering renditions of "Little Darlin'," but it was The Diamonds' version that became one of the best-remembered songs of the 50s. It's one of the finest doo-wop songs ever recorded.
83: Lloyd Price – Personality
Lloyd Price's "Personality" has obvious lasting power. Not only was it a hit upon its release in 1959, but it served as an integral moment in the 2011 film The Help. A result of the 50s R&B music craze, the song's power remains to this day.
82: The Crests – 16 Candles
While this doo-wop 50s song didn't directly inspire the film of the same name, we like to think that John Hughes' 1984 classic took some ideas at the very least. The song gained a second life when Jerry Lee Lewis released a country rendition of the track in 1986.
81: Domenico Modugno – Nel Blu Dipinto Di Blu (Volare)
In 1959, at the 1st Annual Grammy Awards, Modugno's recording of "Nel Blu Dipinto Di Blue (Volare)" became the first-ever Grammy winner for both Record of the Year and Song of the Year. The Italian singer, songwriter, and actor was considered the first true singer-songwriter from Italy.
80: The Monotones – The Book of Love
Whoever says commercials are bad for the brain has clearly never heard the story behind "The Book of Love." Lead singer Charles Patrick heard a Pepsodent toothpaste commercial with the line "You'll wonder where the yellow went/when you brush your teeth with Pepsodent," which inspired him to come up with, "I wonder, wonder, wonder who, who wrote the book of love."
79: Jackie Wilson – Lonely Teardrops
"Lonely Teardrops" was one of five songs that Jackie Wilson debuted between 1957-1958. This run turned Wilson into an R&B superstar, although odds are he probably would have gotten there thanks to "Lonely Teardrops" on its own.
78: Joe Cuba and His Orchestra – Joe Cuba's Mambo
In this 1956 recording, Joe Cuba and His Orchestra managed to foreshadow a generation of raunchy, exhilarating tunes thanks to their triumphant and evocative performances of raw, unfiltered mambo. Apparently, the session was fueled by liquor and pizza. A greater musical lubricant has still yet to be discovered.
77: Marilyn Monroe – Diamonds Are a Girl's Best Friend
Diamonds as a subject in pop songs are perhaps as ubiquitous as the genre itself. But few sung of the shining finger accessories quite like Marilyn Monroe. Aside from her unfathomable celebrity, Monroe was a wonderful singer, which she proved on "Diamonds," from the Howard Hawks film Gentlemen Prefer Blondes.
76: Dion & The Belmonts – A Teenager In Love
"A Teenager In Love" has some serious credentials as a great moment in 50s music. The song was covered in 1965 both by Bob Marley and the Wailers and by Lou Christie. It was performed by Simon & Garfunkel in 1970 in their final show as a recording duo at Forest Hills Tennis Stadium in Queens. But the Dion & The Belmonts' version remains the standard, a delightful song that helped bridge the gap between jazz and pop.
75: Tennessee Ernie Ford – Sixteen Tons
Merle Travis' hit "Sixteen Tons" is about a coal miner, based on life in Muhlenberg County, Kentucky. Its iconic line, "I can't afford to die. I owe my soul to the company store," became an emblem of worker solidarity in the hands of Tennessee Ernie Ford, who gave the song a unique empathy.
74: Franco & TPOK Jazz – On Entre OK, On Sort KO
In 1956, Franco and a band of five other musicians agreed to accept a regular, paid gig at the O.K. Bar in what is now known as the Democratic Republic of Congo. A few weeks later, needing a name for a contract, the band settled on OK Jazz, eventually releasing a brilliant rumba written by Franco that would become the band's motto: "On Entre O.K., On Sort K.O."
73: The Coasters – Searchin
Not "Yakety Yak"? Well, not only is "Searchin'" one of the best songs of the 50s, it's also likely one of the first postmodern pop songs, citing law-enforcement figures from popular culture such as Sherlock Holmes, Charlie Chan, Joe Friday, Sam Spade, Boston Blackie, Bulldog Drummond, and the North-West Mounted Police (the Mounties).
72: Louis and Bebe Barron – Main Titles (Overture) – Forbidden Planet
Louis and Bebe Barron are innovative musicians, but their intuitive knack for earworm melodies was what made them special. They are credited with writing the first electronic music for magnetic tape, and the first entirely electronic film score for the MGM movie Forbidden Planet.
71: E.T. Mensah & The Tempos – Nkebo Baaya
E.T. Mensah's original "Tempos" band was formed in 1946 as an impromptu group of European soldiers stationed in Accra. The group played a number of clubs in Accra, and Mensah slowly replaced the European members until it was an all-African band. The group grew huge across the continent, with "Nkebo Baaya" becoming one of the best songs of the era, earning them accolades in the States, including a performance with Louis Armstrong.
70: Bobby Freeman – Do You Want to Dance
It's hard to beat the Beach Boys on the charts, but back in 1958, Freeman's version of "Do You Want to Dance" reached No.2 on the charts, while the Boys' cover version from 1972 (retitled as "Do You Wanna Dance?") peaked at No.12. The song would go on to be covered by countless others over the years.
69: Patti Page – Tennessee Waltz
"Tennessee Waltz" was originally a B-Side, but it was too popular to be denied. Patti Page's 50s hit song entered the Billboard pop charts and established a 30-week run that peaked at No.1 on the December 30, 1950 chart; the track would remain at No. 1 for a total of nine weeks.
68: Verna Felton – Bibbidi-Bobbidi-Boo
Verna Felton was one of Disney's go-to voice actors, but she perhaps had her finest moment with Cinderella and "Bibbidi-Bobbidi-Boo," which tells the famous story of the Fairy Godmother transforming an orange pumpkin into a white carriage. The song was nominated for the Academy Award for Best Original Song in 1951.
67: Mighty Sparrow – Short Little Shorts
Mighty Sparrow is a helluva good name to write songs under, but Sparrow's birth name, Slinger Francisco, ain't half bad either. The Trinidadian helped bring Calypso music to the United States, lacing his sweet, feel-good jams with raunchy lyrics and good-time vibes.
66: Danny and the Juniors – At The Hop
"At The Hop" was released in the fall of 1957 and reached No.1 on the US charts on January 6, 1958, becoming one of the top-selling singles of 1958. Aside from its early success, the song gained renewed interest after its inclusion in American Graffiti in 1973, a movie released when nostalgia for the 50s in the United States was at a peak.
65: Machito & His Orchestra – Asia Minor
Machito & His Orchestra's Asia Minor was less a hit of the cha-cha craze than it was an early defining moment of the genre itself. The song, like the entire album, plays with a varied group of jazz and Latin orchestrations highlighted by Machito's soothing, brilliant singing style.
64: Elizabeth Cotten – Freight Train
Elizabeth Cotten wrote "Freight Train" between 1906 and 1912. It was only first properly recorded and released in the 50s, though, with artists in the United States and the United Kingdom seeing chart success with their own versions.
63: Mongo Santamaria – Para Ti
The Cuban-born Mongo Santamaria had a massive impact on the music in the 50s, thanks to his innovative playing style, called Pachanga, which blended son montuno and merengue. "Para Ti" is his best song, a delightful tune built around a relentlessly powerful downbeat.
62: Shirley & Lee – Let The Good Times Roll
If you recorded an R&B or rock and roll song in the 1950s and needed a steady drum beat, odds are Earl Palmer was at the top of your list. The all-time session drummer lent his impeccable rhythm to Shirley & Lee's upbeat, grooving rock-R&B hybrid.
61: Sheb Wooley – The Purple People Eater
Sometimes novelty songs transcend their nature and become defining hits. Sheb Wooley's "The Purple People Eater" is one such tune. The premise of this classic 50s song came from a joke told by the child of a friend of Wooley's. Sheb found such joy in the joke that he finished composing the song within an hour.
Sheb Wooley "The Purple People Eater" (Official Video)
60: Cliff Richard – Move It
Funny how things work out: Cliff Richard's "Move It" was slated to be the B-side to "Schoolboy Crush," but was eventually put out as Richard's debut single in the UK. It became his first hit record in a career full of them. The track is widely cited as one of the first rock and roll songs recorded outside of the United States.
59: Martin Denny – Quiet Village
Next time you're on vacation, listen to the band playing at your resort…They may just be working on a defining song of the era. That's precisely what happened with Martin Denny and his band in the 50s, who wrote the song while performing at a restaurant in Oahu, eventually incorporating the jungle sounds surrounding them into the recorded version.
Quiet Village (1996 Digital Remaster)
58: Nina Simone – My Baby Just Cares For Me
It's hard to believe that Nina Simone, one of the biggest stars of the 50s and every other era of American music, would ever need a renaissance, but "My Baby Just Cares For Me" gave her one. The song was a top 10 hit in the United Kingdom after it was used in a 1987 perfume commercial.
57: The Platters – Only You (And You Alone)
If at first, you don't succeed, try again. It's a cliche, but The Platters are proof. The group first recorded "Only You" for Federal Records on May 20, 1954, but the recording was not released. In 1955, after moving to Mercury Records, the band re-recorded the song and it became a major hit.
56: Howlin' Wolf – Smokestack Lightnin
Despite its popular recording the in 50s, Howlin' Wolf had performed "Smokestack Lightning" in one form or another during the early 1930s in small Mississippi Delta communities. The song was celebrated for its hypnotic one-chord drone, and Wolf's unmistakable, well…howl.
55: Gene Kelly – Singin' in the Rain
There's a worthy debate as to whether Gene Kelly's "Singin' in the Rain" or the film Singin' in the Rain is the most iconic cultural touchstone of the 50s. Each has a solid argument. The song, originally from The Hollywood Revue of 1929, is symbiotically tied to the film, but it also stands on its own as a perfect soundtrack moment.
54: Tito Rodriguez & His Orchestra – Mambo Manila
Tito Rodriguez and Tito Puente had a respectful rivalry during their careers, and "Mambo Manila" is a perfect response to Puente's sprawling instrumental arrangements. The track, taken from Mambo Madness, helped to usher in the mambo craze, one of the defining 50s music trends.
53: Johnny Mathis – Chances Are
Johnny Mathis' "Chances Are" plays with a delicate piano line to highlight Mathis' deep, gorgeous voice and dramatic telling of being unable to control his love for a woman. It's an ode to rapturous devotion and the risk of heartbreak that accompanies life's most exciting chance.
52: Johnny Cash – I Walk The Line
With an honorable mention to "Folsom Prison Blues," "I Walk The Line" takes the Johnny Cash spot here, not least because it rose to the No.1 spot on the charts, and eventually gained a second life after it was chosen as the name for the 2005 Cash biopic starring Joaquin Phoenix.
51: Harry Belafonte – Day-O (The Banana Boat Song)
"Day-O" is one of those songs that transcends its creator, its era, and its style. Sure, it was performed by Harry Belafonte, one of the biggest music stars of the 50s. And yes, it brought calypso music to American shores. But it's also the sort of melody that exists outside of time and place. Its duration is eternal.
50: Les Paul & Mary Ford – How High the Moon
For a while there, Les Paul was more famous for his songwriting than for the iconic guitar named after him. That's because he teamed up with Mary Ford, in the 50s, to create some of the best music of the era, including "Vaya Con Dios" and this one. "How High the Moon" spent nine weeks at No.1 on the Billboard charts.
49: Ricky Nelson – Poor Little Fool
Ricky Nelson turned "Poor Little Fool" into one of the best songs of the 50s, but it wouldn't have existed without songwriter Sharon Sheeley. Sharon had met Elvis Presley, and he encouraged her to write, which resulted in "Poor Little Fool." It was based on her disappointment following a short-lived relationship with Don Everly of The Everly Brothers.
48: Dinah Washington – Teach Me Tonight
Dinah Washington turned the jazz standard "Teach Me Tonight" into one of the best R&B songs of the 1950s. Her powerful voice gave the song a shimmering, tender feel, in turns subtly complex and monumentally anthemic.
47: The Champs – Tequila
The Champs' 50s classic helped bring Cuban mambo beats to a wider audience, but the song's playful, party-starting mentality has stood the test of time, making it one of the best songs of any era.
46: Hank Williams – Your Cheatin' Heart
Getting over a cheating heart is never a fun time, but Hank Williams turned that ache into one of the best songs of the 50s. After describing his first wife Audrey Sheppard as a "Cheatin' Heart," he dictated the lyrics in minutes to Billie Jean Jones while road-tripping from Nashville to Shreveport, Louisiana.
45: Ray Charles – What'd I Say
R&B classic "What'd I Say" emerged from an unlikely jam session. The tune was improvised when Ray Charles, his orchestra, and backup singers had played their entire set list at a show and still had time left; the response from many audiences was so enthusiastic that Charles announced to his producer that he was going to record it.
44: The Five Satins – In the Still of the Night
"In the Still of the Night" outlived the 50s. The song was only a moderate hit when first released, but years later became known as one of the best-known doo-wop songs, recorded by artists such as Boyz II Men and Debbie Gibson. It is also featured in a number of movies, including The Buddy Holly Story, Dirty Dancing, and Martin Scorsese's The Irishman.
43: Dean Martin – That's Amore
"That's Amore" first appeared in the soundtrack of the Dean Martin and Jerry Lewis comedy film The Caddy. The song allowed Martin, born Dino Crocetti, to lean into his Italian heritage, and has since gone on to be regarded as not just one of the best love songs of the 50s, but the 20th century.
42: Celia Cruz / La Sonoroa Matancera – Burundanga
"Burundanga" was Celia Cruz's first gold record in a career that saw her eventually become known as the "Queen of Salsa." Cruz's songs from the 50s, like this one, propelled her to international stardom.
41: Link Wray and his Ray Men – Rumble
Give your average artist all the words in the world, few could produce a song as cathartic and evocative as Link Wray's instrumental classic, "Rumble." The song utilized such heavy doses of distortion and feedback that it was the only instrumental ever banned from radio in the United States.
40: Frankie Lymon and the Teenagers – Why Do Fools Fall In Love
Frankie Lymon and the Teenager's massive 50s hit "Why Do Fools Fall In Love" was almost about birds. The tune was originally called "Why Do Birds Sing So Gay?" The song's title was eventually changed based on a recommendation from record label owner George Goldner.
39: Judy Garland – Come Rain or Come Shine
Even without the golden touch of Judy Garland, "Come Rain or Come Shine" was a landmark song in the 50s. The list of artists who performed versions is almost as long as this list. Billie Holiday, Ray Charles, Ella Fitzgerald, and Bill Evans all took cracks at it, but few matched the charm and joy that Garland brought to the standard.
Come Rain Or Come Shine (Live At Carnegie Hall/1961)
38: Roy Orbison – Ooby Dooby
Roy Orbison was so unsure of his career path that he enrolled in college after writing "Ooby Dooby." The song ended up becoming a hit, and Orbison's time at Odessa Junior College in Texas was short-lived. He made the right choice, becoming one of the seminal voices of both 50s rock and pop music.
37: Carl Perkins – Blue Suede Shoes
While Elvis Presley turned "Blue Suede Shoes" into a mega-hit, Carl Perkins' original version was a breakthrough track in its own right, thanks in part to its unique sound. Today, it's regarded as one of the first rockabilly songs in American history.
36: Elmore James – Dust My Broom
"Dust My Broom" changed the course of 50s blues in a number of ways. It featured an early use of a boogie rhythm pattern, which is seen as a major innovation in the genre, as well as a repeating triplets figure, which would go on to be adopted by many in the decades to follow.
35: Fats Domino – Blueberry Hill
Fats Domino's rollicking piano-led rock rendition of "Blueberry Hill" is one of the best songs of the 1950s, a standout tune in a discography full of hits. With a heavy drum groove and Domino's deep, emotive voice, it reached No. 2 on the Billboard charts.
Fats Domino "Blueberry Hill" on The Ed Sullivan Show
34: Big Bopper – Chantilly Lace
Big Bopper's "Helllllllo Baaaaby!" may be one of the most memorable openings to any 50s pop song. "Chantilly Lace" was sadly one of the few hits for early rock 'n' roller, as he passed away in the same airplane crash that killed Buddy Holly and Ritchie Valens in 1959.
33: The Flamingos – I Only Have Eyes For You
Originally released in 1934 for the film Dames, "I Only Have Eyes For You" became a hit thanks to the doo-wop sensibilities of 50s stars, The Flamingos. The group recorded a soulful version of the song in 1958, which remains the definitive version.
32: Muddy Waters – Mannish Boy
With "Mannish Boy," Muddy Waters was both paying tribute and trying to one-up his peer, Bo Diddley. First recorded in 1955, "Mannish Boy" is an arrangement of and answer to Bo Diddley's "I'm a Man," a blues conversation between two legends calling back and forth from adjacent porches.
31: Bobby Darin – Mack The Knife
Bobby Darin never wanted "Mack The Knife" to be released as a single, but in 1959 it reached number one on the Billboard Hot 100. It ended up taking home two Grammys, and earned an accolade from Frank Sinatra, who called it the definitive version of the song.
30: Big Joe Turner – Shake, Rattle & Roll
"Shake, Rattle & Roll" is one of those songs that ended up finding a home with a number of different artists. But while Bill Haley and Elvis Presley recorded it, Big Joe Turner's version is the one that stands out, with his rambunctious vocals and record label executives Jerry Wexler and Ahmet Ertegun shouting the chorus.
29: The Drifters – There Goes My Baby
Shortly before The Drifters released "There Goes My Baby," the group was in turmoil. The first single by the second incarnation of the group, it quickly became a hit with a stirring vocal by Ben E. King and an incredible string arrangement by Stan Applebaum.
28: Eddie Cochran – Summertime Blues
While rock music is rife with stories of in-fighting between managers and artists, Eddie Cochran and his manager, Jerry Capehart bucked the trend, teaming up to write the monumental 50s hit "Summertime Blues." The rockabilly tune did well across genres, becoming a country hit in the hands of Alan Jackson.
27: Nat King Cole – Mona Lisa
Everything Nat King Cole touched turned to gold, but "Mona Lisa" was both a hit and a history-changing painting long before he gave the tune his own spin. But in Cole's hands, the song became one of the best of the 50s, a charming and delightful big-band rendition of a standard.
26: The Penguins – Earth Angel
The Penguins had formed a year before releasing their seminal "Earth Angel," recording the song as a demo in a South Central Los Angeles garage. From those humble beginnings, it took off, eventually selling 10 million copies.
25: Buddy Holly & The Crickets – That'll Be The Day
Buddy Holly's 1957 hit with The Crickets broke through to the top of the charts, thanks to Holly's swaggering introductory guitar lick and the rollicking swing provided by his backing band. With a jangling drum groove and enchanting backing vocals, the song became one of the definitive hits of the era.
24: Sam Cooke – You Send Me
Beginners' luck certainly exists, but Sam Cooke quickly dispelled the notion after his debut single, "You Send Me," reached No.1 on both Billboard's Rhythm & Blues Records chart and the Billboard Hot 100. It's some of the best music of the 50s, but Cooke's discography proves that "You Send Me" was only the beginning.
23: Screamin' Jay Hawkins – I Put A Spell On You
Screamin' Jay Hawkins had originally intended to record "I Put a Spell on You" as a love ballad, but producer Arnold Maxin had other ideas. Armed with ribs, chicken, and a bunch of liquor, the group set out to record "I Put A Spell On You" and churned out the version we love today. Says Hawkins, "Before, I was just a normal blues singer. I was just Jay Hawkins. It all sort of just fell in place. I found out I could do more destroying a song and screaming it to death."
22: Everly Brothers – Bye Bye Love
Like many of the artists here, choosing just one Everly Brothers tune feels difficult. "All I Have To Do Is Dream" was certainly in the running, but "Bye Bye Love" wasn't just one of the catchiest songs of the 50s, it's also historically important. The track was the first song Paul McCartney performed live on stage, with his brother Mike at a holiday camp in Filey, North Yorkshire.
21: João Gilberto – Chega de Saudade
João Gilberto's "Chega de Saudade" is one of the most important pieces of 50s music. It's widely considered the first bossa nova song ever recorded, a standard Gilberto established and continued to innovate over his storied career.
20: Lonnie Donegan – Rock Island Line
While "Rock Island Line" has been tackled by everyone from the inmates of the Arkansas Cummins State Farm prison to Johnny Cash, it was Lonnie Donegan's version that helped spur the skiffle storm. Donegan recorded his fast-tempo version of the track with Chris Barber's Jazz Band. It was the first debut record to be certified gold in the UK.
19: Frank Sinatra – All The Way
Frank Sinatra's "All The Way" is one of dozens of Sinatra tunes that could end up on the list. He's obviously a giant of 50s music. But there's something about his rich timbre and the swelling strings on "All The Way" that could make even the coldest hearts melt. The woodwinds are faint but accent his voice with delicate grace.
All The Way (Remastered 2000)
18: Isley Brothers – Shout, Pts. 1 & 2
"Shout" is one of the biggest songs of any era, not just the 50s. Despite its giant footprints, the song emerged from modest beginnings, as an improvisational interlude after a set from the band, inspired by the audience's rapturous applause.
17: Patsy Cline – Walkin' After Midnight
Patsy Cline didn't want to make "Walkin' After Midnight," but after a compromise with her label, she eventually recorded it. Luckily for us, the deal produced one of the best songs of the 50s. Cline's vocal gave the song an edge that simply didn't exist in most music from that era.
16: Bo Diddley – Bo Diddley
It's not often that a beat gets named after a songwriter, but that's exactly what happened with "Bo Diddley." The iconic rhythm, mimicked countless times afterward, is just one of the reasons that this is among the best songs of the 50s.
Bo Diddley "Bo Diddley" on The Ed Sullivan Show
15: The Dave Brubeck Quartet – Take Five
"Take Five" is perhaps the most famous jazz standard in the history of American music. Dave Brubeck's Quartet turned the Paul Desmond tune into a defining song of the 50s. Released in 1959, it actually became a surprise, massive hit in 1961, eventually becoming the best selling jazz song of all-time.
14: Ella Fitzgerald & Louis Armstrong – Dream a Little Dream of Me
It's hard to overstate the impact Ella Fitzgerald and Louis Armstrong coming together had on the course of 50s music. They were bigger than popular musicians, they were icons. Both individually and together, they created some of the best songs ever. "Dream a Little Dream of Me" is among their finest.
13: Ritchie Valens – La Bamba
Ritchie Valens took "La Bamba," a Mexican folk song originally from the state of Veracruz, and turned it into an international hit. Valens was a pioneering figure in Mexican-American culture, introducing rhythms and melodies from Mexico's deep-rooted traditions to an eager audience.
12: Wanda Jackson – Let's Have A Party
Pioneering rock 'n' roller Wanda Jackson recorded "Let's Have A Party" for her first album, Wanda Jackson, released in 1958. Two years later, the song was released as a single and entered the UK chart in September of that year. The song had a third life when her version was featured in the 1989 film Dead Poets Society.
11: Peggy Lee – Fever
"Fever" doesn't have much to it, instrumentally. But with Peggy Lee's iconic vocal, it didn't need it. The song was a commercial smash, but her smooth jazz delivery also endeared her to professional jazzers who appreciated her deft, brilliant touch.
Peggy Lee - Fever (Official Video)
10: Billie Holiday – Lady Sings The Blues
"Lady Sings The Blues" helped define the blues jazz crossover style of the 1950s. The song became such an anthem – almost becoming a metonym for Billie Holiday's impact – that the track became the title of the iconic 70s biopic on her life, starring Diana Ross.
09: Jackie Brenston & His Delta Cats – Rocket 88
While the facts may be up for debate, many attest that this was the first-ever rock and roll song. Whether or not it was the first, it's certainly one of the best songs of the 50s, with its rollicking vocal line and unimpeachably joyous instrumentation.
08: Gene Vincent – Be-Bop-A-Lula
The average person probably isn't productive when laying up in a hospital recovering from a motorcycle accident. Then again, 50s music icon Gene Vincent isn't the average person. "Be-Bop-A-Lula" originated in 1955, when Vincent was recuperating from a motorcycle accident at the US Naval Hospital in Portsmouth, Virginia. A happy(ish) accident.
07: Big Mama Thornton – Hound Dog
Big Mama Thornton helped usher the R&B era into rock 'n' roll territory, thanks to her electric vocals on "Hound Dog." The song eventually landed in the Rock And Roll Hall Of Fame thanks to its outsized impact on American music in the 50s and beyond.
06: Jerry Lee Lewis – Whole Lotta Shakin' Goin' On
"Whole Lotta Shakin' Goin' On" or "Great Balls of Fire"? It's impossible to pick just one Jerry Lee Lewis 50s song, but we'll go for "Shakin'," which was recorded at Lewis's second recording session for Sun Records in early 1957. Lewis radically altered the original song, adding an electrifying boogie piano that turned the track into a hit.
05: James Brown – Please, Please, Please
According to the singer Etta James, James Brown and his group came up with the idea for "Please, Please, Please" because Brown "used to carry around an old tattered napkin with him, [on which] Little Richard had written the words, 'please, please, please' on it and James was determined to make a song out of it."
04: Bill Haley and his Comets – Rock Around The Clock
A giant in 50s music, Bill Haley's "Rock Around the Clock" was first issued in May 1954 as a B-side. It was considered a commercial disappointment and a flop upon release, but in 1955 the track was used in the opening credits of the film Blackboard Jungle and it took off, eventually becoming one of the best-loved songs of the 50s.
03: Elvis Presley – Heartbreak Hotel
Despite his monumental stature in 50s music, Elvis Presley liked to take inspiration from stories he read in the newspaper or heard on the radio. "Heartbreak Hotel," for instance, was inspired by a newspaper article about the suicide of a lonely man who jumped from a hotel window. With humanity and empathy, Elvis turned it into one of his most memorable songs.
02: Little Richard – Tutti Frutti
Almost everything in Little Richard's "Tutti Frutti" could have been described as absurd in the 1950s. With its wild refrain, consistently transcribed as "A-wop-bop-a-loo-mop-a-lop-bam-boom!" (a verbal rendition of a drum pattern that Little Richard had imagined), the song is quite literally a rhythmic onomatopoeia.
01: Chuck Berry – Maybellene
Chuck Berry's first hit, "Maybellene" is considered one of the most seminal rock and roll songs in history. In fact, Rolling Stone magazine once went so far as to say "rock & roll guitar starts here."
Think we missed one of the best songs of the 50s? Let us know in the comments below.