Pioneering Women In Early Rock 'N' Roll
When it comes to the early days of rock 'n' roll, some of the most pioneering and powerfully influential figures were women.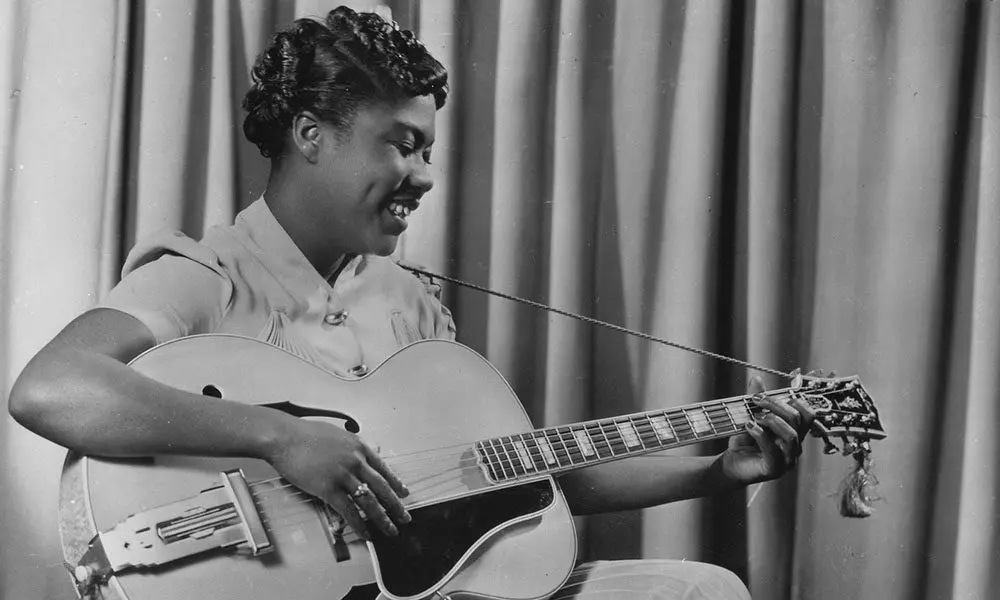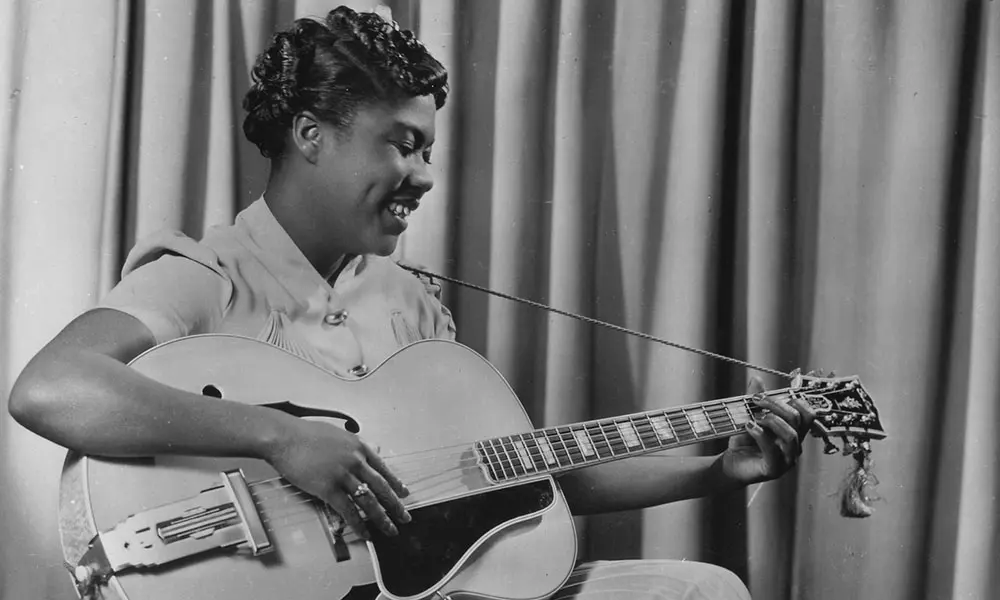 It's an undeniable truth that's often omitted from even the most exhaustive music histories: when it comes to the early days of rock 'n' roll, some of the most pioneering and powerfully influential figures were women. At a time when women were left in the shadows of virtually any field, trailblazers like the Gibson SG-wielding Sister Rosetta Tharpe led the charge in shaking up blues and country and R&B to create something entirely new and wildly thrilling. True to rock music's outrageous spirit, these daringly original women broke the rules and shattered convention, inspiring male and female artists alike for many generations to come.
Sister Rosetta Tharpe
For all the rebellious characters who've dominated the rock 'n' roll landscape over the years, few can rival the sheer boldness of Sister Rosetta Tharpe. Born in 1915, the Arkansas-bred singer/songwriter/guitarist first picked up her instrument at the age of four and, at six, accompanied her mother in performing in churches all over the South. As she developed a singular style that merged Delta blues with gospel and New Orleans jazz, Tharpe began recording in her early 20s and soon released songs like the groundbreaking "Rock Me."
Long hailed as the godmother of rock 'n' roll, Tharpe influenced the likes of Little Richard, Chuck Berry, and Keith Richards with her tremendous showmanship and jaw-dropping mastery of the newly electrified guitar. In fact, some historians classify her gloriously raw 1944 track "Strange Things Happening Every Day" as the very first-ever rock 'n' roll song ever recorded.
Check out: "Strange Things Happening Every Day"
Strange Things Happening Every Day
Big Mama Thornton
A full three years before Elvis Presley made his delirium-inducing performance of "Hound Dog" on TV, Big Mama Thornton laid down the song's original version: a powerhouse 1953 release that spent fourteen weeks on the Billboard Rhythm and Blues chart, including seven weeks at the No. 1 slot.
Born Willie Mae Thornton in rural Alabama, the minister's daughter had left home at the age of 14, then spent seven years as a traveling blues singer, drummer, and harmonica player. Not long after moving to Houston in 1948, she launched her career as a recording artist and later co-wrote the smoldering blues song "Ball and Chain" (a 1968 release that became one of Janis Joplin's biggest hits). Though Presley himself was reportedly unaware of the origins of "Hound Dog," Thornton's version has only grown in acclaim over the years, with Smithsonian Magazine recently deeming it "an anthem of Black female power."
Check out: "Hound Dog"
Laura Lee Perkins
A multi-talented musician with a captivating vocal presence, Laura Lee Perkins took up guitar and piano as a little girl and soon learned to play trumpet and ukulele, eventually finding herself dubbed "the female Jerry Lee Lewis" thanks to her ferocious style on the keys. According to legend, the Virginia native packed up her belongings in a cardboard box and hopped a bus to Cleveland at age 17, then ended up settling in Northeast Ohio and working as a waitress. It was there that she crossed paths with a local radio personality, which paved the way for her signing to Imperial Records. Although she only recorded three singles, Perkins is widely recognized as a rockabilly icon.
Check out: "Don't Wait Up"
Big Maybelle
With her enormously powerful voice and easy command of everything from blues to R&B to gospel, Big Maybelle is regarded as one of the most influential vocalists in music history. Born Mabel Louise Smith in Jackson, Tennessee, she adopted the stage name of Big Maybelle in a nod to her impressive stature, making her debut under that moniker with the 1953 single "Gabbin' Blues" (a No. 3 hit on the Billboard R&B chart).
Among her other major hits are a scorching 1955 rendition of "Whole Lot of Shakin' Goin' On" (produced by an up-and-comer named Quincy Jones, two years before Jerry Lee Lewis recorded the game-changing rock track), as well as a 1967 cover of ? and the Mysterians' garage-rock classic "96 Tears."
Check out: "Whole Lot of Shakin' Goin' On"
Ruth Brown
Considered the first major star of the R&B genre, Ruth Brown grew up dreaming of making a career in music, and at age 17 ran away from home with a trumpet player to sing in bars and nightclubs. While performing at Washington, D.C.'s Crystal Caverns nightclub in the late 1940s, she was discovered by a local jazz DJ and soon inked a deal with Atlantic Records.
With the label later nicknamed "the house that Ruth built," Brown amassed a steady stream of hits over the next decade (including her 1957 smash "This Little Girl's Gone Rockin'"), and also made her name as a passionate advocate for artists' rights. Nearly 40 years after releasing her first song, Brown continued to prove her unassailable coolness by appearing as Motormouth Maybelle Stubbs in John Waters's cult classic Hairspray.
Check out: "This Little Girl's Gone Rockin'"
LaVern Baker
Only the second woman ever inducted into The Rock & Roll Hall of Fame (after Aretha Franklin), LaVern Baker is the golden voice behind classic hits like "Jim Dandy" (a 1956 single ranked at #352 on Rolling Stone's "500 Greatest Songs of All Time"). After signing with Atlanta Records in 1953, the Chicago-born chanteuse also delivered smash singles like "Soul on Fire" and "See See Rider." Covered by Southern rock band Black Oak Arkansas in 1973, Baker's version of "Jim Dandy" has since appeared on The Rock & Roll Hall of Fame's list of 500 songs that shaped rock 'n' roll.
Check out: "Jim Dandy"
Wanda Jackson
With a knockout voice that Rolling Stone likened to "spring-loaded dynamite wrapped in sandpaper," Wanda Jackson earned her title as the Queen of Rockabilly through a lifetime of devotion to her boundary-breaking music. Born in Oklahoma in 1937, she began playing guitar by the age of six, started recording in her teens, and scored her first national hit before she'd turned 18. After touring with and briefly dating Elvis Presley (whom she partly credits with helping her to find her signature growl), Jackson ventured into rockabilly territory and signed with Capitol Records in 1956. The following year, she delivered her fiery cover of Jack Hammer's "Fujiyama Mama" – a brilliantly braggadocious anthem that's since emerged as a cult classic. (Strangely, despite explicitly mentioning the dropping of the atomic bomb, it became a hit in Japan.)
Jackson collaborated with a number of alt-rock luminaries in the 2000s: her 2003 album Heart Trouble includes appearances from Elvis Costello and The Cramps, while 2011's The Party Ain't Over features production from Jack White and contributions from Carl Broemel of My Morning Jacket.
Check out: "Fujiyama Mama"
Sparkle Moore
With her platinum-blonde pompadour and penchant for wearing men's suits onstage, rockabilly singer/songwriter/guitarist Sparkle Moore boasted a distinctly punk attitude all the way back in the mid-'50s. After mastering Hawaiian steel guitar in her early teens, the Nebraska native ran away from home to play in a New Orleans rock band, landed a record deal at age 19, and made her debut with the 1956 single "Rock-A-Bop" / "Skull & Crossbones" (penned by Moore herself). Although her music career was quite short-lived – she released just two 45s before bowing out – Moore's bold style is considered a seminal influence on punk legends like Debbie Harry.
Check out: "Skull & Crossbones"
Barbara Pittman
The only female artist ever signed to Sam Phillips's Sun Records, North Memphis native Barbara Pittman first auditioned for the famed producer as a preteen (Phillips's response: "Come back when you learn to sing"). Within several years, the so-called "Teenage Queen" had gotten her start singing in a local band thanks to a suggestion from her childhood friend Elvis Presley. After catching Phillips's attention with a demo called "Playing for Keeps" (ultimately recorded by Presley himself), Pittman signed to Sun Records in 1957, and in the '60s lending her sultry vocals to the soundtracks to motorcycle movies like Hells Angels on Wheels.
Check out: "I Need a Man"
Lillian Briggs
Self-billed as the "Queen of Rock and Roll," Lillian Briggs was a former truck driver who nabbed a #23 hit on the Billboard pop chart with her 1955 single "I Want You to Be My Baby." As a child in Pennsylvania she played piano, violin, and trombone, with dreams of starting her own all-girl-orchestra, and later brought an element of big-band swing to her pop songs. In the early 1960s, Briggs joined forces with blues-rock eccentric Screamin' Jay Hawkins on a delightfully strange track called "Come Here."
Check out: "I Want You to Be My Baby"
Etta James
You may know her best for her soul-stirring renditions of pop standards like "At Last," but Etta James was also a colossal influence on countless rock 'n' roll singers, including Janis Joplin, Bonnie Raitt, and even Rod Stewart. Born in Los Angeles, the Matriarch of the Blues co-founded an all-girl singing group in her early teens and soon kicked off a genre-hopping, six-decade-long career fueled by her unforgettable vocal work.
In 1967, James headed out to FAME Studios in Alabama – the legendary Muscle Shoals spot where artists like Aretha Franklin and The Rolling Stones created some of their most iconic records – and dreamed up the earthier, more freewheeling sound heard on tracks like her endlessly covered classic "I'd Rather Go Blind." With her blues-rock album Only a Fool arriving several years later, James joined The Rolling Stones for a handful of 1978 dates after Keith Richards sent her a letter personally requesting that she open for the band on their Some Girls tour.
Check out: "I'd Rather Go Blind"
Janis Martin
Crowned "the Female Elvis Presley" (allegedly with the blessing of The King himself), rockabilly star Janis Martin started playing guitar before the age of five. She quickly turned heads as a phenomenally talented country musician, and began performing alongside the likes of the Carter Family by her mid-teens. After discovering a love of rhythm & blues, she made her debut as a recording artist with the 1956 single "Will You, Willyum," backed by "Drugstore Rock'N'Roll" – a raucous number she'd written herself. Following the single's breakout success, Martin toured with artists like Johnny Cash and frequently shocked audiences with her seductive stage performance.
Check out: "Drugstore Rock'N'Roll"
Looking for more pioneering women in rock 'n' roll and other genres? Check out our Women To The Front homepage.