Johnny Cash
Johnny Cash was one of the most famous country singer-songwriters in American popular culture, with classic albums like At Folsom Prison.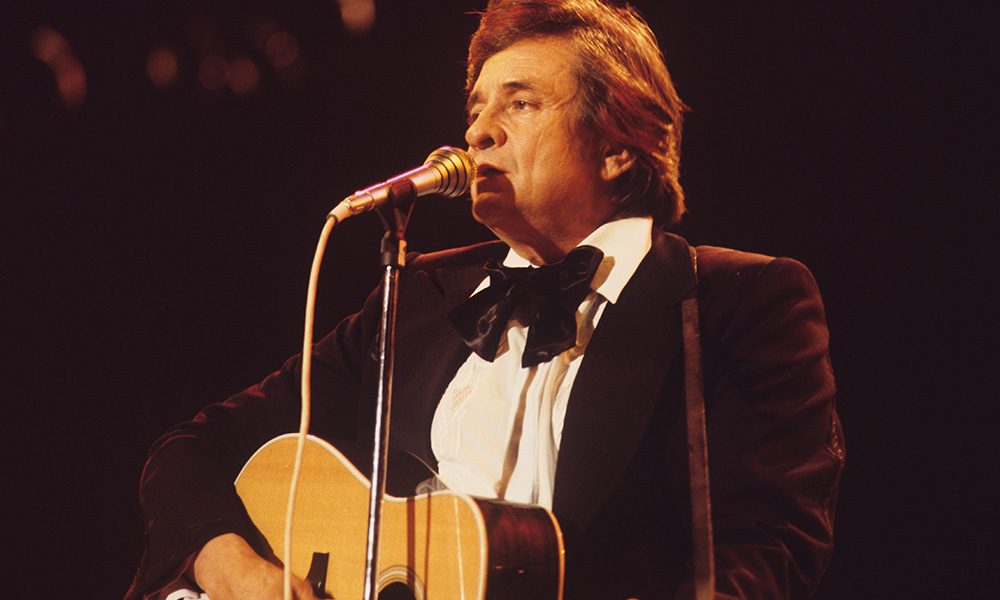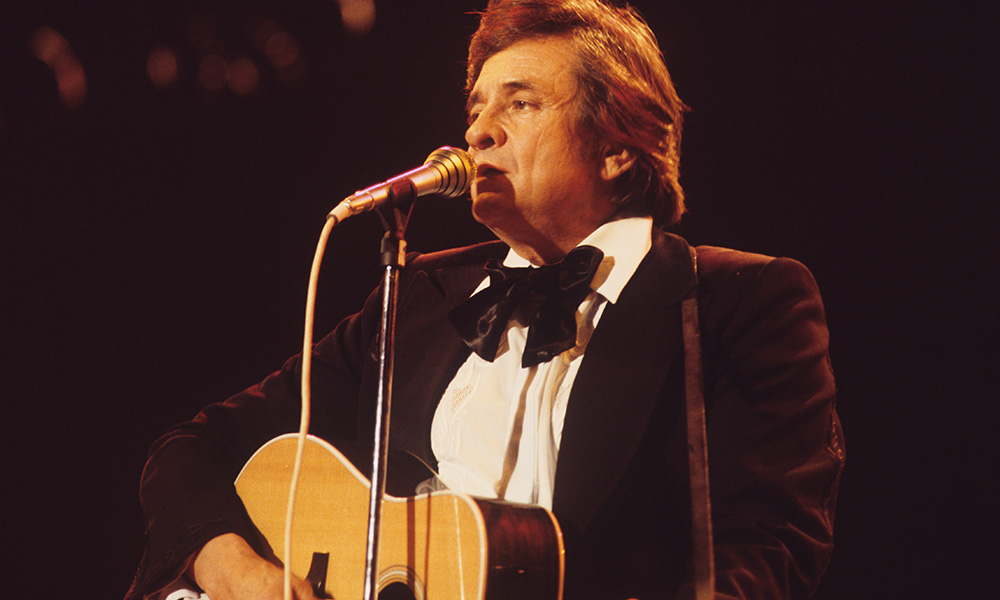 As soon as you hear the immortal words "Hello, I'm Johnny Cash" you know you're in for a treat. The man that Kris Kristofferson called 'the Father of our Nation' is one of the most significantly important figures of the 20/21st centuries. A king of country, rock and roll, rockabilly, gospel, blues and hardcore folk, John R. Cash has crossed so many borders that it's impossible to tie him down here without writing yet another tome about the great man. Needless to say, he's been inducted into the Country Music Hall of Fame, the Rock and Roll Hall of Fame and the Gospel Hall of Fame and even by the standards set within those institutions he stands tall above the very best of the rest.
Famous for his prison concerts (San Quentin and Folsom Prison are simply part of his essential repertoire), his Man in Black attire and his gravel on the bottom of your boots baritone, Cash wrote the book on sorry, redemption and the plight of the downtrodden working man, and he did so with such restraint and lack of obvious sentiment that he allows the listener full rein to enter his world.
Born in Arkansas in February 1932 the young John's earliest memories were of picking cotton and the Great Depression. It was a world where tragedy was always close at hand – his brother Jack died in a horrific sawmill accident – but there was the solace of music at home and John was writing decent songs by the time he was twelve and singing them in a limpid tenor tone that belied his age. Influenced by Irish folk songs and his mother's Hymnal, Cash maintained his guitar playing when he enlisted into the United States Air Force. His second marriage to June Carter would provide him with his life rock and it was with her and his children from a previous marriage that Cash created the legendary Carter Cash touring ensemble.
Cash's earliest Sun recordings included 'Hey Porter' and 'Cry! Cry! Cry! and he was part of the Million Dollar Quartet, alongside Elvis Presley, Carl Perkins and Jerry Lee Lewis who made the (unofficial) greatest rock jam in history. The 1960s are characterised by Cash's hard living years – his outlaw imagery fed into a stream of Western ballads and frontier sags although his first Grammy was for Jackson, a duet with June.
We pick Johnny up in 1987, working with another Elvis – Costello. His song 'The Big Light' kicks off the excellent Johnny Cash is Coming to Town album, produced by Cowboy Jack Clement. Featuring a superb choice of material, songs from the pens of Guy Clark, Merle Travis and Johnny himself, this disc also features a duet with Waylon Jennings in Charlie Williams' 'The Night Hank Williams Came to Town' and ace sidemen like Kenny Malone, the ever-dependable W.S. 'Fluke' Holland and Vassar Clements on electric fiddle.
Classic Cash updates songs associated with Johnny from his initial heyday – 'Ring of Fire', 'Long Black Veil', 'I Walk The Line', 'Don't Take Your Guns to Town' – classics in short – with a more modern production twist that was criticised at the time but now sounds revolutionary. This disc is also teamed with Boom Chicka Boom, which in turn is available on one disc with the aforementioned Coming to Town CD. Boom Chicka Boom (a reference to the Tennessee Three's sound) features another especially written Costello, 'Hidden Shame', a splendid version of Harry and Sandy Chapin's heartbreaking 'Cat's In The Cradle'.
Water from the Wells of Home (1988) is a classic country disc that is ripe for reappraisal. With guests, family and friends, Waylon Jennings, Glen Campbell, Emmylou Harris, son John and wife June this is remarkable for revisiting cash's Sun epic 'Ballad of a Teenage Queen', accompanied by the Everly Brothers and daughter Rosanne Cash.  J.J. Cale's 'Call Me The Breeze' is covered in glory; Tom T. Hall drops by for 'The Last of the Drifters' and Paul McCartney, Cash and Hall combine on 'New Moon Over Jamaica'. It's a starry affair.
By contrast, the stripped bare beauty of American Recordings (1994), produced by Rick Rubin, heralds the move to pitch Cash upfront, point of view, naked and unadorned. The song choices are impeccable. Loudon Wainwright's 'The Man Who Couldn't Cry', Glenn Danzig's 'Thirteen', Kristofferson's 'Why Me Lord', Leonard Cohen's 'Bird on a Wire' and Tom Waits'  'Down There by the Train' are an eclectic bunch but Johnny gathers them into a persuasive whole. This album was universally praised. It's a five-star item, no question and one of those albums that everyone should hear. On a roll with Rubin, the pair liaised on Unchained with the artist's surname now used as a bold brand as if to say, "nuff said". This time Johnny is backed up by Tom Petty and the Heartbreakers, Lindsey Buckingham and Mick Fleetwood, as well as Flea from Red Hot Chilli Peppers and multi-instrumentalist go-to man Marty Stuart. It's another all-encompassing disc with 'Beck's Rowboat', Petty's 'Southern Accents' and the Hank Snow shaggy dog story 'I've Been Everywhere' sitting alongside Chris Cornell's 'Rusty Cage' and a few standards from years gone by. A marvellous mixture of nostalgia and up to date rock.
To add real grit we've also got the Johnny Cash, Willie Nelson VH1 Storytellers where the two old friends and fellow Highwaymen swap songs, jokes and patter to glorious effect while drinking hot water and hot chocolate! Produced by Rick Rubin the stories being told include 'Drive On', 'Me and Paul' and the genius double whammy of 'Always On My Mind' and 'Folsom Prison Blues'. Totally recommended.
American III: Solitary Man and American IV: The Man Comes Around continue the ingenious decision to pair Cash with ancient and modern styles but in his capable hands it all works. Nick Cave, David Allen Coe, Trent Reznor's game-changing 'Hurt', the inevitable Grammy for 'Give My Love to Rose' – as he ventured into his 70s Cash was in the form of his life. What Cash and Rubin do in this series is let Cash and the material shine. Now guests include Billy Preston, Roger Manning, Don Henley and Fiona Apple but Johnny is the boss hoss here.
If you really want to get stuck into Cash, and we think you do, then the Unearthed box set is essential. Featuring outtakes and alternative versions of songs from American Recordings I, II and III, and a fourth disc distillation of prime cuts this set went Gold. Worth hearing for Billy Joe Shaver's 'Old Chunk of Coal' and 'If I Give My Soul' – outlaw country genius – and the mesmerising 'My Mother's Hymn Book' which is also available as a stand-alone disc now.
American V: A Hundred Highways and American VI: Ain't No Grave are unbelievably poignant, posthumously released discs with emotional performances of songs by Kristofferson, Don Gibson, Gordon Lightfoot and Cash himself. Once you get the bug for this sequence of discs you'll find it's an addictive experience.
Completing our selection we have the fine live album The Great Lost Performance, recorded at Asbury Park (comes as a DVD and CD package) and several hits and collections sets. The 20th Century Masters: Millennium Collection is a handy primer while The Universal Masters Collection: Classic Johnny Cash expands the format and does exactly what it says on the box. For budget pockets, the Silver Collection is a no-nonsense set of popular songs. These are surely going to send you to the main body of Cash's work in our catalogue which finds him enjoying a renaissance followed by his classic autumnal years when he created some of the most compelling, intelligent and country music ever made. Terms like legend and icon are flung around too often but in the case of Mr Johnny Cash, they don't even come close to describing him. He is the Man in Black. He is Johnny Cash. American monolith.
Words – Max Bell
Format:
UK English