Hank Williams
One of the most significant and iconic figures in American popular music in the 20th Century, Hank Williams became a legend when he died aged just 29 in the back of a Cadillac in Oak Hill, West Virginia.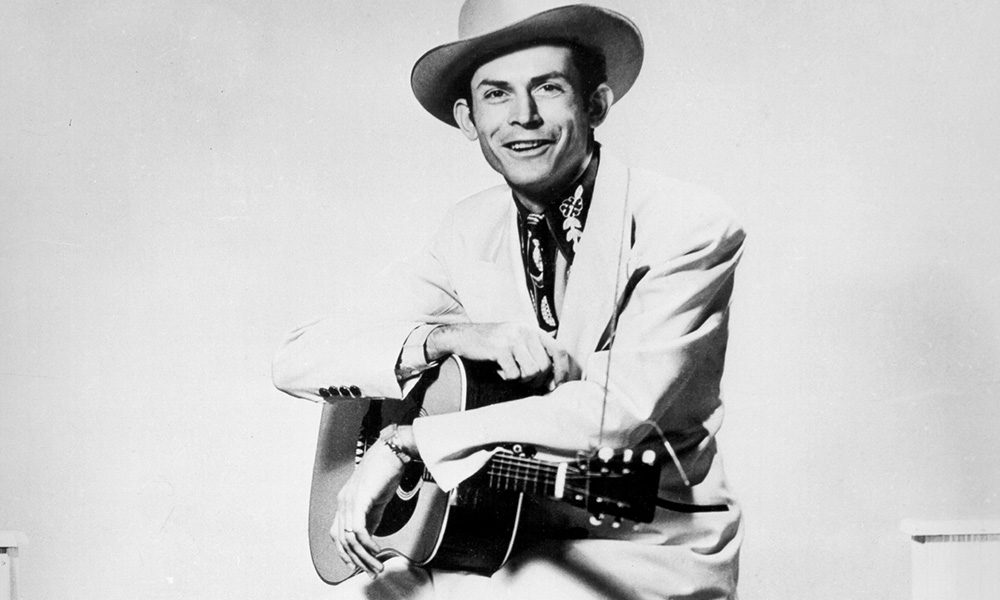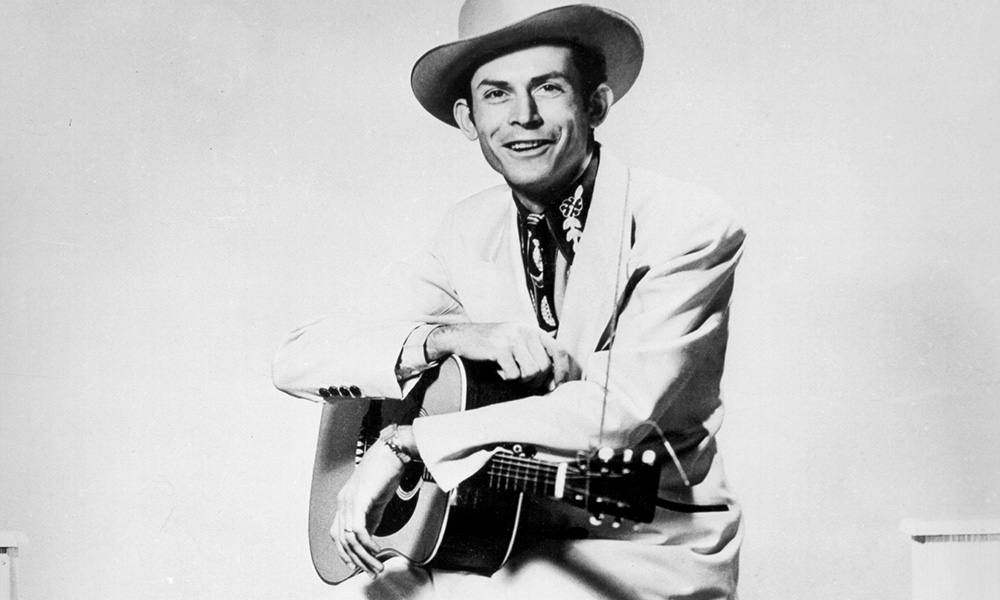 One of the most significant and iconic figures in American popular music in the 20th Century, Hank Williams became a legend when he died aged just 29 in the back of a Cadillac in Oak Hill, West Virginia where his manager was taking him to a concert show and had to pull over during an ice-storm.
Williams's reputation has increased exponentially as his posthumous released recordings are always available. He actually only made two studio albums proper in his own brief lifetime. Emerging before the arrival of mass-marketed long players (this was still the age of 78rpm shellac, rather than the revolutionary vinyl) Hank was a successful singles artist and a country music pioneer who was known as The Hillbilly Shakespeare, also Luke the Drifter and The Singing Kid.
His best-known songs are such classics that grown folks still weep at the very mention of "Your Cheatin' Heart", "Hey, Good Lookin'" and the transcendental "I'm So Lonesome I Could Cry", a song many believe to be the apogee of the country genre.
A colourful character in his lifetime Williams was no saint but his drink and drugs intake was partly explained by a ferocious on the road lifestyle that entailed long car journeys from gig to gig, interspersed with cheap motels and a hell-bent desire to perform his work. One of the great stars who emerged just before the Rock and Roll era if he'd lived there seems little doubt that Williams would have transcended the limitations of a world typified by the Louisiana Hayride radio show and the Grand Ole Opry's ultra-conservative dictates. That didn't happen for him but he is part of a lineage that runs from the old blues of the Deep South through to Roy Acuff and Ernest Tubb and the whole Singing Cowboy movement.
The bittersweet romance of his passing gave him otherworldly qualities: his songs and his image have been appropriated with the relevant reverence by so many…. Waylon Jennings, Leon Russell, Gram Parsons, Asleep at the Wheel, Ry Cooder, the Rolling Stones, (Keith Richards is a huge fan), Buzz Cason, Kris Kristofferson, Alan Jackson, Neil Young (who owns Hank's old D-28 Martin Guitar) and many, many others. He is the subject of countless tribute songs and albums and the posthumous recipient of too many awards to list here. His lineage is continued by his son and his grandson who are proud to keep the name and the flame alive. But there is only one Hank Williams.
Born Hiram King Williams in the sleepy environs of Butler County, Alabama in 1923 the young man seemed destined to follow a musical path once he was given his first guitar. Obsessed with gospel, blues, folk and country (and Western) honky-tonk Williams was often spotted wearing spectacles and busking on the streets of Montgomery. His first proper outfit was dubbed the Drifting Cowboys and they hit the road with a vengeance while Hank hit the bottle as a teenager. His idol and mentor Roy Acuff once ticked him off: "You've got a million-dollar talent, son, but a ten-cent brain." The businessman and country mogul Fred Rose brought him into his stable and soon the publishing deals flowed, as did tours and radio show slots. When he made his debut at the Grand Ole Opry he dumbfounded the venue's owners by becoming the first artist to be called back for six encores, and he'd only played three songs in his allowed set!
As was the norm then Hank concentrated on singles that were sent out to southern DJs. The hits flowed. He'd already covered and smashed with "Lovesick Blues" in 1949, a #1 that made him a household name and he developed an important body of work thereafter. Around this time Williams released more hit songs, such as "My Son Calls Another Man Daddy", "They'll Never Take Her Love from Me", "Why Should We Try Anymore", "Nobody's Lonesome for Me", "Long Gone Lonesome Blues", "Why Don't You Love Me", "Moanin' the Blues", and "I Just Don't Like This Kind of Living". In 1951 "Dear John" became a hit, but it was the flip side, "Cold, Cold Heart", that became one of his most-recognised songs. A pop cover version by Tony Bennett released the same year stayed on the charts for 27 weeks, peaking at number one.
In 1952 he kept the brilliant tunes coming: in June alone he recorded "Jambalaya," "Window Shopping," "Settin' the Woods on Fire," and "I'll Never Get out of This World Alive." His last recording sessions in September then yielded "Kaw-Liga," along with "Your Cheatin' Heart," "Take These Chains from My Heart," and "I Could Never be Ashamed of You."
Unfortunately, his alcoholism ran counterpoint to his fame and Roy Acuff and Fred Rose regretfully terminated their association with the troubled singer who was now in thrall to various prescription drugs, including amphetamines and morphine.
But what cannot be denied is that while he did himself no physical favours Williams was not just a victim of life's circumstances and if he was partly the architect of his own downfall it was his personality and character that informed the bruised brilliance of his work.
As for the albums please consider these for discovery: Hank Williams Sings (1951) produced by Fred Rose, is 22 minutes of genius that includes Leon Payne's "Lost Highway", his own "I Saw the Light" and the spooked "Six More Miles (To the Graveyard)" as well as the jaw-dropping "Mansion on the Hill" (one of his many religious or metaphysical musings) and "A House Without Love" as well as the gospel-tinged "Wealth Won't Save Your Soul". While these were essentially B-sides they introduced Hank to an audience beyond the jukebox country market.
Moanin' The Blues (1952) was also a revisit to older material but since that included "I'm So Lonesome I Could Cry" and "The Blues Come Around" plus several bonafide hits they still sound new to us. At a time when the 10 inch LP or the 78 version was far more universal than the new-fangled 12-inch album (few even had the equipment to play such a thing), it was a given that album sales were less paramount than the ticking over drip-feed of the single format.
In any case, Hank died on New Year's Day, 1953, going the way of a hillbilly in a smart car en route to a concert at Charleston's Municipal Auditorium. It was a sad and somewhat tawdry demise but the man's true legend then unfolded as listeners discovered him and obsessed over his atmospheric songs and amazing vocal delivery.
Various live and posthumous packages have surfaced since. The best ones include The Very Best of Hank Williams (1963) that went Platinum a decade after his death, also 40 Greatest Hits and The Complete Hank Williams. In 2011 came Icon: Hank Williams (all the above via Mercury).
Because of his legacy and his talent, Hank's star hasn't faded. Anyone with an interest in country, blues and folk will surely find plenty to enjoy here and new generations are lucky enough to be able to discover this extraordinary figure all over again. Are you sure Hank done it this way….? Waylon Jennings once asked during the height of the Outlaw movement. Find out for yourself, exactly how Hank did it his way.
Words: Max Bell
Format:
UK English