Bob Dylan's Country Music Heroes
The genre has remained a passion and source of inspiration throughout Dylan's career.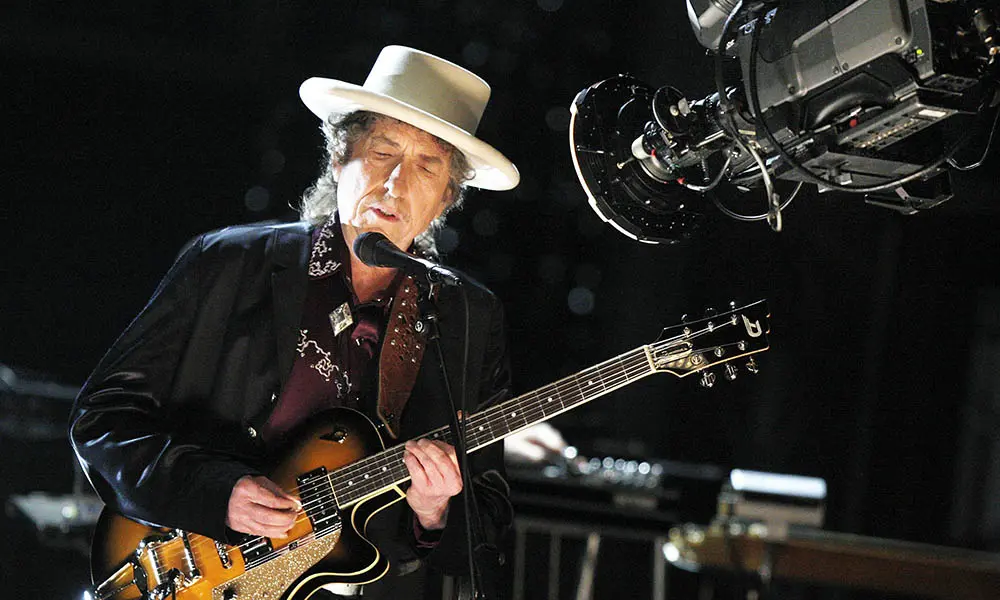 When Bob Dylan was a child growing up in the 1940s and 1950s in Duluth, Minnesota, he was an avid fan of the radio. "I was the last generation that grew up without TV," he once said. Much of the music he heard in those decades was country and western. In interviews, he's talked extensively about enjoying Bill Monroe, The Stanley Brothers, and Hank Williams and other stars in live broadcasts from the Grand Ole Opry in Nashville. Throughout Dylan's career, country music has remained a passion and source of inspiration. Here are nine of his country music heroes.
Listen to more of the classic country that inspired Bob Dylan here.
Bill Monroe
Bill Monroe and his older brother Charlie helped create what is known as bluegrass music. Bob Dylan once said, "The stuff that I grew up on never grows old. I was just fortunate enough to get it and understand it at that early age, and it still rings true for me. I'd still rather listen to Bill and Charlie Monroe than any current record. That's what America's all about to me." One of his favorites? "Drifting Too Far from the Shore."
Drifting Too Far From The Shore
Woody Guthrie
In September 1960, a college classmate lent 18-year-old Robert Allen Zimmerman a copy of Woody Guthrie's autobiography Bound for Glory. The man who would become Bob Dylan was obsessed. Around a year later he sought out the folk legend at Greystone Park State Hospital, where he was being treated for the Huntington's disease that would eventually kill him. Dylan played his idol a tribute he had written called "Song to Woody," which met with Guthrie's approval. Dylan later said: "His repertoire was beyond category. His songs made my head spin, made me want to gasp, for me it was an epiphany. It was like I had been in the dark and someone had turned on the main switch of a lightning conductor."
Hank Williams
Bob Dylan once said that he vividly remembered hearing country music superstar Hank Williams "way early, when he was still alive" on the Grand Ole Opry radio shows. Dylan said: "Even at a young age, I identified with Hank Williams. I'd never seen a robin weep but could imagine it and it made me sad. When he sang: 'The news is out/All over town.' I knew what that was, even though I didn't know. When he died it was like a great tree had fallen. Hearing about Hank's death caught me squarely at the shoulder. The silence of outer space never seemed so loud."
Patsy Cline
Bob Dylan once said that one of his favorite female artists was country music crooner Patsy Cline, putting her in a bracket of impressive individualists. He included Patsy Cline when he said: "I'm talking about artists with the willpower not to conform to anybody's reality but their own."
Johnny Cash
There was a telling moment at the 1964 Newport Folk Festival when Johnny Cash, who had just finished his own set of compelling story-telling songs, gave his guitar to the young Bob Dylan. The pair enjoyed a mutual admiration. Dylan said: "I keep a close watch on this heart of mine… I must have recited those lines to myself a million times. Johnny's voice was so big it made the world grow small… In plain terms, Johnny was and is the North Star; you could guide your ship by him – the greatest of the greats, then and now." In the early 1960s, Cash said that country music was sometimes slow to spot a good new trend but that it was exemplified by Dylan. He went on to record a number of Dylan songs, such as "It Ain't Me Babe" and "Understand Your Man." The pair finally worked together in February 1969, when Bob Johnson – who had been a producer for both men before – recorded 15 songs with them over two days, including versions of "I Walk the Line," "Ring of Fire," and "One Too Many Mornings." Their version of Dylan's 1963 song "Girl from the North Country" was released on Dylan's 1969 album Nashville Skyline.
Bob Dylan with Johnny Cash - Girl from the North Country (Official Audio)
Charlie Rich
Asked in 1965 which poets he "dug," Bob Dylan named Rimbaud, Ginsberg, and comedian W.C. Fields. He also namechecked country singer Charlie Rich, whom he called "a good poet."
Willie Nelson
In 2017 Bob Dylan appeared as part of Willie Nelson's The Outlaw Music Festival Tour. This was no accident: Dylan has appeared on the same festival bill as Nelson several times and been a fan of his music for decades. Among the work he has praised publicly are Nelson's version of the classic songbook work "Stardust" and the country singer's album with Norah Jones and trumpeter Wynton Marsalis.
Come Rain Or Come Shine (Live)
John Prine
As well as being a fan of traditional country music stars, Bob Dylan has also extolled the virtues of Guy Clark and is reported to have owned all of Townes Van Zandt's albums. But one of his most poetic tributes was to the late John Prine. Dylan told Bill Flanagan: "Prine's stuff is pure Proustian existentialism. Midwestern mind trips to the nth degree. And he writes beautiful songs. I remember when Kris Kristofferson first brought him on the scene. All that stuff about Sam Stone the soldier junky daddy and Donald and Lydia, where people make love from ten miles away. Nobody but Prine could write like that."
The Flying Burrito Brothers
The Flying Burrito Brothers, co-founded by Gram Parsons and Chris Hillman, were one of the most significant early country rock bands in America and Bob Dylan loved their 1969 debut album The Gilded Palace of Sin. Dylan told Rolling Stone in 1969: "Boy, I love them… I've always known Chris Hillman, you know, from when he was in the Byrds, who had a distinctive sound. And he's always been a fine musician. The Brothers' records knocked me out." The Brothers were, in turn, fans of Dylan and have recorded three of his songs: "If You Gotta Go, Go Now," "I Shall Be Released," and "To Ramona."
Listen to more of the classic country that inspired Bob Dylan here.