'Les And Mary': Les Paul, Mary Ford, And A Match Made In Musical Heaven
Showcasing Les Paul's dazzling flights of fancy and Mary Ford's warmth and feeling as a singer, 'Les And Mary' captured the duo at a watershed moment in 1955.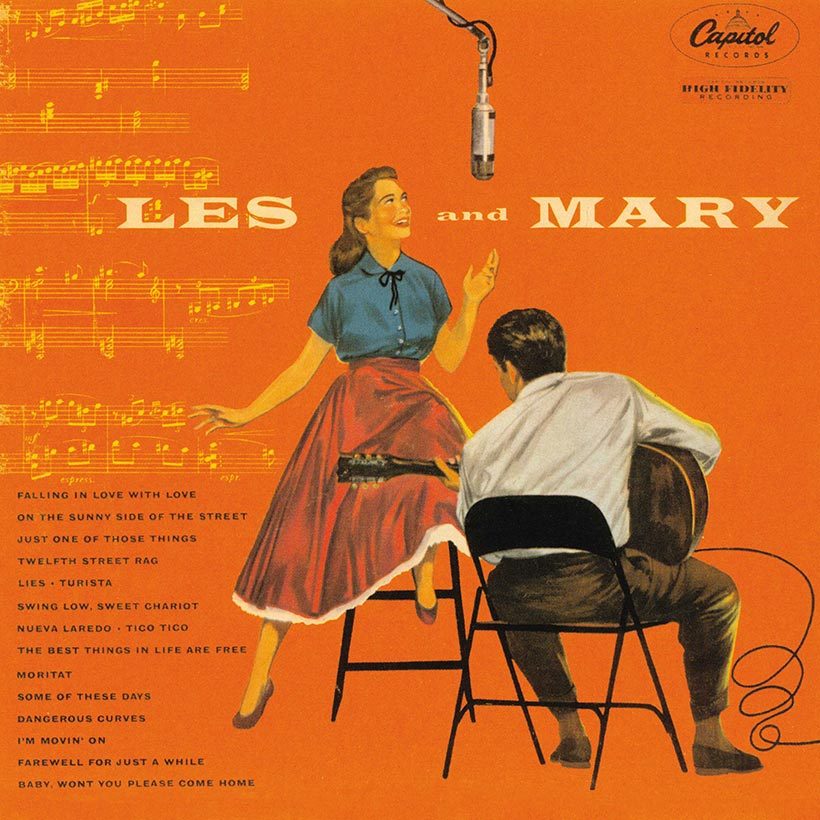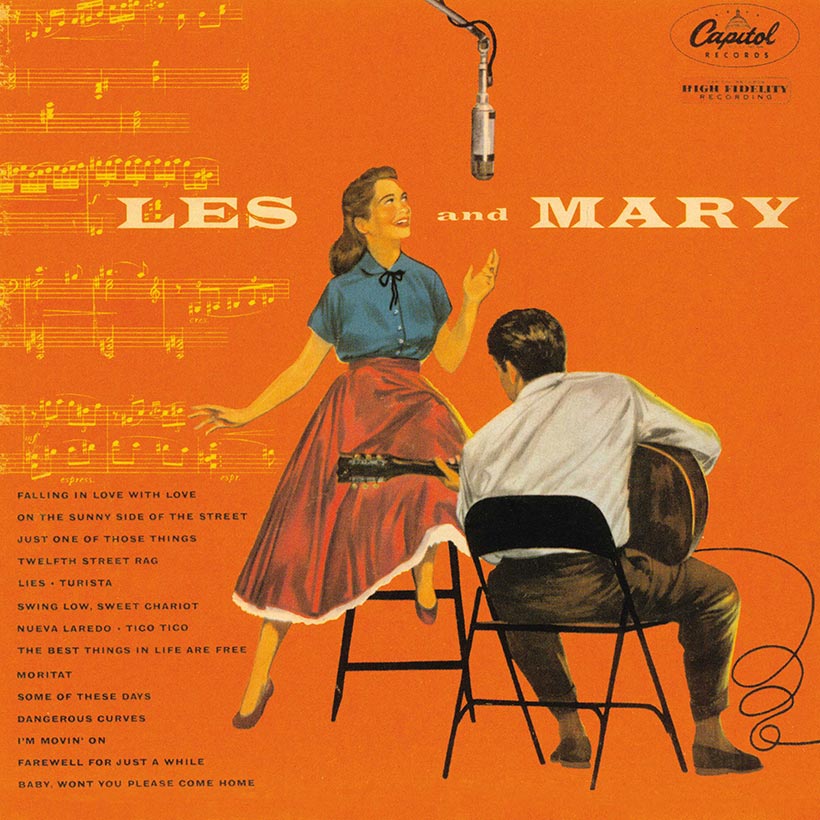 In the 50s, Les Paul and Mary Ford had 16 No.1 hits, including "How High the Moon." They sold more than six million records in all and had their own radio and television shows. At the height of the duo's fame, Capitol Records issued a collection of 16 songs on a 12" LP called Les And Mary (they also issued a 78rpm disc version too). The album, released in April 1955, brilliantly captures the range of their repertoire.
Paul, who was born Lester William Polsfuss, in Wisconsin, on June 9, 1915, had a remarkable pedigree. He had played with blues singer Georgia White in the 30s and traded riffs with Nat King Cole and saxophonist Lester Young at the first Jazz At The Philharmonic concert in 1944.
In the late 40s, he was searching for a vocalist and remembered the name of Gene Autry's 20-year-old Californian backing singer Iris Colleen Summers, born on July 7, 1924. He rang to suggest an audition. "That phone call was the best thing that ever happened to me," Summers told Cosmopolitan magazine in 1955. "I'd always considered Les Paul to be the greatest guitar player in the world."
She passed the audition, and Summers and Paul agreed that a shortened name would be better on marquees, and (so the story goes) picked "Mary Ford" out of a telephone directory. Though Paul's father was against the musical pairing – "My dad said that I was a roughneck and she was so delicate, so the two of us would never make it together," Paul later recalled – the duo just seemed to gel.
Just as Les and Mary were starting to take off, their act was nearly ended by a car crash on an icy Route 66, in January 1948, which left Ford with a broken pelvis and Paul with a shattered right elbow. As Ford tended to Paul during his recuperation, they fell in love. The couple married on December 29, 1949.
By 1955, Les and Mary were one of the biggest acts in music, and Paul (whose name will forever be associated with the famous Gibson electric guitars) had become a true innovator in musical technology, with cutting-edge work in overlaying harmonies and close-microphone recording.
Paul said that the first person he ever played his multi-tracked guitar experiments for back in the late 40s was the legendary comedian WC Fields. "He came to my garage to make a little record," Les recalled. "I played him the acetate of 'Lover' that I'd done. When he heard it, he said, 'My boy, you sound like an octopus,'" so many hands did Paul appear to have at work.
On Les And Mary, Paul used many of his groundbreaking techniques as the duo covered popular music standards (Cole Porter's "Just One Of Those Things" and the 1927 song "The Best Things In Life Are Free," which had enjoyed a post-war revival); gospel songs ("Swing Low, Sweet Chariot"); and country music (Hank Snow's "I'm Movin' On").
"Farewell For Just A While" was described on the 1955 album sleeve as a "traditional Tahitian melody," while there is also a charming version of the Rodgers and Hart tune "Falling In Love With Love." Les and Mary were astute in their song selections, as in the crowd-pleasing Shelton Brooks hit "Some Of These Days," a track which demonstrates the ease with which singer and guitarist could swing together.
There were also six instrumentals on the album: "Turista"; the jazz ragtime classic "Twelfth Street Rag"; "Moritat" (the theme for The Threepenny Opera, which is also the melody for "Mack The Knife"); and the Jimmy McHugh classic "On The Sunny Side Of the Street" (with background humming that sounds like cooing).
The Brazilian samba of the two-minute "Tico Tico" exemplifies Paul's skill as an improviser, while the biggest curiosity is perhaps "Dangerous Curves," a tune written for a play staged at the Garrick Theatre in London in 1953, and which was booed off stage by disgruntled spectators. Something about Beryl Machin's composition must have appealed to Paul, though, because two years later he recorded a sweet instrumental version for Les And Mary, which stayed in the Billboard album charts for six weeks, peaking at No.15.
In the mid-50s, all looked wonderful for the pair. They were having constant hits, raising a family, and touring the world, including performances for the British royal family and for President Eisenhower at the White House. But Les And Paul marked something of a watershed. Within a year, the duo had the first of their separations, which ended with Ford moving back to California and getting a divorce.
In later years, they spoke more fondly of each other and of the fine legacy they left in their work for Capitol Records. Paul's electric guitar solos were dazzling musical flights of fancy, his flawless dynamics inspired by Django Reinhardt; Ford remained a singer of great warmth and feeling, as she showed on the heartbreaking "Lies." She passed away far too early, on September 30, 1977. Paul, meanwhile, was still playing in jazz clubs up to his death, aged 94, in 2009. Together they made sweet music for a while.