The 25 Best Chess Albums To Own On Vinyl
Start your journey into one of the most influential labels in music with our list of the best Chess albums to own on vinyl.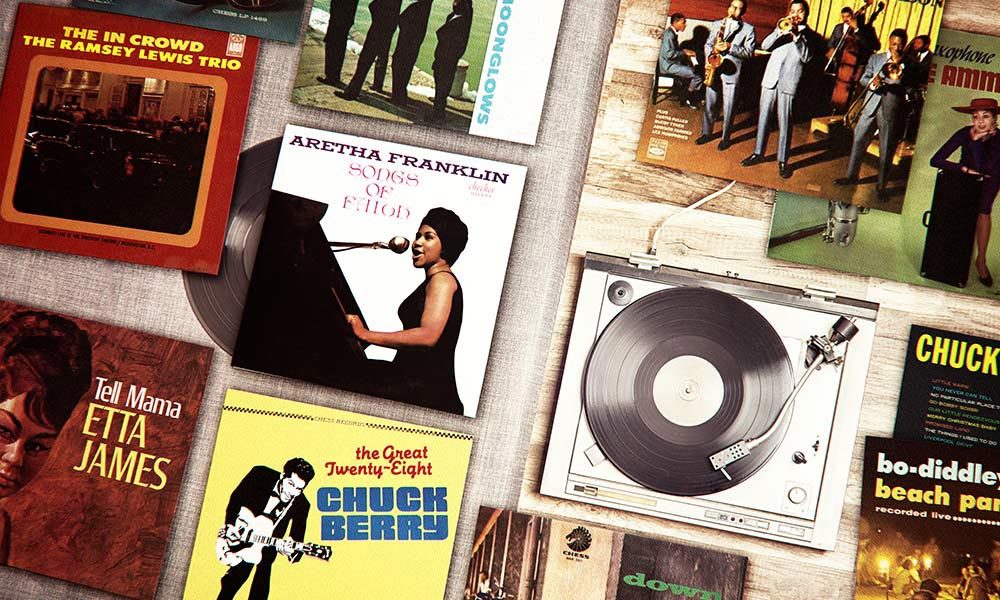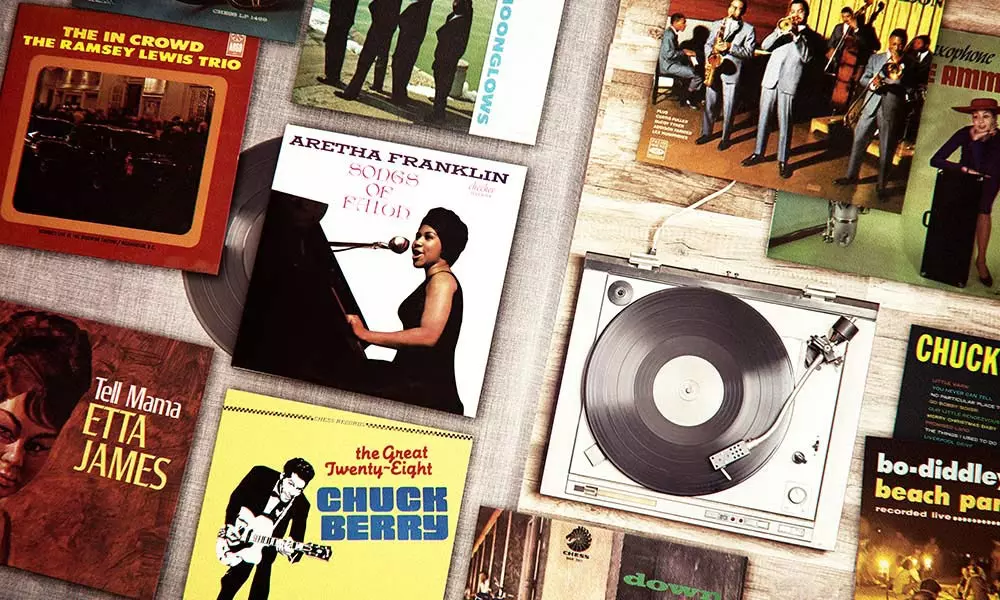 What makes an album great? Consistency of quality certainly helps, and to take it a step further, some sort of coherence or unity from start to finish, or a unifying concept. Satisfy those conditions and you're on your way to a great LP. In selecting the best Chess albums to own on vinyl, the aim was to find cohesive music but steer clear – where possible – from compilation LPs. Not because they're not great. On the contrary, if you get one, you'll probably enjoy every track. But hearing a non-"best of" album with a consistently pleasing, unified selection of songs is pretty special – and that's the aim here.
One caveat, however: a great many Chess vinyl albums are exceedingly rare and probably missing from this list due to the simple fact that they have been out of circulation for decades. A few of them are included below in the honorable mentions section, so take this less as a definitive list of the best Chess albums ever, and more of a starting point on your journey. And for those unable to find these albums on their original format, we've included digital alternatives where we can.
And, of course, if you can think of any additions to this list of the best Chess albums to own on vinyl, let us know in the comments section.
Chess Records - A Brief History
The 25 Best Chess Albums To Own On Vinyl
Gene Ammons: Soulful Saxophone
Released in 1958 (and reissued with an alternate title, Makes It Happen, in 1967), this set collects the sides from Jug's 1950 session that produced the first Chess single, the wistful "My Foolish Heart," and his other single releases from that date. All 10 tracks, largely standards and all ballads, share the same dreamy nocturnal feeling with Ammons' thick tenor sound bathed in reverb, uncommon at the time and transporting the listener to a satisfying, soulful spot.
Chuck Berry: St. Louis To Liverpool
The four hits on his 1964 comeback LP are significant and exceptional. The comedy "No Particular Place To Go," the wise "You Never Can Tell," the epic "Promised Land," and the yearning "Little Marie." But it's the other tracks that provide this LP's consistency, and at least four allude to Chuck Berry's crime and punishment under the Mann Act. "Our Little Rendezvous," "Go Bobby Soxer," the cover of Guitar Slim's "The Things I Used To Do" and "Little Marie," the tale of love left behind. Perhaps that's why, 15 years later, rock critic Dave Marsh called St. Louis To Liverpool "one of the greatest rock'n'roll records ever made," cementing its place as one of the best Chess albums in history.
Chuck Berry: The Great Twenty-Eight
Yes, it's a hits package, but it's also history: the sound of rock'n'roll shedding its training wheels. The best compilation of Chuck Berry's pioneering 28 big and small hits available, issued originally as a double-LP at the dawn of the CD age, The Great Twenty-Eight was digital ever after, until 2017, when it was pressed onto polyvinylchloride once again. Everything here is from the first nine years of Berry's Chess output, so there's no "My Ding-A-ling." Chances are, you won't feel its absence.
The Dells: There Is
The quintet DJs called "the pride and joy of Harvey, Illinois" delivers 12 killer tracks on their 1968 debut Cadet LP that alternate between stompers and ballads. Fourteen years after forming as The El-Rays, The Dells blended doo-wop harmonies with 60s soul thanks to producer Bobby Miller and arranger Charles Stepney. Intertwined lead vocals by raspy baritone Marvin Junior and falsetto tenor Johnny Carter shine brightly on tracks such as "When I'm In Your Arms," "Close Your Eyes," "Please Don't Change Me Now" and "Stay In My Corner," the elongated hit single follow-up to the Motown-esque title track.
Bo Diddley: Bo Diddley's Beach Party
For those seeking the roots of early punk rock in Bo Diddley's music and attitude, this could be Exhibit A. One of the best Chess albums to start your collection with, it remains a live document of Bo's passion, raw simplicity, and power in front of 2,000 fans in Myrtle Beach, South Carolina, in 1963. "Road Runner" stands out, but everything crackles with rocking rhythm. Culled from two nights of recording, the second was cut short, according to label historian Nadine Cohodas, when Bo's sideman Jerome Green jumped offstage playing the maracas, and white girls gathered around him to dance. Enforcing local segregation laws, the police pulled the plug on the show.
Road Runner (Live At The Beach Club, Myrtle Beach, South Carolina/1963)
The Art Farmer-Benny Golson Jazztet: Meet the Jazztet
If only because it includes three top Golson compositions – "I Remember Clifford," "Blues March" and "Killer Joe" – this 1960 LP is worth having. Add to that a few well-chosen standards and buoyant performances by the front line of trumpeter Farmer, tenor saxman Golson, and trombonist Curtis Fuller, plus a rhythm section that includes a 20-year-old McCoy Tyner on piano, Farmer's brother Addison on bass, and underappreciated Lex Humphries on drums, and you have an essential hard bop album. The longer LP version of "Killer Joe" includes Fuller's solo, edited out of the Argo 45; for those struggling to find the original, the recordings were later issued as part of The Complete Argo Mercury Sessions.
Aretha Franklin: Songs Of Faith
The Queen Of Soul was 14 when these songs were recorded live at her father's church in Detroit, accompanying herself on piano, already possessing confident mastery of this material while the congregation spurs her even higher. Released on a small label in 1956, Chess reissued the recordings for the first time in 1965, still a couple of years shy of Aretha's breakthrough; it would later re-emerge under various titles, among them The Gospel Soul Of Aretha Franklin and Aretha Gospel. But there is no mistaking the voice on this LP – it's the same fully formed, musically intelligent voice that would stun the world in 1967.
Precious Lord (Pt. 1 / Remastered/2019)
Ahmad Jamal: Chamber Music Of The New Jazz
1958's … At The Pershing LP is often cited as a major jazz LP, but its 1956 predecessor can fairly claim to be one of the best Chess albums on offer. Chamber Music… helped launch Chess' Argo imprint as a jazz label, and this version of Jamal's trio featured a piano, guitar and bass line-up. Beyond their sophisticated, quietly pleasing sound, Jamal's minimalist use of space became highly influential on Miles Davis and arranger Gil Evans. Two years later, the Argo LP was groundbreaking in a few ways, not the least of which was sales, as it stayed on the charts for over two years. An unusual live lounge recording, its popularity stemmed not just from "Poinciana," but also the more conventional band line-up and the exquisitely spare touch exhibited throughout.
Etta James: Tell Mama
Noting the success Atlantic Records had by sending Wilson Pickett and Aretha Franklin to Muscle Shoals, Leonard Chess correctly figured it would work for Etta James as well – and he was right. Not only did she get hit singles, she put down a dozen emotive tracks that made it seem like the house band was created just for her, resulting in one of the best Chess albums from the label's soul period. The title song and a cover of Otis Redding's "Security" were hits off Tell Mama, and tracks like "I'm Gonna Take What He's Got" stand with the best soul music of the era. And, of course, there's "I'd Rather Go Blind."
Etta James: Etta James
Grammy-nominated when released on Chess in 1973, this largely dark, angry set might have been targeted to rock fans, but its rage remains universal, and it was fuelled by Etta's own struggles with addiction and the law. "God's Song," one of three excellent Randy Newman covers, is a mind-blower, but each bitter track strikes a nerve, notably the "Superfly"-ish opener, "All The Way Down," and "Only A Fool" (which incorporates the chorus of Bobby "Blue" Bland's "I Pity The Fool") and the deceptive desperation of "Lay Back Daddy." The only respite – sort of – is the pleading finale, Otis Redding's "Just One More Day."
God's Song (That's Why I Love Mankind)
The Ramsey Lewis Trio: The In Crowd
The commercial and popular apex of the trio – Lewis on piano, Eldee Young on bass and cello and Red Holt on drums – was captured live for this 1965 Chess LP before a responsive audience at Washington, DC's Bohemian Club. Side One kicks off with an unedited version of the title song, their biggest single, a jazz cover of Doby Gray's pop hit. Lewis finds the blues in most songs but Holt's light touch and Young's strong foundation (plus his cello work on "Tennessee Waltz"), and his vocally urging the proceedings along, also stand out on this Grammy-winning and No.1 R&B chart LP.
Laura Lee: Love More Than Pride
Starting out as a member of Detroit gospel's famed Meditation Singers (which recorded for Chess' Checker imprint), Laura's secular output for Chess deserved more attention. Her only Chess LP, this 1972 compilation was culled from sides recorded in Chicago and Muscle Shoals, and released after she began making hits for Hot Wax. The two Curtis Mayfield covers (which were on the same single) and Kenny Rogers' "But You Know I Love You" work well. The terrific "Dirty Man," Lee's biggest Chess single, and the strong title song, her final Chess release, show off her earthy, bold Southern soul vocals and enhanced sympathetic production. Besides recognition, all that's missing is the equally good follow-up to "Dirty Man," "Uptight Good Man," though you'll find that – and Love More Than Pride itself – on the 2006 collection Very Best Of Laura Lee.
Little Milton: Grits Ain't Groceries
All four of Little Milton's strong soul-blues Checker LPs could make this list, and this final one, released in 1969, may top the list of his best Chess albums. His voice is in top form, with a convincing versatility on tender ballads such as "I'll Always Love You," rave-ups like the Titus Turner classic title song, and stone blues like "Did You Ever Love A Woman." Milton's guitar cuts to the bone (listen to "I Can't Quit You") and the horn section perfectly punctuates each track thanks to Gene Barge's arrangements. Albums like this helped Chess remain a force among blues fans into the 70s.
Little Walter: The Best Of Little Walter
He was the man who reinvented the wheel, which you're not supposed to do. But Little Walter's virtuosity gave the harmonica a new dimension and he forever changed its sound and role in the blues. A case can be made that the sound he produced separated Chicago blues from all others. We're talking about the original 1957 LP, though most subsequent collections will include the hits: "My Babe," "Blues With A Feeling," "Juke," "Mean Old World" and more – giving a generation (or three) lessons they're still digesting.
MJT+3: Daddy-O Presents MJT+3
A remarkable and intelligent hard bop 1957 debut on Argo from a young Chicago quintet noteworthy less for its virtuoso soloing than its sympathetic and harmonic interaction, but there's no mistaking the virtuosity of the players here: Paul Serrano on trumpet, Nicki Hill on sax, Bob Cranshaw on bass, Walter Perkins on drums and Richard Abrams on piano. Abrams' work is especially adventurous and he wrote the five originals on this disc.
James Moody: Cookin' The Blues
This live San Francisco date from 1961 (reissued in 1998 at At The Jazz Workshop) showcases Moody on alto, tenor, and flute, and his septet, plus vocal pioneer Eddie Jefferson, excelling on two selections. Moody's ability to make his small groups sound like big bands is on display here, but he takes most of the solos and each one shines with inventiveness and surety on one of the best Chess albums from the label's jazz stable.
The Moonglows: Look, It's The Moonglows
One of many benefits of vinyl: the two sides of this LP have different intentions. Ballad-heavy Side One seems intended as a soundtrack to uninterrupted romance. The attempt to update the genre with strings doesn't terribly detract from the harmonies, and probably worked as well as any Frank Sinatra album. The minimal instrumentation on Side Two, starting with the '58 hit "10 Commandments Of Love," reveals the group's "blow-harmonies" at their best. The sun was setting on the doo-wop era when this 1959 album came out, but this collection of recordings starting in '57 remains a tribute to the human voice as a musical instrument, and one of the best Chess albums from its first decade.
Billy Stewart: Unbelievable
You won't find a happier marriage of soul music and The Great American songbook. The longer version of Stewart's brilliant hit single reworking of "Summertime" on this 1966 Chess album has an extended vocal vamp in the middle. While the other 11 standards here aren't as radically re-imagined (though "That Old Black Magic" also gets special treatment), they are all still wonderfully transformed by Stewart's unique soulful scat, and the swinging arrangements by Phil Wright provide a perfect setting, at times pushing Stewart to show his jazz chops.
The Violinaires: Groovin' With Jesus
This gospel group's eight earlier Checker LPs contained their fine singles and other tracks performed in the tradition of the great quartets of the mid-20th Century. And if you can find any of them, grab them. By 1971, things had changed – and so did the group. Led by dynamic vocalist Robert Blair, The Violinaires adopted funkier arrangements for this record and looked to the pop charts, embracing lyrics with social concerns and stretching the lengths of the tracks. Their five-minute take on Buddy Miles' "We Got To Live Together," for example, owes much to Sly & The Family Stone. They also cover George Harrison's "My Sweet Lord," Hair's "Let The Sunshine In" and Ocean's "Put Your Hand In The Hand." While the six- minute-plus "Take Me" hearkens back to more traditional fare, this adventurous gospel-funk project neatly balances the secular and the spiritual.
The Violinaires ~ Groovin' With Jesus (1972)
Muddy Waters: At Newport 1960
Documenting Muddy Waters' triumphant debut in front of a largely white audience, you can easily pick up the growing enthusiasm of the crowd, band, and Muddy himself as the set barrels forward. Film of the performance shows Muddy dancing with harp ace James Cotton during the reprise of "I've Got My Mojo Working," and the audience screams come through on the record, too. Otis Spann's piano also stands out, but it was Muddy who took center-stage and never surrendered it.
Goodbye Newport Blues (Live At Newport Jazz Festival/1960)
Muddy Waters: The Muddy Waters Woodstock Album
Muddy's overlooked final Chess LP, from 1975, also tops the list of the best Chess albums recorded during the one of the label's late 60s all-star jam sessions. Initiated by The Band's drummer, Levon Helm (who also plays some bass), this included fellow Band-mate Garth Hudson, Paul Butterfield (who shines on harp), Muddy's pianist Pinetop Perkins, guitarists Bob Margolin and Fred Carter, and Howard Johnson on sax. The session, captured in upstate New York, finds Muddy relaxed and happy, as the studio chatter between songs reveals. The mix of classics such as "Kansas City" and "Caldonia," plus originals (including a couple from Muddy) display everyone's versatility within this cohesive, rootsy set.
Sonny Boy Williamson: Down And Out Blues
Another great feature of vinyl is liner notes. In addition to 12 landmark tracks that collected his first seminal singles, this 1959 Chess LP features an essay by renowned Chicago writer Studs Terkel, who perfectly summarizes the essence of Sonny Boy's art, writing, "With a background, rock'n'roll in nature, we hear a dozen short stories. In a number of instances, the year, the place, the hour – all down as a piece of court reportage." Amid literary references, Turkel compares Sonny Boy's mastery on Side One to the ease with which Hall Of Fame pitcher Rube Wadell might strike out sandlot kids. "Then," he continues, "on the second side, he pours it on."
Don't Start Me To Talkin'
Howlin' Wolf: Moanin' At Midnight/Howlin' Wolf
Fans have debated forever which of Howlin' Wolf's first two Chess LPs is superior, Moanin' At Midnight (from '49) or "The Rockin' Chair Album" (so dubbed because of the cover image). Both will rank among the best Chess albums in any serious collection. Proponents of the second record point to the tracks that became blues standards: "Wang Dang Doodle," 'Spoonful', "Little Red Rooster" and "Back Door Man." Adherents to the debut might counter that Wolf never sounded more engaged and menacing than on that record. Best thing is to get them both.
Honorable Mentions
Some of the best Chess albums are today nigh-on impossible to find in their original vinyl pressings. Here are just a few that committed collectors will do well to hunt down.
Etta James: Rocks The House
Her 1964 live LP, on which she's backed by a small group as opposed to her highly produced studio efforts, deserves to be on any best Chess albums list.
Jimmy McCracklin: Jimmy McCracklin Sings
The terrific and prolific West Coast blues singer cut one LP for Chess which was released in 1962. Jimmy McCracklin Sings included his '58 hit, "The Walk," and 11 other great R&B tracks.
The Dells: Musical Menu/Love Is Blue
Both of these Cadet LPs are rarities that each have a full complement of hits and strong album cuts that merge doo-wop with 60s/70s-era soul.
Rotary Connection Cadet Concept LPs
Minnie Riperton, who made her debut as a Chess artist singing with The Gems, later joined Rotary Connection as lead singer in this experimental psychedelic soul/rock group noted for radical reworkings of well-known songs. They recorded six LPs for Cadet Concept (Rotary Connection, Aladdin, Peace, Songs, Dinner Music, and Hey, Love), and still enjoy a cult following.
Checker/Chess Gospel LPs
Largely recorded in the 60s, Chess and Checker gospel LPs are very hard to find, but worth the search if you can afford them. Some highlights: Reverend CL Franklin, Aretha's father, who was a religious and political leader out of Detroit, released an astounding 57 sermons on Chess that are hugely popular with the gospel set. The post-Sam Cooke Soul Stirrers also had a few Checker and Chess LPs, including one of secular songs, and a tribute to Cooke with the marvelous track "Slow Train."
Chess Comedy LPs
Chess released LPs by two legendary comedians: Moms Mabley had at least 14 Chess albums and Pigmeat Markham released at least 15. Grab 'em if you can find 'em.
Follow the Chess Records Essential playlist, for more classic Chess.