'Spoonful': The Story Behind Howlin' Wolf's Classic Blues Song
A hypnotic, hugely significant song, Howlin' Wolf's recording of 'Spoonful' became a blues staple recorded by everyone from Etta James to Cream and beyond.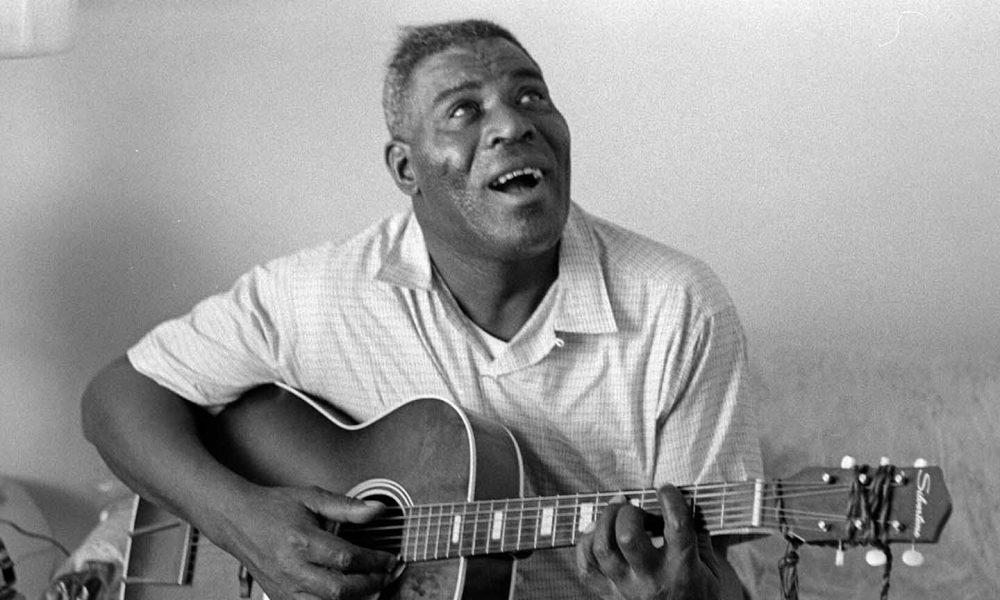 In 1960, Chicago-based Chess Records released a single that became one of the most influential and much-covered recordings in its catalogue. It was called "Spoonful" and was delivered by a singer who, at six feet three inches tall, and weighing 300lbs, was an imposing figure of a man. His voice, a booming sepulchral bellow that was akin, perhaps, to a volcanic eruption from hell, was even more remarkable. Though he was baptized Chester Burnett, the singer from White Station, Mississippi, called himself Howlin' Wolf (1910-76), and both his name and his sound were unforgettable.
Though not as famous as "Smokestack Lightnin'," Wolf's signature song, "Spoonful" is nevertheless a hugely significant recording whose performance captures the intimidating charisma and primal energy of its creator. In essence, it's a simply constructed piece comprising a hypnotic one-chord vamp which is seasoned with Freddie Robinson's stinging guitar lines and Otis Spann's barrelhouse piano. Above a throbbing groove, Wolf describes desire as an incurable addiction that can drive people to murder and madness. Boasting great power and intensity, it was unequivocally a record that made an indelible mark on many of its listeners, particularly for its memorable line: "One spoon of love from my 45 will save you from another man."
For many, one spoonful wasn't enough. The song quickly became a blues standard covered by everyone from Cream to Etta James and even Kronos Quartet.
Listen to the history of "Spoonful" on Spotify.
"Spoonful"'s author was noted songwriter and producer, Mississippi-born Willie Dixon (1915-92), who was a key architect in sculpting the trajectory of post-war Chicago electric blues. Though he made many records under his own name, Dixon – a Grammy-winning inductee into the Blues Hall Of Fame – is best remembered for authoring a raft of classic blues tunes that were recorded by a number of significant artists at Chess Records in the 50s and early 60s. His greatest songs include "Hoochie Coochie Man" (Muddy Waters), "You Can't Judge A Book By The Cover" (Bo Diddley), "My Babe" (Little Walter), "The Red Rooster" (Howlin' Wolf), "Wang Dang Doodle" (Koko Taylor), "Bring It On Home" (Sonny Williamson II) and "I Just Want To Make Love To You" (Etta James).
"Spoonful" wasn't the first blues song to reference addiction, and it could be considered a later descendent of early blues maven Charley Patton's 1929 recording "A Spoonful Blues," which in turn was influenced by Papa Charlie Jackson's "All I Want Is A Spoonful," released four years earlier. In Dixon's song, however, "Spoonful" is really a metaphor for sex, and the fact that Howlin' Wolf purportedly simulated masturbation on stage while performing the song (and rubbed his groin area with a big wooden spoon), would seem to corroborate this.
Others, though, have interpreted the song as representing a desperate craving for any addictive substance, be it drugs or alcohol – especially when Wolf sings, "Men lie about that spoonful/Some cry about that spoonful/Some die about a spoonful/Everybody fight about that spoonful." But Willie Dixon was adamant that his song wasn't about using narcotics. "People who think 'Spoonful' was about heroin are mostly people with heroin ideas," he wrote in his autobiography, I Am The Blues.
Though Wolf's version of "Spoonful" didn't chart when it was released in 1960, the Willie Dixon song became a Top 20 US R&B duet for Etta James and Harvey Fuqua, who were billed together as Etta & Harvey. Theirs had a similar swagger to Wolf's version but, with its softer, more sophisticated arrangement featuring horns, a new bridge section, and key changes, it lacked the visceral intensity of the original.
The early 60s was a time when rising British beat groups, such as The Rolling Stones, The Animals, and The Yardbirds, were profoundly influenced by American blues musicians the likes of Howlin' Wolf. Eric Clapton, who played guitar with The Yardbirds before joining John Mayall's Bluesbreakers, first recorded the song as a member of a short-lived studio group called Powerhouse, fronted by ex-Manfred Mann singer Paul Jones. Also on that session was bassist Jack Bruce, with whom Clapton would go onto form noted power trio Cream a year later, in 1966. Significantly, Cream recorded "Spoonful" for their debut LP, Fresh Cream. Led by Jack Bruce's febrile lead vocals and rowdy harmonica, they captured the raw intensity of Wolf's version, ramping up the excitement quotient with Clapton's molten guitar lines. The band also included an epic 17-minute live version on their 1968 LP, Wheels Of Fire.
Cream's notoriety helped to put "Spoonful" on the radar of other groups in the mid-60s. The short-lived New York band The Blues Project recorded it in 1966 for their Live At The Cafe Au Go Go album, while another, more esoteric US combo, The Shadows Of Knight, cut the song the same year but imbued it with a garage band feel. A bigger US band with blues roots were Canned Heat, who put their own distinctive spin on the Willie Dixon song the same year, but the recording wasn't released until 1970, when it appeared on their album Vintage.
The rise of white blues bands in the 60s brought Howlin' Wolf's name to a wider public. Aiming to capitalize on his newfound fame, he re-cut "Spoonful" in 1968 as part of The Super Super Blues Band, a convivial blues summit with fellow Chess mates Muddy Waters and Bo Diddley, who all take turns singing the different verses of the song. It's looser and less potent than the original but enjoyable nevertheless.
In 1970, Willie Dixon finally recorded his own version (which was faithful to the Howlin' Wolf original but boasted extended guitar and piano solos) on the LP that gave his autobiography its name, while a year later the UK's Climax Blues Band recorded an imaginative, sultry take of "Spoonful" for their Tightly-Knit LP. Another notable blues rendition in the 70s came from Illinois blues songstress Koko Taylor.
Willie Dixon and John Sebastian - Spoonful Live on Sunday Night 1989
Jack Bruce revisited the song in 1988, in tandem with guitarist Leslie West on the latter's LP Theme, and in 1994 the Scottish bassist included a nine-minute version of "Spoonful" on his double-album Cities Of The Heart, which reunited him with Cream's erstwhile drummer Ginger Baker.
More recently, "Spoonful" was covered by George Thorogood & The Destroyers (on their 2011 LP, 2120 South Michigan Avenue) and rising blues-rock god Joe Bonamassa (on his 2015 live album, Muddy Wolf At Red Rocks), which proves that, despite being over half a century old, the song's powerful theme of love as addiction continues to resonate with both musicians and listeners alike.
For Howlin' Wolf's original version of "Spoonful," along with many other Willie Dixon songs that laid the foundation for rock'n'roll, follow the Blues For Beginners playlist on Spotify.