Best Howlin' Wolf Songs: 20 Essential Blues Classics
One of the finest artists on the illustrious Chess label, Howlin' Wolf shaped the blues, as this playlist of 20 of his best songs makes clear.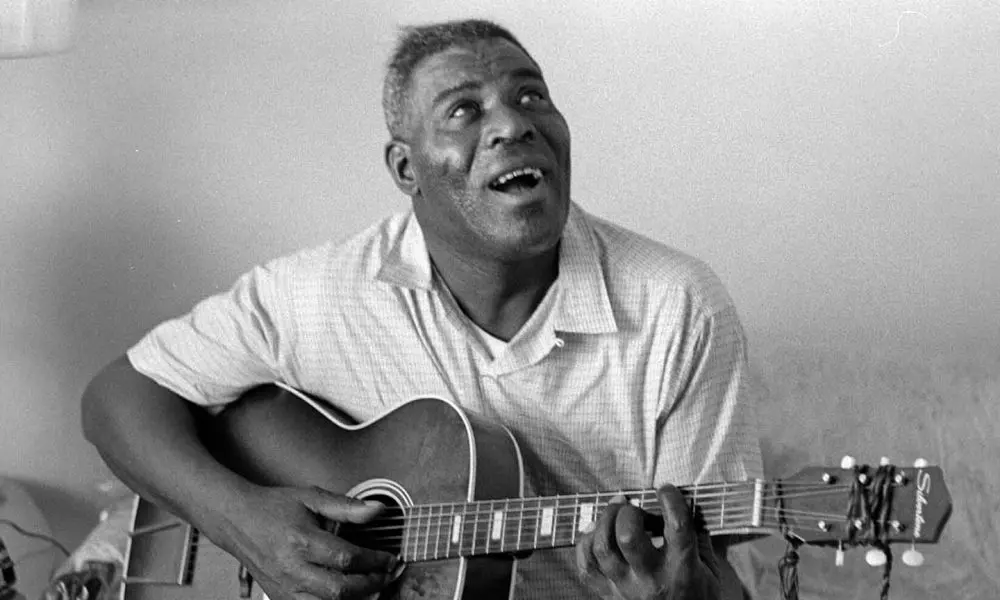 He howled like a hungry wolf, though on many of the best Howlin' Wolf songs his voice sounded like a roar from a bear. He grew to be a big man, standing six feet three inches, and in one song claimed to weigh "300 pounds of heavenly joy." Even his vast, guffawing laugh was enough to make you a shade uncomfortable: seconds later he'd be yelling into the mic with menace. You didn't mess with Howlin' Wolf.
Yet clearly, some folk did. "I Asked For Water (She Gave Me Gasoline)," he moaned in 1956. "I've Been Abused" was another complaint: a story that was told in 12 lines – some of them repeated, but nonetheless affecting for it. Wolf's stance was that he'd been exploited, taken for a fool, but it was going to stop right now. And when he was fighting back, he'd do it in style, as "Sitting On Top Of The World" made clear.
Listen to the best Howlin' Wolf songs on Spotify.
Wolf was born on June 10, 1910. His mama knew him as Chester Burnett, and the other kids would call him Big Foot Chester, but, growing up shoeless in White Station, Mississippi, his grandfather told him tales of the howlin' wolves that would get him if he was bad; the man-sized child decided that was a name he could work with. He grew up idolizing Jimmie Rodgers, the country singer known as The Blue Yodeler; Wolf tried to copy him but his yodel turned out to be more of a howl. He could work with that too. Wolf learned guitar – and showmanship – from Charlie Patton, the area's top bluesman, whose songs bands still play. Parties and juke joints soon rocked to Wolf's guitar and raucous vocals.
After a spell in the Army during the war, he moved to West Memphis in 1948 and formed a group that became popular in the clubs, with Wolf's rudimentary electric guitar joined by two other axe-slingers and a pianist known only as Destruction, a name which should tell you all you need to know about the band. Pretty soon Wolf was on the radio and began his recording career at Sam Phillips' Memphis Recording Service in 1951. One of the best Howlin' Wolf songs committed to tape was "How Many More Years," issued on Chicago's Chess label. It was an auspicious start: the song has since become a blues standard, covered by Little Feat and Joe Bonamassa, among others. The B-side, "Moanin' At Midnight," was, according to Sam Phillips, "the most different record I ever heard." Quite a statement from the man who discovered a one-man musical revolution called Elvis Presley.
A year later, Wolf moved to Chicago, ostensibly to cement his relationship with Chess, which had signed him after tussling for his contract with another label, RPM. But Wolf was also part of a great migration north by African-Americans in search of a better (albeit faster and more industrial) life. He didn't really have any choice: Chicago was where his audience was, and he needed a piece of that big-city pie. While Wolf adopted a hard-done-by attitude – and no doubt genuinely felt that way, having grown up in the depressed south – he earned a good living and was financially astute, partly thanks to the bookkeeping of his wife, Lillie. Even so, Wolf had little schooling and was effectively illiterate. But he didn't need to read sonnets in order to write lyrics that got his deepest feelings and fears across, and didn't need no dictionary to read an audience. A compelling performer, he could scare the wits outta you one moment and tug your heartstrings the next. There was no bluesman more affecting. He played the Wolf to the full in his songs, singing about a "Tail Dragger" and warning that "The Wolf Is At Your Door," but as the best Howlin' Wolf songs prove, Chester Burnett was no novelty act. One blast from his mighty larynx would tell you that. He joked, but he didn't play around.
Wolf formed another band in Chicago and, a year or so later, guitarist Hubert Sumlin had joined him from Memphis. An unassuming man, Sumlin was a key part of Wolf's sound, the sweet subtlety of his playing the perfect foil for the singer's sheer firepower. Wolf's wily ways with money gave him the means to pay his musicians better than anyone else on Chicago's blues circuit, so he could employ more or less anyone he wanted. Sumlin made his first appearance on record with the Wolf on 1954's "Evil (Is Going On)." Wolf, wanting the best for his sidemen, even paid for Sumlin to take lessons from a classical guitar tutor at Chicago's Conservatory Of Music. By now, bass player Willie Dixon was playing on Wolf's sessions and writing many of his singles, though Wolf sometimes complained about this because he was a formidable writer in his own right. Wolf moaned about a lot of things; that's what a Wolf does. He couldn't have been that angry, however: "Forty Four (I'm Mad)" made it plain that drastic steps would be taken if he was.
In 1956, Wolf unleashed a monster that remains among the very best Howlin' Wolf songs: "Smokestack Lightning." While the blues is often presented as a three-chord 12-bar cliché, the song dispensed with two of those chords and such a structure, delivering a churning riff from Sumlin over a gut-pummeling backing. Wolf had begun playing a version of the song down south in the 30s, and had used some of the lyrics in 1951's "Crying At Daybreak." But "Smokestack Lightning" was the definitive version. In fact, it was the definitive Chicago blues record. Wolf would act it out on stage as if he was boarding the train of the title, or watching it roar by. The song was plundered by 60s rock bands, including The Yardbirds, who opened their sets with it.
Like many blues singers, the Wolf was often concerned about fidelity: lyrically, he was either sneakin' around with other men's women ("Back Door Man," 1961; famously covered by The Doors for their first album), or other men were sneakin' around with his ("Somebody In My Home," 1957). "Sitting On Top Of The World" (also '57) took it a stage further: he'd worked himself to the bone yet his woman had still left him. Great, now he didn't have to worry or graft so hard. But Wolf had other interests too, as "The Natchez Burning" made clear. Though it was cut in '59, the subject matter goes back to 1940, when an inferno gutted the Rhythm Club in Natchez, Mississippi, tragically killing 209 revelers and musicians. His definitive (and first) version of Willie Dixon's "Spoonful" (1960) found him expounding on equality and jealousy. "Wang Dang Doodle" (1961), on the other hand, was all about a party.
Wolf entered the 60s at the pinnacle of his profession: Chess began releasing albums by him in 1959, and the blues was about to get big in Britain. But Wolf was already 50 as the decade turned. He had the song, the voice and the band, but he was no teen idol. His fantastic 1961 single "The Red Rooster" was covered by The Rolling Stones, which made No.1 in the UK. His mid-60s classic, "Killing Floor," was covered by Hendrix and formed the basis of Led Zeppelin's "The Lemon Song," but was not a pop hit. The Stones had Wolf as a support act when they appeared on TV show Shindig!, but their patronage could not make him a rock star. So Chess put him in the studio to record The Howlin' Wolf Album, an outright psychedelic blues record. Wolf hated it: he could make enough fuzzy noise on his own, and he was one of the first electric bluesmen, so he was hardly the Luddite the album cover led listeners to believe. In fact, he'd even recorded a fine funky blues, "Pop It To Me," in 1967, though it was not a hit.
Wolf sounded great playing the songs he was known for in a funky psych setting, even if the production was OTT and his traditional fans were baffled. However, the single, a new version of "Evil," did make the Top 50 on the R&B chart. A further album, 1971's The London Howlin' Wolf Sessions, put him in the company of various Stones, plus Eric Clapton, Ringo Starr, and more familiar musicians, including Hubert Sumlin. These were artists that learned their craft listening to the best Howlin' Wolf songs, and their collaboration with their hero made No.79 on the US charts. This more subtle rock update on Wolf's sound worked well, as "Rockin' Daddy" makes clear.
Wolf suffered several heart attacks during the early 70s, but the big man, against doctors' orders, continued to perform – often sitting down and singing only six songs at a time. He passed away on January 10, 1976, following kidney surgery. But the globe still shakes to the deep, roaring voice of the Howlin' Wolf: generation after generation adores his music, because it was real, honest, and utterly unique. For how many more years? For as long as the blues is loved, the best Howlin' Wolf songs will resonate down the generations.
Follow the Blues For Beginners playlist for some of the best Howlin' Wolf songs and more essential blues.