Patsy Cline
Patsy Cline was one of the most influential artists in country music, known for crossing over into pop as well as numerous classic hit singles.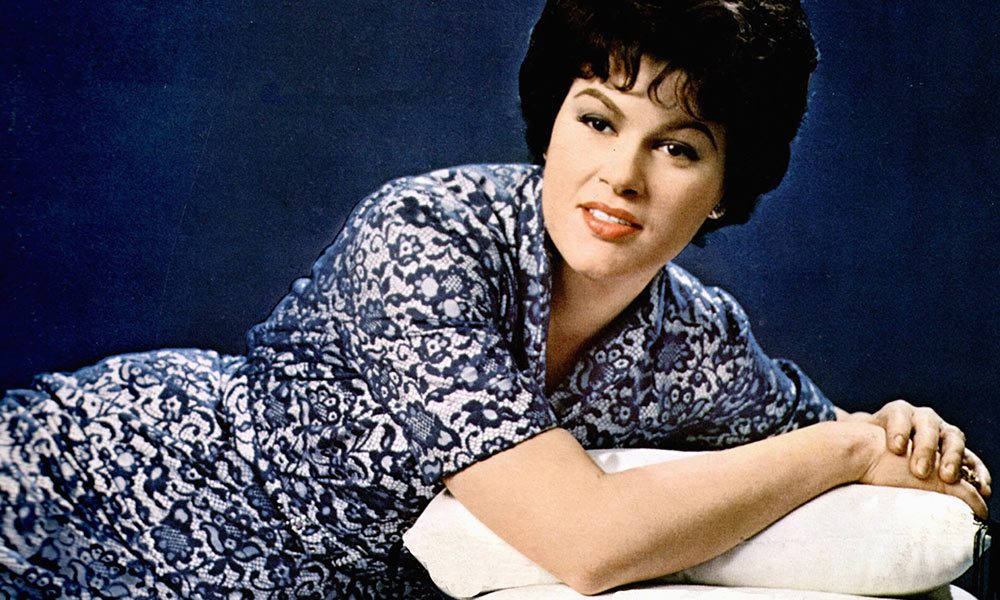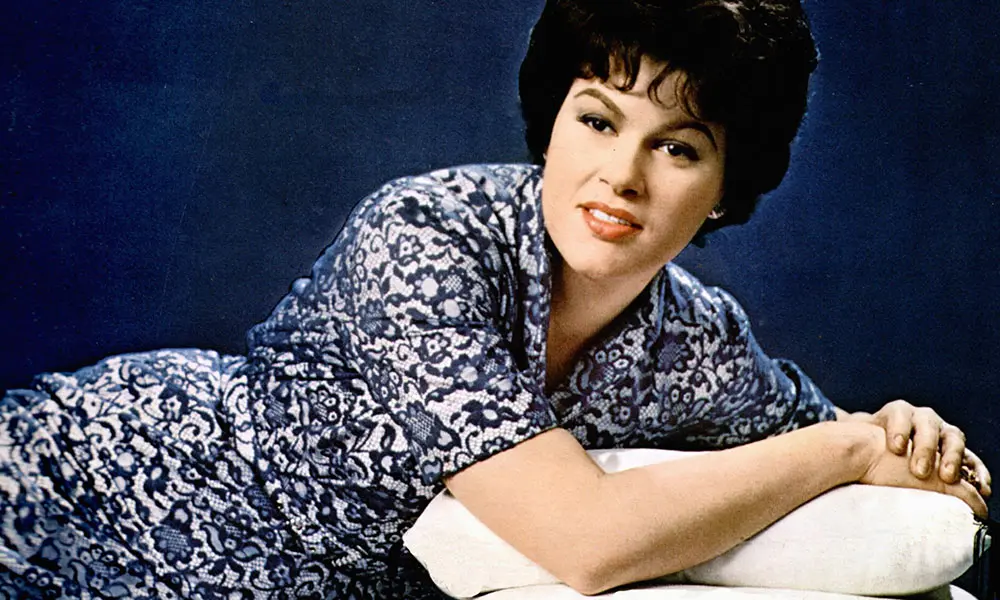 Although she would die in a plane crash in March 1963, aged just 30, Virginia Patterson Hensley – professionally known as Patsy Cline – is still widely regarded as one of the greatest female country singers of all time. She achieved considerable success in her brief lifetime, hitting the charts with trademark songs "Walkin' After Midnight", the elegiac "I Fall to Pieces", "She's Got You", Willie Nelson's now standard "Crazy" and Don Gibson's "Sweet Dreams".
But it's really since her demise that Patsy discs have sold in vast numbers, leading to the cult of Cline that has seen her life documented in various books, movies, stage plays and documentaries. To that extent, her death has given her genuine iconic status on a par with that of Jim Reeves, Elvis Presley and Johnny Cash. As more people discover her rich contralto Patsy has become a firm favourite for other aspiring female country singers. Alongside Kitty Wells, she helped pioneer the role of strong women in a usually male-dominated market and to hear proof of her enduring talent we're pleased to be able you towards a selection of her work that ought to give you a fully rounded introduction to this remarkable country lady.
Born in Winchester, Virginia in 1932, daughter of a seamstress and a blacksmith, Cline was a singer in her local church and soon discovered a love for vocalists like Kay Starr, Jo Stafford, hillbilly sensation Hank Williams and Judy Garland. Blessed with perfect pitch (though she didn't sight read music) Cline got her first break when the artist Jimmy Dean invited her to appear on his radio show Town and Country Jamboree, broadcasting out of Arlington. Following one unsuccessful marriage to George Cline  – obviously, she kept her married name – Patsy wed Charlie Dick who would mentor and manage her career. Initial experiments with hillbilly, honky-tonk and rockabilly didn't quite suit her image but once she formed a working relationship with innovative producer Owen Bradley at Decca Records it was soon apparent that country-pop would be her metier. Various Grand Ole Opry and CBS talent show appearances gave the world notice of extraordinary talent. Her first major hit, "Walkin' After Midnight" (penned by Donn Hecht and Alan Block) propelled her into both the country and pop charts, making her an early crossover star. Bradley now guided her to a deal with Decca-Nashville and fixed arrangements that while not entirely to her own taste became synonymous with the rich local sound that made her name. "I Fall To Pieces" was an even bigger hit than "Walkin' After Midnight", a number one country single and pop and adult contemporary fixture throughout 1961. Patsy was now on the road to major stardom.
She became one of the Opry's biggest attractions and used her influence to help up and coming budding females like Loretta Lynn, Brenda Lee, Jan Howard and Dottie West. Meanwhile, her no-nonsense charisma won her male admirers and friends and she was a drinking buddy with the likes of Roger Miller, Faron Young and Carl Perkins. She was particularly pleased to befriend Elvis Presley. She called him Big Hoss and he knew her as The Cline. She had a tough exterior alright. Her performing motto was 'No dough, No show' and she demanded professional and respectful treatment from promoters who were used to exploiting their artists. Following a near-fatal car crash, Patsy returned to the studio to cut Willie Nelson's oddly timed "Crazy", a track she didn't warm to at first. In fact, she recorded her vocal as an overdub and wrung such emotion out of her efforts that her version is often considered to be the definitive statement on this much-loved song – rumoured to be the biggest jukebox play of all time.
Patsy's rise was meteoric thereafter. She headlined the Hollywood Bowl with Johnny Cash and took a selection of Opry stars to New York's Carnegie Hall. Her single "She's Got You" brought UK fame (it was immediately covered by British singer Alma Cogan) and the attendant album, Sentimentally Yours became her biggest seller. Featuring the stellar A team of Nashville players in 1962 Patsy was surrounded by such musical greats as Charlie McCoy, The Jordanaires, guitarist Grady Martin, Hargus 'Pig' Robbins and Floyd Cramer with Owen Bradley offering his usual immaculate production job.
Given her technique and her style, it was no surprise to see Patsy raising the bar for country vocalists of any persuasion. She had copyists in her own lifetime, that's how good she was.
Before she could complete the fourth album, provisionally titled faded Love after the Bob Wills tune, Cline began to suffer premonitions of her own doom and even started to give away personal possessions while constantly rewriting her will on Delta Air Lines stationery. As macabre as that may seem on March 5, 1963, her privately chartered Piper Comanche crashed in shocking weather in woods outside Camden, Tennessee where she and all the other occupants perished.
Thereafter the legend of Patsy simply snowballed. She had numerous posthumous hits like "Sweet Dreams", "Faded Love" and "Leavin' On Your Mind" and became the subject or co-protagonist in such acclaimed films as Coal Miner's Daughter, Sweet Dreams: The Life and Times of Patsy Cline (starring Jessica Lange) and the play A Closer Walk With Patsy Cline.
Our superb selection begins with Cline's second studio album, Showcase (1961). Featuring The Jordanaires backing vocals, Ben Keith's pedal steel and such luminaries as bassist Bob Moore, guitarists Hank Garland and Martin and Cramer on piano this set includes "Crazy", "San Antonio Rose", "I Fall to Pieces" and a re-recorded "Walkin' After Midnight". More surprisingly perhaps there's a lush version of Cole Porter's "True Love" and smart reinterpretation of her 1957 local hit "A Poor Man's Roses (Or a Rich Man's Gold)". Our disc mirrors the posthumous 1963 reissue known as Patsy Cline Showcase with the Jordanaires, featuring the famous red Capri pants and gold booties cover.
Remembering Patsy Cline and Jim Reeves compiles hits from both these popular artists with "I Fall to Pieces" featuring the then-revolutionary Cline duet overdub. Other highlights are her take on Mel Tillis/Carl Perkins tune "So Wrong", a gorgeous reading of Baby's Arms and the Webb Pierce/Wayne Walker item "Leavin' On Your Mind".
Patsy Cline: 12 Greatest Hits is certainly an essential primer for any would-be listener. Despite never charting significantly this set holds the record for selling the most copies without featuring on the Billboard 200! Ten million copies have sold in the States alone and it was the highest-selling album by any female country artist until Shania Twain's "The Woman in Me".
The Best of Patsy Cline revisits an album that did extremely well in the UK on release in 1994 and such was its appeal that The Very Best of … followed soon after.
The Universal Masters Collection is highly recommended. Concentrating on 18 of her best-loved Decca period releases this gives you the chance to hear her album versions of "Your Cheatin' Heart" and "Half As Much" and the rare 1962 ballad, "You're Stronger Than Me", arranged for strings. With liner notes and some choice photographic memorabilia, this set provides guaranteed pleasure and great listening at leisure.
Even more lavish is Sweet Dreams: The Complete Decca Studio Masters 1960-1963. This double-disc set gathers all 51 of the sides Patsy recorded with Bradley after she left 4 Star Records for Decca in 1960. A remarkable in-one-place document this – it's hard to fathom now that in a period of just 28 months Cline invented the role of the modern female country singer. Remember her this way.
Words: Max Bell
Format:
UK English