Glen Campbell
Glen Campbell is that rare breed of artist who is synonymous with his own hits – he is the 'Rhinestone Cowboy' and it's his face that one conjures in the mind's eye whenever he tackles a Jimmy Webb place name song.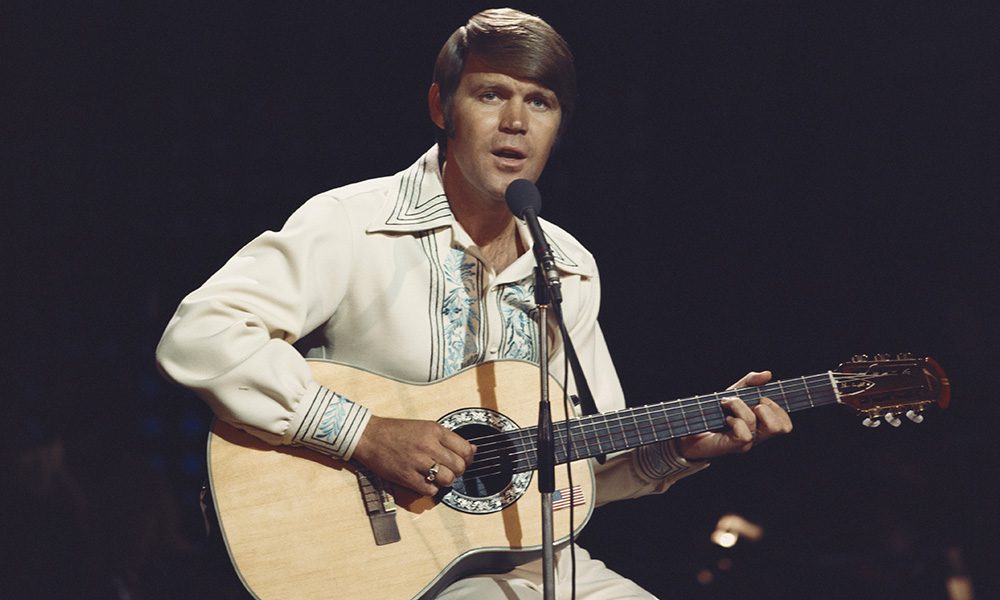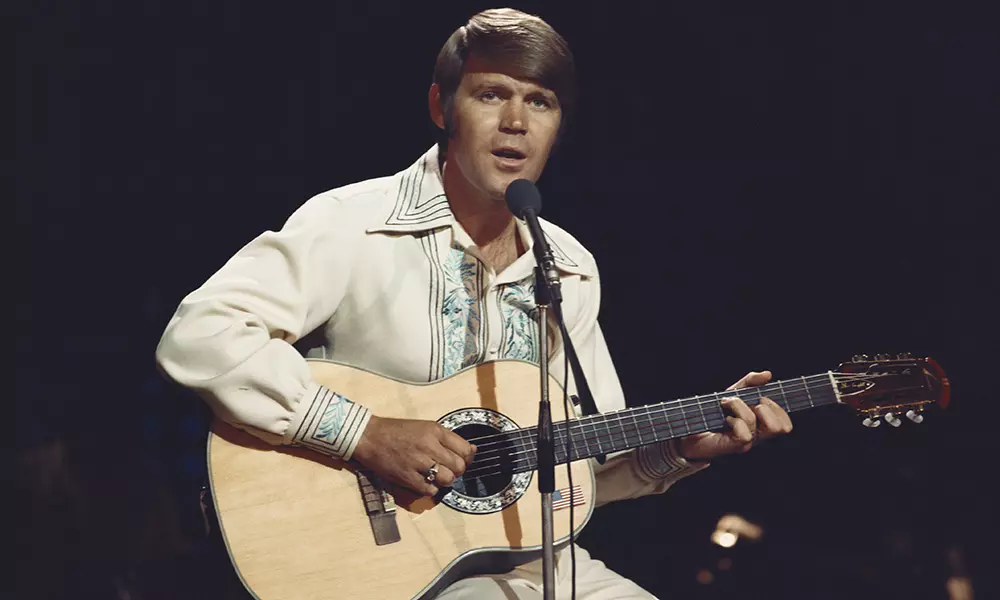 The great country singer and guitarist – actually a highly gifted multi-instrumentalist – Glen Campbell is the most delightful thing to come out of Delight, Arkansas these past 78 years. Glen has been a glorious fixture on the music scene since 1960 when he moved to Los Angeles to become a session musician. His career then rose on a steady arc as he parlayed his talents into working with Phil Spector's Wrecking Crew, playing on recordings by everyone from Frank Sinatra and Dean Martin to Spector, Bobby Darin, Ricky Nelson, The Monkees and many others. In short, he was an indispensable character on the LA scene and was so gifted that when Brian Wilson took a sabbatical from the Beach Boys in 1964 he became a touring member of the group and played bass, adding his vocal skills to the mix to the extent that many didn't even realise Wilson was AWOL! He also played lead guitar on the Pet Sounds sessions.
As a solo artist, Campbell's Capitol albums made him a national and international superstar. He is the most legendary interpreter of Jimmy Webb's songs for one thing and has sold in excess of 45 million discs, won numerous Grammy Awards (making history in 1967 by claiming a straight four in the Country and Pop categories) and owns the ultimate accolade of the Grammy Lifetime Achievement Award, which he received in 2012. Similarly, the Country Music Association has recognized him for his groundbreaking covers of John Hartford's "Gentle On My Mind" and Webb's signature pieces, "By the Time I Get to Phoenix", "Wichita Lineman" and "Galveston" where his ability to breathe adult heartbreak into blue-collar scenarios ensure Glen is a treasured individual.
A feisty and funny man with trenchant opinions and a tongue in cheek philosophy, Glen has also appeared in movies, notably being hand-picked by John Wayne to co-star in the comic Western True Grit. Of course, he also had a hugely successful networked TV show of his own, The Glen Campbell Goodtime Hour on CBS US that featured a variety of the leading stars of the late 1960s and 1970s.
Campbell is one that rare breed of artist who is synonymous with his own hits – he is the "Rhinestone Cowboy" and it's his face that one conjures in the mind's eye whenever he tackles a Jimmy Webb place name song.
The seventh son of twelve children Glen Travis Campbell was born in 1936 and became a largely self-taught guitarist who was soon fronting his own band The Western Wranglers in the late '50s. His next move to the surf and garage outfit The Champs helped make his name on the West Coast and he became gun for hire and then a key member of the so-called Wrecking Crew, an elite California-based ensemble of players who sat largely in the background and made the name singers of the day sound good while eschewing the glory themselves.
A partnership with Al DeLory at Capitol pushed Glen into the limelight. A sequence of quality recordings showcased his guitar and voice and a penchant for inhabiting the protest songs of the era. Campbell's first crossover success is Gentle on My Mind (1966) where he tackles the John Hartford track and makes it a standard while also pouring balm on Harry Nilsson's "Without Her". Steady radio exposure sent that album to number one on the Billboard Country chart.
Now working with DeLory and Nick Venet, Glen embarked on a sequence of massive sellers – all of them highly recommended for your discovery today. By the Time I Get to Phoenix (1967) and A New Place in the Sun (1968) teamed Glen with top players like Hal Blaine and Joe Osborn while the Bobbie Gentry and Glen Campbell disc (1968) offered a fine fusion of male and female duet skills. All are recommended for discovery.
Wichita Lineman (1968) held the Christmas number one slot in the USA, even keeping The Beatles double album at bay. With drummer Jim Gordon and bassist Carol Kaye onboard Glen really nails Webb's title song and also offers the definitive versions of "Dreams of the Everyday Housewife" and Tim Hardin's "Reason to Believe".
Galveston (1969) maintains an incredible run of top-placed albums with Webb connotations and Glen Campbell Live (1969) captures him in heroic form at a New Jersey concert. That prolific winning streak doesn't abate as the new decade dawns. The conceptual soundtrack and cult item Norwood and The Glen Campbell Goodtime Album (the latter featuring a superb reading of "MacArthur Park") are the preludes to an update of his approach with the more progressive The Last Time I Saw Her (1971) where contemporary singer-songwriters like Gordon Lightfoot and Kris Kristofferson enter his radar. Thereafter it's a case of discovering albums that never stand still, encompassing Christian country and folk, and always keeping an ear out for the best new talent in town – as well as the tried and trusted as in the case of I Remember Hank Williams (1973) a disc that pre-empts the latter-day movement whereby old hands are brought back into focus.
Reunion: The Songs of Jimmy Webb (1974) is a classic that slipped through the net but cries out for rediscovery now with a cast including Buddy Emmons on steel guitar and a Jimmy Bowen production. Having taken a sabbatical from the mainstream Campbell roars back into contention with the massive selling Rhinestone Cowboy (1975) whose epic title cut soars to the number one slot, as does the album. This is a five-star affair. That standard is maintained on Bloodline and matched by Southern Nights where Glen brings the newly minted Allen Toussaint title song to public attention – a man of impeccable taste.
The Live at The Royal Festival Hall double is well worth tracking down as it contains a peachy Beach Boys medley, an entire side of Webb (with Jimmy conducting The Royal Philharmonic Orchestra) and an all-star band on hand to create one of the most classic yet overlooked live artefacts of the era.
Campbell is also the first artist to deal with Webb's song "Highwayman" written after the songwriter dreamt he was an English outlaw being chased to his doom, a reverie he had in a London hotel! That song would become the name of the famous country group fronted by Willie Nelson, Johnny Cash, Kris Kristofferson and Waylon Jennings. Campbell's version fronts up the self-named album and brought Glen fresh impetus.
Not to be forgotten either are the discs Old Home Town and Letter to Home, more elegiac and grown-up affairs. Re-energised we find Glen excelling on Still Within the Sound of My Own Voice (1987), utterly in the moment and back with Bowen. A switch to MCA results in a slew of high-quality albums: check out Walkin' in the Sun since features another excellent Toussaint cover in "You Will Not Lose".
Back with Liberty, Campbell embarks on a series of contemporary country albums. He will record with the South Dakota Symphony, proffering a virtual greatest hits resume and then up his game on Meet Glen Campbell, tackling songs from the pens of Tom Petty, Travis's Fran Healy, Dave Grohl, U2 and Paul Westerberg on an acclaimed gem that features guest musicians like Rick Nielsen and Robin Zander (Cheap Trick), Jason Falkner, Wendy Melvoin (Wendy & Lisa) and Roger Joseph Manning, Jr. This brings him to an entirely new crowd and also raises his press profile as a younger generation suddenly sits up and takes notice.
With his illness now confirmed Glen bravely records the excellent Ghost on the Canvas disc and embarks on his Good Times: Farewell Tour, still bringing the house down every night and wowing fans old and young with some breathtaking performances.
The Glen Campbell and Jimmy Webb In Session…(2012) is actually a rediscovered song-cycle performed live at Fantasy Records Studios that is thoroughly recommended as both men rose to the occasion and reminded us of their staggering mutual history. The most recent disc is the knowingly poignant See You There, a deeply nostalgic resume that bookends a fabulous career.
There are numerous compilations available. Try the Platinum-selling Greatest Hits or the ubiquitous Twenty Golden Greats – both offer the familiar hits. But while there are dozens of splendid anthologies to choose from, and every home or car needs at least one of those, it's the parent albums that need evaluation. An all-round entertainer of the highest calibre, Glen Campbell is a real star of our times. We cherish him here and hope you enjoy discovering his work again. Jimmy Webb recently described Glen as "the greatest musician I've ever heard" – an unsolicited testimonial that bears investigation.
Words: Max Bell
Format:
UK English