Discovery Of Personal Effects Leads To New Book 'Eddie Cochran In Person'
Author Lee Bullman says the book 'tells Eddie's story and reminds us that there was more to it than senseless tragedy.'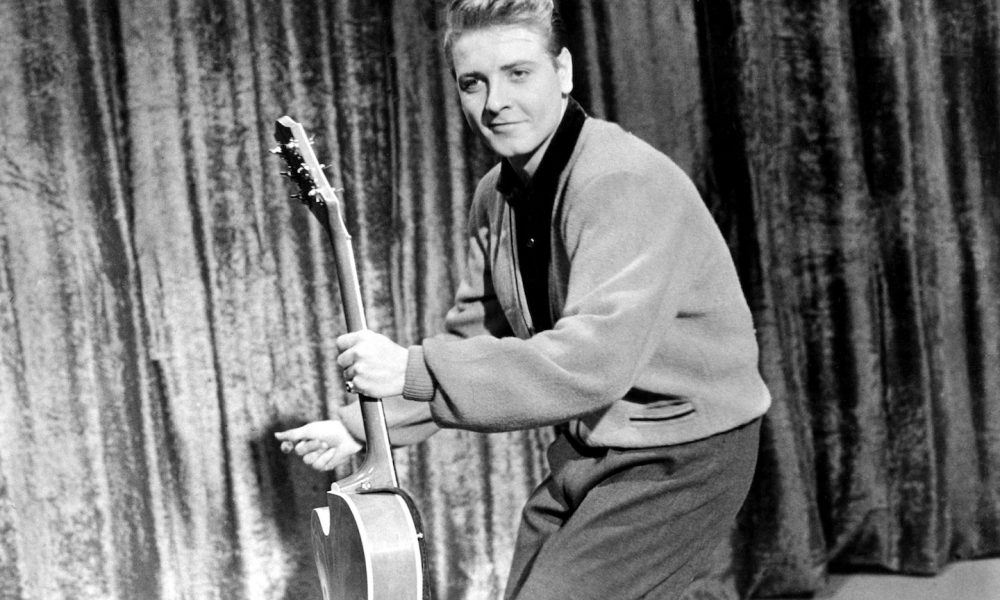 A new biography of a rock'n'roll original will arrive on October 5, when Omnibus Press publishes author Lee Bullman's Eddie Cochran In Person.
The book came about via the remarkable story of a collector who discovered the contents of Cochran's childhood bedroom, which had remained undisturbed by anyone outside of his family since his death at the age of just 21 in 1960. It charts his humble beginnings in Albert Lea, Minnesota and his emergence as a trailblazing figure with such enduring hits as "Summertime Blues," "C'mon Everybody," and "Three Steps to Heaven."
Three Steps To Heaven (Stereo)
Says Bullman: "Way more people know Eddie Cochran's songs than know his name. Despite dying tragically just as he was getting started, Eddie was responsible for some all time classics, songs which have since been covered by everyone from Marc Bolan to the Sex Pistols. Right now, somewhere, someone is learning the chords to 'Somethin' Else.'
"Eddie Cochran In Person tells Eddie's story and reminds us that there was more to it than senseless tragedy. There was joy and discovery and fun as teenage Eddie found music and fell in love with it then set about collecting the skills and experience he needed to become a rock'n'roll star in 1950s America.
"He made Hollywood movies and had hit singles, there were high jinks and low points, starlets and eventually, fame," continues the author. "As he rode the crest of the brand-new wave, Eddie saw the world change around him and lived the dream before it was even a dream. The acts Eddie toured and played with are a Who's Who of early rock'n'roll. They were rebels and visionaries and Eddie fitted right in."
A special edition of the book will be available with an exclusive print of a postcard from the Lost Locker Collection which was sent to Cochran by the Everly Brothers. Bullman, who wrote the bestselling true crime biography Blowback and the modern noir novel Twenty Sixteen, is a collector of "1960s sensationalist paperbacks, leopard skin shirts and jump blues records." He's now working on his next book.
Pre-order Eddie Cochran In Person.