Eddie Cochran
Eddie Cochran was only twenty one when he was killed in a car crash in England, yet he is a legend that burns as bright as only a handful of stars from the golden age of rock 'n' roll.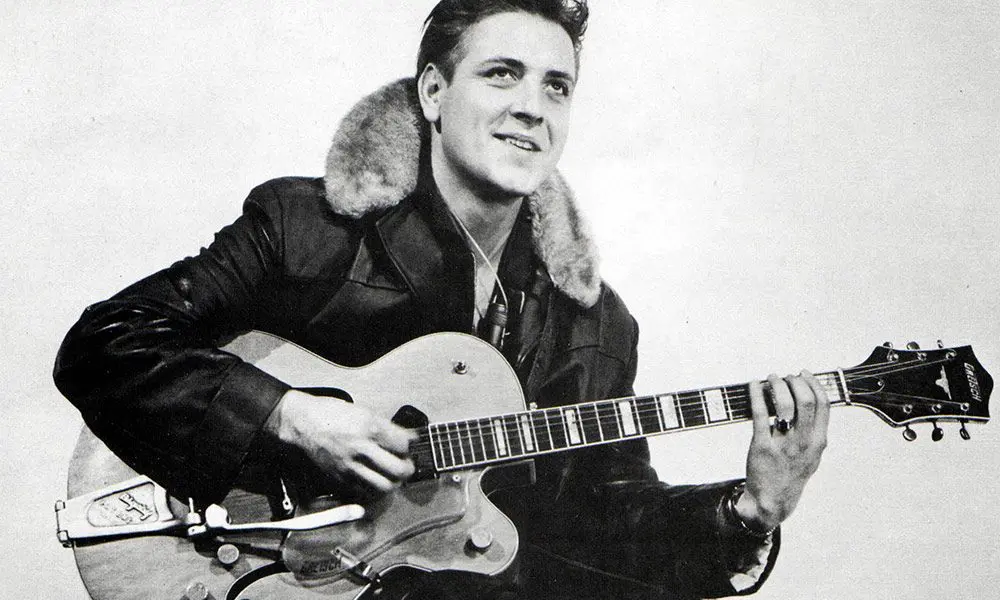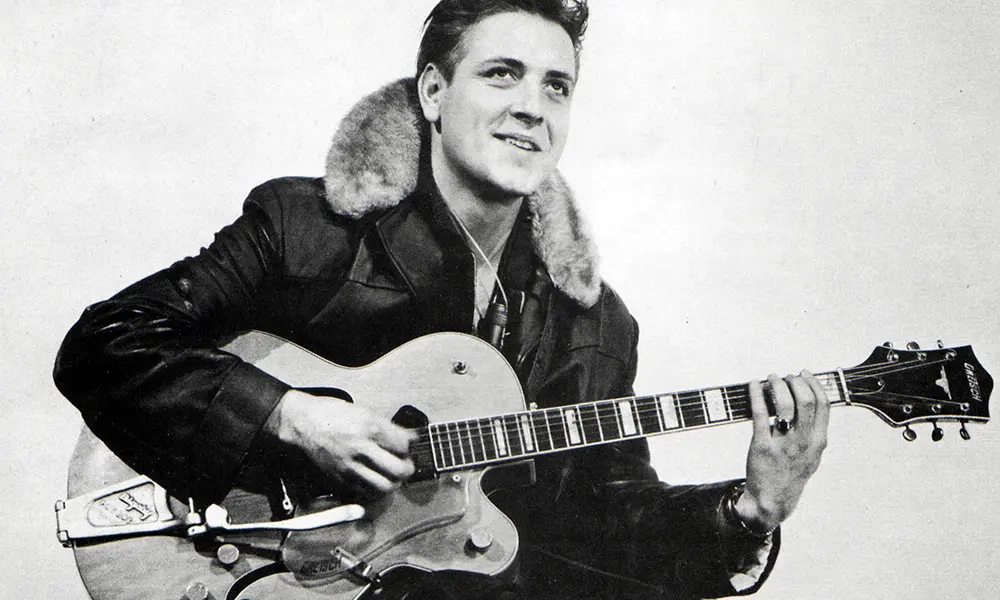 Eddie Cochran was only twenty one when he was killed in a car crash in England, yet he is a legend that burns as bright as only a handful of stars from the golden age of rock 'n' roll. His career was short, but it blazed brightly and his talents as a multi-instrumentalist, songwriter, singer and performer meant that had he lived, there can be no question that he would have gone on to achieve even greater things.
Raymond Edward 'Eddie' Cochran was born in Minnesota in 1938, although he usually told interviewers it was Oklahoma, his family moved to California, Bell Gardens, a Los Angeles suburb, when Eddie was just a teenager. At the local Junior High school, Eddie met Connie 'Guybo' Smith who played bass, steel guitar and mandolin and the two of them started playing together. A couple of years later he met another musician named Chuck Foreman and the two of them experimented by recording on his new friend's tape recorder.
"By multi-taping techniques, I played the guitar, bass and drums on 'Summertime Blues and 'C'mon Everybody'. I'm pretty proud of these discs because, in addition, I also sang the lead vocal parts – including the bass part in the former –and wrote the songs." – Eddie Cochran
After graduating from school in 1954 Eddie met a country singer named Hank Cochran, who is no relation, but the two of them toured together and did a few recordings as the Cochran Brothers. Fifteen-year-old Eddie also recorded with a country singer named Don Deal at Gold Star studios in Los Angeles. On some of his recordings in mid-1955 with Chuck Foreman, they are joined by Guybo Smith on bass and these are the earliest recordings of Eddie singing lead vocal. In a local hall in Bell Gardens, one of Eddie's first compositions is recorded – it's called 'Live Fast, Love Hard, Die Young'. Throughout the rest of the year, Eddie made other recordings with a variety of singers including Jerry Capehart, a songwriter who later became Eddie's manager.
Through the early part of 1956, Eddie continued recording with Capehart on demos of his songs as well as with Hank as the Cochran Brothers. One of these gets released on Cash Records as Jerry Capehart featuring the Cochran Brothers. A couple of months later several records come out featuring just the Cochran Brothers on Ekko; they are the last records by the duo.
In July 1956 Eddie's first solo recording, 'Skinny Jim' with 'Half Loved ' on the b-side gets a release on the Crest label, the record fails to do anything and literally a few weeks later Boris Petroff the producer of The Girl Can't Help It, starring Jayne Mansfield, asks Eddie to record a couple of songs for the film. 'Twenty Flight Rock' and 'Dark Lonely Street' are recorded at Gold Star and in August Eddie went to Fox Studios in Hollywood to be filmed performing 'Twenty Flight Rock'.
'Twenty Flight Rock' was written by Eddie and Ned Fairchild and was a song for which Eddie earned not a cent because he was granted a co-writers credit, but no royalties. Ned was, in fact, a woman, named Nelda Fairchild who was a prolific songwriter; what we hear is her basic song with the whole feel and mood of the piece created by Eddie. With Jerry Capehart banging on a soup carton and Guybo playing bull fiddle it creates a wonderful atmosphere. It failed to chart but generated a lot of interest, particularly in Britain. It was the first song that Paul McCartney ever played for John Lennon. It failed to chart anywhere.
Liberty Records signed Eddie in September and he was soon recording. Although nothing more was released until January 1957 when 'Sittin' in the Balcony' came out and eventually climbed to No.18 on the Billboard charts in the spring. Liberty had Eddie back in the studio working on an album from which 'One Kiss' became his second single and then 'Drive-In Show', his third; the latter made No.82 in the fall – Liberty had got it all wrong and tried to make a crooner out of the rocker on this LP. At around the same time, Eddie toured Australia with Gene Vincent and Little Richard on what became known as the tour in which Richard gave up rock 'n' roll for religion.
Back home Eddie recorded with Gene Vincent and his fourth single, 'Jeanie, Jeanie Jeanie' spent just a week on the chart and got to No.94 – his chart positions were getting steadily worse. He also appeared in Untamed Youth starring Mamie Van Doren singing a song called 'Cotton Picker'. In January 1959 Eddie appeared in another movie, Go, Johnny Go performing, 'Teenage Heaven'; both Chuck Berry and Ritchie Valens are also in the film,
In March 1958 Eddie recorded his new single, 'Summertime Blues' on which, despite what he said, he did not play all the instruments, he just added guitar overdubs. His old friend Guybo played bass, Earl Palmer, who played on so many great rock 'n' roll records, was on drums and Jerry Capehart and Sharon Sheeley supplied the handclaps. Sharon had just written 'Poor Little Fool' for Ricky Nelson – she was just 18 years old.
Eddie cut his classic single at Gold Star Studios located at Santa Monica Boulevard and Vine Street on 28 March 1958. 'Summertime Blues' was released in July and spent 4 months making it to No.8 on the Billboard chart and was later nominated as No.77 on Billboard's '500 Greatest Songs of All Time'. It got to No.18 in Britain, his first hit, in the fall of 1958; written by Eddie and Jerry Capehart it was originally the b-side to 'Love Again.' The Who later covered it on their Live at Leeds album.
"Summertime Blues" was all over US radio in summer 1958 and I backed up Eddie Cochran on a Los Angeles live music 'local' TV show. I didn't think that playing an acoustic piano would fit in the overall sound but I played on anyway!" – Bruce Johnston, The Beach Boys
Eddie toured hard in support of his record before going back into Gold Star to do his follow-up, 'C'mon Everybody', on which Eddie did overdub, guitar and drums. Inexplicably it only got to No.35 on the Billboard chart; in Britain, it did considerably better reaching No.6. After appearing in an Alan freed Christmas Show Eddie was as shocked as everyone by the death of Buddy Holly, The Big Bopper and Ritchie Valens. He recorded a song called, 'Three Stars', two days after the crash but it did not get released at the time.
In the summer of 1959 Eddie's last single to make the Billboard charts reached No.58; for many today 'Somethin' Else' remains a classic. Eddie's relationship with Sharon Sheeley had developed into a full-blown romance and on 8 January, shortly before flying to Britain for a tour with Gene Vincent, Eddie records a song written by his girlfriend called 'Three Steps To Heaven.'
Eddie's popularity in Britain was, if anything, greater than in America and he appeared on TV, and a number of BBC radio shows with many of those who were to help create the Beat Boom listening in and seeing him live. After the last concert of their 5-week tour, Eddie, Sharon and Gene were being driven back to Heathrow Airport when their car was involved in an accident; Eddie was killed.
Words: Richard Havers
Format:
UK English