Gene Vincent
Gene Vincent fused country music, gospel and the blues into a style of rockabilly that had a harder edge than almost any of his contemporaries.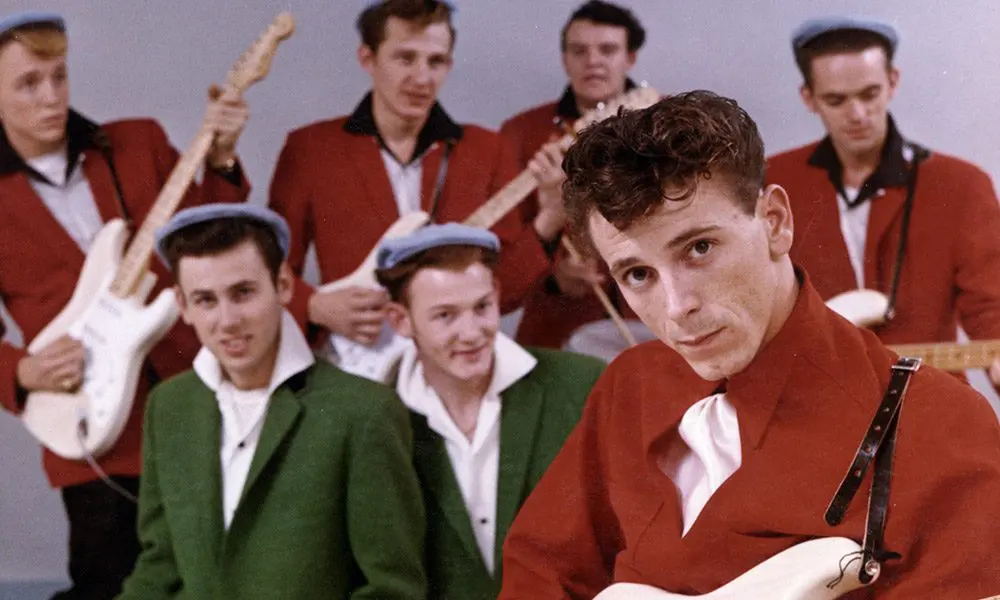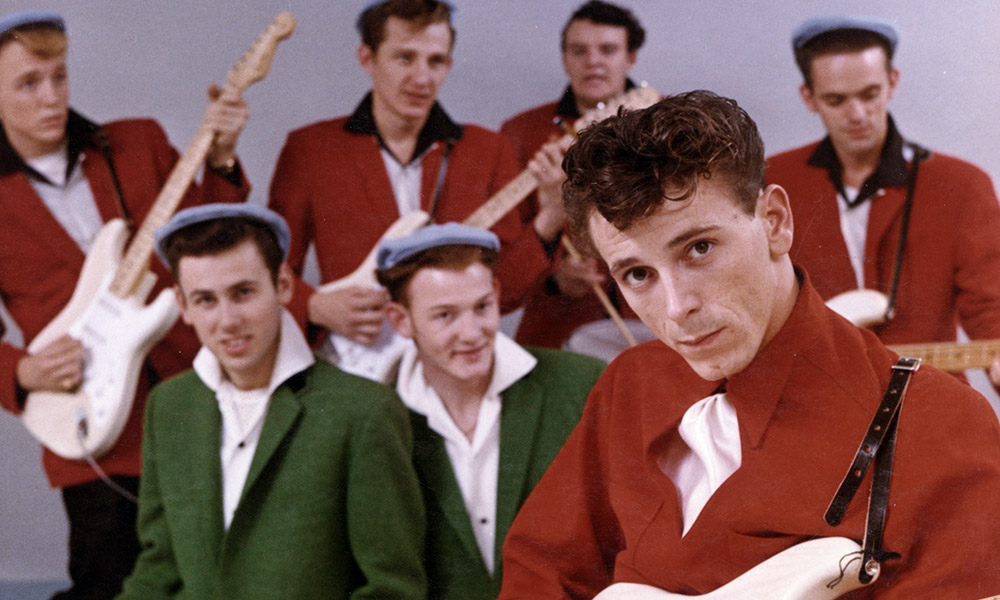 Gene, like so many rock 'n' roll musicians from the South, grew up listening to a heady mix of country music, gospel and the blues. He fused it into a style of rockabilly that had a harder edge than almost any of his contemporaries. But for his accident, Vincent may never have entertained a career in music, choosing instead to remain in the US Navy. He was more popular in Britain than in America, although even in Britain he ended up undermining his success with some erratic behaviour.
"I first heard it sitting in an armchair in our living room. 1957. I was 12. She put it on this Regent Tone record player we had, the type you had to plug into the back of the radio. My mother ran out as soon as it started, worrying about what was going to become of her children. Wayward rock; totally naughty. That whole noise, bursting out of that speaker. When it was over I just couldn't stand up." – Jeff Beck on hearing Gene Vincent and the Blue Caps.
Born in Norfolk, Virginia, Gene Vincent first became interested in music while his parents were running a country store in Munden Point near the North Carolina border. In 1952 the family moved back to Norfolk and 17-year-old Gene joined the US Navy as a boiler man. Having served in the Korean War, he never saw combat, Gene used the money he received on re-enlisting to buy himself a Triumph motorbike. One day a car ran a red light knocking him off his motorcycle and smashed his left leg; amputation seemed likely, but in the event, his leg was saved, but Gene was left with a permanent limp. He was invalided out of the Navy in 1955 and shortly afterwards he went to see Hank Snow's All-Star Jamboree in Norfolk, it featured country artists like Cowboy Copas, the Louvin Brothers and a new young singer named Elvis Presley.
Inspired, Vincent began hanging around the local radio station WCMS, occasionally singing with the house band, The Virginians. He began appearing more regularly, singing a song called 'Be Bop A Lula', he had written with Donald Graves who had been in the naval hospital with him. 'Sheriff' Tex Davis a local disc jockey bought Graves share for $25 and signed Vincent to a management deal. In early 1956 a backing group was formed from The Virginians, comprising 26-year-old Cliff Gallup, lead guitar; Willie Williams, rhythm guitar; Jack Neal, double bass; and 15-year-old Dickie "Be-Bop" Harrell on drums. Davis knew that Capital Records were looking for their own Elvis so he sent a tape to producer Ken Nelson, soon after Vincent and his group, now dubbed The Blue Caps were signed.
Ironically, Capitol did not rate 'Be Bop A Lula' as an a-side; instead, they picked 'Woman Love'. Bill Lowery who had signed Gene to a publishing deal was convinced that 'Be Bop A Lula' was much better and he pressed copies to send to radio stations in advance of Capitol's release. When it came out the record was flipped and 'Be Bop A Lula' went to No.7 in America and No.16 in Britain. The record rated No. 102 on Rolling Stone magazine's '500 Greatest Rock and Roll Songs of All Time' list.
Before 1956 was over, out came Gene's follow-up, the excellent 'Race with the Devil' that barely bothered the Billboard chart getting to No.96 for just a single week. In Britain, it did better making it to No.28 but that's still relatively poor. The opening guitar run by Cliff Gallup is innovative and the whole feel of the song, while redolent of 'Be Bop A Lula' shouts hit. In all, Gallup played on well over 30 records by Vincent and it is his brilliant playing that did a lot to set these records about from other rockabilly influenced musicians. However, Gallup was married and gave up touring with the Blue Caps by the end of 1956, just undertaking studio work.
'Blue Jean Bop' quickly followed but it failed to make an impression on the Billboard chart, but did better in Britain reaching No.16. Besides Gallup, Willie Williams had also left and the new line-up is the one that appears with Gene in the Jayne Mansfield film The Girl Can't Help It. By the end of 1956, Vincent's leg was in a bad way, probably due in part to his hectic work schedule, he had also severed his relationship with his manager. His first record of 1957 was 'Lotta Lovin', which made No. 23 on the Billboard chart. Strangely neither that nor the follow-up, 'Dance to the Bop' that got to No.23 on the Billboard chart did anything in the UK.
In late 1958 the Blue Caps, although with a very different line-up, did their last recording session with Vincent, Although the session brought great records including 'Say Mama' and 'I Got To Get You Out' as well as 'My Heart' none of the records did anything on the singles chart in America. Still popular in Britain he was invited to appear on the British TV show Boy Meets Girls by its producer Jack Good, Vincent arrived in Britain in December 1959, Good set about changing Gene's image; dressing him in black leather with a gold medallion like a latter-day Richard Ill.
Early in 1960 'Wild Cat' got to No.21 in the UK, followed by 'My Heart', No.16, during this time Vincent and his pal Eddie Cochran were touring Britain together. It was at the end of the tour that Cochran was tragically killed. Gene's next hit 'Pistol Packin' Mama' was to have been a duet with Cochran, but instead, Vincent cut it alone at EMI's Abbey Road studios backed by The Beat Boys with Clive Powell (later Georgie Fame) on piano. His next UK hit was 'She She Little Sheila' No.22 a song featuring Sandy Nelson on drums that had been recorded back in 1959.
"One day we were on a coach coming back from a gig in Ipswich. He was going crazy, shouting abuse at everyone. He went up to the young bass player with a group called the Beat Boys and sliced the front of his suit off with his knife. Just ripped it to shreds." – Hal Carter, Tour manager on many British rock 'n' roll tours
Another Abbey Road session produced his final UK hit 'I'm Going Home', backed by Sounds Incorporated, they were also supporting him on the road and backed him on 'Spaceship To Mars' the song he sang in the film It's Trad Dad. Further singles failed to register despite Vincent performing 'Temptation Baby' the b-side of the latter track in Joe Meek's film Live It Up. The homage paid to Vincent by the Beatles kept his collateral high in a changing scene. By the mid-'60s Gene was increasingly dogged by personal and health problems – not least his excessive drinking – and his records became more country-flavoured; he was backed by the likes of Glen Campbell, AI Casey, David Gates, Dash Crofts and Jimmy Seals. Performing live in the UK around this time his tour manager was Peter Grant, the future manager of Led Zeppelin. Grant waged a constant battle to keep Vincent sober enough to perform. On one occasion he strapped him to the mic stand, that was all that was holding the drunk Vincent up when the curtain opened. He got as far as singing "Be-Pop" then fell straightforward and hit his nose covering the stage with blood.
"Gene Vincent was standing on the side of the stage crying when we did our number. Backstage he came up to me and whispered: 'John, remember Hamburg. Remember all that scene'." – John Lennon in 1970
From 1969 to 1971 he toured Britain, but hard-drinking and a severe ulcer led to Vincent's death in Newhall, California on 12th October 1971. A few years later John Lennon honoured his memory recording 'Be Bop A Lula'; it was the song he played the only time his mother Julia saw him perform, and also the first time he met Paul McCartney – rock 'n' roll don't come more meaningful. In the 1993 Jeff Beck recorded an entire album of Vincent's songs, which was also his nod to Cliff Gallup's skills; in 1998 Gene was inducted into the Rock and Roll Hall of Fame.
Words: Richard Havers
Format:
UK English