Rick Nelson
The pop singer-songwriter's long and successful career began in the 1950s and included multiple top-ten hits.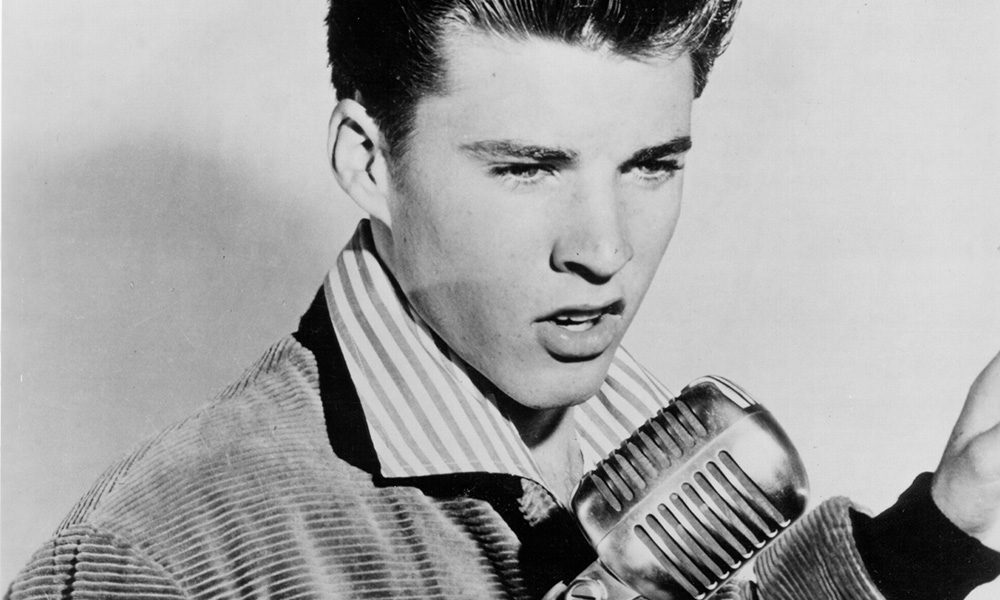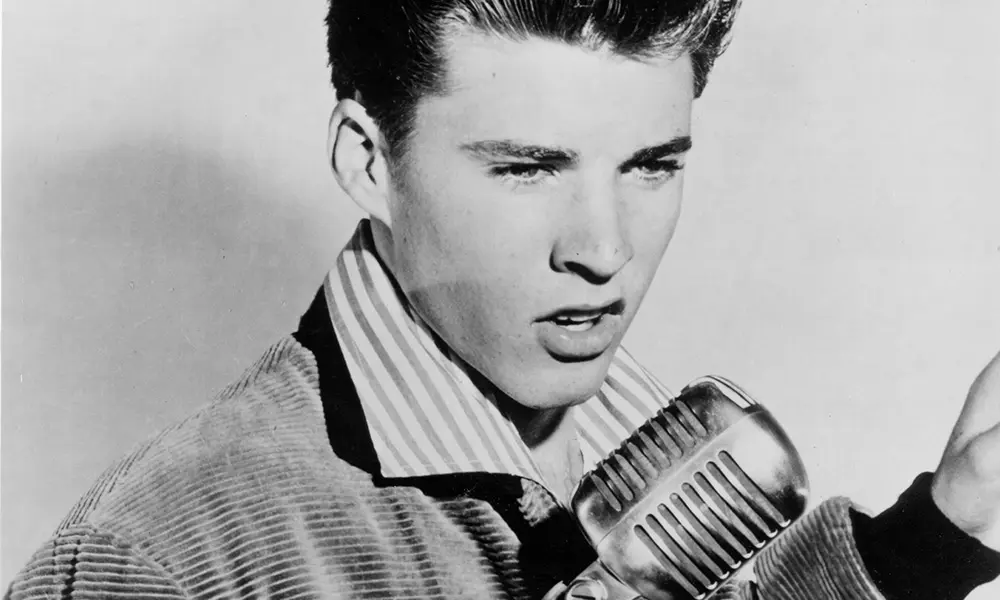 Ricky Nelson started out young, started out on the right side of the tracks, was tall, dark, blue-eyed and handsome; his recordings graced the Billboard charts on 50 occasions. His father was a bandleader his mother a singer mother so it was natural that he too went into the business. While he had a head start in the business he worked as hard as anyone at building a career and was truly there on merit. There is no doubting the quality of his records, particularly with so many of his b-sides doing well on the charts.
Rick's father, saxophone playing Ozzie Nelson was raised in New Jersey and started his big band in the 1930s and even won a competition to find New York City's most popular orchestra, narrowly beating Paul Whiteman in the process. He had many hit recordings including, 'And Then Some' that went to No.1 on the chart. In 1932 Harriet Hilliard joined the band and had her first hit, a duet with Ozzie, called 'If I Had A Million Dollars' in October 1935; in the same month they also married. By the 1940s Ozzie Nelson and his band were appearing in 'soundies', short films that were shown in 'film jukeboxes' that did much to further their image. By 1944 Ozzie developed and produced his own radio series, The Adventures of Ozzie and Harriet. Seven years later it had moved to the television screens and proved an even bigger hit.
Rick Nelson was born in 1940 and soon began featuring in his parent's radio shows, but to begin with, an actor portrayed him. It was only in 1949 that he and his brother, David, joined the cast of the radio show and when it became a TV show they were there, week in, and week out. Sixteen-year-old Ricky's musical break came as a result of featuring 'I'm Walkin', a cover of the Fats Domino song, in an episode of his parent's show called "Ricky the Drummer". The song was coupled with 'A Teenager's Romance' and both sides made the Top 10 in the summer of 1957 going on to sell a million copies
Initially 'I'm Walkin' was to be the a-side, mostly as a result of being featured on The Ozzie and Harriett Show. Soon radio stations began flipping it and played David Gillam's 'A Teenager's Romance' instead; it climbed higher in the charts, reaching No.2 and was only kept from the top spot by Pat Boone's 'Love Letters in the Sand'.
"When I was sixteen, I was taking a girl on a date, and she said she was in love with a singer, so I decided to try to make a record." – Ricky Nelson
Ricky's second record, like his debut, was made with Barney Kessel's Orchestra; 'You're My One and Only Love' features Gloria Wood and got to No.14 on the Billboard chart. For his next single Ricky switched labels from Verve to Imperial and cut a rockabilly style number; 'Be-Bop Baby' got to No.3, with only the Everly Brothers and Elvis standing in its way. Soon after this Ricky got his own band together featuring James Burton on guitar, who later played with Presley for many years. Elvis later told Burton that he never missed an episode of The Ozzie and Harriet Show and liked Ricky's singing – one of his performances usually closed the show, which is what helped both sides of many of his early recordings to chart.
This was the case with 'Stood Up', which made No2 in early 1958 with 'Waitin' in School' (No.18) on the b-side and 'Believe What You Say', which got to No.4 and 'My Bucket's Got A Hole In It' (No.12). It was Danny and the Juniors' classic, 'At The Hop' that kept 'Stood Up' from making No.1; it did, however, become his first hit in Britain where it just crept into the Top 30. Rick's next single, released in July 1958, shortly after he turned 18 finally took him to the top of the charts. 'Poor Little Fool' made it to No.1 during the first week of August displacing Elvis Presley's 'Hard Headed Woman'; 'Poor Little Fool' was written by Sharon Sheeley, who was soon to became Eddie Cochran's girlfriend.
It has the distinction of being the first record to be officially designated as topping the Billboard Hot 100. Up until this point the chart was known as the Top 100 sides. Interestingly it was issued without a picture sleeve in the USA because Ricky had a veto over such decisions, and he did not like Imperial's choice of the photograph; it became the only one of his 45s to be issued in a plain bag. Sheeley's song is based on her short relationship with the singer, Don Everly.
1959 turned out to be a busy year for Rick Nelson with a whole string of successful singles. He also went from the small screen to the big screen appearing in his first feature major film on his own – he had appeared in a spin-off film from The Ozzie and Harriet Show as well as another with Ethel Barrymore and Leslie Caron when he was twelve. Howard Hawks' Rio Bravo starred John Wayne and Dean Martin and Ricky sang some songs, including 'My Rifle, My Pony And Me' with Dean Martin and 'Cindy' and 'Rio Bravo on his own, the latter song over the closing credits. The following year Rick Nelson appeared with Jack Lemmon in The Wackiest Ship in the Army.
Although only making No.9 on the Hot 100 it made No.3 on the UK charts and has remained one of Ricky Nelson's most enduring songs. Written by Dorsey Burnette it was one of a number written for Ricky by him and his brother, Johnny, who had left Memphis to seek their fortunes in California having started out as the Rock 'n' Roll Trio.
As the sixties began Ricky's music was showing signs of slipping out of favour with record buyers. He was still having hits but during the first year of the new decade he failed to crack the top 10 once, only 'Young Emotions' made any real inroads, and that only got to No.12. Some of the material was definitely to blame. A cover of Gene Austin's 1925 song, 'Yes Sir That's My Baby' is not at the cutting edge of rock 'n' roll. There was talk that Ozzie Nelson's controlling nature of his son's career may have been partly to blame. Ricky's father apparently vetoed his son appearing on other TV shows, well aware of his asset value. Whatever the choice of material the playing of Rick's band was always first-rate and he always delivered a great vocal.
For Travelin' Man he was still billed as Rick and on the day that he turned 21 it had made No.18 on the Hot 100. Written by Jerry Fuller, a Texan songwriter who had a couple of minor hits himself around this time, the song nearly went to someone else according to Rick "He took 'Travelin' Man' to Sam Cooke originally, and a while before Sam died, I met him, and he said he was really sorry he hadn't done that one."
Ricky's second number one coincided with him becoming twenty-one it also marked a turning point, the dropping of the Y from his name – a growing up in all sense of the word. He was from this point on going to be Rick Nelson. 'Travelin' Man was his 25th hit on the Billboard charts in 4 years; a remarkable achievement. "Gene Pitney recorded 'Hello Mary Lou' about a year and a half before he gave it to me when he used to do a lot of demos, for Aaron Schroeder". What a gift! While it only made No.9 as the b-side of 'Travelin Man' it is perhaps Rick's most remembered song. With it's wonderful James Burton guitar solo it is one of those perfect jukebox records that instantly conjures up an aura of happy days. It got to No.2 in Britain, becoming his biggest hit.
Rick's first record with his new 'adult' name on it was 'A Wonder Like You', with 'Everlovin' on the b-side; neither side made the Top 10, but the follow-up, 'Young World' got to No.5, the same spot as his next single, the very opposite, 'Teen Age Idol'. Another Jerry Fuller song took Rick back into the Top 10 at the start of 1963 – it was the year the British invasion began and stars like Rick soon found themselves in retreat. For much of the rest of the year, Rick's singles struggled to make an impact on the chart. 'Fools Rush In' during the Fall of 1963 got to No.12 and as 1964 began Rick had his last big hit of his Rock 'n' roll career. 'For You' and old 1930s song made popular by bandleader Glen Gray got to No.6. After this, the man who once said, "a career is a series of comebacks," found it hard to come back. Musically he had lost his way. Covering old 1930s songs was an odd thing to do for someone of his pedigree.
Old song it may be, it was done by everyone from Glenn Miller to Frank Sinatra in the 1930s but with a reworking by Rick that really works it is two and half minutes of perfect pop with yet another economical James Burton guitar solo (he repeated the solo when Elvis covered it – although Presley's version is not nearly as good as Rick's)
"They all knew my name, but no one heard the music – I didn't look the same."– Rick Nelson
By 1966 Rick was finished with rock 'n' roll and pop music. He turned his attention to country music and started singing songs by Willie Nelson, Tim Hardin, Harry Nelson as well as writing his own material; among his albums is the excellent Bright Lights – Country Music. In 1969 he covered Dylan's 'She Belongs To Me' and along the way the two men became friends; after Rick died Dylan sang 'Lonesome Town' in concert.
It was in 1969 that he formed the Stone Canyon Band and went off in a country-rock direction and made a number of very good but now largely forgotten albums. After a show at Madison Square Garden where he thought he had been booed by a section of the crowd for not singing his old songs, he recorded the wonderful, 'Garden Party' which got to No.6 on the charts and gave him his first big hit in 9 years. Ironically the crowd was booing the police, but Rick was unaware of this. The Stone Canyon Band broke up in 1974 but Rick kept on touring and recording.
Having always been a nervous flier and always insisted on using commercial airlines Rick bought Jerry Lee Lewis' old twin-engine DC-3, The plane was dubbed "the flying bus," and Rick used it to keep travelling the country playing well over 200 gigs a year. On New Year's Eve 1985 he was flying to a gig in Dallas, Texas when the aircraft crashed in a field near DeKalb, Texas. The plane caught fire, trapping everyone inside, except the pilot and co-pilot, who escaped through the cockpit window; Rick, his band and his fiancé all tragically died.
Rick Nelson was a true teen idol, who in later years never got the recognition he deserved; possibly he was paying the price of having his fame too early and then being typecast. Somehow he was unable to get people to recognize him for his real talent and but for the accident he would probably have had a magnificent Indian summer of a career.
Words Richard Havers
Format:
UK English