Buddy Holly
Buddy Holly influenced just about everyone who ever formed a group in the 1960s and the foundations he laid reverberate today.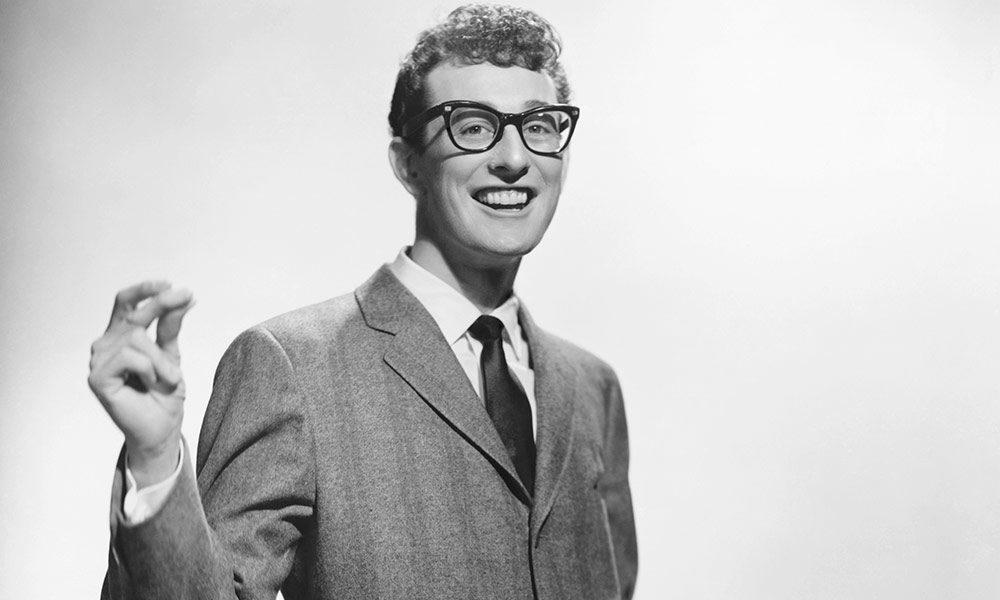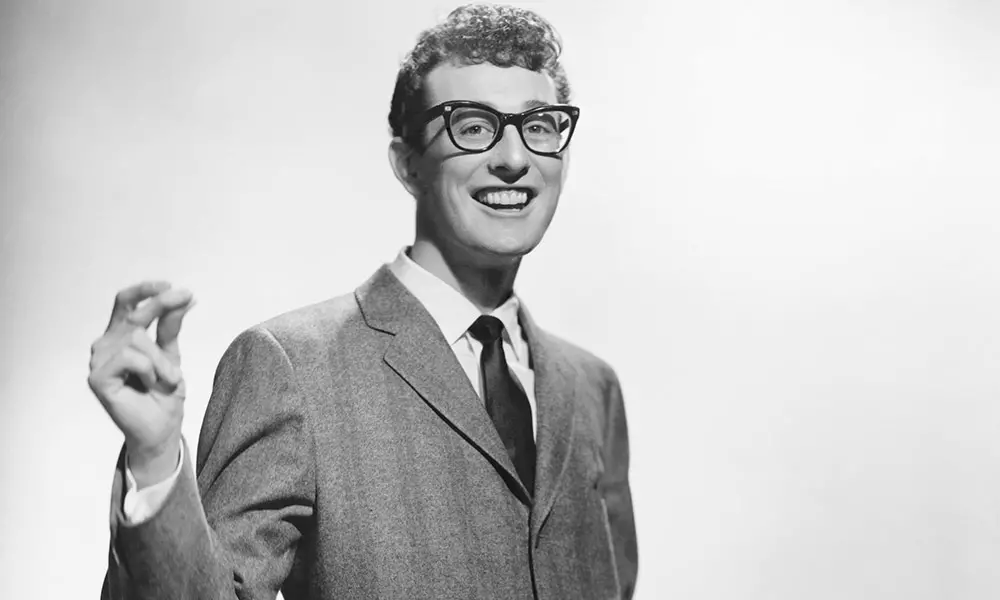 Charles Hardin "Buddy" Holley, the skinny kid with the glasses, began his musical career singing country and western songs but he would go down in history as one of the founding fathers or elders of roots rock and roll. His influence is vast considering that his successful time span lasted barely 18 months before his unfortunate death – the day the music died – and as he was only 22 years old when he perished in a plane crash while touring the Midwest (as did J.P. "The Big Bopper" Richardson and Ritchie Valens it's safe to say that post that fateful day, February 3, 1959, his music would have evolved. Even so, Buddy Holly's legacy is and was immediate. His trademark hiccup style of singing and his mastery of the studio allowed him to craft his songs while learning the techniques of recording with producers Norman Petty and Owen Bradley.
The Beatles were huge fans, Paul McCartney saw Holly and The Crickets play in London in 1958 and would later buy up his catalogue, while John Lennon wore his glasses with pride since Holly's trademark black frames didn't do him any harm. His style has also impacted on everyone from Bob Dylan and Bob Weir to The Rolling Stones and Elvis Costello: it's probably true to say that he influenced just about everyone who ever formed a group in the 1960s and the foundations he laid reverberate today. His album output was necessarily limited to three discs in his lifetime but there are masses of compilations, some featuring alternative and unreleased tracks and a host of classic singles that are playing on a jukebox somewhere near you and certainly getting heavy rotation on the celestial Wurlitzer.
His posthumous star is on the Hollywood Hall of Fame (2011) and Gary Busey in The Buddy Holly Story has portrayed his life to good effect. He is a famous son of Lubbock, Texas and we are proud to offer a selection of his groundbreaking rock and roll, rockabilly and pure country-pop.
His friends and family always knew the Lubbock lad as Buddy. The youngest of three brothers it was his older siblings Larry and Travis who taught their kid bro to play a variety of instruments, including the guitar, banjo bass and lap steel. In the late 1940s, he recorded a fine version of Hank Snow's "My Two Timin' Woman" and would soon pal up with Bob Montgomery with whom he formed the Buddy and Bob duo, singing clear harmonies and playing fast bluegrass. High school hops, talent contests and radio sessions followed and after seeing Elvis Presley perform in Lubbock in 1955 Holly began to integrate the Sun Records house style of rockabilly. Buddy and Bob would open for Elvis and also for Bill Haley & His Comets and signed to Decca Records in 1956. Buddy's contract misspelt his name as Holly but liked the faux pas and kept it for his stage name. After parting company with Montgomery, Buddy formed a band based around his own songs and called them The Crickets. With Niki Sullivan, Joe B. Mauldin and Jerry Allison in tow, dates were pencilled in at Bradley's Nashville studio where early versions of "That'll Be The Day" (title borrowed from a John Wayne line in The Searchers) and two singles were laid down. With new manager Norman Petty guiding him Holly shifted to Brunswick but was also savvy enough to sign a solo contract with Coral Records. The re-recorded faster version of "That'll Be The Day" was a Billboard #1 and the Crickets wowed viewers when they appeared on The Ed Sullivan Show singing the hit and "Peggy Sue". Thereafter American Bandstand showcased his talents and the Crickets appeared at the legendary Harlem Theatre in New York where they eventually won over the mostly black audience.
In line with his position as a band member and a solo star, Holly released two albums in 1957 and 1958: The "Chirping" Crickets and Buddy Holly. The initial debut contains all-time classics – "Oh, Boy!" "Maybe Baby", "That'll Be The Day", "Send Me Some Lovin'" and the immortal proto rocker "Not Fade Away" which would later become a staple in sets by the Grateful Dead and the Stones. This disc is also notable for covering two Roy Orbison cuts and the close harmonised backing of The Picks. It was a revolutionary sound in its day and still sounds remarkable, fresh and exciting. A most significant start, it surely ranks as one of the greatest first albums ever, alongside Please Please Me and Presley's introduction to the world. Even at the time, it had legs and the album would enter the British charts in 1968, climbing to #8.
Buddy Holly itself depicts the artist without his glasses on a selection recorded in Clovis, New Mexico and New York City. Here you'll thrill to "I'm Gonna Love You Too", "Peggy Sue", Fats Domino/Dave Bartholomew's "Valley of Tears", the rip-roaring "Ready Teddy", "Everyday", "Mailman, Bring Me No More Blues" (a staple of the Beatles' Cavern era), "Words of Love" (faithfully replicated by Lennon and McCartney on Beatles for Sale), Lieber & Stoller's "(You're So Square) Baby I Don't Care" (others versions are by Elvis, Led Zeppelin, Bryan Ferry, Bobby Fuller et al) and Sonny West's "Rave On!" – all key songs in the catalogue not just of Holly but rock and roll full stop.
With Holly introducing two-track self-harmony parts and the guitars mic'd high enough to excite teenage audiences this disc is essential discovery and so is "That'll Be The Day", whose darkly ironic second line would add to the mystique and cult status of the Holly legend. In fact, this isn't strictly 'new' material since it contains Bradley's 1956 sessions and features pre-Crickets personnel like guitar wizard Grady Martin (later a stalwart of Willie Nelson's Family Band), pianist Floyd Cramer and Sonny Curtis on second Stratocaster, adding the West Texan dirt to selections recorded under the informal guise of Buddy and the Two Tones.
After his death collections followed thick and fast. The Buddy Holly Story and Vol.2 are well worth hearing, if only for "True Love Ways", "Crying, Waiting, Hoping" (again a regular Beatles fave) and "Moondreams."
Memories of Buddy Holly is a comprehensive trawl through available material and various Best Ofs to suit all pockets – try The Very Best Of which came out in 2008 or invest in Buddy Holly – Down The Line: Rarities, a lavish 4-CD box that includes his Apartment Tapes, blues covers, acoustic instrumentals and fascinating informal chat. Ditto Buddy Holly – Not Fade Away: The Complete Studio Recordings And More – a 6-CD set of relentless greatness.
Really to understand the evolution of music pre-the British Invasion and what came next it is essential to have knowledge of the past masters. Buddy Holly is one of those, the kind of artist whose legacy stands apart – written in stone.
Words: Max Bell
Format:
UK English