Little Richard
Little Richard was one of the most innovative musicians in popular music, with classic singles like 'Tutti Frutti' and 'Long Tall Sally' that earned him the nickname of 'The Innovator, the Originator, and the Architect of Rock'N'Roll.'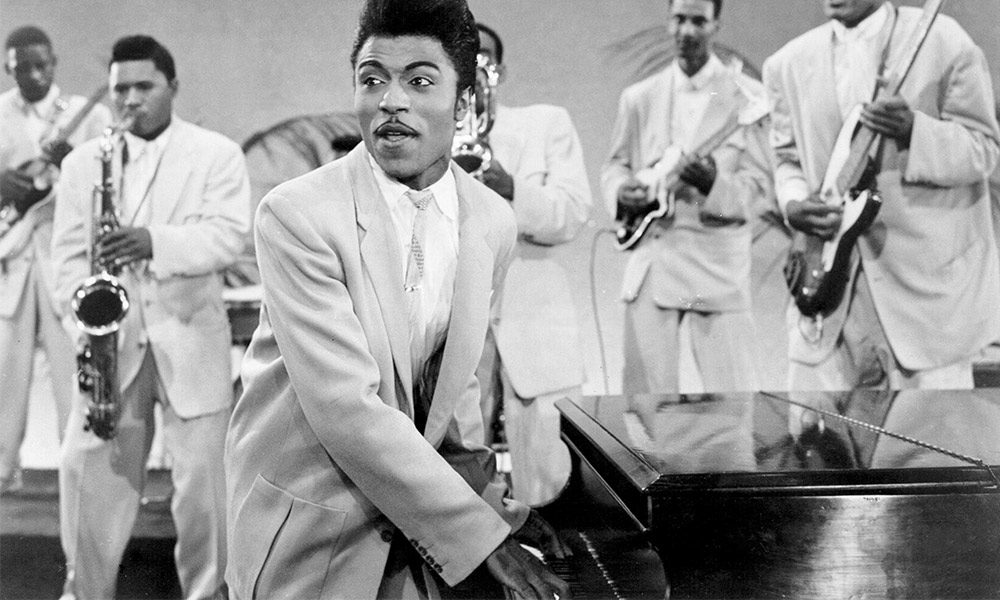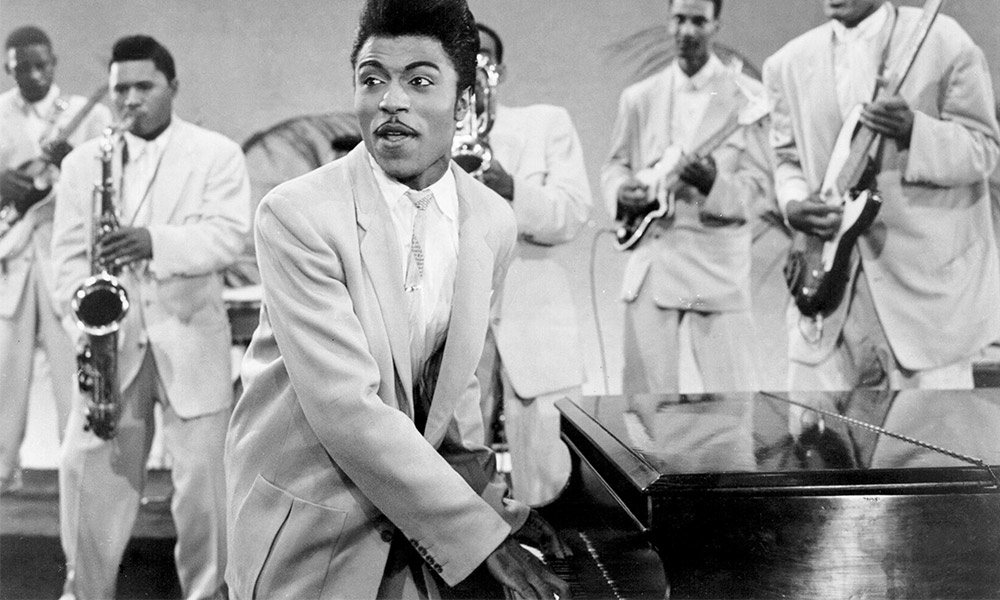 Little Richard always had a way with words, was more conscious of his image than most of his contemporaries and knew how to work a crowd – he also knew how to make great rock 'n' roll records. His was the language of rock and roll; who else could have come up with "awop-bop-aloo-mop-alop-bam-boom"? Despite having over 20 records on the Billboard chart he is as much remembered for his persona as his music – but he made three of the greatest records of the fifties, all with classics on both sides!
"I am the only thing left. I am the beautiful Little Richard from way down in Macon, Georgia. You know Otis Redding is from there, and James Brown's from there. I want you to know I am the bronze Liberace!" – Little Richard 1970
One of twelve children, Richard Wayne Penniman's earliest musical memories were singing as part of the family group in churches; like his father, before him, he became a preacher. In his early days, he sang and healed people; it was great schooling for his future as a rock 'n' roll showman par excellence. When he was 13 years old he sang with gospel legend Sister Rosetta Tharpe (a woman who knew a thing or two about mixing secular and gospel music). There were other gospel artists that influenced him but it was a blues 'shouter' named Billy Wright from whom Richard took his style in clothes, hair and make-up.
"Everybody else was doing the trots and the foxes. I brought the rock and roll in there." – Little Richard
Little Richards first release was in 1951 on RCA; 'Taxi Blues' is closer to R & B than rock 'n' roll, but there is the undercurrent of something more outrageous on this record. His third RCA single was the joyous, 'Ain't Nothing Happenin'. This and his other singles did very little in sales, after which he signed to Peacock Records where his releases met a similar fate. At Lloyd Price's suggestion, Richard recorded a demo and sent it to Specialty Records in Los Angeles.
"Lloyd Pride had told Little Richard to get in touch with me and so he sent a tape in. I recognized Richard as a gospel singer with his turns and stuff, and told Art, 'This is the guy we should get.'" – Robert 'Bumps' Blackwell
Art Rupe who owned Specialty bought out Richard's contract and Bumps Blackwell set about recording him in New Orleans, but to begin with they could not get the right sound. "So I called a lunch break and we went to the Dew Drop Inn. Richard saw a piano and a crowd of people: he was one of those people who's always on stage, and he hit the piano and hollered, 'A-wop-bop-a-loo-bop-a-good-God-damn!' – and those were the cleanest words of it." Back in the studio Blackwell brought in a writer named Dorothy LaBostrie and she came up with the rest of the lyrics for 'Tutti Fruitti'; they got it down in three takes. By early 1956 it was at No.2 on the R&B chart and No.17 on the Billboard chart; Little Richard was on his way. Ironically Pat Boone's cover sold more than Little Richard's version. It was typical of the time with labels targeting separate records at the black and white market.
To compound the insult, Boone covered Little Richard's next record too. 'Long Tall Sally', recorded on 10 February at J&M Studio in New Orleans, came out in April 1956 and from that moment on Little Richard really was on his way; it was also the first of Richard's classic singles on which either side was capable of being a massive hit.
'Long Tall Sally' spent 8 weeks at the top of the R&B charts, while the b-side, 'Slippin and Slidin'. was at No,2 On the Billboard chart 'Sally' got to No.6 and 'Slip' to No.33. It attests to the power of the record. 'Sally's' driving piano and honking sax is archetypal New Orleans, but it is at the same time unique. Both Blackwell and Richard thought it was going to be to fast for Boone to cover, but cover it he did. Elvis covered it, so too did The Beatles on their 1964 EP, Long Tall Sally; before they found fame The Beatles worked with Richard in Hamburg and Paul's "oohs" in 'She Loves You' are taken straight out of 'Long Tall Sally'; 'Sally' was also the last song the Beatles performed at Candlestick Park in San Francisco, which marked the end of their touring career.
With Richard's records cutting through, he was soon playing live outside of New Orleans, but initially in venues that were black only. By the time of his third single becoming a hit, he was touring further afield, even getting as far as Klamath Falls, Oregon (pop 15,875). There was also a change in that, mixed audiences were more commonplace; inadvertently Pat Boone covering Richard's records had made people aware of the originator. Specialty was in no doubt, they had someone special on their hands with Little Richard and soon had him back in the studio again.
There is no mistaking a Little Richard record, yet they do have real differences between them, not something every rock 'n' roll star could claim. 'Rip It Up' got to No.1 on the R&B chart in the summer of 1956 and equalled 'Tutti Frutti' by making No,17 on the Billboard charts. It's another one of those songs that was among the basic repertoire for every aspiring beat band in the early 1960s. It became Little Richard's first UK hit when it got to No.30 in December 1956. Johnny Marascalco wrote both sides along with Blackwell. It was 'Ready Teddy' that Marascalco first took to Specialty and they asked him if he had any more; his reply? Yes, 'Rip It Up.'
Richard was a natural for the movies and Specialty were not slow in pushing him in that direction in order to expand upon his appeal. The first was The Girl Can't Help It starring Jayne Mansfield in December 1956. Filmed around the same time was Don't Knock The Rock, which starred a whole string of rock 'n' roll stars including Bill Haley with Richard contributing 'Long Tall Sally'. In the spring of 1957 out came Mister Rock and Roll starring Alan Freed in which Richard played, 'Lucille'.
"Little Richard tore the house down in his set at the Alan Freed show. When I went to the stage door there was Little Richard sitting in his lavender Cadillac convertible (top down of course). He wasn't signing autographs. He was aloof, yet showing off his car and making the antennae go up and down by flick a switch on his dashboard with his suede lavender boot. This was not only a surreal experience for his 12-year-old boy, it was also science fiction." – Tony Visconti
Richard's title song for the film, 'The Girl Can't Help It' is another classic New Orleans rock 'n' roll record, but has enough that is different about it to mark it out from other records from the genre. Written by Bobby Troup (who also wrote 'Route 66') it got to No.7 on the R & B chart and No.49 on the Billboard chart. Despite its relatively poor chart showing it is still in Rolling Stone's 'Greatest 500 Songs of All Time'. Chart wise it was back on track with his next release, helped by its use in the Alan Freed film.
A lot of people are unaware that Lucille was co-written by Richard and blues guitar great, Albert Collins. It had its release in February 1957 and within weeks it was at No.1 on the R & B chart where it stayed for 2 weeks. Inexplicably it could only make No.21 on the Billboard chart but did stay on the chart for 5 months. It's been covered by such diverse artists as, Queen, Waylon Jennings, The Beatles and The Flying Burrito Brothers. The b-side, 'Send Me Some Lovin' is indicative of both Richard's gospel roots and where his heart was heading; it is also further proof of what a brilliant vocalist he was.
Over the remainder of the year, Richard and Specialty kept the records coming. In the summer 'Jenny, Jenny' made No.2 on the R & B charts and No.10 on the Billboard chart, a fabulous record that it is it's surprising that it became the highest placed record of Little Richard's since 'Long Tall Sally'. Even more surprising is that 'Keep A Knockin' went 2 places higher when it came out in September 1957. Little Richard was also appearing on a variety of tour packages, which would not have harmed his sales. In the height of summer, he was with Bobby Bland, Junior Parker, Wynonie Harris and Jimmy Reed on dates that were very much 'black only'
In October 1957, during the fifth date of a two-week sold-out tour of Australia, twenty-five-year-old Little Richard found God. He was there with Eddie Cochran and Gene Vincent, and after a scare on a flight from Melbourne to Sydney, where Richard was to play to 40,000 fans, Richard quit the tour to become a preacher in the Seventh Day Adventist Church. Stories about the plane on which Richard was supposed to be returning to the USA crashing in the Pacific Ocean are an embellishment as no such crash occurred.
"Richard is a supreme star. A once-in-a-Millenium talent. And like many unique talents, he gets paranoid." – Bumps Blackwell
Specialty Records insisted on one last session to fulfil his contract which took place on 18 October 1957. After this, he performed one more show at New York City's Apollo Theatre and then he formed the Little Richard Evangelistic Team to travel throughout America as well as working with down and outs on skid row in Los Angeles. His first hit after quitting rock 'n' roll was the tremendous, 'Good Golly Miss Molly' that had a piano intro based on Ike Turner's playing on Jackie Brenston's 'Rocket 88' (it all added to Rocket 88's collateral as the first rock 'n' roll record). 'Miss Molly' got to No.4 on the R & B charts and No.10 on the Billboard chart. A couple of other minor hits recorded at the Specialty session in October was all that was heard from Little Richard as far as most of the public was concerned for the next 6 years. Speciality's A & R man Sonny Bono (later Cher's other half) discovered Larry Williams, Lloyd Price's former valet, and he sounded a lot like Little Richard and had hits with ' Short Fat Fannie,' and "Bony Moronie'; but there ain't nothing like the real thing.
"He was singing gospel songs the way they should be sung; he had that primitive beat and sound that came so naturally." – Mahalia Jackson on hearing Richard sing in Church in the early 1960s.
Richard did carry on recording, but it was pure gospel music. Records that included 'Ride On King Jesus' and 'It's No Secret (What God Can Do)' did not sell enough to chart. In 1962 when Little Richard was still firmly on the gospel trail, he was booked on a tour of Britain (he went by ship, still scared to fly). Richard thought he was there to sing gospel songs and on his first night, with Billy Preston playing the organ he entertained the bewildered fans with 'Peace in the Valley and 'I Believe'; the promoter could smell disaster. By the time of the second performance, after having watched Sam Cooke who had missed the first show, knock 'em dead, the self-proclaimed, 'Architect of rock 'n' roll' decided it really was here to stay. He sang 'Long Tall Sally' as his opening number and never looked back. By the time the tour got to Liverpool the act was back, honed to perfection; it was all witnessed by the second act on the bill – The Beatles. It was a meeting of the old and the new – not that Little Richard would ever acknowledge such a thing.
"I never thought I'd ever meet Little Richard. He was my idol at school. The first song I ever sang in public was 'Long Tall Sally' at a Butlin's holiday camp talent contest." – Paul McCartney
The following year he was back in Britain, this time on a bill that included Bo Diddley, with the Everly Brothers headlining. Way down near the bottom of the bill were The Rolling Stones. Little Richard closed the first half, singing, 'Long Tall Sally', 'Rip It Up', 'Tutti Frutti', and 'Lucille'. During 1964 Richard went back to recording for Speciality. 'Bama Lama Bama Loo' was his first hit on the Billboard chart in 6 years, although it only got to a lowly No.82. Soon a young guitarist calling himself Maurice James joined Richard's band and played on a number of recording sessions; this was Jimi Hendrix. Richard switched to the Vee-Jay label, but none of his releases did very well, the modest exception being, "I Don't Know What You've Got But It's Got Me' that reached No.12 on the R & B chart. Hendrix played on many of the re-recordings that Richard made for Vee-Jay of his biggest hits.
"I want to do with my guitar what Little Richard does with his voice." – Jimi Hendrix 1966
The Beatles and those that followed them really did spell the end of any meaningful recording career for Little Richard. His situation was hampered by his drug-taking that reached critical proportions in the 1970s; by his own admission, he was a mess. In 1986 he had the last of his 21 Billboard hits, 'Great Gosh a'Mighty (It's a Matter of Time)' featured in the film, Down and Out in Beverly Hills and it made No.42 on the Billboard chart; although he can also be heard preaching and singing backing vocals on U2 and BB King's 1989 recording, 'When Love Comes To Town.'
There was more recording and touring in the 1990s and 2000s as Little Richard and the Reverend Penniman found a way to co-exist. In his spiritual role, he officiated at Bruce Willis and Demi Moore's wedding as well as that of Bruce Springsteen. He also preached at the funeral of Wilson Pickett, an old friend, and at Ike Turner's funeral; he owed him a debt for the intro to 'Good Golly Miss Molly.' Little Richard passed away at his home in Tennessee on May 9th, 2020 at the age of 87.
"More than any other performer – save, perhaps, Elvis Presley, Little Richard blew the lid off the Fifties, laying the foundation for rock and roll with his explosive music and charismatic persona. On record, he made spine-tingling rock and roll." – Rock and Roll Hall of Fame
Words: Richard Havers