Best Rock'n'Roll Soundtracks: 10 Essential 50s Screen-Shakers
From 'Jailhouse Rock' to 'The Girl Can't Help It,' the best 50s rock'n'roll soundtracks defined an era and sent a generation of teenagers into a frenzy.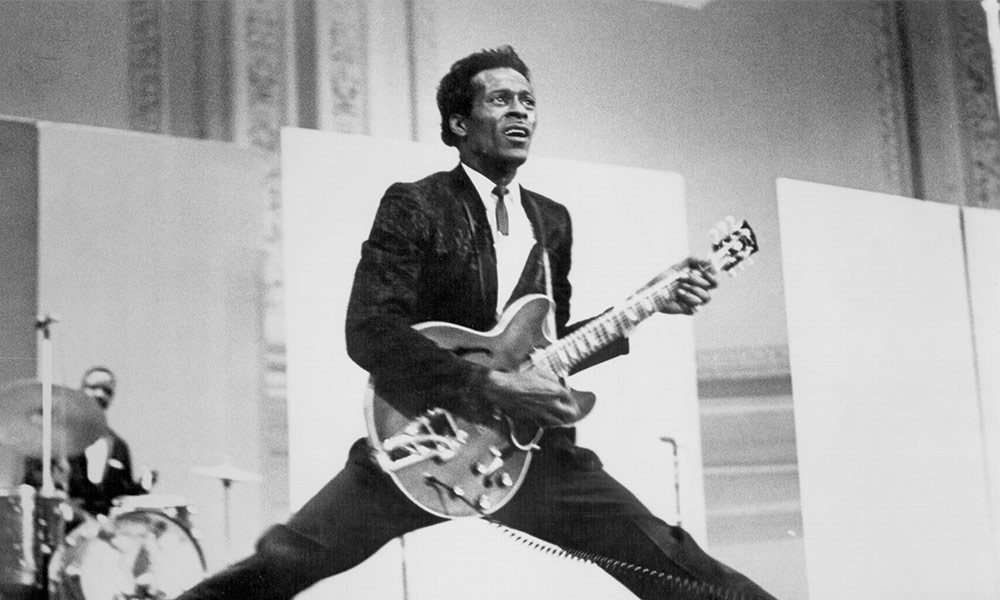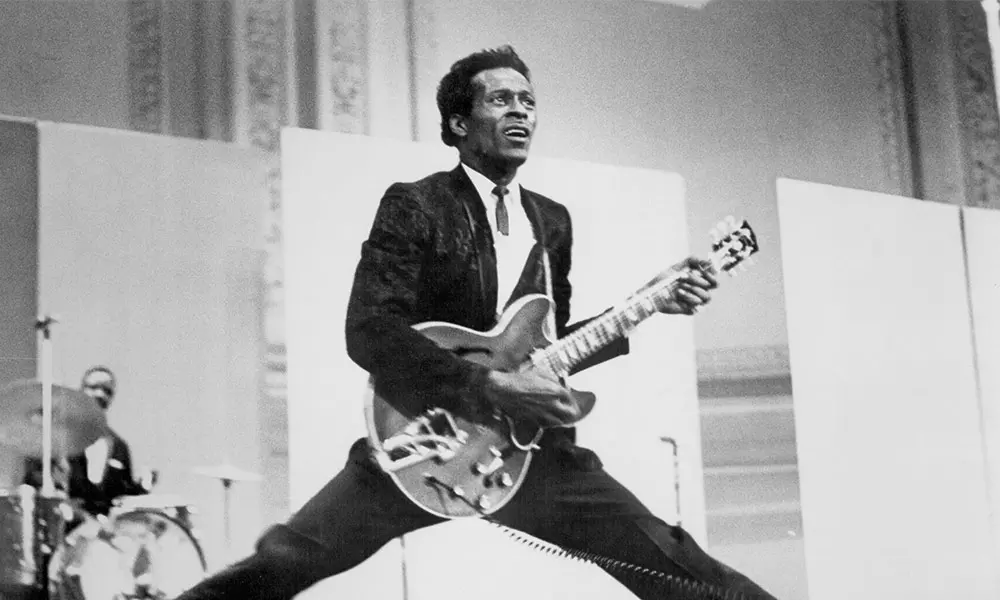 The 50s were a boom decade for rock'n'roll movies, many of which were built around tales of teenagers (the target audience for box office and record sales) breaking through and doing their own rebellious thing. The films were packed with the rising stars of the day and spawned a series of rock'n'roll soundtracks; icons such as Chuck Berry, Fats Domino, Elvis Presley, and Little Richard all appeared on the big screen. A host of youth-and-rock films followed the success of Blackboard Jungle, in 1956, whose use of "(We're Gonna) Rock Around The Clock" made a star of Bill Haley.
That iconic film influenced many others down the years, and kicks off our pick of the 10 best rock'n'roll soundtracks of the decade.
Blackboard Jungle (1956)
No single film has matched the vinyl record-buying frenzy that followed Blackboard Jungle and the clamor to own Bill Haley's single "(We're Gonna) Rock Around The Clock." A 10-year-old boy, Peter Ford, the son of actor Glenn Ford, played a curious role in the history of rock'n'roll. His father was due to appear in this teenage-delinquency film, which was set in an inner-city high school. Peter Ford was obsessed with the B-side to a Haley record called "Thirteen Women And Only One Man In Town," a track about a nuclear bomb blast that leaves just 14 people alive. Ford, who was starring alongside a young Sidney Poitier, mentioned it to director Richard Brooks, and he decided to play "(We're Gonna) Rock Around The Clock" over the opening credits of the film. The rest is history. Though the soundtrack was not released as an album at the time, the other songs in the movie had real panache: not only Haley's "See You Later, Alligator" and "Rudy's Rock," but The Platters' "The Great Pretender" and "Only You." There were also songs by Freddie Bell And The Bell Boys and Tony Martinez And His Band. A groundbreaking film, jitterbug dancing, exciting music… what more could you want from a 50s rock film?
Don't Knock The Rock (1956)
This film about rock being banned in a small town was certainly not to the taste of The New York Times' reviewer back in 1956. He wrote: "Most of the dialogue couldn't even be heard above the restless din. What is 'rock'n'roll'? Well, to one comparatively middle-aged man who made the awful mistake of grabbing a seat down front, it goes thump, thump, thump, thump." To most of the young viewers at the time, however, the soundtrack was exhilarating stuff, especially when Little Richard, who played himself in the movie, cut loose with "Long, Tall Sally" and "Tutti Frutti." Songs by The Platters, Ruth Brown, Jimmy Bowen, Nappy Brown, Frankie Lymon And The Teenagers, The Cadillacs, Bill Haley and Alan Dale ensured its place among the best rock'n'roll soundtracks.
Shake, Rattle, And Rock (1956)
In the mid-50s, blues singer Big Joe Turner had star billing on the various rock'n'roll revue tours he joined. In 1956, he appeared in the movie Shake, Rattle And Rock, in which he shared the music with Fats Domino. The film – which played to teenage audience emotions with a plot about a pompous citizens' committee that finds rock'n'roll threatening – starred a young Mike Connors (later of Golden Globe-winning Mannix TV-detective fame) and featured Domino on piano, playing three tremendous songs: "I'm In Love Again," "Honey Chile" and "Ain't That A Shame."
The Girl Can't Help It (1956)
Frank Tashlin, a former joke-writer for The Marx Brothers, may not have realized what an influence he would have when he directed and produced The Girl Can't Help It, starring Jayne Mansfield. The cameo performances of musicians Little Richard, Eddie Cochran and Gene Vincent inadvertently created one of the most influential rock'n'roll soundtracks in history: the movie fascinated the 16-year-old John Lennon when he saw it in Liverpool. It showed the future Beatles star, for the first time, the rock stars he admitted he "worshipped." The title song is by Little Richard – he also sings "Ready Teddy" and "She's Got It" – and the fine soundtrack also includes Julie London singing "Cry Me A River"; Gene Vincent's "Be-Bop-A-Lula"; "Blue Monday" by Fats Domino; "Twenty Flight Rock" by Eddie Cochran, and songs by Johnny Olenn, a minor rockabilly figure from the era.
Rock, Rock, Rock! (1956)
Rock, Rock, Rock! was subtitled Alan Freed: The King Of Rock'n'Roll. Though it is a rather weak film, it is notable for being sprinkled with 21 performances by early, popular rock'n'roll singers and groups. Among the best songs are "Tra La la" by LaVern Baker, "You Can't Catch Me" by Chuck Berry, "Lonesome Train" by The Johnny Burnette Trio and "I Never Had A Sweetheart" by Connie Francis. Less memorable is "I Just Want To Rock" by Ivy Shulman And The Bowties, which was sung by a seven-year-old starlet. The film also featured "I'm Not A Juvenile Delinquent" by Frankie Lymon and his backing group, The Teenagers, whose song "Why Do Fools Fall In Love" was such a memorable hit that year.
Chuck Berry Performs "You Can't Catch Me" in 1956's "Rock, Rock, Rock!"
Jailhouse Rock (1957)
Though most of Elvis Presley's film work was done in the 60s, the real King Of Rock'n'Roll made five films in the 50s, the best of which are arguably King Creole and Jailhouse Rock. The latter movie offered Presley a role that loosely mirrored his own rise to fame, but via a character called Vince Everett, who spends time in prison and has a tempestuous relationship with Peggy (Judy Tyler). The film features superb Jerry Leiber and Mike Stoller songs, resulting in one of the most memorable rock'n'roll soundtracks of the era, and includes probably the most famous of all of Presley's musical movie numbers, the dazzling "Jailhouse Rock" dance sequence. The songs, featuring Scotty Moore on guitar and Bill Black on bass, include "I Want To Be Free," "Don't Leave Me Now," "Young And Beautiful" and "(You're So Square) Baby I Don't Care," a song later recorded by The Beatles, Joni Mitchell, Queen and Bryan Ferry.
Jamboree (1957)
Jamboree was about a pair of young singers (played by Paul Carr and Freda Holloway) who become overnight sensations as a duo. The film also features cameo performances by some of the biggest performers of the era lip-syncing to their recordings. It is notable for Jerry Lee Lewis singing an alternative version of his original Sun Records hit "Great Balls Of Fire." Among the other songs are Carl Perkins singing "Glad All Over," Slim Whitman's "Unchain My Heart," Frankie Avalon's "Teacher's Pet" and the late, great Fats Domino performing "Wait And See." Jazz star Count Basie also gets in on the action, with a version of "One O'Clock Jump," featuring Joe Williams.
One O'Clock Jump (Live (1957/Newport))
The Big Beat (1958)
1957-58 was a strange period for rock movies. As well as hits such as Jailhouse Rock, there were also several calypso-based films during what was a boom time for that music. One of the calypso musicals starred Maya Angelou. When former Beatle Ringo Starr narrated the documentary Hollywood Rocks The Movies: The Early Years, there was a segment about another 1957 film, Rock All Night, which featured The Platters (singing "I'm Sorry"). Perhaps the more lasting success was the following year's The Big Beat, which is full of great music by Fats Domino – who sings the title song and "I'm Walking" – along with Alan Copeland, The Mills Brothers, The Del Vikings, Gogi Grant With The Harry James Orchestra, The Diamonds and The Four Aces With The Freddie Martin Orchestra; plus a jazz influence from The Cal Tjader Quintet.
Hot Rod Gang (1958)
Singer-actor John Ashley had just starred in Frankenstein's Daughter when he landed the role of a hot-rod driver who joins Gene Vincent's band so he can fund his drag racing ambitions. At the time, Vincent had already become a superstar following his 1956 rockabilly hit "Be Bop-A-Lula," which was recorded with his Blue Caps. Vincent, who appears in the film, sings "Dance In The Street," "Baby Blue," "Lovely Loretta" and "Dance To The Bop" on the soundtrack, which also had "Choo Choo Cha Poochie" by actress Maureen Arthur. The soundtrack was released as an EP on Capitol Records. By the late 50s, the appeal of popular music was seeping into all sorts of film genres, even if they didn't feature bona fide rock'n'roll soundtracks; the western movie Rio Bravo included music from rock star Ricky Nelson. Lots of rock stars from the 50s made film appearances, including British singers such as Billy Fury and Tommy Steele.
Go, Johnny, Go! (1959)
Directed by Hal Roach, Jr – son of the famous Laurel And Hardy director – Go, Johnny, Go! is special for several reasons. It featured the famous Chuck Berry "duck walk" dance and includes the only film appearance of Ritchie Valens, who died the same year the movie was made, in the plane crash that also killed Buddy Holly. Alan Freed gathered a galaxy of 50s rock'n'roll stars for filming, including Jimmy Clanton as Johnnie Melody, a teenager from an orphanage who sends a demo record to DJ Freed and rises to fame. The film boasted one of the most memorable rock'n'roll soundtracks, with music boasting real verve, provided by The Flamingos ("Jump, Children"), Jay Walker ("Please, Mr. Johnson"), Jackie Wilson ("You Better Know It"), Ritchie Valens ("Ooh My Head"), Jimmy Clanton ("My Love Is Strong") and the inimitable Chuck Berry singing "Johnny B Goode," "Little Queenie," and "Memphis, Tennessee." Eddie Cochran performs "Teenage Heaven," a song that later made it into the Billboard Top 100.