The Raucous World Of Rock'n'Roll Movies
Cinema's history of rock'n'roll movies ranges across studio features documentaries and even the avant-garde, helping to turn stage stars into screen icons.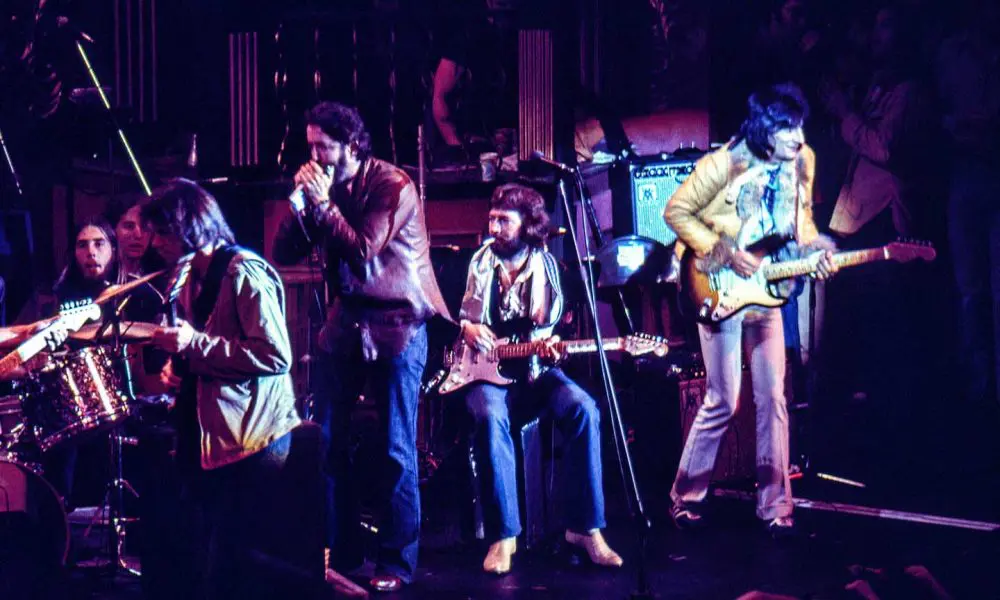 Musicians have been playing versions of themselves on film since the early talkies, and cinema's long history of rock'n'roll movies ranges across studio features (including all those Elvis Presley movies), independent documentaries (such as The Band's 70s classic, The Last Waltz), and even the avant-garde (Jean-Luc Godard's documentary film, Sympathy For The Devil, about The Rolling Stones).
Rock's relationship with youth is inextricably bound up with its cinematic presentation. After the death of James Dean, in September 1955, musicians filled a gap as the hero figures for teenagers. The first film in which rock'n'roll was heard, Blackboard Jungle (1955), played on the music's delinquency, associating Bill Haley's song "(We're Gonna) Rock Around The Clock" with inner-city hoodlums. Frank Zappa later recalled his 15-year-old self "jumping up and down in the cinema at this 'endorsement' of the teenage cause."
A spate of 50s rock'n'roll movies followed, many featuring the emerging giants of music, such as Fats Domino, Chuck Berry, Gene Vincent, Little Richard, The Platters, and Eddie Cochran. Mostly, the musicians were filmed performing songs, and there was little riotous behavior off-screen. Actress Kay Wheeler, who played a dancer in Vincent's 1958 film, Hot Rod Gang, recalled that the pop star was very polite and nice to her sister when he came to her house for a spaghetti dinner during the making of the film.
Elvis Presley
The King Of Rock'n'Roll, Elvis Presley, had his own prodigious movie career. From 1956 to 1971, Presley made 33 films, and in all but one he took the starring role. Some – such as Jailhouse Rock and King Creole – were good, but for Presley, his film career was the most frustrating part of his life. While on set, he was accompanied by numerous minders and rarely socialized with fellow actors, preferring to spend time alone practicing his karate. Stan Brossette, publicist of 11 Presley movies, said, "I got a lot of pressure from producers to get him to parties, but he never went."
Some scenes embarrassed him – serenading a freshly caught shrimp in Girls! Girls! Girls!, for example – and sometimes the unexpected strains of filming would ignite his temper, as when he threw a carton of milk at his own Rolls Royce after a long delay while he was waiting in an uncomfortable rubber wetsuit. However, the pressure to do more movies was constant, because they made a staggering amount of money: the total box office receipts equate to more than two billion dollars for the US alone in today's money.
While filming his last movie, Elvis On Tour (1972), Presley told co-director Pierre Adidge that making those old rock'n'roll movies made him physically ill: "It was just that Hollywood's image of me was wrong, and I knew it, and couldn't say anything about it," Adidge recalled Presley saying, in the filmmaker's interview with Rolling Stone magazine.
Nevertheless, Presley was a powerful model for imitators. In Britain, his films and the success of US jukebox musicals sparked movies featuring Tommy Steele, Cliff Richard, Adam Faith, and Billy Fury.
The Beatles
There was bound to be a reaction to the Cliff Richard "clean teens" films, and it came when The Beatles started making improvisational and imaginative rock'n'roll movies. Director Richard Lester's A Hard Day's Night (1964), made at the peak of Beatlemania, captures the fun, excitement, and unforgettable music of John Lennon, Paul McCartney, George Harrison, and Ringo Starr as it portrays a frantic 36 hours in the lives of the rock group as they traveled to London from Liverpool. The spontaneity on camera was matched off-screen, as when Harrison, then 21, went up to a 20-year-old bit-part actress called Pattie Boyd and said, "Will you marry me?" Two years later she became his first wife.
A Hard Day's Night Official Remastered Trailer (2014) - The Beatles Movie HD
Part of the charm was that the film captured The Beatles as individuals. The end result was a box office triumph that revolutionized rock'n'roll movies, while the soundtrack album won a Grammy. Esteemed film critic Andrew Sarris hailed the movie as the "Citizen Kane of jukebox musicals." Hollywood realized there was a blueprint for making money and soon created a knock-off success with The Monkees. A Hard Day's Night inspired imitations at home, too, including Gerry And The Pacemakers' Ferry Cross The Mersey (1965).
After the success of their first cinema adventure, The Beatles decided to take control of their own film careers, and with Magical Mystery Tour (1967), Yellow Submarine (1968) and Let It Be (1970), they turned to styles and modes of production more attuned to their musical sensibilities. Let It Be features the famous unplanned rooftop concert; it was freezing on the roof of Apple Studios, situated on London's Savile Row, on that day of filming in January 1969, and the only way the band could dampen the noise of the wind was to place women's pantyhose over the microphones as a shield.
The Beatles - Eleanor Rigby (From "Yellow Submarine")
One Beatles movie that didn't come off – and one that promised to be the most anarchic of rock films – was playwright Joe Orton's proposed screenplay, Up Against It, which was set to feature a scene in which the Merseyside lads dressed as women. Despite Brian Epstein's initial enthusiasm, the project was dropped and Orton given a £1,000 kill fee for his script.
The 1970s
Rock titans The Rolling Stones also had their own cinema story. The Stones' musical and social significance attracted key avant-garde and documentary filmmakers of the time, including Robert Frank and Jean-Luc Godard, who made the controversial Sympathy For The Devil. Mick Jagger was a charismatic figure on-screen; critic Roger Ebert said of Nicolas Roeg's 1970 British crime flick, Performance: "The surprise of the movie, and the reason to see it, is Mick Jagger's performance. It isn't simply good; it's a comment on his life and style."
Performance - Theatrical Trailer
Another landmark entry in the history of rock'n'roll movies is Tommy (1975), based on The Who's rock-opera concept album from six years before. The surreal tale of a deaf, dumb and blind kid who becomes first a pinball champion and then a Messiah figure was outlandish and even had a singing cameo from Jack Nicholson. Even the promotional expenses – more than $100,000 was allocated for parties and premieres – were extravagant. Looking back 20 years later, Pete Townshend told the LA Times, "During the Tommy film, director Ken Russell only ever slept for about four hours. I survived on Cognac. I have no idea how he stayed awake. I simply behaved like the arrogant half-drunk rock star I was at the time and entirely got my way. Elton John was already stupidly rich, arriving in a massive Rolls Royce like the Queen's and with his own number plate."
The Who & Elton John - Pinball Wizard (Tommy 1975)
Unlike feature films, many rock documentaries have been joyous celebrations of music. Among the best are Bob Dylan's Don't Look Back, Monterey Pop, and the Martin Scorsese-helmed The Last Waltz. DA Pennebaker's 1973 documentary about the enigmatic David Bowie – Ziggy Stardust And The Spiders from Mars – doubles as a concert movie and is an intimate look at a unique performer in full flight. Perry Henzell's The Harder They Come, a celebration of Jimmy Cliff's Jamaican music, was a cult hit at the 1972 Venice Film Festival.
Some documentaries are more offbeat than others. Led Zeppelin's concert film The Song Remains The Same included fantasy sequences, such as Robert Plant as a knight "rescuing a fair maiden."
These films weren't always a good thing for the musicians involved. Even though it produced the fine song "How Does It Feel?," Noddy Holder said his pop band regretted making Slade In Flame in 1975. "It just took such a big chunk out of our career. We didn't tour for a long time, we were not able to record for a long time, or write," the Slade frontman said.
Even after their split, The Beatles continued to influence the shape of rock'n'roll movies. The 1978 Bee Gees vehicle, Sgt Pepper's Lonely Hearts Club Band, features the Gibb brothers, along with Peter Frampton, Alice Cooper, Aerosmith, Earth, Wind & Fire, Donald Pleasance, and Steve Martin, singing songs from the title album and Abbey Road. It was not until mid-production that the filmmakers realized that Bee Gees' British accents wrecked the illusion that they came from America. Their dialogue was removed and re-written, and, in the final cut, comedian George Burns' character, Mr. Kite, provides the narration.
Sgt. Pepper's Lonely Hearts Club Band - Official Trailer (HD)
Rock'n'Roll High School (1979) is an exuberant celebration of teenage rebellion, injecting some punk energy into the rock'n'roll movies format; director Allan Arkush said he was trying to recapture some of the feeling of enthusiasm he had as a young Beatles fan. Joey, Johnny, Dee Dee, and Marky Ramone all play themselves in a film about a student called Riff Randell (charmingly played by PJ Soles), who breaks a ban on attending a concert. US punk band Ramones show up to join in the fun – leading to the memorable line, "Do your parents know you're Ramones?" – while the two main Ramones songs in the film (the title song and "I Want You Around') were remixed by Phil Spector for the soundtrack version. Though Rock'n'Roll High School was released independently and never became a box-office hit, it garnered excellent reviews and quickly gained a cult following.
Biopics, horror films, and beyond
Down the years, there have been numerous excellent music biopics – including those about Loretta Lynn, Patsy Cline, Jim Morrison, Tina Turner, and Johnny Cash – and the movie industry has continued to be a draw for musicians, including for cameo roles. James Brown, Cab Calloway, John Lee Hooker, Aretha Franklin, and Ray Charles – the latter reportedly making Dan Aykroyd and John Belushi roar with laughter at his risqué jokes off camera – excel in The Blues Brothers.
The Blues Brothers (1980) - Shake a Tail Feather Scene (4/9) | Movieclips
A host of musicians have even appeared in horror films (Ice-T in Leprechaun In The Hood; Jon Bon Jovi as a vampire hunter in Vampires: Los Muertos; Tom Waits in Bram Stoker's Dracula, among many others) and numerous examples of light-hearted cameos, from Count Basie in Mel Brooks' Blazing Saddles to Tom Jones singing "It's Not Unusual" while aliens land in Mars Attacks!.
Though the 50s, 60s, and 70s were the golden age of rock'n'roll movies, each decade has its contribution to the genre, including Prince's Oscar-winning Purple Rain (1984) and rapper Eminem's turn as hip-hop hopeful Rabbit in 8 Mile (2002).
Prince & The Revolution - Let's Go Crazy (Official Music Video)
If you want an example of how little things change, just look at the movie A Star Is Born. The format remains the same, while the stars reflect their era. In the 30s, a version was made with former silent movie actress Janet Gaynor; in the 50s a re-make starred Judy Garland. In its third incarnation, in the 70s, Barbra Streisand took the lead role. The fourth version, released in 2018, starred Stefani Joanne Angelina Germanotta, better known as Lady Gaga, and won an Oscar for the song "Shallow."