Best Movie Songs: 50 Themes From Hollywood Film Classics
From the first talkie, theme songs in movies have found a treasured place in the popular consciousness, as these 50 best film songs prove.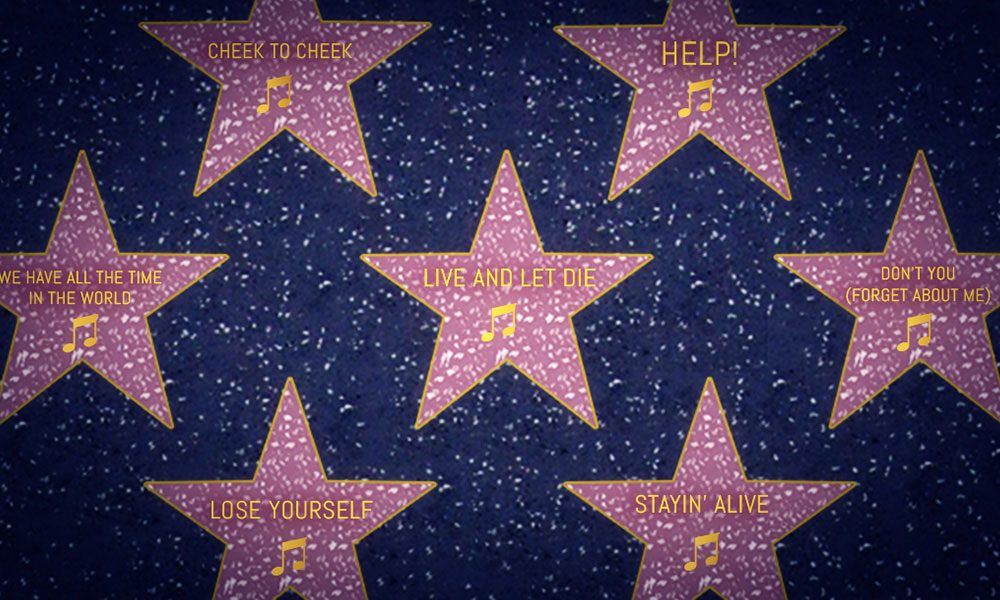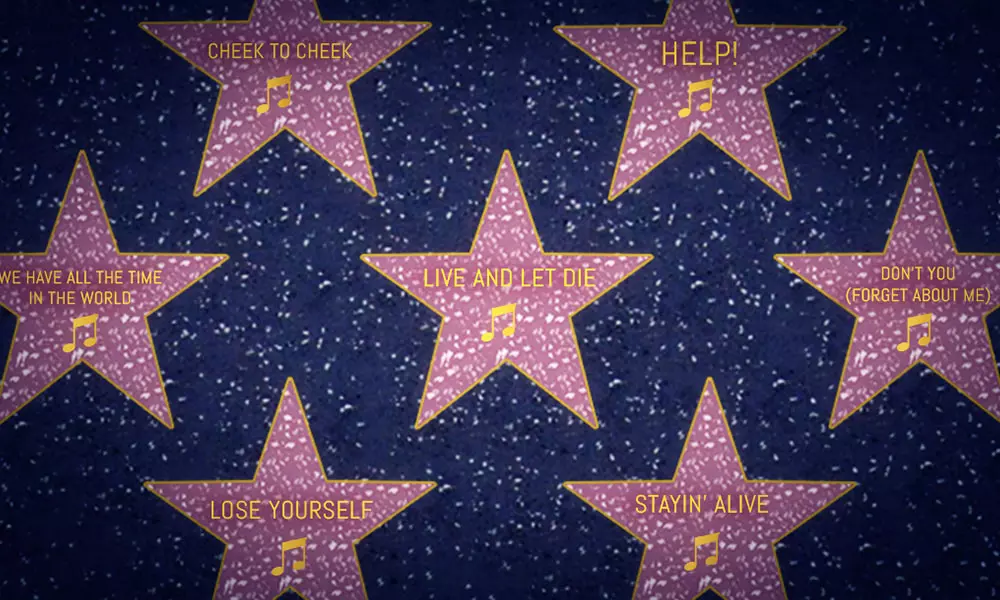 From the moment Al Jolson started warbling on screen in 1927, songs in movies have found a treasured place in the popular consciousness. Some of the best movie songs – such as "Mona Lisa," "Moon River" and "Happy" – have been written specifically for movies, while some tunes will forever be linked to a film because they sync so wonderfully with the drama (as in Titanic's love scenes, playing out to Céline Dion singing "My Heart Will Go On"), or add vibrancy (The Lion King's "Hakuna Matata"). And some movie songs are just instantly engaging, such as Ray Parker Jr's Ghostbusters theme song.
Check out some of the greatest film soundtracks on vinyl here.
Here, then, is our pick of the 50 best movie songs of all time…
Blue Moon (Manhattan Melodramaa, 1934)
"Blue Moon" evolved as a song from the MGM soundtrack-writing system, source of some of the best movie songs in their time; Richard Rodgers and Lorenz Hart tailored the eventual finished version for a Clark Gable film called Manhattan Melodrama. The beautiful lyrics – "Blue moon/You saw me standing alone/Without a dream in my heart/Without a love of my own" – have been sung down the years by most of the greatest singers of popular music, including Elvis Presley, Mel Tormé, Dean Martin and Ella Fitzgerald. The classic movie theme was also featured in a tribute album called Blue Moon: Rodgers And Hart Covered By The Supremes.
Cheek To Cheek (Top Hat, 1935)
Russian-Jewish émigré Irving Berlin wrote "Cheek To Cheek" in a single day, on demand, for the Fred Astaire-Ginger Rogers movie Top Hat. The song lights up a memorable scene during which a tuxedoed Astaire declares his love for Rogers (dancing elegantly in a feathery white gown). The gorgeous words – "And my heart beats so that I can hardly speak" – and clever dance routine make this one of cinema's most romantic moments. The song has also been covered numerous times down the years, including by jazz greats Ella Fitzgerald and Louis Armstrong on their 1956 album Ella And Louis.
Ol' Man River (Show Boat, 1936)
For a tune to really make its mark among the best movie songs it sometimes has to find the right singer. The 1927 Broadway drama Show Boat featured Jerome Kern and Oscar Hammerstein II's song performed by actors, and, a year later, Paul Whiteman (with Bing Crosby on vocals) had a minor hit with it. But when it was sung in the 1936 film version by Paul Robeson, his moving baritone voice – and edgier interpretation – took the song to a new level.
Somewhere Over The Rainbow (The Wizard Of Oz, 1939)
Some songs are the perfect vehicle for a performer's interpretation and improvisation, and certain numbers are remembered more for the singer than the writer. If you mention "Somewhere Over The Rainbow," people are more likely to think of Judy Garland's soaring version for the 1939 film The Wizard Of Oz than the gorgeous work of composers Harold Arlen and Yip Harburg. The song was almost cut from the movie, though, because MGM thought the opening Kansas sequence was too long. Thankfully, it was left in, and "Somewhere Over The Rainbow" earned its place among history's best movie songs when it won an Academy Award for Best Original Song. There have been numerous cover versions since, from artists as diverse as Eric Clapton, John Martyn, and Ariana Grande.
When You Wish Upon A Star (Pinocchio, 1940)
Cliff Edwards, a middle-aged singer known as Ukulele Ike, voices the crow in Dumbo, but his voice is better known for singing the wonderfully sentimental "When You Wish Upon A Star" for the Disney classic Pinocchio. The movie theme was written by two giants of film music – Leigh Harline ("Whistle While You Work") and Ned Washington ("High Noon"). Their song for Edwards became a jazz standard, covered by Dave Brubeck and Louis Armstrong, among others. A recent version by Gregory Porter is featured on the Verve album Jazz Loves Disney.
Boogie Woogie Bugle Boy (Buck Privates, 1941)
Who would have thought that a song written for an Abbott and Costello comedy would become a wartime classic? Patty, Maxene, and Laverne Andrews based their early style on the close harmonizing of The Boswell Sisters, and the public loved it. The Andrews Sisters' song about the boogie-woogie bugle boy of Company B survived World War II and was a hit again for Bette Midler in 1973.
As Time Goes By (Casablanca, 1942)
"As Time Goes By" was actually written by Herman Hupfeld for a short-lived 30s Broadway musical, Everybody's Welcome, but took on a life of its own as one of Hollywood's best movie songs, becoming embedded in the popular musical psyche after it was sung by pianist Dooley Wilson in the Humphrey Bogart-Ingrid Bergman movie Casablanca. The same old story, and fight for love and glory, has echoed down the decades since, in versions by Frank Sinatra, Julie London, and even Bob Dylan.
White Christmas (Holiday Inn, 1942)
Bing Crosby's "White Christmas" was on an album of songs from the film Holiday Inn, and the lyrics resonated with thousands of American troops away on duty in the Second World War. "White Christmas" earned songwriter Irving Berlin a 1943 Academy Award and, well beyond being one of the best movie songs of all time, it has become the biggest-selling single of all time, racking up sales of 50 million. Crosby's version – which took only 18 minutes to record – is definitive, but in the decades since, numerous stars have had tried their Yuletide hand, including Bob Marley, Willie Nelson, and U2.
Have Yourself A Merry Little Christmas (Meet Me in St Louis, 1944)
This started as a dark Christmas song, but when Judy Garland complained that some of Hugh Martin's lyrics were uncomfortably bleak, he altered them and "Have yourself a merry little Christmas/It may be your last/Next year we may all be living in the past" became "Have yourself a merry little Christmas/Let your heart be light/Next year all our troubles will be out of sight." The lyrical trick worked, and the movie theme, from the classic Christmas film Meet Me In St Louis, has become a standard. Among the numerous cover versions are those by Carpenters, Mel Tormé, and, more recently, by Tony Hadley. Meet Me in St Louis is also notable for the variety of songs that it introduced to the world, including "The Trolley Song" and "The Boy Next Door."
Have Yourself A Merry Little Christmas | Meet Me In St. Louis | Warner Archive
Baby, It's Cold Outside (Neptune's Daughter, 1949)
Another song that made it into the movies only by chance, but which rightly deserves its place among the best movie songs of all time, "Baby, It's Cold Outside" replaced Frank Loesser's "Slow Boat To China" and became a smash hit, winning an Oscar for Best Original Song. In the movie Neptune's Daughter, the song – a jokey call-and-response number that Broadway songwriter Loesser used to sing at parties with his wife – was performed by Esther Williams and Ricardo Montalbán. Four different duos have had Top 20 hits with different versions, including great bantering ones by Ella Fitzgerald and Louis Jordan, Ray Charles and Bette Carter, and Dolly Parton and Rod Stewart, in the latter's tribute album to The Great American Songbook.
Mona Lisa (Captain Cary, 1950)
When you think of the song "Mona Lisa," 40s jazz bandleader Charlie Spivak is probably not the first singer's name that comes to mind. But it was the Ukrainian trumpeter who first performed Ray Evans's lyrics – which started with the title "Prima Donna" – in the little-known 1950 film Captain Carey. Evans and composer Jay Livingston thought it would work as a single for Nat King Cole, and went to his home to persuade him to try it out. They almost failed because a small girl was playing happily and making so much noise that it was difficult for Cole to concentrate on the movie theme. "My daughter, Natalie," he explained. Luckily, he went ahead and his version was at No.1 for eight weeks.
Singin' In The Rain (Singin' In The Rain, 1952)
When you think of the song "Singin' In The Rain," you probably don't think of Oliver Hardy being drenched by a faulty shower nozzle as the tune plays. That was in the 1944 movie The Big Noise. The song had actually been around for 15 years before that – having first appeared in a 1929 film – but songwriter Arthur Freed realized he could make money from his old lyrics, and, as a producer for MGM, he commissioned a musical around his song title. The rest is history, as Gene Kelly's magnificent song-and-dance version easily turned "Singin' In The Rain" into one of the world's best movie songs.
That's Amore (The Caddy, 1953)
"That's Amore," written by Harry Warren and Jack Brooks, started out as a light-hearted interlude for Dean Martin (poking fun at Italian stereotypes) in the Jerry Lewis comedy The Caddy. But Martin loved the song and it soon became one of his signature songs in concerts, and a quintessential 50s ballad.
Love Is A Many-Splendored Thing (Love Is A Many-Splendored Thing, 1955)
The song, written by Sammy Cahn for a movie starring William Holden, was originally performed by The Four Aces but has become a recurring number in Hollywood, with versions in movies such as Grease, Private Parts, and Nutty Professor II: The Klumps. There was a famous version by Frank Sinatra, while the one Ringo Starr cut for his album Sentimental Journey was arranged by Quincy Jones.
Que Será, Será (The Man Who Knew Too Much, 1956)
"Que Será, Será" was sung by Doris Day in the Alfred Hitchcock thriller The Man Who Knew Too Much. Despite its popularity and status as one of the best movie songs in history, Day hated it, saying, "It's a kiddie song." But her manager-husband Marty Melcher disagreed and Day relented. She had no idea that the song would become the biggest hit of her career. Evans usually wrote most of the lyrics, while Livingston wrote the tunes, but Evans gave his partner the credit for "Que Será, Será," probably their most enduring hit. "Jay had seen a movie where a family used it as their motto," he recalled. "He said, 'Gee, that would be a nice title for a song.'" It won an Oscar and was later used as the theme tune for Day's own TV show.
High Hopes (A Hole In The Head, 1959)
This Frank Sinatra cinema vehicle was sung with a children's choir for the Frank Capra film A Hole In The Head. When Robbie Williams covered the song on his Swings Both Ways Tour in 2014, he performed it around the country with different choirs from the local Stagecoach acting schools. An enduring entry among the best film songs of all time, "High Hopes" was Grammy-nominated and also won an Oscar for best original song.
Can't Help Falling In Love (Blue Hawaii, 1961)
Elvis Presley's million-selling movie theme song was written for his film set in Hawaii. The co-writer of the song, George Weiss, said that when he played a demo of the song to producer Hal Wallis, the latter turned it down saying they wanted "something like 'Hound Dog.'" Weiss, who also wrote "Lullaby Of Birdland" and "What A Wonderful World," said, "The only person who initially liked the song was Presley himself, who had also created a movie song classic with 'Jailhouse Rock.' He just happened to overhear it at Graceland as his entourage was sampling a pile of demo tapes for the movie. Elvis was told to ignore a 'dumb ballad' but he said, 'No, I want to do that one in my movie.' He picked the song. Everyone else turned it down." There have been numerous cover versions, including by Neil Diamond, Beck, and a reggae-style one by UB40.
Moon River (Breakfast At Tiffany's, 1961)
Henry Mancini and Johnny Mercer had impeccable track records. The former had been responsible for the Pink Panther theme, the latter had provided the words for dozens of films, including "Hooray For Hollywood." Audrey Hepburn's singing voice was thin and limited in range, though always in tune, so Mancini took a month to compose exactly the right melody to suit the waif-like good-time girl. In the movie, Hepburn sang the song sitting with a guitar on the fire escape of a New York apartment, and the result was charming, forever remembered as one of the best movie songs. When a studio executive tried to have the song cut, Hepburn said, "Over my dead body." Lots of jazz greats have covered it, but other interesting versions include those by Aretha Franklin, Patty Griffin, Elton John, R.E.M., and Morrissey.
Days Of Wine And Roses (Days Of Wine And Roses, 1962)
Henry Mancini and Johnny Mercer were prolific as film songwriting partners, and they contributed the movie theme song to Blake Edwards' film starring Jack Lemmon. The phrase "days of wine and roses" was taken from a 19th-century English poem. Andy Williams had a hit with the song, which was also covered by Julie London and Wes Montgomery.
My Favourite Things (The Sound Of Music, 1965)
There were some new songs for the cinema version of the Rodgers and Hammerstein Broadway musical, but once Julie Andrews got hold of them, many became popular classics beyond their placing among the best film songs ever, including "My Favourite Things" and "Do-Re-Mi."
Help! (Help!, 1965)
Plenty of Beatles songs merit inclusion in this list of the best film songs of all time – including "A Hard Day's Night" – but the nod goes to "Help!," which was written as the movie theme song to the group's second film – a madcap comedy originally mooted for Peter Sellers. The sense of desperation is palpable in lines such as "And now my life has changed in oh-so-many ways/My independence seems to vanish in the haze." John Lennon told Rolling Stone magazine in 1970, "I meant it. The whole Beatle thing was just beyond comprehension."
To Sir With Love (To Sir With Love, 1967)
Sidney Poitier was the main star of a worthy school-based film in which a teacher wins over some inner-city toughs in East London. Lulu, who starred in the film, had a surprise No.1 US hit with the title song. It was co-written by Don Black, a songwriter who had worked on lots of James Bond themes and was a frequent collaborator with John Barry, the soundtrack legend. They both later worked on the music for Out Of Africa.
Mrs. Robinson (The Graduate, 1967)
Paul Simon wrote "Mrs. Robinson" for The Graduate, starring Anne Bancroft as Mrs. Robinson, a middle-aged woman who seduces the young Dustin Hoffman. Simon and Art Garfunkel's harmonies are stunning, helping it become one of the best movie songs of the decade – if not all time. A famous line asks, "Where have you gone, Joe DiMaggio?"; Simon was once asked by his baseball hero, Mickey Mantle, why he had not been name-checked in the song. Simon told him: "It's about syllables, Mick. It's about how many beats there are."
Simon & Garfunkel - Mrs. Robinson (Audio)
Everybody's Talkin' (Midnight Cowboy, 1969)
Mention the name Fred Neil and you may get a blank stare. Yet he wrote not only one of the best movie theme songs of all time, but one of the most famous songs of the late 20th century. Folk singer Neil, whose work inspired Bob Dylan, was uneasy at the publicity after Harry Nilsson turned "Everybody's Talkin'" into a worldwide hit in 1970, following its use as the theme tune for the movie Midnight Cowboy. He fled to Florida ("Going where the weather suits my clothes") to set up a marine project, and devoted the rest of his life to protecting dolphins. Among the cover versions are those by Stevie Wonder, Glen Campbell, and Iggy Pop – and Star Trek's Leonard Nimoy.
We Have All The Time In The World (On Her Majesty's Secret Service, 1969)
Composer John Barry personally visited a poorly Louis Armstrong to ask him to record "We Have All The Time In The World," a new song for the James Bond film On Her Majesty's Secret Service. The results were not only one of the best Bond themes ever, but one of the best movie songs ever, too. Barry said, "It wasn't the popular choice at the time, because we always used, you know, the Tom Joneses, the Nancy Sinatras. And I said, 'Look, it's about a man singing about the September of his years.' And I thought Louis singing just rung true and [producer Albert 'Cubby' Broccoli] loved the idea, there were no arguments. But to work with this guy in the studio, he was the sweetest, humblest guy."
We Have All The Time In The World (Remastered)
Raindrops Keep Fallin' On My Head (Butch Cassidy And The Sundance Kid, 1969)
Burt Bacharach and Hal David were working on the music for Butch Cassidy And The Sundance Kid – in which Paul Newman and Robert Redford play 1890s train robbers – when director George Roy Hill said he wanted something evocative of the Victorian era for a scene where Newman takes a romantic bike ride with Katherine Ross. They ended up producing a million-selling hit for BJ Thomas, who had a cold and sang with a raspier voice than usual on the day of recording. Thomas, incidentally, has said that Bacharach originally composed the movie theme song to fit Bob Dylan's voice.
If You Want To Sing Out, Sing Out (Harold And Maude, 1971)
Cat Stevens sings about wanting to "be free, be free" in his award-winning movie theme song for the quirky film Harold And Maude, about a teenager who has an affair with a 79-year-old woman. In 2016, perhaps with no irony, it was used as the music to advertise a Jeep Grand Cherokee. It is one of Stevens' most underrated songs.
Dueling Banjos (Deliverance, 1972)
Representing the stirring individual instrumental "songs" that have enriched movies – such as Ry Cooder's "Paris, Texas" or John Williams' "Promontory" from Last Of The Mohicans – is this cue from the soundtrack of the Burt Reynolds movie. "Dueling Banjos" was composed in 1955 by Arthur Smith, as a banjo instrumental he called "Feudin' Banjos," and later covered by bluegrass band The Dillards as "Briscoe Declares For Aunt Bee." Given the title "Duelling Banjos," it was recorded for the unsettling Deliverance by Eric Weissberg and Steve Mandell, and went to No.2 for a month on the Billboard charts.
Live And Let Die (Live And Let Die, 1973)
Another Bond theme that takes its place alongside the best movie songs of all time, "Live And Let Die" shares the unusual distinction of having been nominated for a Grammy under two different performers. Paul McCartney, who wrote the song, was nominated for his version with the band Wings, which went to No.2 on the US charts. It was one of a number of film themes produced by his old Beatles pal George Martin. A version by Guns N' Roses was also Grammy-nominated, in 1991.
The Way We Were (The Way We Were, 1973)
Session bassist Carol Kaye said it took 33 takes to get "The Way We Were" exactly as the producers wanted. The hard work paid off. Barbra Streisand's song – which opens with the sparkling line, "Memories, like the corners of my mind" – was recorded for the film about the love affair between Streisand's character and Robert Redford's Hubbell Gardiner.
Knockin' On Heaven's Door (Pat Garrett And Billy The Kid, 1973)
Bob Dylan's movie theme song was written for Sam Peckinpah's western, in which the singer-songwriter starred alongside James Coburn and Kris Kristofferson. The song has become one of Dylan's most popular among fellow musicians – there have been hundreds of cover versions, including by Randy Crawford, Guns N' Roses, Eric Clapton, Bryan Ferry, Paul Simon, Jerry Garcia, Tom Petty, and Dolly Parton.
Stayin' Alive (Saturday Night Fever, 1977)
Bee Gees' movie theme song "Stayin' Alive" – a song about the art of endurance – burrowed into the wider world's consciousness. The glorious harmonies (especially in the "Ah, ha-ha-ha" chorus) and Barry Gibb's falsettos make this one of the catchiest of all movie songs. Yet it is a song with a serious message. As Robin Gibb said, "The subject matter of "Stayin' Alive" is actually quite a serious one. It's about survival in the streets of New York, and the lyrics actually say that."
Mama Don't Let Your Babies Grow Up To Be Cowboys (The Electric Horseman, 1979)
A country song that had been kicking around for a few years, in versions by writer Ed Bruce and then Chris LeDoux, gained widespread attention and acclaim when Willie Nelson sang it for the Robert Redford-Jane Fonda film about a rebellious cowboy. The song was later used in the 2008 Oliver Stone film W and referenced ironically in the 2016 film American Honey.
Mammas, Don't Let Your Babies Grow Up to Be Cowboys
Always Look On The Bright Side Of Life (Monty Python's Life Of Brian, 1979)
Rarely does a song of really acidic comedy find such public acceptance. Eric Idle's "Always Look On The Bright Side Of Life," a gallows-humor song sung cheerily by a man waiting to be crucified, has become a singalong anthem at sports events around the globe. Idle sang a live version for the closing ceremony of the 2012 London Olympics.
9 To 5 (9 To 5, 1980)
Dolly Parton's anthem for the worker, written for the comedy she starred in alongside Jane Fonda and Lily Tomlin, won the country singer multiple awards. The movie theme song has appeared in numerous TV shows, including The Simpsons, and notable cover versions include one by Alison Krauss.
Rawhide (The Blues Brothers, 1980)
It would be hard for The Blues Brothers not to appear in a run-down of the best movie songs of all time, given that its soundtrack is stuffed with classic Southern soul. "Rawhide," however, is an exception: a fine popular country song, it was a hit for Frankie Lane and the theme tune to the popular TV show of the same name. But there is no more exuberant version than the one delivered by the self-proclaimed Blues Brothers (Dan Aykroyd and John Belushi) in the John Landis comedy. One very funny scene involves the band pretending to be a country group called The Good Ole Boys, in order to play a gig at Bob's Country Bunker in Kokomo. As countless beer bottles aimed at the band shatter on impact with the chicken-wire fence protecting the stage, The Blues Brothers pacify the "redneck" audience with repeated versions of "Rawhide."
I Just Called To Say I Love You (The Woman In Red, 1984)
The Woman In Red was a mildly entertaining comedy starring Gene Wilder, but its soundtrack was a Stevie Wonder-helmed affair that included his global smash title track. Wonder's only UK No.1 hit, "I Just Called To Say I Love You" topped the charts across the globe and picked up an Oscar for Best Original Song.
Ghostbusters (Ghostbusters, 1984)
Some of the best movie theme songs continue to pervade popular culture well after their original appearance. Stop almost anyone in the street and ask, "Who you gonna call?" and they will almost certainly answer "Ghostbusters." The iconic theme song for the 1984 movie was written and performed by Detroit musician Ray Parker Jr, and has remained his biggest hit. The determined and upbeat number took on a life of its own after the release of the movie, and the line "I ain't afraid of no ghosts" has appeared in numerous pop-culture references.
Ray Parker Jr. - Ghostbusters (Official Video)
Don't You (Forget About Me) (The Breakfast Club, 1985)
A coming-of-age drama that transcends its era and speaks to all generations, The Breakfast Club's emotional closing scene, in which five high-school students leave their Saturday detention, having asserted their individuality – and found out about their own true character – remains an iconic piece of high-school cinema. It made stars of the young actors nicknamed The Brat Pack and ensured that Simple Minds' single went down in history as a generation-defining slice of synth-pop.
Twist And Shout (Ferris Bueller's Day Off, 1986)
The teen comedy starring Matthew Broderick was memorable for its use of music. As well as Yello's electro-pop classic "Oh Yeah," which became a cult song after the movie and was later even used in confectionery adverts, the film made judicious use of The Beatles' recording of "Twist And Shout," introducing a whole new generation to one of the group's finest early outings on record.
La Bamba (La Bamba, 1987)
Ritchie Valens' traditional Mexican wedding song – a B-side to his first hit, "Donna" – was revived as the movie theme song for a film about the young singer who died, aged 17, in the plane crash that killed Buddy Holly. In the movie, Valens is played by Lou Diamond Phillips, while the brilliant LA band Los Lobos scored a No.1 hit with the title song, reviving interest in the singer's music with their vibrant version.
La Bamba (Recorded at Gold Star)
Unchained Melody (Ghost, 1990)
The Righteous Brothers' gorgeous love song was certainly well known by the time it appeared in Ghost. It had actually been written for a low-budget B-movie, Unchained, in 1955, where it was sung as a prisoner's lament. But when it was used as the music to accompany the emotionally charged scene where Demi Moore and Patrick Swayze get steamy behind a potting wheel, it gained a whole new lease of life as a romantic blockbuster.
(Everything I Do) I Do It For You (Robin Hood: Prince Of Thieves, 1991)
Spending a record-breaking 16 straight weeks at the top of the UK charts, and seven at the top of the Billboard 100, Bryan Adams' indefatigable "(Everything I Do) I Do It For You" owed at least some of its ubiquity to its use in the summer 1991 blockbuster Robin Hood: Prince Of Thieves. The song was subsequently nominated for an Oscar, and went on to win the Grammy for Best Song Written For A Motion Picture, Television Or Other Visual Media at the 1992 awards ceremony.
(Everything I Do) I Do It For You (Official Music Video)
Streets Of Philadelphia (Philadelphia, 1993)
Movie theme songs can offer light relief or fuel tension, and sometimes they can be of social importance. When director Jonathan Demme asked Bruce Springsteen to write a soundtrack song about the AIDS epidemic, The Boss obliged with a haunting ballad that was both a hit song and a piece of music that challenged audiences to think. Jackson Browne, who has known Springsteen for more than 40 years, said: "To write from the perspective of someone who is emaciated, with AIDS, is to forsake all of the strength Springsteen had staked his career on. It is quite a feat."
Bruce Springsteen - Streets of Philadelphia (Official Video)
Hakuna Matata (The Lion King, 1994)
The sheer quality of the music in Disney's The Lion King was demonstrated in the fact that three of its songs were nominated for an Oscar, with "Hakuna Matata" and "Circle Of Life" losing out to "Can You Feel The Love Tonight." Still, that's three of the best movie songs ever in just one movie, and for this list we opt for "Hakuna Matata," with its catchy melody (written by Elton John) and life-affirming lyrics by Tim Rice. The title phrase in Swahili translates as "no worries," and that's a problem-free philosophy we could all do with.
DISNEY SING-ALONGS | Hakuna Matata - The Lion King Lyric Video | Official Disney UK
You've Got A Friend In Me (Toy Story, 1995)
Randy Newman, the master of biting satire, has always been a fantastic soundtrack composer, and his glorious feel-good song for the Pixar movie Toy Story – sung with Lyle Lovett – became the theme tune for the series of films.
You Must Love Me (Evita, 1996)
Madonna put real emotion – and handled the tricky soprano chords – as she triumphed with one of the 17 demanding songs in Evita, the musical-turned-film story of the life of the First Lady Of Argentina, Eva Perón. The song was written especially for the movie by Andrew Lloyd Webber and Tim Rice. Madonna also covered "Don't Cry for Me Argentina" for the film.
Madonna - You Must Love Me (Official Video)
My Heart Will Go On (Titanic, 1997)
Céline Dion's power ballad, one of the biggest-selling singles of all time, won a raft of awards and is now almost as synonymous with the doomed ship as the iceberg it crashed into. "My Heart Will Go On" is the romantic ballad that plays as Leonardo DiCaprio and Kate Winslet embrace at the front of the ill-fated Titanic. Dion does brilliantly to cope with the tricky modulations of the song, while the sweet tin-whistle playing is courtesy of Andrea Corr.
Lose Yourself (8 Mile, 2002)
With hip-hop firmly in the mainstream at the start of the new millennium, Eminem delivered a sure-fire entry among the best film songs of all time in the shape of the Oscar-winning "Lose Yourself." Penned for the semi-autobiographical film 8 Mile, Eminem recalled that writing the soundtrack "was different from my usual work because it forced me to step into Rabbit, the character I play in the film, and write from his point of view."
Lose Yourself (From "8 Mile" Soundtrack)
Happy (Despicable Me 2, 2013)
A fitting close to this list of the best movie songs of all time, Pharrell Williams' contribution to the animated comedy Despicable Me 2 became the most downloaded song of all time in 2014. "Happy" does what it says on the tin: it is uplifting, catchy, and perfect popcorn music. The song did not come easily to Williams, though. He has admitted that the final version was his tenth attempt at creating a song about "agitated and grumpy" fictional character Gru falling in love.
Honorable Mentions
Coolio – Gangsta's Paradise (Dangerous Minds)
Bill Medley and Jennifer Warnes – (I've Had) The Time of My Life (Dirty Dancing)
Whitney Houston – I Will Always Love You (The Bodyguard)
Angela Lansbury – Beauty and the Beast (Beauty and the Beast)
Bradley Cooper and Lady Gaga – Shallow (A Star is Born)
Barbra Streisand – Evergreen (Love Theme) (A Star is Born)
Steppenwolf – Born to Be Wild (Easy Rider)
John Travolta & Olivia Newton-John – Summer Nights (Grease)
Snow White and the Seven Dwarfs – Whistle While You Work (Snow White)
Noel Harrison – The Windmills of Your Mind (The Thomas Crown Affair)
Kermit the Frog – Rainbow Connection (The Muppet Movie)
Julie Andrews – My Favorite Things (The Sound of Music)
Marilyn Monroe – Diamonds Are a Girl's Best Friend (Gentlemen Prefer Blondes)
Seal – Kiss From A Rose (Batman Forever)
Frankie Laine – Do Not Forsake Me, Oh My Darlin' (High Noon)
Liza Minnelli – Cabaret (Cabaret)
Looking for more? Discover the 50 best film scores of all time.
Build your soundtrack collection with classic titles and under-the-radar favorites.