Havin' Fun: The Wonderful World Of Bing Crosby And Louis Armstrong
With a friendship based on mutual admiration, Bing Crosby and Louis Armstrong recorded a series of classic songs and appeared together in many hit movies.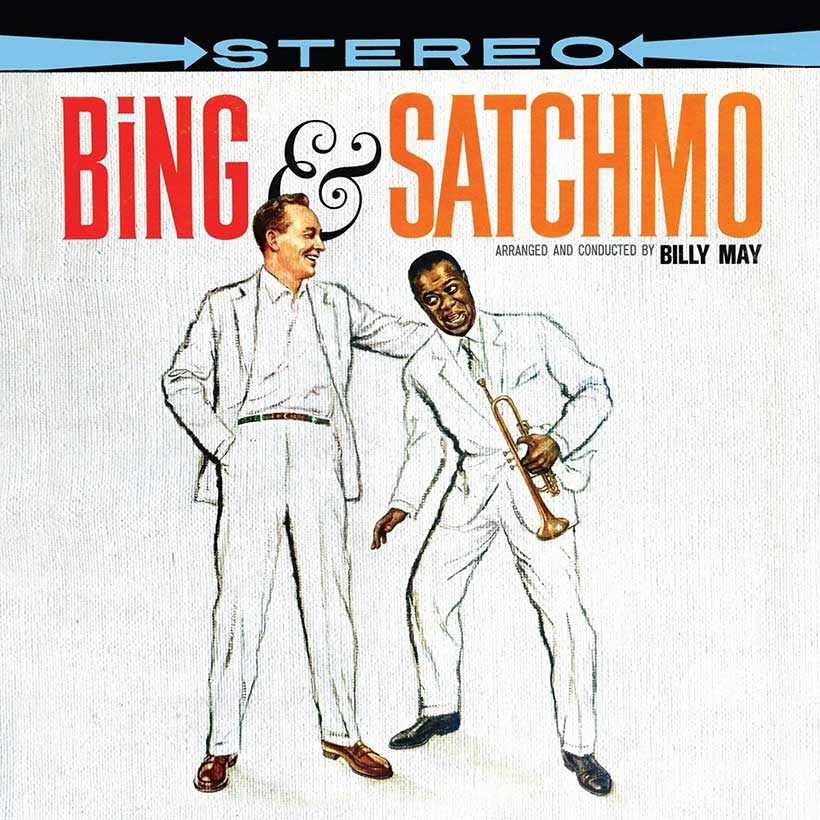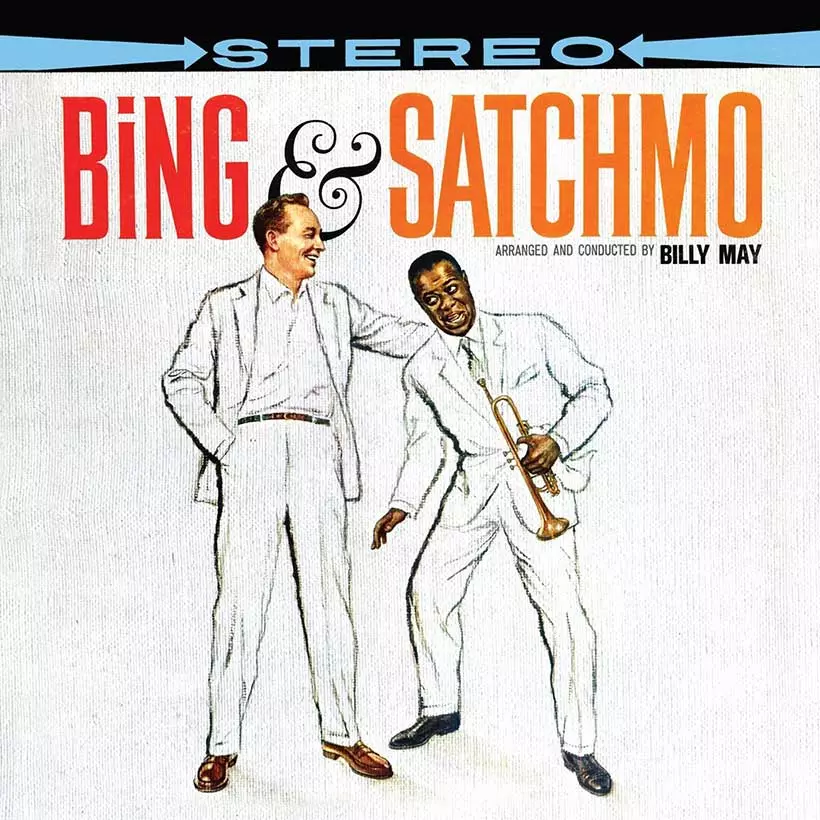 Bing Crosby was one of the most successful stars in the history of show business. He was best known as a singer – selling more than 300 million records and recording the evergreen hit "White Christmas" – but was also a celebrated TV and film actor and radio star. Crosby made 80 movies, winning an Oscar in 1943. Yet for all his success, Crosby said that "no doubt about it, the happiest times I worked in my career were the days I worked with Louis Armstrong."
Listen to the Bing Crosby and Louis Armstrong collection, Bing & Satchmo, on Apple Music and Spotify.
An enormous influence
The jazz trumpet star, who was friends with Crosby for nearly half a century, had an enormous influence on the singing style of the young singer from Tacoma, Washington. Bing Crosby was 23 and working with the Paul Whiteman Orchestra when, at the urging of singer Mildred Bailey, he went to see Armstrong at the Sunset Café in Chicago. It was an integrated audience, and Crosby, sitting in the front row, was overwhelmed by Armstrong's performance – by his singing and his irreverent showmanship. Armstrong sang with passion, played trumpet with panache, and also larked about, impersonating a Deep South preacher while wearing a deacon's coat. Crosby was in awe of Armstrong's ability to combine music and humor.
Asked 24 years later which musician had influenced him most, Crosby replied: "I am proud to acknowledge my debt to the Reverend Satchel Mouth. He is the beginning and the end of music in America. And long may he reign."
Gary Giddins, author of Bing Crosby: A Pocketful Of Dreams, The Early Years 1903-1940, said that Armstrong, one of the originators of scat singing, also had a deep impact on Crosby's technical prowess. "He always adapted what he had learned from Armstrong and from jazz into his own style… Crosby was indelibly tied to a jazz aesthetic through his inherent sense of swing and his great appreciation (and emulation) of Armstrong's genius for vocal phrasing, spontaneity, emotion, and comedy."
Mutual respect
The respect was mutual. At the time of the Sunset Café gig, Armstrong enjoyed listening to Crosby's records with The Rhythm Boys and later adapted elements of Crosby's "crooning" style into the ballads he covered, such as "Stardust" and "Wrap Your Troubles in Dreams." "Bing's voice has a mellow quality that only Bing's got. It's like gold being poured out of a cup," Armstrong told Time magazine in 1955. He also called Crosby "a natural genius the day he was born" and "one of the finest guys in this musical and wonderful world, with a heart as big."
In the 30s, Armstrong and Crosby realized they worked well together (and also reportedly shared the occasional marijuana cigarette), and they became fixtures on the NBC radio series Kraft Music Hall, which Crosby hosted and on which Armstrong frequently made guest appearances. Their radio work continued for years, and a two-disc album, Havin' Fun, taken from radio shows from 1949-51, shows their relaxed and witty ad-libbing – with asides from trombonist Jack Teagarden.
Bing Crosby and Louis Armstrong at the movies
In 1936, the duo appeared in their first film together, Pennies From Heaven. Despite protests from the producers, Crosby insisted that Armstrong be given prominent billing and feature on the film poster. They also successfully recorded music from the film, including a version of the title song, cut with the Tommy Dorsey Orchestra.
During this decade, Armstrong also worked with Bing's brother, jazz singer Bob Crosby, appearing on television shows with Armstrong's All Stars. Bing's son Gary Crosby said, "Louis loved my father and Louis was always one of Bing's favorites."
The next big-screen collaboration between Bing Crosby and Louis Armstrong was in 1951 with Frank Capra's Here Comes The Groom. The movie included an all-star jam session with Crosby and guest stars Armstrong and Dorothy Lamour. Also in 1951, a version of "Gone Fishin'," cut with the John Scott Trotter Orchestra, went down so well with the audience at a radio show that Crosby and Armstrong's version was released as a single by Decca and reached No.19 in the charts.
Around this time, there was a recording of a New Year's Eve party at Armstrong's house. When someone mentions seeing Crosby and Armstrong, the jazzman says, "Ah, give that buzzard my regards there! Shove him my regards, Daddy. That's my boy, there. Oh, he treats us so well in his hometown."
Five years later, they both starred in MGM's High Society – along with Grace Kelly, Celeste Holm, and Frank Sinatra – in a film scored by Cole Porter. Crosby said it was the favorite of all the movies he made, and Holm said the cast had such fun because Armstrong and his All-Stars were always informally jamming and bantering between takes.
In the movie, the pair sing "Now You Has Jazz," which is one of songwriter Nick Lowe's favorite records. He said: "It sounds like an aural cartoon since the voices have so much character. Bing Crosby was able to swing in this very white kind of way."
The memory of "Gone Fishin'" stayed with the pair and, after a recording a few songs with Crosby's son Gary – including "Struttin' With Some Barbeque" – Armstrong agreed to work on a whole album with Crosby, Sr, after an appearance on the latter's Oldsmobile TV special that aired on ABC in September 1959.
Recording Bing & Satchmo
At the end of June 1960, at United Recording, Hollywood, the duo recorded 12 songs, with the Billy May Orchestra, for the album Bing & Satchmo. The songs included "Muskrat Ramble" and "At The Jazz Band Ball," and Johnny Mercer's "Little Ol' Moon" and "Rocky Mountain Moon," which the composer specially adapted for the pair, adding special effects and vocals. May said: "That was a labor of love for John [Mercer] because John loved Louis, and I know he's a good friend of Bing's. Louis was fun to work with and Bing of course enjoyed being around musicians. It was really a fun gig."
Highlights on the album include Armstrong jamming on Horace Silver's composition "Preacher," though there was little press fanfare for the record because, as Billboard reported in October 1960, when the album came out, Crosby was in England with his wife playing golf, and Armstrong was on a state visit to the Congo.
Crosby said he had happy memories of Bing & Satchmo. As he put it: "I never met anybody that didn't love Louis that ever saw him work or ever has encountered him, had any connection or any business with him… Any time I ever worked with Louis it was just a pleasure to be around. Lots of gags going all the time, you know, because he loved to laugh. He had an infectious laugh, too, about your singing or about his cornet playing or about a wardrobe or about music in general or anything."
Let's Sing Like A Dixieland Band
"The greatest singer that ever was and ever will be"
Up until the end of Armstrong's life, Crosby continued to pay tribute to Armstrong's singing, telling a friend, according to biographer Gary Giddins, that Armstrong was "the greatest singer that ever was and ever will be."
When his friend looked unconvinced, Crosby explained: "It's so simple, when he sings a sad song you cry and when he sings a happy song you laugh. What the hell else is there in popular music?"
There is poignant footage of the pair singing on the 1967 TV show Hollywood Palace before walking off together through the closing curtains, like the two titans of modern music they were. Crosby, who died in 1977 from a heart attack he suffered just after completing a round of golf at La Moraleja golf club in Spain, outlived Armstrong by six years.
At Armstrong's funeral, in 1971, the honorary pallbearers had included Dizzy Gillespie, Count Basie, Frank Sinatra, and Bing Crosby. The "White Christmas" star said he was there to pay tribute to "America's ambassador of music."