Ringo Starr
The singer, songwriter, and drummer from Liverpool, England has consistently toured with his band Ringo Starr & His All-Star Band since his time in the Beatles.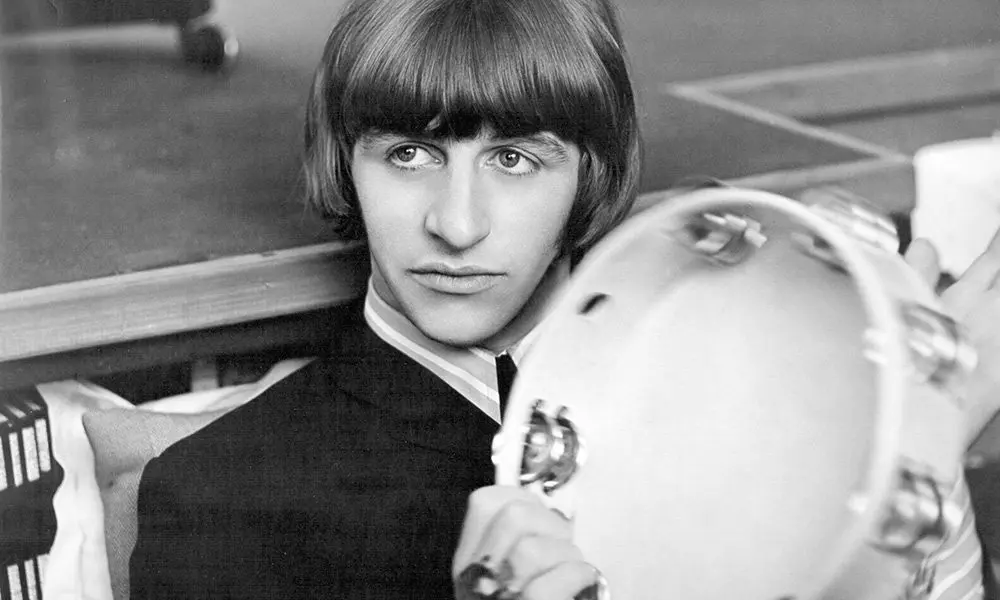 The world's greatest rock drummer? Consider the obvious evidence. Yet this man is also a solo artist of repute. As the bedrock of the Beatles sound, Ringo's distinctive on the beat style and pioneering tom-tom work ensured that the diminutive percussionist won plaudits from peers and more importantly his own esteemed colleagues. Without Ringo – John, Paul and George often said, there was no Beatles and on the occasions, he did walk out, they generally wooed him back with hugs and flowers laid in front of his kit.
Though making no claim to the finest singer around, nevertheless Ringo's easy-going vocals appeared on most of the Fabs discs. A confident enough country singer, his version of "Act Naturally" became the standard and defined his good-natured approach. His role as a featured singer on stage was never in doubt and the Ringo moment was a highlight of every show the Beatles played from 1962 until they effectively quit live performing in 1966. He also enjoyed commercial acclaim for his talents on "With a Little Help From My Friends" and "Yellow Submarine" while his delightful childlike "Octopus's Garden" and "Don't Pass Me By" were self-penned and resilient additions to the canon.
Once the Beatles split for good in 1970, Ringo got back in the saddle and made a sequence of fine albums in his own right, which we are proud to detail below. His sales were based on genuine respect for his work rather than as mere nostalgia. Albums like the self-titled Ringo and Goodnight Vienna both featured high on charts and he notched up a straight run of eight Top Ten singles in the USA between 1971 and 1975 during what one might call his heyday. Around this time you will also see Ringo's name on a slew of recordings for others – the other Beatles, of course, as well as Harry Nilsson and Stephen Stills, amongst many more.
Music aside his acting skills were always credited in the Beatles brilliant knockabout movies but he made more of a name for himself as a straight actor later and he has also directed music documentaries, designed furniture and published the excellent Postcards From The Boys, a poignant home thoughts from abroad hardback featuring a fascinating selection of cards sent to him by the other Beatles. He has the MBE and retains a place in the hearts of everyone who grew up with or came to adore The Beatles. And as will be seen his own output is far more varied and eclectic than a cursory glance at his career might indicate.
Born Richard Starkey in Dingle, Liverpool 1940, he was brought up in humble surroundings by parents who nurtured his love of music and dancing. The contemporary norm of skiffle and rudimentary rock'n'roll groups would lead him to become a professional drummer and his prowess was noted during his stints with Rory Storm and the Hurricanes and Tony Sheridan, both of whom used him in Hamburg before he joined the main act. He became one of The Beatles at John Lennon's behest in summer of 1962, replacing the incumbent Pete Best, and the rest is history and best left for the zillion times on all things Fab. Suffice to say Starr can be regarded as the very heart and soul of the globe's most extraordinary group.
But once matters soured, Ringo was quick out of the blocks. His debut solo album is Sentimental Journey, where encouraged by his mates and producer George Martin, he made the inspired decision to revisit the songs he'd grown up listening to around the wireless in the parental home. These days issuing a set of chestnuts is the norm but Ringo got there first. His takes on "Night and Day" and "Bye Bye Blackbird" are sweetly wrought. The album also contains arrangements from Paul McCartney, Richard Perry, Quincy Jones and Maurice Gibb while the backing from the George Martin Orchestra is bang on the money.
But if one views this cosy disc as a testing of the waters the follow-up Beaucoup Of Blues (both these were released in short order in 1970) is quite a stylistic departure. Decamping to Nashville to record with producer Pete Drake, Ringo is even more at home here dealing with some delicious country songs with top-notch back up from Charlie McCoy, Jerry Reed and Charlie Daniels – plus other A list Music City alumni. In any case, the tracks suit Ringo's laconic voice and his lugubrious delivery adds a bittersweet nuance to much of the material.
In the aftermath of the great break up Ringo admitted he felt like a fish out of water initially but his third disc, Ringo, took him back to Abbey Road and across the sea to Sunset Sound and the Producer's Workshop where Richard Perry helped him hone a genuinely classy item. This album is noted for the appearance of all four Beatles (though never in one room at the same time) as well as the star cast of players that would become a fixture in his future releases. Lennon's "I'm The Greatest" kicks off proceedings before Ringo tackles Randy Newman's "Have You Seen My Baby" and then eases into the lush "Photograph", a co-write with Harrison. Guests include Nilsson, Jim Keltner, Garth Hudson, James Booker and Marc Bolan and we'd urge you to consider and discover this rather excellent disc. Check out the reissue with bonus material where you get the single "It Don't Come Easy" (Stills is on piano) and "Early 1970", a magnificent and often overlooked cut driven by George's electric guitars and bass. A huge hit album in its day, Ringo holds up remarkably well.
Sticking with Perry he then unleashes the fine Goodnight Vienna with Nilsson taking a highly active part. Listen out here for Allen Toussaint's "Occapella" where Dr John plays the piano and don't overlook the title track since that's Lennon counting the band in much as he did in years gone by.
Blast from Your Past (1975) is a neat compilation of various good bits that treads water until Ringo's Rotogravure arrives with Arif Mardin in the control room and Eric Clapton making an appearance. Lennon is on hand again as a writer and Paul and Linda McCartney enjoy helping out on Paul's song "Pure Gold". Something of a collector's item today, Beatles fans should discover this for the George track, "I'll Still Love You", something he'd originally trialled with Ronnie Spector and Cilla Black.
On Ringo the 4th our hero stays with Mardin but starts to write in earnest with collaborator Vini Poncia. The results are a cool delight especially so on Toussaint's "Sneakin' Sally Through the Alley" and "Wings" where the rhythm section of Tony Levin and Steve Gadd put a tight shuffle on a song close to Ringo's heart. He would re-record it with a more reggae twist later.
We pick up the story with Vertical Man (1986) and what a comeback this is! The guests include Paul and George as well as All-Starr stalwarts Joe Walsh and Scott Weiland and not to forget Tom Petty, Brian Wilson and Beatles engineer Geoff Emerick. Very much a return to form this disc includes a cheeky remake of "Love Me Do" the one Beatles song where a session man, much to his chagrin, replaced Ringo for the single version. If he reclaims that classic he also coaxes fine performances out of his cohorts. Jeff Baxter offers some neat slide and Steven Tyler pops up on harmonica. A real forgotten gem.
The VHI Storytellers live album is a concentrated distillation of much-loved Beatles and solo Ringo pieces – music we never tire of. To bring things into the new millennium we also point you towards The Anthology So Far (2001) where the bulk of the All-Starr material is gathered under one roof. Such is the affection and respect in which Ringo has held the fact that guests here range from Felix Cavaliere and Todd Rundgren to Jack Bruce and Nils Lofgren only adds to the allure.
Finding a trusted accomplice in Mark Hudson, Ringo will release Ringo Rama and surprise those who thought he'd given up on the business by turning in one of his finest moments to date via "Never Without You", a most heartfelt appreciation aimed at his friend George Harrison that quotes some of the man's loveliest moments, including  "What Is Life" and "Something". It's a jaw-dropping track.
The Live Tour 2003 is another splendid reminder of where Ringo came in since it features versions of "It Don't Come Easy", "Honey Don't", "Yellow Submarine", "With a Little Help from My Friends" and "I Wanna Be Your Man", the song John and Paul gifted to the Stones that Starr sang so well on With The Beatles in 1963.
The tale doesn't end there. Photograph: The Very Best of Ringo Starr (2007) is a CD plus DVD on the special collector's edition. And proving that he is very much still a player we also enjoy Liverpool 8 where the main man collaborates with Dave Stewart and Hudson on a most solid rock and roll set that garnered very favourable reviews.
Paul and Ringo reunite – the fact they are the only extant Beatles (Best aside) adding extra depth to "Peace Dream" (Macca's on bass) and "Walk with You" – a number credited to Starkey and Beach Boys lyricist Van Dyke Parks. Heavy stuff. Joss Stone lends her distinctive voice to "Who's Your Daddy" and Walsh, Don Was, Edgar Winter and Ben Harper add lustre to the whole.
Live at the Greek Theatre 2008 is a major label release too and tickles the fancy thanks to a revisited "Boys" (an old Cavern favourite) and a medley including "Give Peace a Chance."
And so to the most current Ringo 2012 with the aforementioned "Wings" given a reggae lilt and the assistance of luminaries like Benmont Tench and Charlie Haden ensuring matters are bright and modern while adding a dash of skiffle to keep old Beatles fans happy and smiling.
In fact, that is Ringo's ultimate legacy. A man of good cheer with a sad clown's mask he has borne the weight of fame and the legacy of tragedy within his old band better than anyone could have expected. The world's greatest drummer? Why not. Now, where's his knighthood?
Words: Max Bell
Format:
UK English