Peace, Love, Fun, And Friends: The Musical Adventures Of Ringo Starr
An affectionate look at some of the musical chapters in the singular life of Sir Richard Starkey MBE.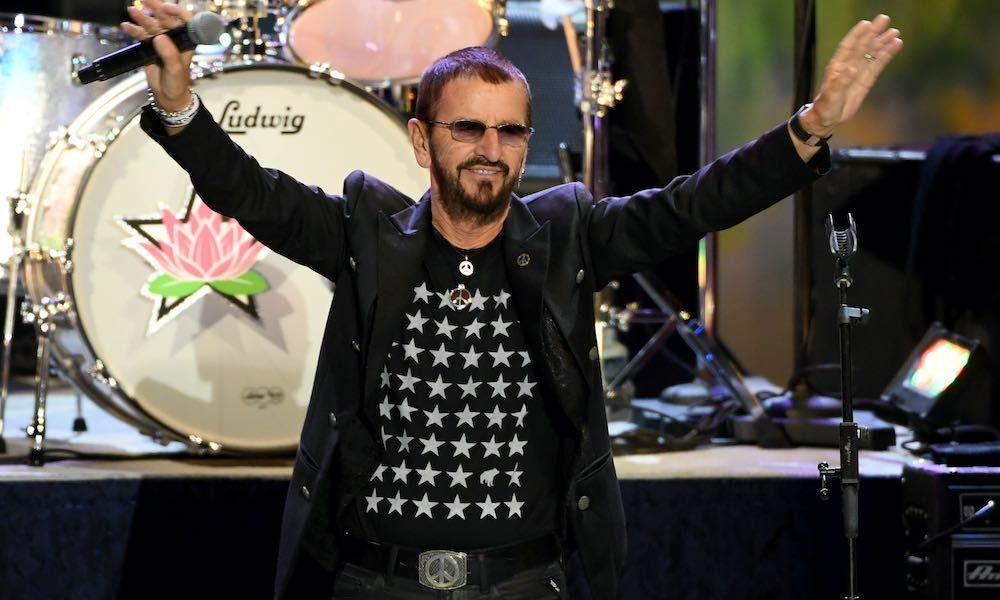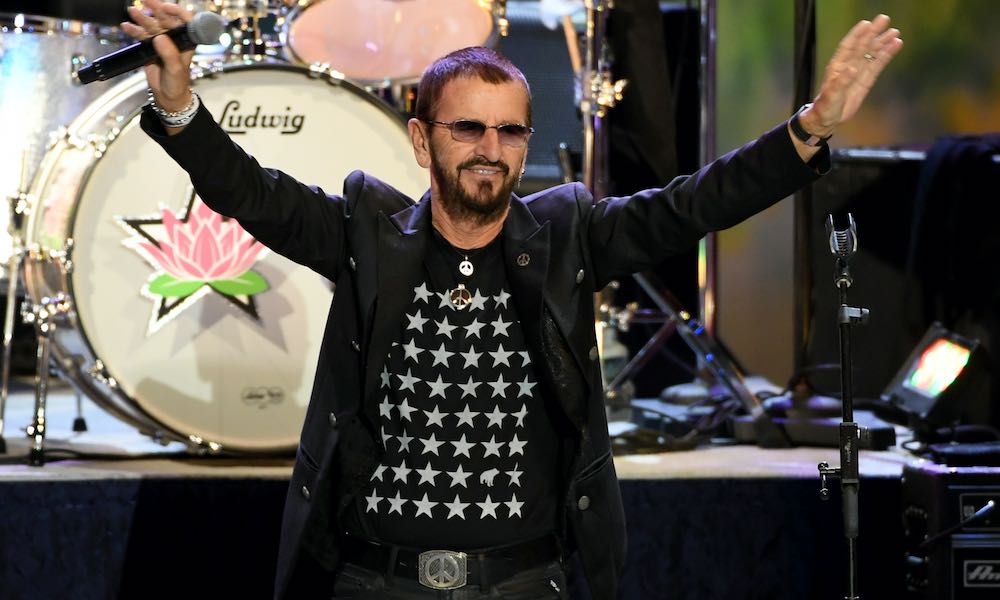 We all know Ringo Starr as a member of the most famous group that ever lived, and as a fun-loving extrovert spreading peace and love around the planet. But there are plenty of other chapters in the life of Sir Richard Starkey MBE that not everyone has read.
Some may not realise, for example, the extent of the poverty and illness that he overcame as a child, or the global dimensions of his success as a solo artist in the years after The Beatles' demise. Or that he was in the movies with everyone from Peter Sellers (The Magic Christian, 1968) to Frank Zappa (200 Motels, 1971) and even took a turn as a director, for 1972's eccentric Marc Bolan vehicle Born To Boogie.
Others may have overlooked Ringo's role as a beloved children's television narrator of Thomas The Tank Engine, or as an in-demand guest musician with Howlin' Wolf, B.B. King, Ravi Shankar, and countless others. Or, indeed, that he has presided over no fewer than 13 different incarnations of his All-Starr Band, which for longevity alone, has outlived his former band more than three times over.
The man we all know and love simply as Ringo was born on July 7, 1940 and thus, four score years later, became the first Beatle octogenarian. His annual dedication to using his birthday to promote the global spirit of peace and love has remained undimmed, even during a pandemic. This is a man who has overcome his share of demons, notably in a winning fight against alcohol abuse that has made Starr and Barbara Bach, his wife since 1981, exemplars of clean living for decades.
Our focus is on Ringo's recording career in his own name, which has matured with him since his first solo steps in 1970 and, in the autumn of 2019, saw him reach the remarkable landmark of his 20th album in his own name. Here are just a few of those chapters in an incredible page-turner of a story.
The Smash Hit Singles
When Ringo went solo, it was with the March 1970 album Sentimental Journey, which came out just before The Beatles' last studio LP to be released, Let It Be. Later that year, he sprung another surprise with the country-leaning follow-up Beaucoups of Blues. The title track failed to ignite pop radio, but the set was a reminder of Ringo's love of country, first heard all the way back on The Beatles' retooling of Buck Owens' "Act Naturally," on Help! Soon, his chart fortunes would change dramatically, to the tune of seven US Top 10 hits in just under four years.
Ringo Starr - Back Off Boogaloo
The first two arrived, as so often in his catalog, with a little help from his friends. The atmospheric "It Don't Come Easy" cruised into Top 10s around the world in 1971 and was followed the next year by stompingly idiosyncratic "Back Off Boogaloo," both produced by George Harrison.
A swift one-two of American chart-toppers followed in the form of "Photograph" – with George present again on 12-string guitar and harmonies – and a remake of Johnny Burnette's "You're Sixteen," with Paul McCartney on kazoo, no less. Starr's sessions sometimes read like the guest list for one of his house parties: the US Top 5 favorite "Oh My My" had backing vocals by Martha Reeves and Merry Clayton, and keyboards by one-time "fifth Beatle" candidate Billy Preston.
Ringo reached back even further into his youth for "Only You," a hit for the Platters in 1955, when he was 15 and growing up in considerable hardship in poor, inner-city Liverpool. "No No Song," with its then-daring drug references, came from the pen of country notable Hoyt Axton and its double A-side was "Snookeroo," written by another pal of those wild years of the mid-1970s, Elton John.
The Sentimental Journeys
Ringo has always had a penchant for songs that preceded him, and for the time before rock'n'roll. Sentimental Journey, indeed, was an LP of his mother Elsie's favorite songs, most of them first recorded before Richard was even born. But they became the staples of Starkey family gatherings, from "Stardust" and "Night and Day" to "Bye Bye Blackbird" and "Whispering Grass."
Sometimes Ringo would go back to the charts of the 1960s to highlight an artist or a number he was fond of, be it Roger Miller's "Husbands and Wives" on 1974's Goodnight Vienna or Bruce Channel's "Hey! Baby" on Ringo's Rotogravure (1976). Later albums have focused on new co-writes with such friends as Dave Stewart, Van Dyke Parks, Todd Rundgren, and Joe Walsh.
But on Ringo's records, there's always room for some straight up rock'n'roll, as indeed there is during any All-Starr Band performance. The 2019 incarnation of the group opened their shows with Carl Perkins' "Matchbox," which Starr sang with The Beatles on the 1964 EP Long Tall Sally. Try the Ringo 2012 album, with its visits to the skiffle sound that helped shape him, via Lonnie Donegan's "Rock Island Line," or the irresistible influence of Buddy Holly on "Think It Over."
The Guest Appearances
Starr is a generous host of those appearing on his records, but by the same token, he has always donated his time and his name to fellow artists. One thinks of the way he revisited one of his early Beatles vocals, on the Please Please Me album cut "Boys," for Jools Holland's 2003 album Jack o' the Green. Or his run through Chuck Berry's "Sweet Little Sixteen" on the celebrity-laden 2006 Last Man Standing set by another rock'n'roll frontiersman, Jerry Lee Lewis.
Ringo was moonlighting with fellow Beatles even while the group were still together, appearing on Harrison's Wonderwall Music, the first release on their new Apple label in November 1968. The following year, he was part of a British supergroup assembled for The London Howlin' Wolf Sessions, with Eric Clapton, Steve Winwood, Charlie Watts, Bill Wyman, and others. He filled a similar role, again to his great delight, on 1971's B.B. King In London, with Winwood again as well as Peter Green, Dr. John, Steve Marriott, and more.
He amassed countless other sessions, for friends from Stephen Stills and Leon Russell via Harry Nilsson and Keith Moon to Carly Simon and Peter Frampton. In those gregarious and hedonistic days, if there was a big special occasion in the American music industry, Ringo was often there, be it Harrison's Concert For Bangla Desh, The Band's epic The Last Waltz or on "Sun City," the 1985 single by Artists United Against Apartheid.
Once A Beatle…
Over the years, Starr invited all of his fellow former Beatles to record with him. 1973's Ringo was the only LP to feature all four former "fabs," and included the tongue-in-cheek "I'm The Greatest," written by John Lennon, who played on it with George. Paul and Linda McCartney penned "Six O'Clock" for the same LP, singing backing vocals on it as Paul added piano and synthesizer.
After the world lost both John and George, the latter years of Ringo's career repeatedly brought him close to his fellow surviving Beatle, both in the studio and on stage. He guested on such memorable Paul McCartney songs as "Take It Away," "Beautiful Night" (both under the watchful eye of George Martin), and Paul's Give My Regards to Broad Street movie. The pair have appeared together at numerous group-related events, and Paul invited his old friend on stage with him at The O2 in London in late 2018, for a raucous "Get Back" that also featured Ronnie Wood.
Ringo Starr - Grow Old With Me (Lyric Video)
In the fall of 2019, in perhaps the most poignant of all their reunions, they worked together again (for Ringo's 20th solo album, What's My Name) on what is surely Lennon's most enduringly sad song, "Grow Old With Me." Then in 2021, Ringo was encouraging us all to Change The World on a new EP of that name, filled with his unfailing optimism. The world has grown up, and in many cases grown old, with Ringo Starr, and we wouldn't have missed it for anything.
Listen to the best of Ringo Starr on Apple Music and Spotify.