Martha Reeves And The Vandellas
One of Motown's premiere girl groups, with iconic hits like 'Dancing in the Street' and 'Third Finger, Left Hand.'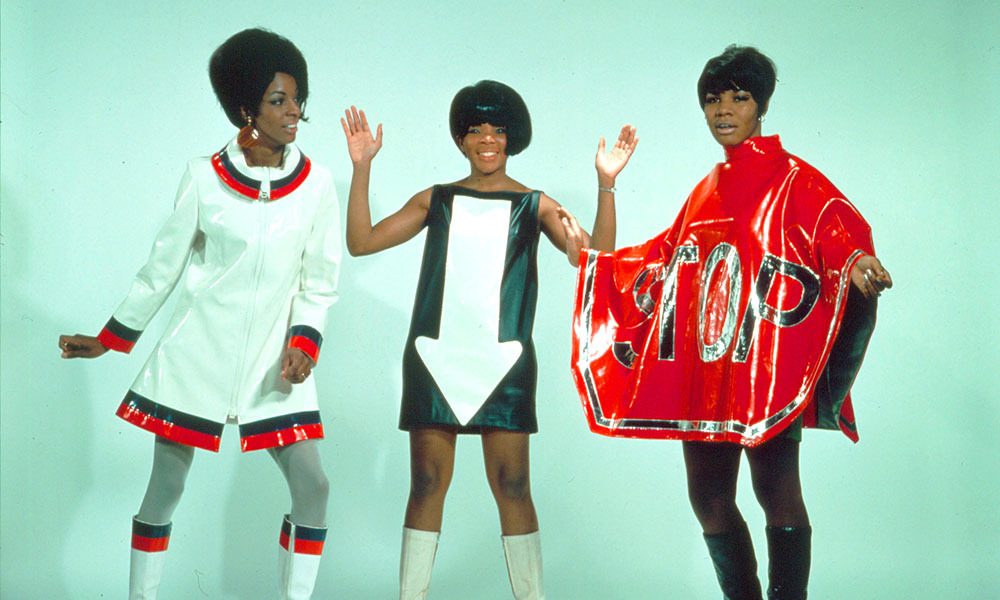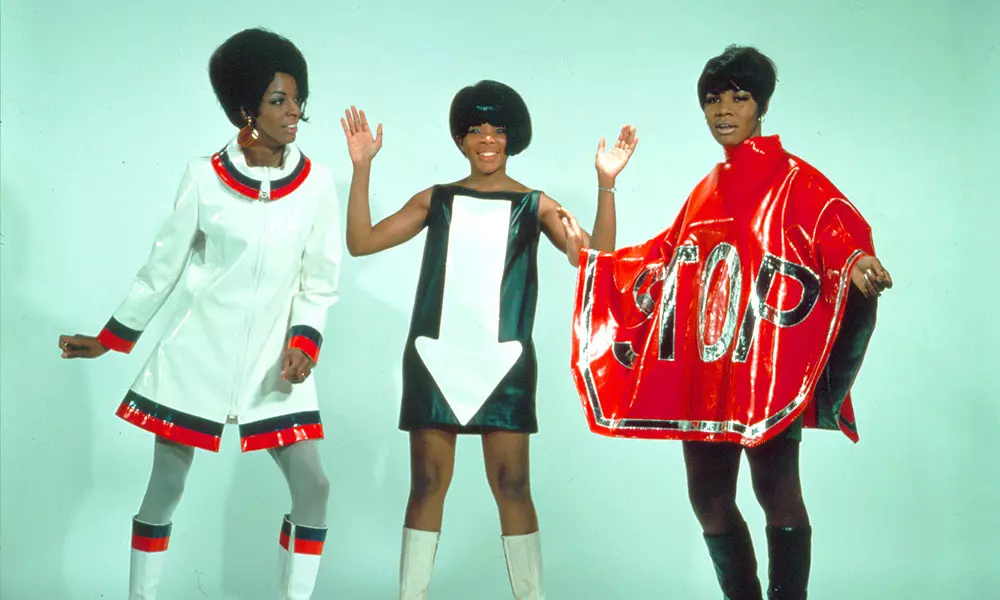 At the age of 20, Martha Reeves proved her capabilities at Motown Records and made an unforgettable career out of music.  At the age of 64, when she entered politics, it was no wonder that her campaign slogan was "I did it, and so can you." Martha Reeves And The Vandellas were one of the Detroit company's A-list attractions for much of the 1960s, even though their lead singer felt (and sometimes said) that they were overshadowed by another Motown trio:  The Supremes.
"We strived to come up with different sounds, to make the record sound different.  'Nowhere To Run' was a primary example.  We went out in the back, got some chains, brought them in, and used chains for a backbeat sound." – Brian Holland
Yet for many, 'Dancing In The Street' towers above any Supremes track: a thunderous '64 anthem forever associated with Motown Records and the motor city, and with the evolution of civil rights in America.
As it happens, both groups enjoyed their first substantial US hits a year earlier, Martha And The Vandellas with 'Heat Wave' and The Supremes with 'When The Lovelight Starts Shining Through His Eyes.' These gut-busting '63 sides were early evidence of the talents of another young threesome, who were to become the most celebrated acronym in pop music history: HDH.
Eddie Holland, Lamont Dozier and Brian Holland went on to write, produce and bulls-eye many of Martha And The Vandellas' signature hits, including 'Nowhere To Run,' 'I'm Ready For Love' and 'Jimmy Mack.' As for 'Dancing In The Street,' it was the creation of two leading men in Ms. Reeves' life story, William "Mickey" Stevenson and Marvin Gaye (Ivy Jo Hunter was its third writer).
Adding to Martha's mythology is the fact that the song was a UK Top 10 success for her group more than four years after its first release.  It was also a transatlantic smash in 1985 when repurposed by two leading men of rock 'n' roll, Mick Jagger and David Bowie. And in 2011, 'Dancing in The Street' topped a poll of songs which Britons said they would choose for street parties to celebrate the wedding of Prince William and Kate Middleton.
But let's be clear:  beyond this anthem, Martha Reeves And The Vandellas boast an enviable inventory across the years and the group's various line-ups. 'Third Finger, Left Hand,' for instance, was the 1967 flip side of 'Jimmy Mack,' but it's since been played at more weddings than any performing-right society could account for.
'I Should Be Proud,' from the group's 1970 album, Natural Resources, is a provocative reminder of emotions felt by every partner, parent or offspring of a soldier fighting in a contentious conflict. "It was," Martha explained in her 1994 autobiography, "a song with a strong anti-Vietnam War message, a narrative…about a soldier coming home in a pine box while the girl singing the song questions the sense of it all." She contends that she was the first Motown artist to record such a protest.
And on 1972's Black Magic, the last studio album by Martha Reeves And The Vandellas, there is 'No One There,' vividly and timelessly capturing the paranoia and loneliness of lost love. When she was given demos for Black Magic, Martha said that most of the tape cases had Diana Ross's name on them.  "She evidently didn't like the songs, but I did."
"HDH had worked up some new tunes, including 'Where Did Our Love Go,' 'Come See About Me' and 'Baby Love,' but we were quite upset when we heard them…we wanted to do something soulful, something with spirit, like the songs Martha Reeves was doing." – Mary Wilson, The Supremes
Martha Reeves was born in 1941 in Eufala, Alabama; her parents later moved to Detroit. As a teenage would-be singer, she joined a group, the Del-Phis, performing in and around the metropolis.  Success in a talent contest drew her to the attention of Mickey Stevenson, head of A&R at Motown.  His business card in her pocket, she dropped by its HQ on West Grand Boulevard—on the wrong day for an audition. Preoccupied, Stevenson asked Martha to cover the office while he stepped away. Proving her value that day by handling phone calls and grumpy musicians looking to be paid, she was offered a fulltime job as A&R secretary.
Another day, while responsible for booking recording sessions, Martha called her fellow Del-Phis (Rosalind Ashford, Annette Beard, Gloria Jean Williamson) to do back-up vocals on a Marvin Gaye track produced by Stevenson: 'Stubborn Kinda Fellow.' This led to the offer of a Motown contract for the group, although Williamson left. Martha, Annette and Rosalind signed up, stitching together the name Vandellas From Reeves' admiration of Della Reese and the name of her parents' street, Van Dyke.
Come And Get These Memories was the group's debut LP for Gordy Records in 1963, with soulful covers of non-Motown hits and several new HDH copyrights. One of them, 'A Love Like Yours (Don't Come Knocking Every Day,' was memorable enough that it was sound-walled by ace producer Phil Spector several years later for Ike & Tina Turner.
But it was 'Heat Wave' which really burned Martha Reeves And The Vandellas into America's hearts and charts, pacing the trio alongside The Marvelettes and The Supremes as Motown's distaff cheerleaders. "It was a beehive of talented people making wonderful music," Martha told the Financial Times in 2009 when she was a Detroit city councilwoman.
'Heat Wave' and its accompanying album was followed a year later by 'Dancing In The Street.' Barriers were broken down by the song, Martha has said, and when race riots hit America, it took on an extra resonance. "I'm sure our intention with 'Dancing In The Street' was to calm people and have them stop rioting and looting stores. It's all about people coming together. The lyrics say just that."
Martha Reeves And The Vandellas consolidated their popularity by touring the US as part of the multi-artist Motown Revue and gaining international recognition. When 'Nowhere To Run' was released, the group joined the one-and-only Tamla package tour of the UK;  there, Martha became a devoted friend of Dusty Springfield. An early and influential Motown admirer, Dusty hosted a TV special built around the '65 roadshow, and also featured versions of the company's hits in concert and on her BBC-TV series.
She wasn't the only one validating the Vandellas' work. Aside from the Jagger/Bowie fusion, there have been 'Dancing In The Street' remakes by artists ranging from the Everly Brothers and Neil Diamond to Petula Clark and the Grateful Dead. The Who and The Jam have each rendered 'Heat Wave,' while a laid-back California interpretation by Linda Ronstadt in 1975 was a Top 5 US success. Laura Nyro, paying tribute to early R&B influences on her 1971 Gonna Take A Miracle album, sang 'Nowhere To Run' and 'Jimmy Mack.' More recently, Jennifer Hudson featured 'Heat Wave' on "American Idol."
Martha Reeves And The Vandellas' original of 'Jimmy Mack' was recorded in 1964, a little earlier than 'Dancing In The Street,' but consigned to the shelf by Motown's quality control head, Billie Jean Brown. "I don't know whether [Brown] didn't like the song," Lamont Dozier later recalled, "or whether she just didn't feel it was worth anything."
Two years later, 'Jimmy Mack' was dusted off for the group's Watchout! LP, where it caught the ear of radio programmers in Boston and Cleveland. The result was an American No. 1 R&B smash and a Top 10 pop hit. Lamont said he was gratified because the song was "my inspiration and my original idea," written after he met the mother of another successful writer, Ronnie Mack, who had died.
There were other Vandellas alongside Martha during the glory years, including her sister Lois, Betty Kelly and the late Sandra Tilley. Betty replaced Annette Beard (Sterling), Lois succeeded Betty, and Sandra replaced Rosalind, while Martha's distinctive lead vocals remained the centrepiece of such albums as Dance Party (1965), Live! (1967), Ridin' High (1968) and Sugar 'n' Spice (1969).
Recording a live album at Detroit's Twenty Grand nightspot (some of it was also cut at the Roostertail club) would have been sweet for Martha.  It was there that she first met her "knight in shining armour," Mickey Stevenson, after performing a two-song set which was her talent contest prize in October 1961. She remembered, "a nice response" from the audience.
A larger crowd responded to Martha on November 8, 2005, when she received more than 89,000 votes in her drive to become a Detroit city councilwoman. During her four-year tenure, she worked hard on behalf of the city's deprived young, especially in education. Typical was her intervention in a high school dispute where Arab-American and African-American children were fighting. Conflict apparently continues, even as radio stations worldwide still play 'Dancing In The Street.'
Martha continues to perform, too, regularly playing shows at home and abroad. "People have asked me when I'm going to retire and I just can't imagine it," she (at age 70) told a Yorkshire newspaper before appearing at a club there. "There's no part of me that can imagine retiring. Music is what I love to do and I love honouring the Motown legend."