Diana Ross & The Supremes
Five 45s transformed Motown Records in America between August 1964 and June 1965. Each one – 'Where Did Our Love Go,' 'Baby Love,' 'Come See About Me,' 'Stop! In The Name Of Love,' 'Back In My Arms Again' – bore the name of the Supremes.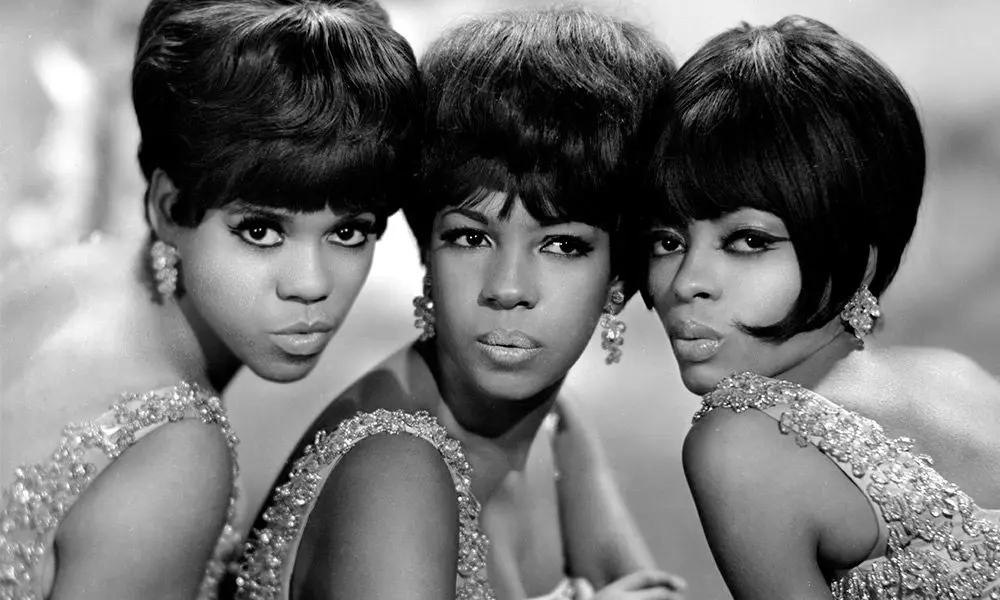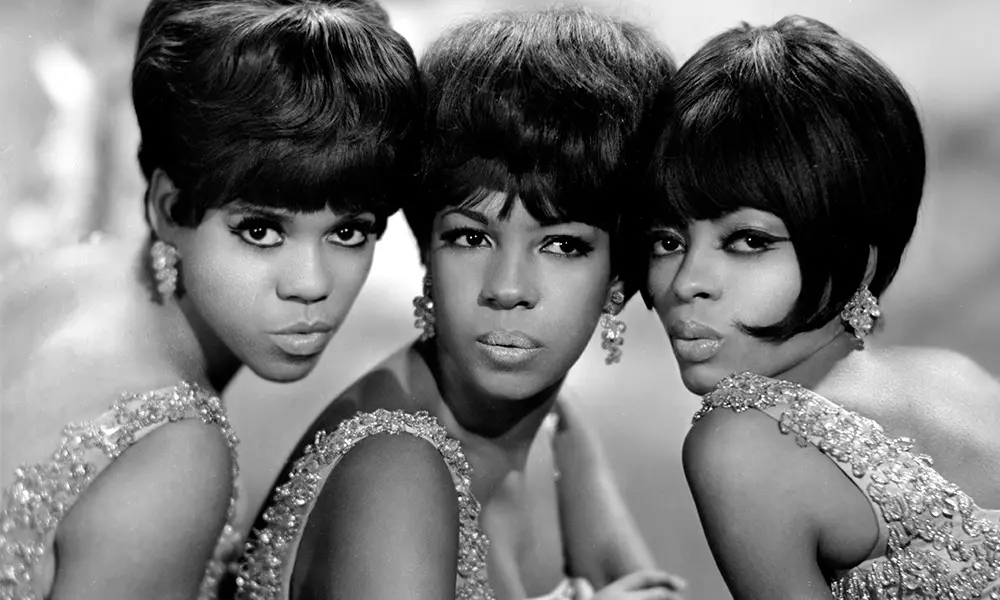 "It was the result of winning first prize in a high school talent contest that brought the girls to the attention of Motown Records…in the hobby department, Diana makes her own clothes as well as those for the group's appearances.  Florence is a bowling bug, and Mary enjoys reading (and quoting) Latin…the girls still enjoy singing together for their private enjoyment." So said the 1963 bio published in Billboard when few people in the music industry – never mind music fans – knew about the Supremes.
Four decades after that Detroit talent contest – the Supremes' performance costumes were to be on display that summer at London's Victoria & Albert Museum. According to the programme, "On show will be over 50 outfits that chart the changing image of the group from their dresses in their early days when they were known as the Primettes, to the glamorous Hollywood designs they wore at the height of their fame.  Set against the backdrop of the meteoric rise of Motown Records, and the turbulence of the civil rights movement, the display will explore the inspirational role the Supremes played in changing racial perceptions and their influence on today's performers."
Their story could be said to start back in January 1961. "They were in the studio, just hanging around," recalled the late Freddie Gorman, who co-wrote the Supremes' debut release.  "Brian Holland and I had them start singing 'I Want A Guy.'  Berry came in, and said, 'Are you girls still here?  Didn't I tell you to go home?  I don't want another girl group.'  We told him, 'Berry, you should hear this song that we're doing.'  Diana was singing the lead, [Mary, Barbara and Florence] were doing the backgrounds we showed them.  And he liked it.  Then he got involved, actually wrote some lyrics to it."
As the Primettes, the youngsters' line-up was Betty McGlown, Florence Ballard, Mary Wilson and Diana Ross.  They recorded one single for a local label, Lupine.  McGlown left, replaced by Barbara Martin, and the foursome persisted at Motown, eventually getting studio time, a contract – and a new name.
'I Want A Guy' was the first of six Supremes singles released during 1961-63.  Despite the best efforts of Gordy, Gorman, Holland and Smokey Robinson, among others, not one sold outside Detroit, until Motown's staying power was proven through hits by the Miracles, The Marvelettes and Mary Wells.  Even so, the charm and ambition of those first sides are showcased on their first LP, Meet The Supremes, issued in December '62.  (Barbara Martin had left the group by this time.)
Ambition stepped up a notch nine months later when a new writing/producing team – Holland/Dozier/Holland – cut the first bona fide hit for the "no-hit Supremes":  'When The Lovelight Starts Shining Through His Eyes.'  And then…
Five 45s transformed Motown Records in America between August 1964 and June 1965.  Each one – 'Where Did Our Love Go,' 'Baby Love,' 'Come See About Me,' 'Stop! In The Name Of Love,' 'Back In My Arms Again' – bore the name of the Supremes.
Five consecutive No. 1 hits.  The American music industry knew that Berry Gordy's company already had pop chart credentials.  It recognised that the Supremes' records were an innovative, intoxicating blend of R&B and pop.  And it realised that the group's sound – and look – represented a striking new level of sophistication for black female singers.  But what really blew the industry off its feet was the sheer audacity of that achievement:  five consecutive No. 1 hits.
"You have to remember that we did not know what we were doing," said Lamont Dozier, one of the alchemists behind this explosion.  "We were just going on pure instinct and feeling.  There were really no rule books."
Perhaps not, but there came to be record books.  The heights the Supremes climbed, they held for decades:  more No. 1 hits (12) in the US than anyone except Elvis Presley and The Beatles.  Reaching the Top Ten 19 times between 1964 and 1969, with record sales estimated above 50 million.  Defining Motown as "the Sound of Young America."  Bridging the gap between pop and rhythm & blues.
The Guinness Book of Records concurred in 1994, anointing Diana Ross as the most successful female vocalist in the British charts, with 22 hits with the Supremes and 51 solo successes.  You could almost forgive Diana for the day she declared, "Every time I sing a song, it's part of my body."  Fortunately, at another time, she also said, less pretentiously, "I sing through my nose."
"I consider myself the original Supremes-aholic.  We would wait to see them on 'The Ed Sullivan Show' like a junkie waiting for a fix. It was amazing, because, in addition to what they sang, we were always ready to see what they would wear." – the late Luther Vandross
Regardless of anatomy, charts or costumes, the group's considerable body of work – and magic – lives on:  Where Did Our Love Go (1964) and More Hits By The Supremes (1965) obviously contained plenty of hits, as did 1966's The Supremes A'Go-Go, 1967's The Supremes Sing Holland/Dozier/Holland, and 1968's Reflections.
"I liked to cut [Diana] beneath her key," said Lamont Dozier, "because she got more of a sultry thing than nasal."  They also recorded Ross' lead vocals fast, he explained, "to keep an edge to her sound before she knew the song too well."  Brian Holland added, "After we mixed a song, we would go back and play it through a small speaker, to make sure it sounded like a car radio.  If [a mix] sounded good through a small speaker, it would be more like a radio sound."
Often, specific instruments were EQ'ed to provide intensity and clarity, such as the explosive bass line which opens 'You Can't Hurry Love,' and the morse-code guitar which heralds 'You Keep Me Hanging On.'
There are further delights in the catalogue:  At The Copa (first issued in 1965, later as an expanded edition in 2012) and Live At London's Talk Of The Town (1968) capture the group's on-stage personalities and effervescence.  Their youthful but knowing style is also evident on 1967's The Supremes Sing Rodgers & Hart.
Love Child is another coherent set, with the fresh writing/producing talent of Nick Ashford and Valerie Simpson, as well as a song co-authored by George Clinton (!) and, of course, title track – the group's No. 1 comeback smash of 1968, penned by an in-house coalition known as The Clan.  Other highlights from the period include four albums with the Temptations, two of which came from highly rated TV specials:  Diana Ross & The Supremes Join The Temptations and TCB (both '68) and Together and On Broadway (both '69).
This is not to paint only a picture of peerless harmony as the group's success, income and career pressure grew exponentially.  Florence Ballard was particularly unhappy.  She began to skip rehearsals, recording sessions and concert dates and was eventually forced to quit.  Motown sought to minimise this 1967 exit, choosing Cindy Birdsong as her replacement, and adjusting their name to Diana Ross & The Supremes.
Star-billed Diana appeared only too willing to become an all-round entertainer.  And so it was in October 1969 – to the surprise of few – Motown confirmed that she would go solo.  Just three weeks earlier, the company had released her farewell single with the Supremes, 'Someday We'll Be Together,' and the trio played their last concert on January 14, 1970, in Las Vegas.  The occasion was captured on a double album, Farewell.
A Motown executive likened the separation to a two-for-one stock split – and he wasn't wrong.  While Diana Ross' solo career advanced in line with her ambitions and those of Berry Gordy, embracing movies as well as music, the Supremes acquired fresh spirit and a new lead singer, Jean Terrell.
She proved to be a commanding vocal presence from the get-go:  the February 1970 release of 'Up The Ladder To The Roof."  She did so again with the track which became the new Supremes' biggest hit, 'Stoned Love,' an intriguing, reverberating pop-soul epic clocking in at 4+ minutes.  Its producer, the late Frank Wilson (part of The Clan responsible for 'Love Child'), confided that Berry Gordy "hated that record."
Jean, Mary and Cindy – like the original Supremes – acquitted themselves well with further hits ('Nathan Jones,' 'Bad Weather,' 'Floy Joy') and albums throughout the 1970s.  Standouts include a '72 set produced and arranged by Jimmy Webb;  1976's 'High Energy,' aimed at the dance floor and fronted by 'I'm Gonna Let My Heart Do The Walking', and three LPs with the Four Tops.  All of this music has been anthologised in The '70s Albums Vol. 1: This Is The Story and Vol. 2: The Final Sessions, and (with the Tops) in Magnificent: The Complete Studio Duets.
All along, Mary Wilson remained the centre of gravity, as Lynda Laurence, Scherrie Payne and Susaye Greene passed through the line-up.  "The Supremes throughout our long and successful history have been blessed with loyal and devoted fans," she said in 2011.  "To us, you are much more than fans, you are our dear friends."
Fifty years earlier, when the Supremes began, fans were fewer but sentiments the same. "It was such a small community," Mary recalled, "that when a song was finished and the producers felt really great about it, they'd run around and call everybody in the studio.  You'd have the Temps and Marvin Gaye and the Supremes and the Marvelettes all in the studio listening to it, and we'd take the records home and pass them around the projects."
Format:
UK English