Michael Kiwanuka
The Mercury Award winner is one of the most versatile singer-songwriters of his generation.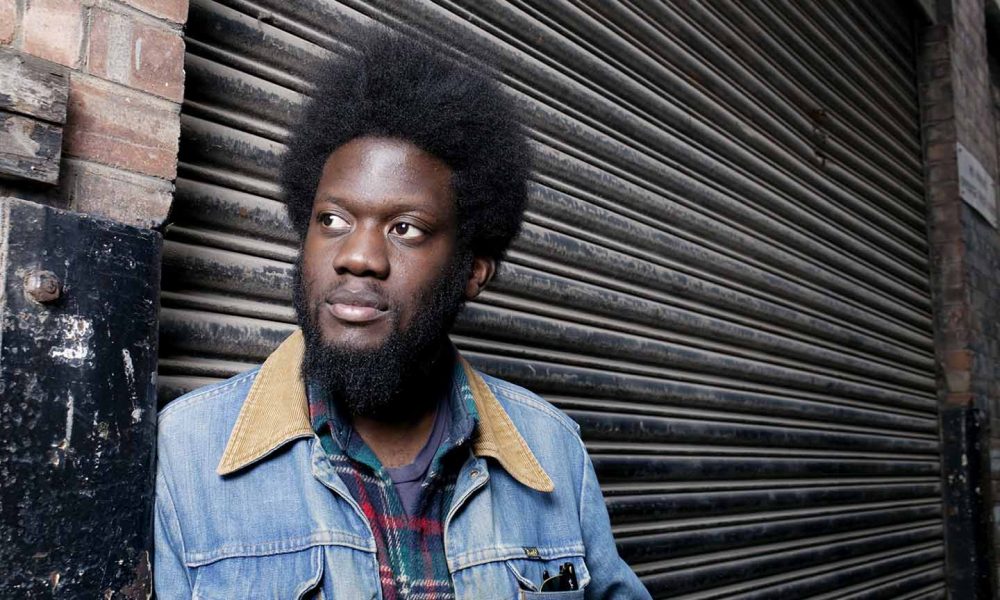 "I'm in love but I'm still sad / I've found peace but I'm not glad," sings Michael Kiwanuka on "Black Man in a White World," one of his standout songs. It's a line that you might expect to hear from Bill Withers or Otis Redding, two classic soul singers to whom Kiwanuka's voice invites comparisons. But as the song's title suggests, Kiwanuka is too versatile of an artist to fit neatly into any one box. Beyond his soulful voice, Kiwanuka's influences include alternative rock (which he grew up listening to) and jazz (which he briefly studied at the Royal Academy of Music). There aren't many songwriters who sound equally at home collaborating with American country singers (Jason Isbell, "What've I Done to Help") and British rappers (Little Simz, "Flowers"), but Kiwanuka is one of them.
After dropping out of the Royal Academy of Music, Kiwanuka spent a few years working as a session musician and performing his own songs at gigs in pubs. He'd scored some impressive achievements before his debut album was even released: Adele brought him along as an opener on a leg of her 2011 tour (behind her multimillion-selling 21), and he won BBC's Sound of 2012 poll ahead of Frank Ocean and Skrillex. That debut album, Home Again, both looked and sounded charmingly old-fashioned, its jazzy and folksy instrumentation resembling not just Bill Withers' work but that of cult Chicago singer Terry Callier and even Van Morrison. The gentle fingerpicked guitar and strings on the title track are as warm and comforting as a blanket and cup of tea, while the opener, "Tell Me a Tale," wraps Kiwanuka's anxieties ("Show me some strength that I can use / Give me a sound that I won't refuse") in trilling woodwinds and brass.
Those anxieties persisted despite Home Again's success, and the doors it opened to him. Invited to record with Kanye West, Kiwanuka left after only a few sessions. ("I just felt stupid sitting there with my acoustic guitar with all these producers and rappers," he said of the experience.) A single produced by Jack White sank without leaving a ripple. Then a crisis of confidence led him to abandon the songs he had intended for Home Again's follow-up.
Starting over, Kiwanuka joined forces with up-and-coming producer Inflo to record "Black Man in a White World," whose bluesy handclaps and choral vocals suggested a new way forward for the songwriter. Reinvigorated, Kiwanuka gave his sophomore album another shot. The result, 2016's Love & Hate, took Kiwanuka's sound to bolder and darker places, drawing heavily from the progressive soul movement in the 1970s; the lush orchestration and slow-burning psychedelia of the title track and "Rule the World" evoke Isaac Hayes and early Parliament-Funkadelic. It's the album's longest song, "Cold Little Heart," that made the biggest splash, thanks in part to the choral vocals, swirling strings, and a spaced-out guitar solo that carries the song through its wordless first five minutes. (If you watched Big Little Lies, you'll also recognize it as the show's opening theme.)
It's telling, then, that Kiwanuka decided to name his third album Kiwanuka. It reads as a statement of affirmation, a full-throated rebuttal not just to the voices of self-doubt in his own head, but the voices of others who tried to define his artistry and dictate the terms of his success. (The opening lines of "Hero (Intro)" – "I won't change my name / No matter what they call me" – echo Kiwanuka's refusal to adopt a stage name at the beginning of his career.) Like its predecessors, Kiwanuka's self-titled record can be a very heavy-hearted listen, whether he's wrestling with personal anxieties or political ones, alluding to racial unrest on the songs "Another Human Being" and "Hero." But it's not without moments of confidence or catharsis, as on the two songs that bookend the album, "You Ain't the Problem" and the shimmering "Light": When Kiwanuka sings "I hope to be / Who I believe in / I used to hate myself," on the former, it feels well-earned. Speaking of well-earned, Kiwanuka won the Mercury Prize in 2020, beating out the likes of Dua Lipa, Stormzy, and Charli XCX.
Once, he was an outsider who both struggled to fit in and resisted the pressure to become someone else. Now – as the regal portrait on the cover of his self-titled album depicts – Kiwanuka is in command of his own musical realm.
Listen to the best of Michael Kiwanuka on Apple Music and Spotify.