Rick James
The Grammy-winning funk rock singer from Buffalo, New York had showmanship and songwriting that was highly revered and beloved.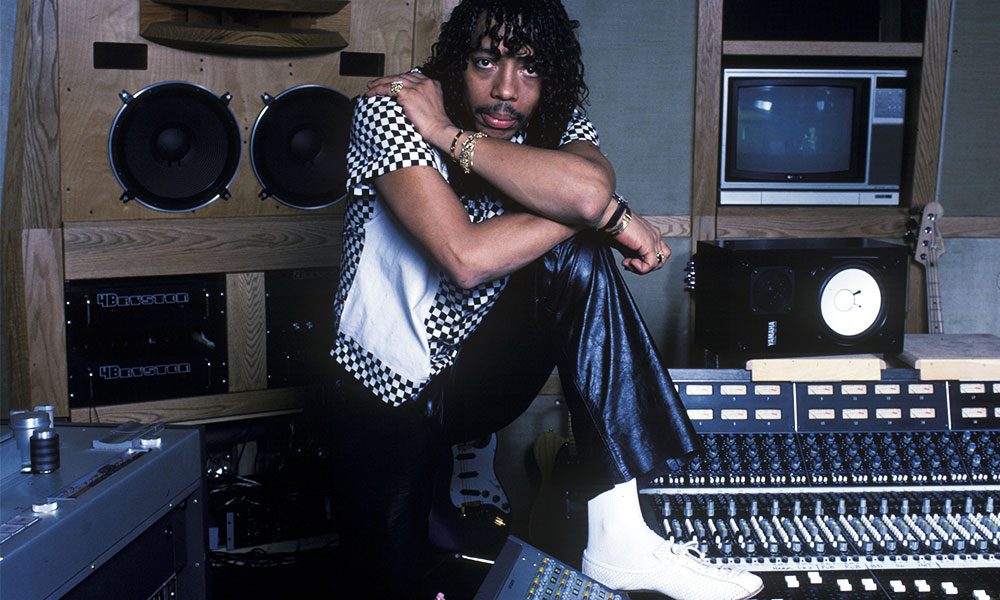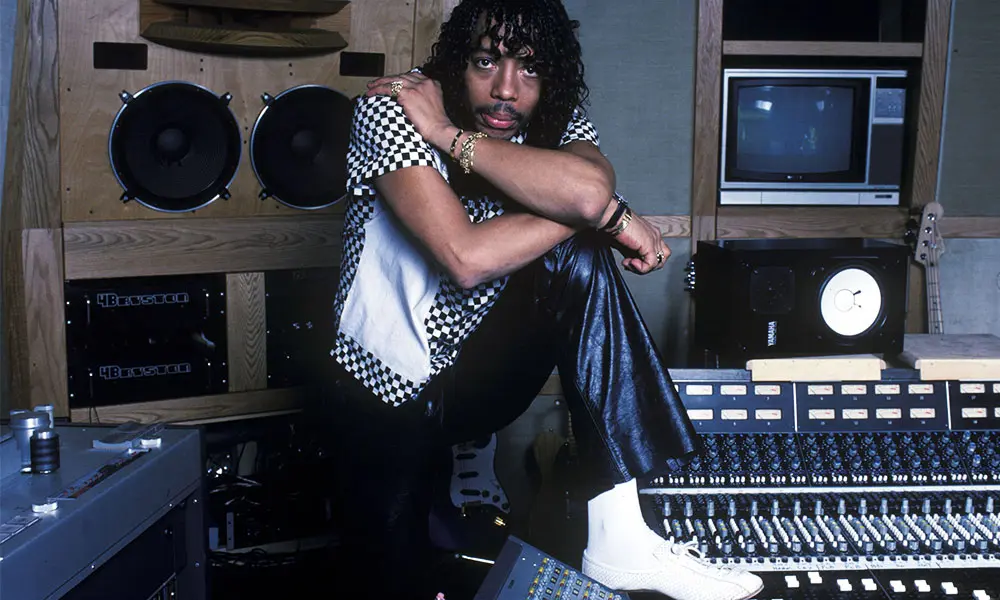 Autobiographies of musicians are often revealing, although seldom as candid as Rick James' Memoirs Of A Super-Freak. Writing from his six by eight-foot cell in the Los Angeles County Jail in October 1993, he began:
"There are no windows here, just dismal grey iron and concrete, and I don't know if the day was filled with rain or sun. The reasons for my incarceration are of no importance…what is important is that by writing my life's story, I might help change or make a difference in someone else's life."
"I had gotten really close to the cat." – Neil Young
Through his music and mercurial personality, James Ambrose Johnson Jr., yes, that's Rick James from Buffalo in upstate New York, helped to change and make a difference in many people's lives, fans and fellow musicians alike, before his premature death in 2004.
Teena Marie is one, but there are others: for instance, Neil Young. Rick, Neil and bassist Bruce Palmer were part of the Mynah Birds, an interracial Canadian band signed to Motown in 1966. They recorded several songs in Detroit, including a single, 'It's My Time,' but when their manager told the company that James (known then as Ricky Mathews) was a draft-dodger, things changed.
"Neil and I called Motown and they told us they were holding back on releasing the single because of my military obligations with the Navy. They also told me that when the obligations were over, I'd be welcomed back to Motown." While Rick was in jail, Young and Palmer left for California, for a changed future with Buffalo Springfield and beyond.
Decades later, the life of M.C. Hammer was changed by 'U Can't Touch This,' sampling James' 1981 smash, 'Super Freak.'  The track was the centrifugal force which spun Please Hammer Don't Hurt 'Em into one of the biggest selling albums of 1990. According to The Billboard Book Of Number One Albums, Hammer cleared the sample with James' lawyers, even though Rick generally nixed sampling. At least three lives were affected by its success and income, including that of the 'Super Freak' co-writer, Alonzo James. 'U Can't Touch This' collected a Grammy as best R&B song of 1990.
'Super Freak' was contained in Rick's own all-time biggest-selling album, Street Songs: 20 weeks at No. 1 on the R&B charts, but more significantly, 74 weeks on the mainstream Billboard best-seller listings, peaking at No. 3:  "When we had started recording the album, I had said that I wanted to put something on it for white folk, just as a joke, something that they could dance to. 'Super Freak' was that song." He added, "My whole life changed drastically after Street Songs. I was no longer a Black artist, I had officially crossed over."
Another sure sign of his crossover status, albeit years later: 'Super Freak' was prominently featured in a TV commercial for Visa credit cards.
The sheer locomotive force of Rick James' "punk-funk" was stoked in 1978, when Rick had returned to Motown as a solo artist with the album Come Get It! and 'You And I,' its lead-off track. "I never ever thought that record was going to be a hit," he said. "I had been in the business since the '60s, so you can imagine how long I'd been trying to make records and when it happened, I was totally dazed. I said once I got one hit, once I got one foot in the door, then I would be unstoppable." And he was correct: the momentum continued with 1979's Fire It Up (1979) and Garden Of Love (1980).
Motown's investment in Rick paid off for the musician in other respects, too. He mentored Teena Marie to her breakthrough, as well as his backup players, the Stone City Band; a female black vocal quartet, the Mary Jane Girls; and a retro-funk combo from Buffalo, Process & the Doo Rags. At one point in 1985, Rick claimed to have 75 people on his payroll at Mary Jane Productions and Stone City Inc.
"When I was drinking and doing drugs," James confided to Billboard, "there was a sap on my musical energies. If I hadn't been getting high a lot, I probably would have had more energy to write more songs." But he knew the power of lawyers, retaining Los Angeles capo John Branca and Irv Shulman from his Buffalo hometown to look after his business interests. At one stage, even the onetime manager of Elvis Presley and Frank Sinatra was on board. "My new pimp was named Jerry Weintraub," Rick wrote in his book.
During the first half of the 1980s, the Rick James bandwagon was a powerful force on the road – his '81 tour was reckoned to gross at least $10 million – and on the charts. He followed Street Songs with four further albums for Motown. Throwin' Down was notable for the hit tracks 'Dance Wit' Me' and 'Standing On The Top.' The latter famously featured a cameo appearance by a quintet from Motown's beginnings. "Temptations sing," he commanded, and they did.
Of that session, he later recalled, "I can't believe we're sitting here with The Temptations, and I'm actually telling Eddie Kendricks and David Ruffin what to sing."
On 1983's Cold Blooded, Rick changed up, playing all the instruments. "No horns, no moving basslines, none of that," he told Fred Bronson in The Billboard Book Of Number One R&B Hits. Another ten-week reign at the top, fronted by the album's title track. More importantly, his bravura and bold music started building a road for rap and hip-hop performers to cross into the heart of American entertainment. "I was one of the first people to use rap with singing when I did 'P.I.M.P. The S.I.M.P.' with Grandmaster Flash," he said, citing a track on Cold Blooded.
In 1988, Rick returned to Buffalo to cut a duet with rapper Roxanne Shante. "I didn't have a lot of respect for rappers until that happened – [but] when they start rapping from the top of their heads, it's amazing. I told her to go for it, and she did."
More rappers went for it, too: DJ Jazzy Jeff & the Fresh Prince, Salt-N-Pepa and Jay-Z sampled 'Give It To Me Baby,' while Ol' Dirty Bastard looped in 'Cold Blooded.' Others who dug into the RJ catalogue included the Snoop Dogg-endorsed Eastsidaz, Ashanti, EPMD, Kriss Kross, Candyman and Busta Rhymes. Snoop himself appeared on James' 1997 album, Urban Rapsody, as did Teena Marie, Bobby Womack and Charlie Wilson.
Maintaining his reputation for mischief, Rick collaborated with Ike Turner for 'Love Gravy,' a track on Chef Aid: The South Park Album. "That was a thrill," he told the Los Angeles Times.  "The highlights of my life were working with Smokey Robinson, The Temptations, Chaka Khan or Stevie Wonder."
The lowlights would have included the moment that Rick was found guilty in a drug-fuelled 1991 assault incident; he was called a danger to the community by a judge and incarcerated for two years. "I always used to tell people that a few years in jail would probably sober me up," he wrote in his memoirs, "so all in all, it seemed like an OK deal to me. Divided Soul by Marvin Gaye was one of the autobiographies James read in prison, which encouraged him to write his own. "It was therapeutic, the act of writing helped me to deal with and exorcise the demons of my addiction and desires." Probably as influential was the fact that Rick was banged up in Folsom, the oldest, most hardcore prison in California.
"My journey has taken me through hell and back," Rick confessed to David Ritz, who helped Marvin Gaye to pen the autobiography which Rick consumed in prison. "It's all in my music – the parties, the pain, the oversized ego, the insane obsessions. When I look back, I see how the discipline of music was one of the things that saved my undisciplined life. Now I've been blessed with the gift of recovery."
And yet..
Rick James died at age 56 on August 6, 2004, from cardiac arrest, one month after performing 'Fire And Desire' (from Street Songs) with Teena Marie on a TV music awards show. He had finished an album, subsequently released as Deeper Still on Stone City Records. Among the tracks was his version of 'Guinnevere,' a song written by David Crosby – compadre of one of Rick's former Mynah Bird bandmates, Neil Young.
These days, 'Give It To Me Baby' can be heard every weeknight (and Wednesday matinees!) at the Lunt-Fontanne Theatre on Manhattan's West 47th Street. It is to the producers' credit that the song isn't airbrushed out of the history dramatised in Motown: The Musical, the show currently playing on Broadway. That's several hundred miles south of Buffalo, New York, where James Ambrose Johnson Jr. was finally laid to rest.
Format:
UK English