Julie London
Julie London was a US singer who released jazz albums throughout the 1950s and 1960s while also maintaining a successful acting career.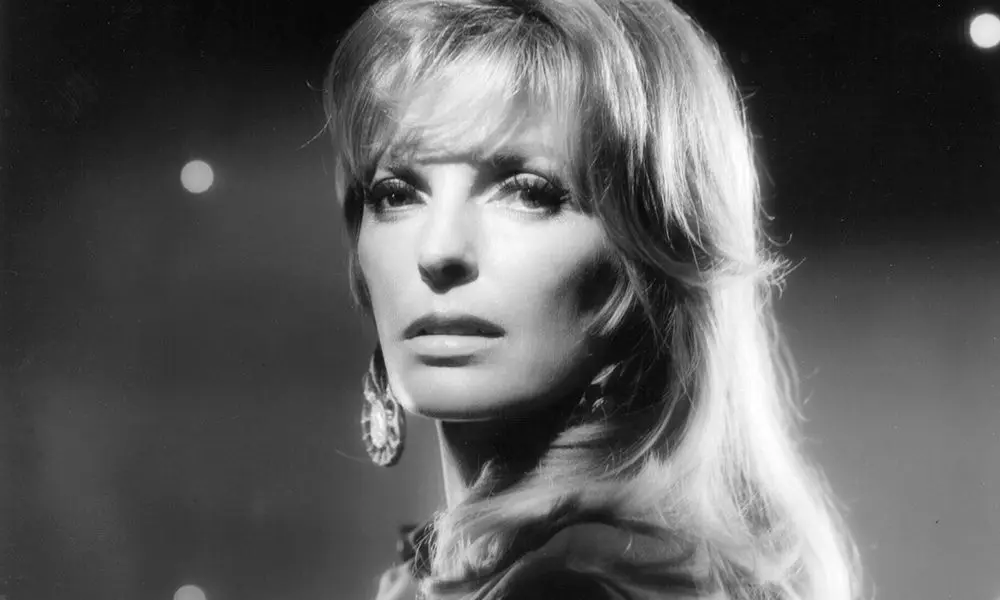 Julie London (1926-2000) was one of America's great jazz vocalists. Her sultry, smouldering voice, best known for 'Cry Me A River', the torch song that launched her, is heard on over 30 albums released between 1955 and 1969. She was a true jazz artist, working in that sassy, late-night tradition that embraced both Billie Holiday and Peggy Lee. Julie London was also a Hollywood and TV actress whose physical beauty and seductive screen presence won her millions of fans, many unaware of her singing career. For all her accolades, Julie London was a reluctant vocal star with little confidence in her own abilities. She was a perfectionist who took a dim view of her own technique. "I don't think I'm a very good singer at all," she said. Just one imprecise element in the recording studio could render the whole process "painful" for her. And yet, in 1957, just two years after her debut album, Julie Is Her Name, she was hailed as the voice of the decade.
She made the cover of the prestigious Life magazine but, characteristically, used the opportunity to point out her own shortcomings. "It's only a thimbleful of a voice," she said, "and I have to use it close to the microphone. But it is a kind of over-smoked voice, and it automatically sounds intimate." This was accurate enough: her range was limited in terms of its octaves, but that hardly mattered. Her understated, unpretentious delivery, in which she sometimes hardly seemed to open her mouth, rang true with the public. She oozed both authenticity and restrained passion. It was as if she sang in slow motion. She rarely played live, and when on TV she was often seen almost static, seated on a stool in front her backing band, making few attempts at stagecraft. She was the antithesis of show business, and her art and recorded legacy is so much better for it. As beautiful as she was talented, Julie London remains jazz singer par excellence and the epitome of glamorous cool.
She was born Gayle Peck in California, the only child of vaudeville parents who hosted their own radio show on which, aged just three years old, Julie gave her first public performance. When she was 14 the family moved to Hollywood where she attended the private Hollywood Professional School, whose alumni included the likes of Mickey Rooney, Judy Garland and Betty Grable.
As a teenager in the Forties, she began singing jazz in local nightclubs, until she was barred for being underage. She took a job as a department store lift operator, a humdrum occupation that belied the fact that by this time she'd blossomed into a quintessential all-American glamour girl, naturally blonde with large blue eyes and a stunning hourglass figure.
She was spotted by Sue Carol, a former silent movie actress turned talent scout and the wife of actor Alan Ladd. Carol renamed her Julie London and began casting her in B-movies. She stood out from the crowd: like a "young Bette Davis, provocative and decisively different."
Acting was Julie's real love in terms of her professional life, and her Hollywood career embraced over 20 films including the rock'n'roll classic The Girl Can't Help It (1956), starring Jayne Mansfield and in which Julie took a rare singing role — appearing as herself — and Man Of The West (1958) starring Gary Cooper.
In 1947 she married actor and occasional jazz singer Jack Webb, who would later become famous for his role as the terse Sgt. Joe Friday in the US radio/TV/movie franchise Dragnet. Jack and Julie shared a love of jazz, and Julie made her first few recordings for the New York label Bethlehem, although the handful of tracks were only released on the back of her success with 'Cry A River'.
Following her divorce from Webb, she met jazz composer and pianist Bobby Troup, best known for writing the standard 'Route 66'. At this point, Julie hadn't sung in public for a decade, but she wasn't averse to informal performances at private parties, and it was at one of these that Troup first heard her. Bowled over, he convinced her she could appeal to a mass audience and arranged a nightclub showcase to which he invited several key recording industry figures. Despite crippling stage fright that dogged her entire career, she triumphed on the night and was snapped up by producer Simon Waronker, who'd recently founded Liberty Records.
Waronker, too, was struck by Julie's remarkable singing voice. "The lyrics poured out of her like a hurt bird," he said. But he saw a huge marketing potential in her appearance as well, and he wasn't shy about it either — "Her face was beautiful, and her cleavage unbelievable."
Julie's sensual glamour and pin-up appeal were put to provocative effect on her album covers, beginning with Julie Is Her Name in 1955. The photograph of her in an off-the-shoulder dress was cropped to draw the eye to her bosom, but so tightly that at first glance she looked as if she could be naked. The effect was instant. Disc jockeys — all red-blooded males — would discuss her sleeves on air, but thankfully her musical talent was of a calibre high enough to outshine the sexploitation.
When asked in a TV interview about how much her packaging mattered, Julie replied "Terribly." Commenting upon her third LP Calendar Girl (1956) on which she's depicted in a series of bikinis and basques she said: "You really have to work on your covers. It took longer to shoot the pictures, to do all the art than it did to cut the album, all the music itself."
Even when she was dressed in an ostensibly more modest fashion, such in a high-necked sweater on Julie Is Her Name, Volume II (1958), the tightness of the fit, the choice of lighting and again, the cropping of the photo ensured that very little was left to the imagination. Over the course of her discography, she was rarely depicted as anything less than a sex symbol, which in reality was a persona at odds with her love of domesticity as a devoted wife — she married Bobby Troup in 1959 — and mother of a large family.
Her stage fright and general lack of confidence meant that she was happiest when expressing herself in the recording studio rather than in front of an audience. But there was one exception: In Person At The Americana, a live album recorded in New York in 1964.
She was often at her best after dark, and many of her best works were cut in the small hours when her vocal cords had warmed up naturally via speech throughout the day. An inveterate smoker, her voice got lower as the years progressed, which only added to its already husky appeal.
Musically, jazz was her first love. She was passionate about it and would throw all-night parties to play her favourite LPs to friends. In 1960, she recorded Julie…At Home in the living room of her palatial house in California. The natural acoustics of the high ceilings and her preference for the small combo over a full band resulted in an especially warm, intimate collection, on which the backing quartet of guitar, bass, vibraphone and drums really shines.
Much of her output focused on Great American Songbook standards by luminaries such as Irving Berlin, the Gershwins, Kern and Hammerstein, Rodgers and Hart, Jimmy Van Heusen, and Johnny Mercer. Cole Porter was a particular favourite, and 1965's All Through The Night was devoted to 10 of his classics and subtitled (somewhat clumsily) Julie London Sings The Choicest Of Cole Porter. Bobby Troup — whose 'Daddy' had been recorded as early as 1941 by Glenn Miller, and which Julie cut in 1957 and again in 1961 — provided her with a string of homegrown originals, for which two of her albums were named: Lonely Girl (1956) and Nice Girls Don't Stay For Breakfast (1967). Troup's 'Meaning Of The Blues' on About The Blues, issued in 1957, became a standard itself following Miles Davis's exemplary version issued the same year.
Commercial pressures ensured that she recorded with full orchestral backing on many occasions. See both her albums of 1959, for example, Swing Me An Old Song and Your Number Please — with André Previn arranging and conducting the latter — and she went all big band on 1965's Feeling Good. But she always preferred the minimal approach. Debut Julie Is Her Name featured just two musicians, Barney Kessel on guitar and Ray Leatherwood on bass, while the follow-up Lonely Girl (1956) simplified matters further with only guitarist Al Viola for accompaniment.
Julie's sophisticated lounge/nightclub sound gave way to a more middle-of-the-road approach during the early Sixties, and The Wonderful World Of Julie London (1963) is bona fide easy listening. There's a pinch of spice in the exotica of Latin In A Satin Mood from the same year, and a return to ensemble jazz on All Through The Night (1965) with a trio arranged by bassist Don Bagley.
Julie London's recording career ended in 1969, and in the Seventies, she resumed acting with a vengeance. She starred in the hugely popular US TV hospital drama series Emergency! which had been created by husband No. 1, Jack Webb, as a spin-off from his police series Dragnet. She starred as Head Nurse Dixie McCall alongside husband No. 2 Bobby Troup, who played Doctor Joe Early.
Her final album was a surprising anomaly in her 14-year catalogue and it's one that's since found a new audience in lovers of all things kitsch. Yummy, Yummy, Yummy is a soft rock/easy listening pick'n'mix of contemporary covers including Laura Nyro's 'Stoned Soul Picnic', The Doors' 'Light My Fire', Bob Dylan's 'Quinn The Eskimo (The Mighty Quinn)' and the garage rock stomper 'Louie Louie', which Julie turns into a slow, sexy vamp. There are gender-corrected takes on The Beatles' ('And I Love Him') and Harry Nilsson ('Without Him'), and a bizarre choice in Ohio Express's bubblegum title track, 'Yummy, Yummy, Yummy'. It's a testament to her talents as a singer and interpreter of song that she could take such a throwaway original and turn it into something voluptuous that radiates with all her usual irresistible, inscrutable allure.
Sample highlights from the wonderful recording career of Julie London on the 2-CD compilation Cry Me River — The Collection, released in October 2015.
Format:
UK English