The 25 Best Female Jazz Singers Of All Time
There is no shortage of talented vocalists, but the best female jazz singers possess unique voices which hold their own against their male counterparts.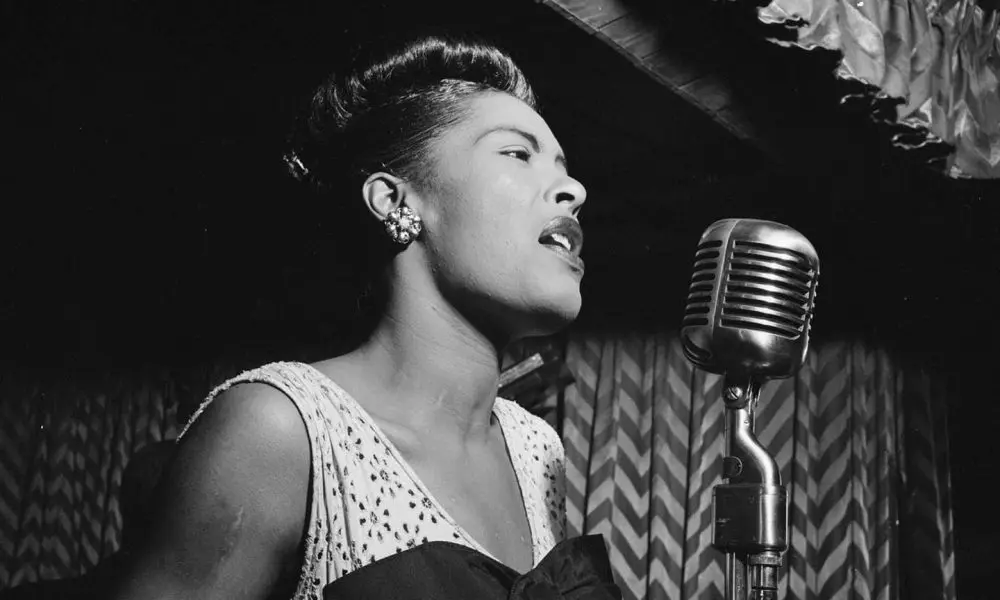 Ever since jazz was born at the dawn of the 20th Century, women have been – and continue to be – a minority in what is a largely male-dominated world. There is, however, one area of the genre where females have always excelled and flourished – the domain of the jazz vocalist. There has been no shortage of talented singers over the decades, but the best female jazz singers possess unique voices and personalities which truly ensure they hold their own against their male counterparts.
Jazz has produced so many accomplished and influential female singers over the years that limiting the best female jazz singers to a meager 25 is a challenge that many would deem impossible. It's not so much a question of who to include, but, rather, who to omit. There are, of course, those who are so significant that their names will automatically be at the top of most people's lists of the best female jazz singers of all time – namely, the mighty Holy Trinity comprising Ella Fitzgerald, Billie Holiday, and Sarah "Sassy" Vaughan.
While this formidable trio's greatness is not in dispute – nor ever will be – it doesn't necessarily mean that the remaining 22 singers on the list that follows can be considered as mere also-rans, there just to make up the numbers. Indeed, each one has a unique quality that makes them special, and they have all made (and some are still making) a vital contribution to the art – and history – of jazz singing.
There are those, like Ella, Vaughan, Betty Carter, and Anita O'Day, whose voices are agile and athletic, and able to indulge in mind-boggling vocal gymnastics. But dazzling technique isn't everything – nor is it, necessarily, a prerequisite for being a jazz singer, as Billie Holiday, Nina Simone, and Peggy Lee demonstrated. For those artists, communicating with their audience and conveying deep emotion was paramount. The fewer notes they used, the more profound and eloquent they seemed to be.
The inclusion of contemporary chanteuses – among them Dianne Reeves, Madeleine Peyroux, and Diana Krall – reveals that Ella Fitzgerald, Billie Holiday, and Sarah Vaughan still have descendents in jazz. More importantly, their presence shows us that singing jazz isn't a dead art form, but is very much alive and still evolving. And with talented young singers such as Cécile McLorin Salvant, Charenée Wade, Cyrille Aimée, and Jazzmeia Horn all waiting in the wings, the future looks incredibly bright for female jazz singers.
The following is a list of the 25 best female jazz singers of all time. Proceeding in an ascending order of greatness, it is a rich tapestry of voices – perhaps the greatest female choir ever assembled.
While you're reading, listen to our Best Female Jazz Singers playlist here.
25: Norah Jones (born 1979)
This piano-playing daughter of legendary Indian sitar meister Ravi Shankar was born in New York but raised in Texas. Blessed with a mellow tone and soft, caressing delivery with a slight country twang, Jones first made her mark in 2002, when her debut album, Come Away With Me, helped by the single "Don't Know Why," ignited the public's imagination. Not content with being one of the best female jazz singers of her generation, Jones took a detour into singer-songwriter territory in more recent years, before making a welcome return to her jazz roots on her last album, 2016's Day Breaks.
Norah Jones - Don't Know Why
24: Diana Krall (born 1964)
To date the top-selling female jazz singer of the 21st Century, this three-times Grammy-winner from Nanaimo, in British Columbia, combines a sultry voice with dexterous piano skills. Krall made her debut in 1993, but it wasn't until she hooked up with her long-time producer, the late Tommy LiPuma, from 1995 onwards, that she began to blossom into the star that we know today, thanks to stellar albums such as The Look Of Love. Though she can swing with élan, Krall's métier is languorous ballads and sensuous bossa novas.
23: Cassandra Wilson (born 1955)
Renowned for her seductive smoky timbre and ability to take a song from any genre or repertoire and make it indisputably her own, Mississippi-born Wilson first came on the radar of jazz heads in the mid-80s as part of saxophonist Steve Coleman's M-Base collective. But it was when she moved to Blue Note in 1993 – after seven albums for indie label JMT – that Wilson's work started to reach a wider public.
22: Dakota Staton (1930-2007)
Originally from Pittsburgh, Pennsylvania, Staton combined a sassy personality with an athletic but also expressive set of pipes. She got spotted performing by Capitol Records' producer, Dave Cavanaugh, at a Harlem nightclub in the late 50s, and ended up signing for the label, where, during a five-year spell, she recorded her finest work, including the classic 1957 LP The Late, Late Show.
21: Madeleine Peyroux (born 1974)
Like many of the best female jazz singers, Peyroux was influenced by Billie Holiday's dreamy mellow tone and behind-the-beat, rubato phrasing, but this Georgia-born chanteuse (who often accompanies herself on guitar) has forged her own singular style since emerging in 1996. The palpable presence of Gallic elements in her music – with shades of Django Reinhardt's gypsy jazz sound – reflect Peyroux's teenage years busking in Paris.
20: Etta Jones (1928-2001)
Originally from South Carolina but raised in Harlem, Jones came on the radar of the mainstream American public in 1960 when her version of the jazz standard "Don't Go To Strangers" (from the album of the same name) broke out of the jazz ghetto and penetrated the US pop Top 40. Though she was only 32 at the time, Jones was not, as some assumed, a novice, and had, in fact, been recording since she was a teenager, cutting her first record back in 1944. As "Don't Go To Strangers" proved, she was a remarkable and acutely sensitive balladeer with a nuanced delivery.
19: Shirley Horn (1934-2005)
From Washington, DC, sultry-voiced Horn started out as a classical pianist, but by the time she turned 20 she was singing and leading her own jazz trio. It was in 1960, though, when she was 26 and had released her debut LP, that Horn made her mark in the jazz world. She was aided by her friendship with Miles Davis, who was an enthusiastic champion of her music. Despite Miles' endorsement, Horn found commercial success elusive until she signed with Verve in the late 80s and revitalised her career with a series of fine LPs.
18: Dee Dee Bridgewater (born 1950)
Born Denise Garrett in Memphis, Tennessee, and raised in Michigan, Bridgewater was the daughter of a jazz trumpeter and rose to fame in the 70s, first with the Thad Jones/Mel Lewis Orchestra and then in the Broadway musical The Wiz (later turned into a movie featuring Diana Ross and Michael Jackson), for which she won a Tony award. After dabbling with soul and fusion in the latter part of the decade, Bridgewater signed to Verve in the 90s and quickly established herself as one of the best female jazz singers in contemporary jazz.
17: Dianne Reeves (born 1956)
Blessed with a lithe, five-octave voice, this multi-Grammy-winner from Detroit (who was raised in Denver, Colorado) has been recording since the 70s, when she guested on albums by Ronnie Laws and her cousin George Duke. Though her solo career began in 1982, Reeves gained wider exposure after joining Blue Note in 1987, where she stayed until 2008. Though she can sing straight-ahead jazz with aplomb (she's particularly adept at scat singing), Reeves is a noted songwriter and also something of a musical shape-shifter who can convincingly switch from jazz and fusion to Latin, pop, R&B, and Caribbean music.
16: Abbey Lincoln (1930-2010)
This Chicago-born singer, songwriter, actress, and civil-rights activist (real name Anna Marie Wooldridge) first emerged in the mid-50s as a solo performer with a unique style, which acknowledged the jazz tradition but also, as she got older, looked beyond it. She made her presence felt, too, with drummer (and then-husband) Max Roach's band on three notable early 60s jazz albums (including We Insist!) that offered a trenchant socio-political commentary on the American way of life.
15: Helen Merrill (born 1930)
Though the world knows her as Helen Merrill, this sonorous-voiced New York-born singer was born Jelena Ana Milcetic into a family with Croatian ancestry. Captivated by jazz at an early age, she was singing in local clubs at 14 but didn't make her recording debut until she was 22, with the Earl Hines band. Her solo career began in the mid-50s and she continued to record regularly up until 2003, after which she retired.
14: June Christy (1925-1990)
From Springfield, Illinois, this silky-voiced chanteuse was born Sharon Luster and briefly performed as Sharon Leslie before settling for the name June Christy, after joining the band of noted West Coast pianist Stan Kenton. With Kenton at the helm, Christy scored a million-selling hit in 1945 with "Tampico." A doyenne of the West Coast cool school of jazz, Christy possessed an agile set of pipes with a fluttery vibrato.
13: Blossom Dearie (1924-2009)
With a girlish timbre as wispy and delicate as gossamer, Margrete Blossom Dearie patented a unique vocal style in the late 50s that made her stand out from other female jazz singers. Her career took off in the early part of the decade, in France, when she performed with a group called The Blue Stars before embarking on a solo career later in the same decade. In the 70s, she started her own record label, Daffodil, and was also a noted pianist and songwriter.
12: Anita O'Day (1919-2006)
Now hailed as one of the best female jazz singers of her generation, Anita O'Day was branded The Jezebel Of Jazz by the mainstream US press for drugs offenses that resulted in a prison sentence. Yet O'Day – born Anita Colton in Kansas City – enjoyed a long and successful career that spanned 65 years. Noted for her short, horn like-phrases and lack of vibrato (due to a childhood tonsillectomy), O'Day's athletic style was defined by an infectious rhythmic dynamism.
11: Chris Connor (1927-2009)
Mary Jean Loutsenhizer is better known as Chris Connor, who, like Anita O'Day, was a native of Kansas City, Missouri. Connor's breathy, sensuous voice first gained exposure in Claude Thornhill's band, in 1949, before she launched a solo career at indie label Bethlehem, in 1954. Arguably the most fertile and rewarding phase of her career came at Atlantic Records between 1956 and 1962. She recorded her final album three years before her death in 2003.
10: Julie London (1926-2000)
With her smoldering delivery and glamorous movie-star looks, California-born London epitomized the archetypal 50s torch singer. She's chiefly remembered for her immortal reading of Arthur Hamilton's ballad "Cry Me A River," which cemented her name among the best female jazz singers after her version became a big transatlantic hit on the back of her performance in the 1956 movie The Girl Can't Help It. As well as releasing 29 albums, London appeared in a plethora of movies and TV shows. Her last recording was made in 1981.
9: Betty Carter (1929-1998)
Born Lilli Mae Jones in Flint, Michigan, Betty Carter is widely acknowledged as not only one of the best female jazz singers of all time, but as one of the music's greatest ever scat singers and vocal improvisers – of either sex. Mentored by bebop architect Dizzy Gillespie, she got her big break with vibraphonist Lionel Hampton's band in 1948 and then began her recording career as a solo artist in the mid-50s. She was also renowned as a jazz teacher and talent spotter, allowing up-and-coming musicians to showcase their talents in her band (including noted pianists John Hicks, Mulgrew Miller and Cyrus Chestnut).
8: Nina Simone (1933-2003)
A preacher's daughter from Tryon, North Carolina, Eunice Waymon dreamed of being a concert pianist before being discouraged, in 1950, by the racism she purportedly encountered in the classical-music educational establishments of the time. Still eager to make her way in the world as a musician, a few years later she transformed herself into nightclub chanteuse Nina Simone, and started performing an unclassifiable amalgam of jazz, blues, gospel, and folk music flavours, all infused with a righteous spirit. A profoundly influential figure, Simone remains an inspiration to many young musicians today.
7: Carmen McRae (1922-1994)
Born in Harlem to a Costa Rican father and Jamaican mother, the young McRae was drawn to jazz at an early age. A key moment in her life came when, aged 17, she met Billie Holiday, who would prove her biggest inspiration (she also wrote a song called "Dream Of Life," which Holiday recorded in 1939). Despite Holiday's huge influence, McRae discovered her own unique voice and became renowned as a sensitive interpreter of lyrics. Her last recording was made in 1991.
6: Bessie Smith (1894-1937)
The only one of our 25 best female jazz singers of all time to be born in the 19th Century, Bessie Smith was buried in an unmarked grave after dying, aged 43, in GT Thomas Hospital in Clarksdale, Mississippi (now the Riverside Hotel), following a car crash, but later became the subject of a 2015 Hollywood biopic starring Queen Latifah. Though she was dubbed The Empress Of The Blues, this Chattanooga-born singer was a key figure in the evolution of early vocal jazz and went on to influence singers such as Dinah Washington and Janis Joplin.
5: Peggy Lee (1920-2002)
Combining a smoldering sensuality with a "less is more" vocal minimalism, Peggy Lee was born Norma Delores Egstrom in Jamestown, North Dakota, and served her apprenticeship in Benny Goodman's band during the 40s before going solo. She enjoyed a string of hits for Capitol Records in the same decade before moving to Decca, where she recorded one of her most famous and enduring LPs, Black Coffee, in 1956. Lee's most iconic song, though, is 1958's "Fever," which encapsulated her laconic and laidback style.
Peggy Lee - Fever (Official Video)
4: Dinah Washington (1924-1963)
Nobody could deliver a lyric like the singer born Ruth Lee Jones, whose clear and precise diction, combined with a tart, clipped delivery, left an indelible mark on her listeners. She rose to fame making risqué blues records in the 40s, but evolved into one of the world's best female jazz singers thanks to her urbane, jazz-inflected sophistication. Like her idol, Bessie Smith, Dinah Washington was a highly influential singer; those who fell under her spell included Esther Phillips and Nancy Wilson.
3: Sarah Vaughan (1924-1990)
Boasting a gorgeous, full-bodied voice with a tremulous, heavenly vibrato, it's no wonder New Jersey's Sarah Vaughan was often referred to as The Divine One. She sang with the bands of Earl Hines and Billy Eckstine before launching her solo career in the late 40s, but didn't really cross the consciousness of the wider public until she signed with Mercury Records in 1954, which resulted in a series of noteworthy albums. Vaughan was an accomplished song stylist who was as comfortable scatting over a swinging groove as she was delivering a sensuous romantic ballad.
2: Billie Holiday (1915-1959)
Though not as technically gifted as the younger Sarah Vaughan, Philadelphia-born Billie Holiday (real name Eleanora Fagan) had a way of communicating with a song that was second to none. Her voice had a deeply soulful quality that made everything Lady Day sang seem poignantly autobiographical.
1: Ella Fitzgerald (1917-1996)
Topping our list of the 25 best female jazz singers of all time is the incomparable First Lady Of Song herself, who hailed from Newport News, Virginia, but whose journey to fame began on the stage of New York's Apollo Theater, in 1934, when she won first prize in an amateur talent competition. By the end of that decade, Ella Fitzgerald was singing with drummer Chick Webb's band, but it wasn't until 1954, when her manager, jazz impresario Norman Granz, decided to create a record label called Verve solely to expose her talent, that Fitzgerald's career truly skyrocketed. Able to improvise with her voice like a bebop horn player, Fitzgerald was also a silky balladeer who was able to balance technique with sensitivity.
Looking for more? Find out who tops our list of the 50 best jazz singers of all time – male or female.