'Stepping Into Tomorrow:' Madlib's Homage to Blue Note
One of the finest moments from Madlib's celebration of the Blue Note Records archive also teased a future classic with MF Doom.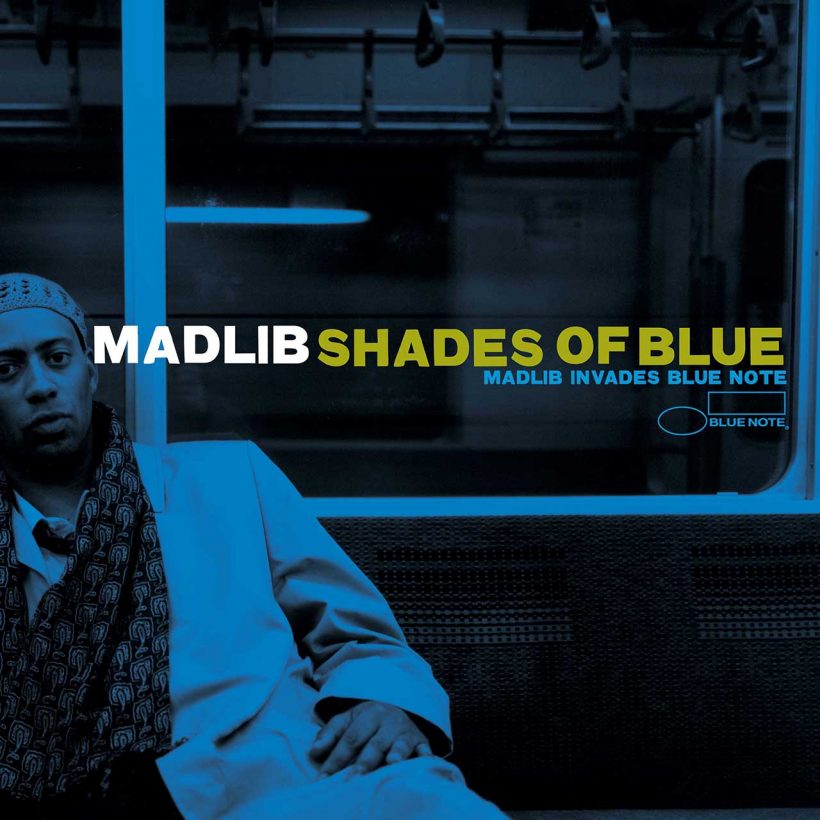 "Here to let you know that I have no prior knowledge to any invasion being planned or executed," the now-deceased MF DOOM gruffs at the introduction of "Stepping Into Tomorrow." Listeners wouldn't know it yet, but on the tenth track of Madlib's album Shades of Blue, DOOM foreshadowed his 2004 collaboration with Madlib as superduo Madvillain, Madvillainy. More immediately, though, "Stepping Into Tomorrow," the longest cut on Madlib's 2003 remix album that honored Blue Note Records, saw jazz enthusiasts and hip-hop heads float within an oasis of crate-digging reverie.
Buy Madlib's Shades of Blue on vinyl now.
The jazz origins of Madlib
Raised in Oxnard, a town 40 miles north of Los Angeles, Madlib was born Otis Jackson, Jr. to jazz and session singer-musician Otis, Sr. along with pianist and songwriter Dora. The firstborn of two sons – followed by rapper-producer Oh No in the late 70s – Madlib had direct ties to the genre that would shape Shades of Blue. Madlib's uncle is Jon Faddis, a trumpeter who played with the likes of Charles Mingus, Dizzy Gillespie, and Bob James. In an interview with Wax Poetics, Madlib explained that his grandparents were accustomed to throwing feasts for Gillespie, vocalist Dee Dee Bridgewater, and other jazz pioneers. Growing up, Madlib pored over his father's record collection, eventually carving out a path as a burgeoning beatmaker for independent record label Stones Throw Records in the 90s.
Madlib's friendship with MF DOOM
Madlib met masked MC MF DOOM in the early 00s. The London-born, Long Island-raised artist was a member of 90s hip-hop group KMD before the tragic death of his brother DJ Subroc in 1993. Finding simpatico with Madlib upon first hearing a demo from the West Coast producer, DOOM flew to Los Angeles in 2002 with his focus set on crafting Madvillainy, a progressive rap classic.
Flipping a throwback song into a contemporary masterpiece
In the same year that Madlib and DOOM connected, Blue Note invited Madlib to explore their archive, throwing open the doors to the producer to make anything he wanted. Amidst vintage records from The Three Sounds, Ronnie Foster and Bobby Hutcherson, Madlib landed on "Stepping Into Tomorrow" from trumpeter Donald Byrd's 1975 album of the same name. The song only consists of four lines, but Madlib's remix stretches the original into infinitude.
Vocals from Stephanie Spruill haunt "Stepping Into Tomorrow," piercing through Madlib's effortless production. Tipping a hat to Byrd's smooth instrumentation – and highlighting future collaborator DOOM – the deep rhythms of "Stepping Into Tomorrow" help cement Madlib as a hip-hop virtuoso and provided a testament to jazz music's foundational legacy.