Ella Fitzgerald
She was simply the best woman that sang jazz or any other kind of music – one of the most loved by fans across the world.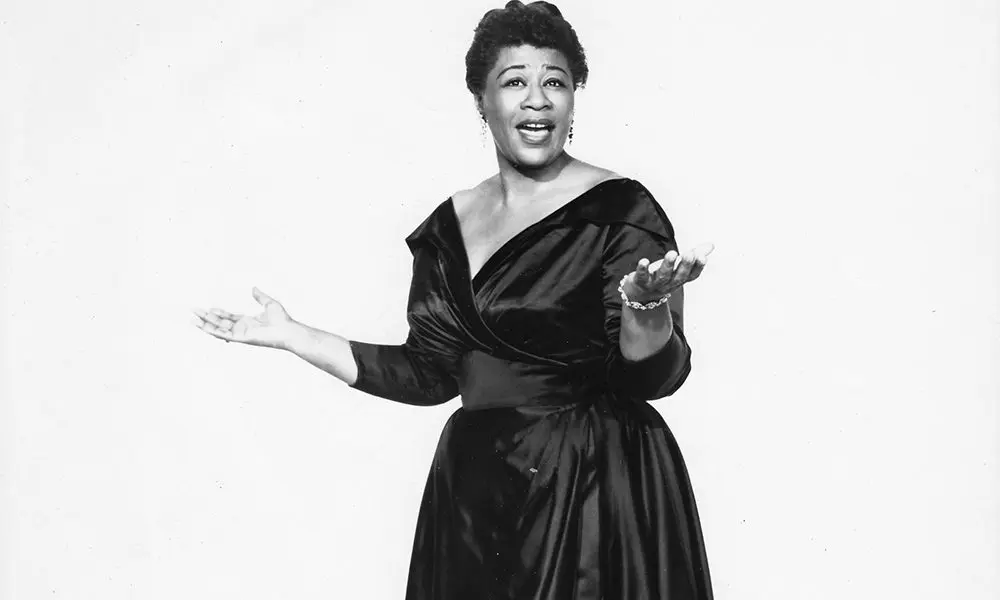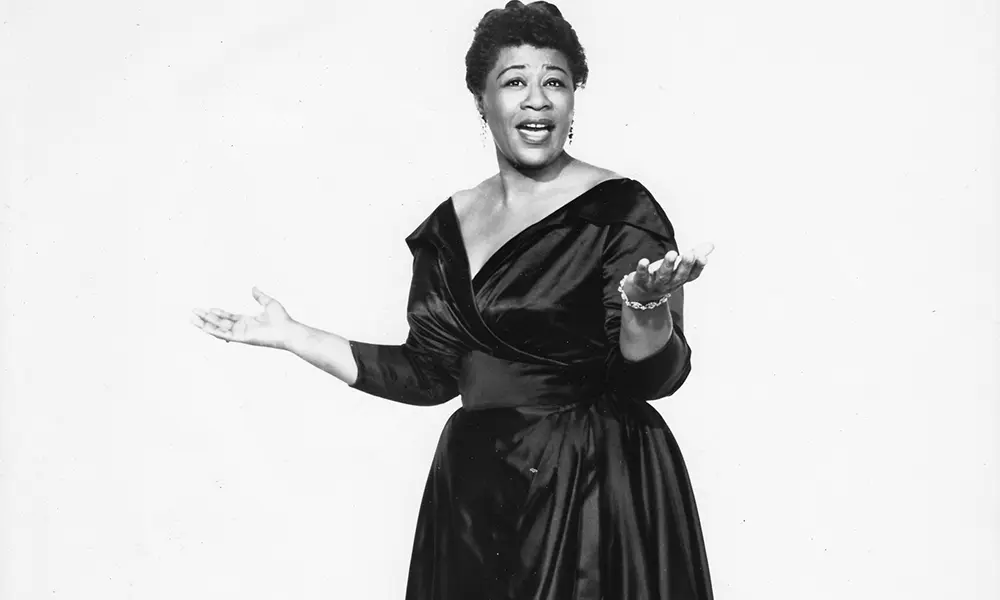 She was simply the best woman that sang jazz or any other kind of music – one of the most loved by fans across the world.
Ella's catalogue is vast, but if you are looking for somewhere to start then check out Ella Fitzgerald Gold, it includes many definitive performances. Both the Ella Fitzgerald Sings The Cole Porter Songbook (1956) and Ella Fitzgerald Sings The Rodgers And Hart Songbook (1957) are quintessential recordings without which no jazz collection is complete. There are other wonderful albums in her catalogue including, Ella and Basie, Whisper Not or for a live album, Mack The Knife, The Complete Ella in Berlin. To round out an introduction to her fabulous style her collaboration with Louis Armstrong on the Porgy and Bess album is another that should be in every music lover's collection.
Ella's parents were not married and separated soon after she was born in April 1917 in Newport Mews, Virginia; a few years later, her mother moved north to New York City along with new man. In 1932 Ella's mother died so her aunt took her into her home in Harlem to spare her from the harsh treatment of her father. The fifteen-year-old Ella hated school in Harlem, skipping it as soon as she could to work as a collector for the illegal Mafia-run lottery. Tracked down by the authorities, she was sent to a Catholic school but soon ran away, returning to Harlem where she lived rough on the streets.
Her newfound friends on the streets encouraged her to enter one of the regular talent competitions at the newly opened Apollo Theater. Having gone there with the intention of dancing, she was intimidated by the standard of the competition and decided she would sing instead; a momentous decision that changed the course of her life. The seventeen-year-old found herself singing with Benny Carter and his Orchestra on 21 November 1934. Three months later she had her first professional engagement, singing with Tiny Bradshaw's band at the Harlem Opera House.
A couple of weeks later she was hired by an unenthusiastic Chick Webb as his female singer and played her first gig on 8 March 1935 at Yale University, where she went down well with the white crowd. By the end of March, Ella did her first radio broadcast with the band, and on 12 June she went into the recording studio for the first time; she recorded two songs, 'I'll Chase The Blues Away' and 'Love And Kisses'. Both are standard mid-1930s band arrangements, with Ella sounding young and enthusiastic but far from great.
Chick Webb had contracted tuberculosis of the spine while he was a child, leaving him both extremely short and suffering from a badly deformed spine. He was born in Maryland but moved to Harlem in his teens, and by age twenty-one, he was leading his own band. Given his physical difficulties, it's surprising that he managed to become a drummer and a very good one at that. He drew admiration from many other bandleaders; Buddy Rich spoke of Webb as an inspiration and Charlie Watts of The Rolling Stones is a big fan.
In 1936, Ella had her first hit with 'Sing Me A Swing Song (And Let Me Dance)', a much better song than her first two efforts; she sounded a lot more confident, having spent a whole year as a singer with a big band. As well as singing with Chick Webb, she performed on records with The Mills Brothers in 1937, but her big break came singing with Webb's orchestra in June 1938  'A-Tisket A-Tasket' spent ten weeks at No. 1 on the Billboard chart. It was a sign of the times when Ella and Chick had a hit a few months later with 'Wacky Dust', an unabashed opus to cocaine. The following year Webb died, aged just thirty-four, and for a while, Ella continued to front his orchestra, as well as recording solo.
However, it was a struggle to keep it going; the band members were very demanding and Ella, barely in her twenties, found their demands difficult to rebut. The band did have a manager but the issues of what to play and in which direction to take the band fell to Ella. Enter Benjamin Kornegay, who, from doing the occasional job for Ella ended up marrying her the day after Christmas 1941. The arrangement did not last long as it became clear that Kornegay was little more than a cheap hustler and an ex-con with a drug problem – possibly too much wacky dust – and the marriage was annulled.
Early 1942 saw the final demise of the old Chick Webb band that by then was known on record, and live, as Ella Fitzgerald and Her Famous Orchestra. Professionally Ella formed a successful short-term partnership with the Ink Spots and they had two No. 1 records in 1944, including the million-selling 'Into Each Life Some Rain Must Fall'. But her career was far from flourishing. She did successfully record with both Louis Armstrong and Louis Jordan in 1946, but they were minor hits.
Her 1947 recording of 'I Love You For Sentimental Reasons' with the Delta Rhythm Boys became a hit, while 'My Happiness' with the Song Spinners became her biggest hit for many years. Her last hit of the decade was 'Baby It's Cold Outside' with Louis Jordan, from the Esther William's 1949 film Neptune's Daughter. Of course, what's obvious about all the 'hits' is the fact that Ella always sang with others – no one could quite work out how to make a solo singer out of the 'plump chanteuse' as one critic dubbed her.
Behind Ella's commercial failure was her partial abandonment of commercial recording for much of the last half of the decade, choosing instead to work with Dizzy Gillespie and becoming enamoured with be-bop. She recorded a stunning version of 'Oh Lady Be Good' in 1947 with Bob Haggart – compare it to her later songbook recording from over a decade later and you will hear two very different singers. Ella's scat singing almost defies belief. The same goes for 'How High The Moon'; in Ella's hands the song becomes hers and hers alone. Charlie Parker was another she really admired, and while Dizzy and Ella's tour did good business at the box office, their work together was never going to sell a million records. Nevertheless, they sold out a show at New York City's Carnegie Hall, appeared at the Downbeat Club in Manhattan and had a very affectionate, though not romantic, relationship. Ella married bass player Ray Brown in December 1947 – it was a case of life reflecting art, as he played be-bop.
In 1949 Ella made her first appearance at the Jazz at the Philharmonic, which marked something of a watershed in her career; from this point on, Ella seemed to rise above the fray and to elevate her to a musically higher plane. As the 1950s rolled around, Ella's appearances on the Billboard charts were infrequent, but this was by no means a reflection on the quality of her recordings. Songs like 'I've Got A Crush On You' were stunning, pointing to the direction in which Ella was heading; it and a number of other brilliant recordings from this period are available on the album, Pure Ella. The public liked them too, meaning that by 1954 she had sold over 20 million records, which put her up there with the most popular singers, black or white – she was in any event way more popular than all the other black singers.
Once Norman Granz had become Ella's manager and wrestled her away from Decca, her career reached yet another level. The little girl who had slept rough in Harlem must have pinched herself when she found herself singing in the best concert halls around the world.
Pivotal to Ella's rise was Granz's vision for her to record the Songbook series of albums. Starting with Cole Porter was another masterstroke; his songs in Ella's hands became masterpieces. Ira Gershwin thought the same about his and his brother's compositions: 'I never knew how good our songs were until I heard Ella Fitzgerald sing them.' The Songbooks helped to create what we have come to think of as the modern album. According to Granz, the process was a simple one: 'I'd come up with fifty songs that would suit Ella. We would sit together and reduce it down to, say, twenty and then I would make an arbitrary about what to include because part of what we were doing with the Songbooks was to explore songwriters.' He could be so arbitrary because he knew that no matter what he chose, Ella would get it right. Checking the tapes of the Cole Porter Songbook it is interesting to see that in two cases – 'Let's Do It' and 'Just One Of Those Things' – Ella nailed them on the first take. On 'Ridin' High' they got to take fifteen.
In many ways, Ella's work on the eight Songbook albums has become the basis for her continuing popularity. These albums represent the pinnacle of Ella's art and an achievement that is matched by a mere handful of singers. The mood she creates with the best material has meant that many of these songs sung by Ella are now the definitive versions. Take 'Manhattan' from the Rodgers And Hart Songbook; Ella's phrasing when she goes into the chorus is transcendent. If you've never heard it take a listen; your life will never be the same again.
The Songbook albums were arranged by the likes of Nelson Riddle, Buddy Bregman, Billy May, Duke Ellington and Paul Weston. Both Ellington and Billy Strayhorn, the Duke's long-time collaborator, appeared on the Songbook of the bandleader's songs. The Songbooks have even been lauded as a major contribution to American culture.
Ella's last U.S. chart success of any note was 'Mack The Knife', which managed to make No. 27 in 1960; this fact was probably of little consequence to the singer. What any chart placing did for Ella was to sometimes introduce her to some new, possibly younger, listeners, to whom she was just a name on their parent's ageing LP. Many of Ella's best singles can be found on Jukebox Ella, The Complete Verve Singles. Ella is one of those singers that younger listeners discover as they get a little older; sometimes when they fall in love or fall out of love. Ella, like all the great singers, talks to people through her songs. She makes a song's lyrics mean things, whereas in the hands of less talented singers they are just words arranged over a catchy melody.
Ella's personal life was never the match for the songs that she sang. Her marriage to Ray Brown lasted barely five years and that was the last time she was to marry. For Ella, singing about love was one thing but doing it was another matter. By 1986 she needed open-heart surgery, and in 1992 she had both legs amputated below the knees as a result of complications arising from diabetes. In 1991, the First Lady of Song, having famously once said 'the only thing better than singing is more singing' gave her final concert at New York's Carnegie Hall. The lady that Mel Torme described as, "The best singer on the planet," died five years later, leaving the world a better place from her magical gift to sing and swing better than it seemed possible for anyone to do. If Ella had a secret, it was her diversity. She had started out a swing singer, moved to be-bop, she sang perfect scat, was an extraordinary jazz vocalist and had no fear of modern material as the 1960s and '70s came along. From the blues to bossa nova and calypsos to carols she imbued all with her unique voice, sounding forever young. She was blessed with a range of three-octaves, beautiful diction and enunciation that was as good as it gets.
Check out the Ella Fitzgerald CD and vinyl collection from the Jazz Center Stage store here.
Format:
UK English