Louis Armstrong
Louis 'Satchmo' Armstrong is one of the most instrumental figures in jazz. Learn more of the trumpet legend that is Louis Armstrong…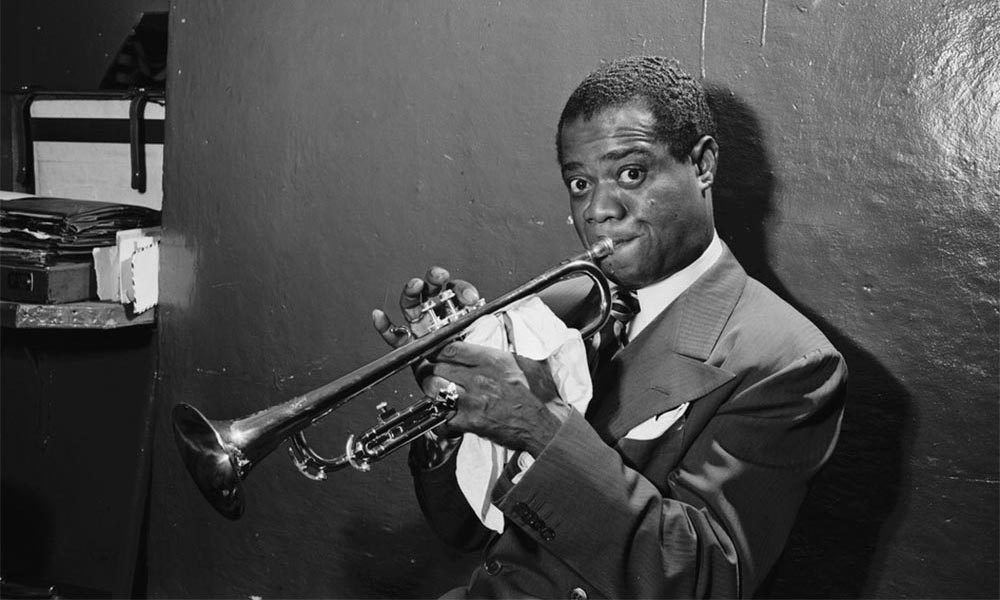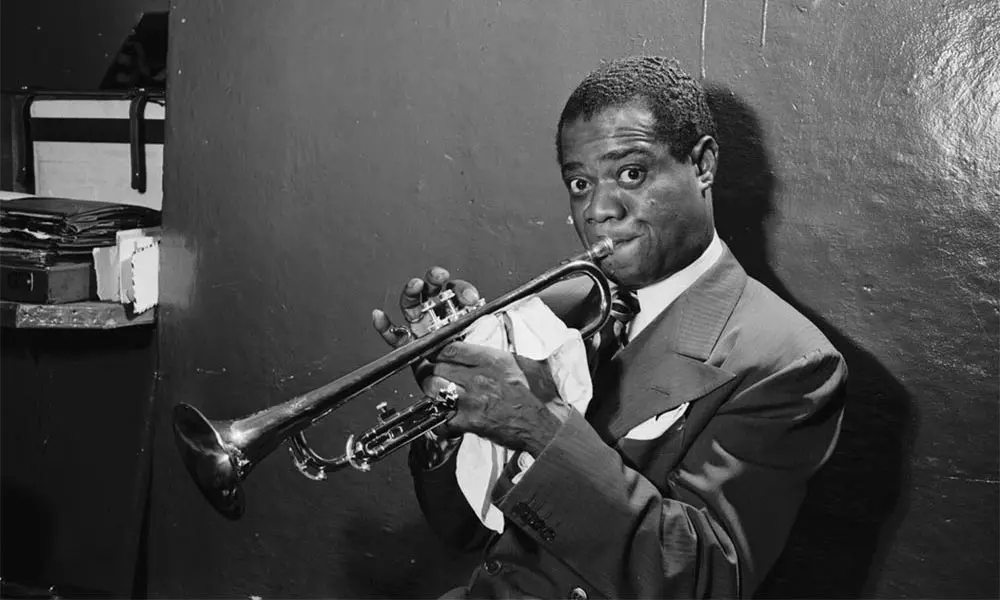 Louis Armstrong was a superstar, long before Andy Warhol popularised the phrase. Pops visited more countries around the world than any of his contemporaries, at a time when foreign travel by musicians was headline news; the fact that Louis Armstrong was a jazzman makes his achievements remarkable. As a black man – very definitely born on the wrong side of the tracks – it makes his achievements unique. And as Miles Davis said, 'You can't play anything on a horn that Louis hasn't played.'
The man who became known the world over as 'Satchmo' was an ambassador for joy and happiness. His trumpet, his smile, his laugh and his willingness to 'live for that audience' all helped to make him a 20th-century icon. He was also a trumpet player of outstanding skill whose technical expertise and the genius of his musical imagination made him the model for virtually every jazz musician from the late 1920s to the outbreak of World War 2 and beyond.
The documentary maker, Ken Burns in his series on Jazz said, "Armstrong is to music what Einstein is to physics and the Wright Brothers are to travel."
Louis Armstrong "Dinah" 1933
As you would expect from someone who was recording for so long, Louis Armstrong has an enormous catalogue and it's full of great music. Knowing where to start is the thing. For the best introduction to his long career check out Louis – The Best of Louis Armstrong or the 4CD set, Ambassador of Jazz which includes some recently discovered unreleased material and an hour long interview with Satchmo that is riveting. His albums with Ella Fitzgerald, Ella & Louis and Ella & Louis Again define what it is to perform a jazz duet. Equally, Louis Armstrong Meets Oscar Peterson is another exercise in brilliance.
When Louis Armstrong was asked to define jazz he said. "Jazz is what I play for a living." Few people have earned their living while giving so much to so many. His innate understanding of his instrument and how to combine his musicianship with his vocals, all topped off with his big personality, make him irresistible to millions of people around the world.
From his first recording as the second cornet player in King Oliver's Creole Jazz band in April 1923 to his last public appearance at New York City's Waldorf Astoria in March 1971, Louis Armstrong always understood that he was there to "please the people". His recorded legacy is immense and in Armstrong's hands, even mediocre material often succeeded in becoming great jazz.
But there are some people, especially those under 'a certain age', that think of Armstrong as a man who sang 'It's A Wonderful World', a Bond movie theme or 'Hello Dolly' – a voice from a movie soundtrack or the backing track to a TV commercial. Through hearing those, for some over-played, songs they have gone on to discover his rich musical heritage and yet there are still some that fail to recognize Armstrong's remarkable musicianship.
Having learned his craft in the cradle of jazz he left New Orleans to join King Oliver's band in Chicago but he quit in 1924 to play with Fletcher Henderson's Orchestra in New York City. Henderson recorded for the first time in the summer of 1921 and just a week after Louis joined, the eleven-piece outfit was in a New York studio recording two sides. A week later they did four sides including the wonderful 'Shanghai Shuffle' arranged by band member, clarinettist and saxophonist, Don Redman; Pops stayed with Henderson for a year before returning to Chicago to front his own band. Some of Armstrong's best recordings from these early years can be found on The Ultimate Collection.
It was in November 1925 that Louis along with his second wife, Lil, Kid Ory on trombone, Johnny Dodds on clarinet and Johnny St Cyr, the banjo player were in a Chicago studio to record. OKeh records, selling for 75 cents each, released 'Well I'm in the Barrel' and 'Gut Bucket Blues'; it was the start of one of the most exciting phases in jazz history – Louis Armstrong's legendary Hot Fives and Hot Sevens.
As 1929 dawned he was being billed as Louis Armstrong and His Orchestra. In March 1929 Louis and his Orchestra recorded 'Knockin' A Jug' at his first session with both black and white musicians – Jack Teagarden on Trombone, Happy Caldwell on Tenor sax, Joe Sullivan, piano, Kaiser Marshall on drums and the brilliant Eddie Lang on guitar. This wonderfully exuberant tune was made up in the studio and is the last of what is considered 'The Hot Fives and Sevens'.
In 1932 Armstrong toured Britain and Europe, not the first major jazz musician to visit Britain as both Jimmy Dorsey and Bunny Berigan toured in 1930, but Louis was certainly the one with the greatest reputation among musicians and lovers of 'Hot Music'. Throughout the 1930s Armstrong's reputation became somewhat tarnished as his recordings were considered safe and his appearances in films, in stereotypical roles for a black performer in Hollywood, seemed to take him further away from jazz.
By 1939 Armstrong's successes, few that there were, came from remakes of his classics, including 'West End Blues' and 'Savoy Blues' as well as New Orleans's stalwart, 'When The Saints Go Marching In'. Through the war years, Armstrong's Decca recordings sold, but not well, and it was only the repackaged Hot Fives and Sevens under the guidance of producer George Avakian that seemed to hit the spot with jazz fans.
As the war was drawing to its end jazz was moving in a new direction, younger players were anxious to change what they viewed as 'traditional' jazz that to them seemed dull and boring. Louis hired some of these younger players, including Dexter Gordon who became one of the most respected tenor saxophonists of his generation.
Forty-five years of age is not the obvious time to be making a major career move but that's what happened to Louis when he played a momentous concert at the Town Hall in New York in May with a small group of some of jazz's great musicians. Soon he was playing Carnegie Hall, the prestigious venue he had hitherto only driven past, with his 'All Stars – Jack Teagarden, Barney Bigard, Dick Cary, bass player Arvell Shaw, Big Sid Catlett and singer Velma Middleton; two weeks later they were in Boston's Symphony Hall, a gig that thankfully was recorded for posterity and released as Satchmo At Symphony Hall.
During the 1950s the All Stars, with its shifting personnel, regularly recorded with Armstrong, but he also did sessions with studio orchestras on more mainstream pop material featuring his unique voice. Louis recorded for Verve for the first time in August 1956 to record a fabulous set of duets with Ella Fitzgerald. Just under a year later he and Ella were back recording again, for what became the Ella & Louis Again album.
Following the sessions with Ella for what became their second album there was a marathon day of recording with an orchestra directed by Russell Garcia that yielded two albums, I've Got The World On A String and Louis Under The Stars. With just four days rest, fifty six year old Louis was once again in the studio, again with Ella, recording Porgy & Bess, together with Russell Garcia. Before the year was out Pops and Oscar Peterson recorded an album together entitled Louis Armstrong Meets Oscar Peterson. A complete days recording from the Oscar Peterson sessions is available for download only as A Day With Satchmo. It is a fascinating insight into the process of making a record.
During the 1960s, following his heart attack in 1959, Louis slowed down, a little, but ironically that is when he recorded much of what is his best-known material, 'What A Wonderful World', 'Hello Dolly' and 'We Have All The Time In The World'.
On 6 July 1971 Louis Armstrong passed away in his sleep at home in Corona – Lucille, his fourth wife, found him dead in his bed. Two days later he lay in state in New York City where 25-30,000 mourners filed past his casket. Everyone from Jazz was at his funeral – Peggy Lee sang the Lords Prayer – after which Louis was buried in Flushing Cemetery in Queens, just a few miles from his home in Corona.
Louis Armstrong's life was not without controversy. He married four times, had affairs, smoked 'muggles' (marijuana) for most of his working life and upset some of the black community who accused him of selling out to a white audience that exploited his 'Uncle Tom' approach to entertainment. Later Billie Holliday gave her unique take on Armstrong, saying. "Of course Pops toms, but he toms from the heart."
His photograph featured on the covers of both Time and Life magazines, while Variety named him one of the 'Top 100 Entertainers' of the 20th century; Time honoured him as one of the 100 most influential people of the century. He was the first person to be honoured in the Downbeat Jazz Hall of Fame; he's in the Rock And Roll Hall of Fame and the ASCAP Jazz Hall of Fame. In 1972 he was posthumously honoured with a Grammy Lifetime Achievement Award. Arguably the accolade that Louis may have enjoyed most of all was when the city of New Orleans renamed its international airport after him.
Louis Armstrong… Singer, Trumpet Player, Superstar.
Format:
UK English