Iggy Pop
Iggy Pop is a rock singer-songwriter from Michigan whose long-running solo career includes albums like The Idiot and Lust for Life.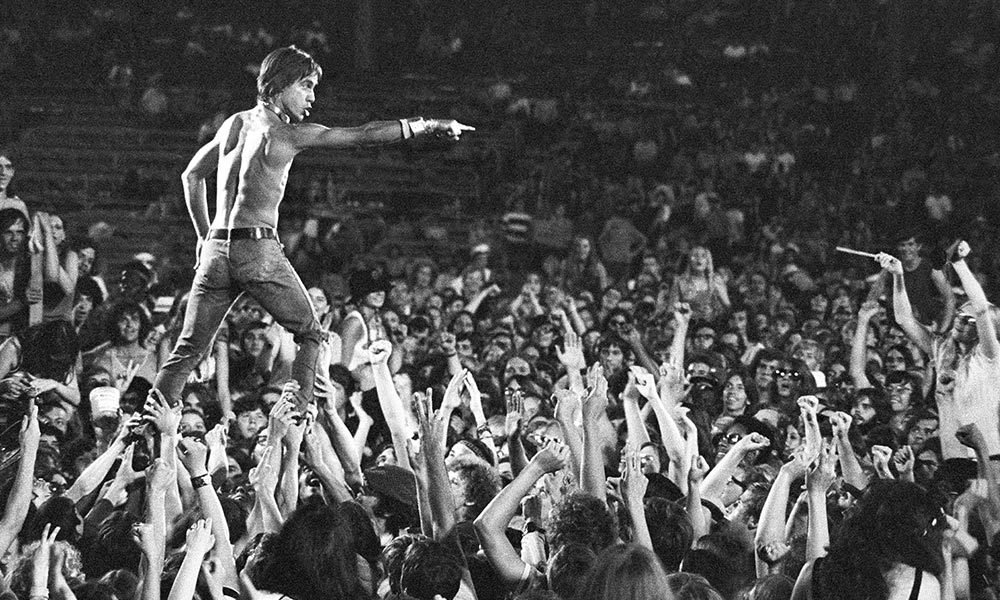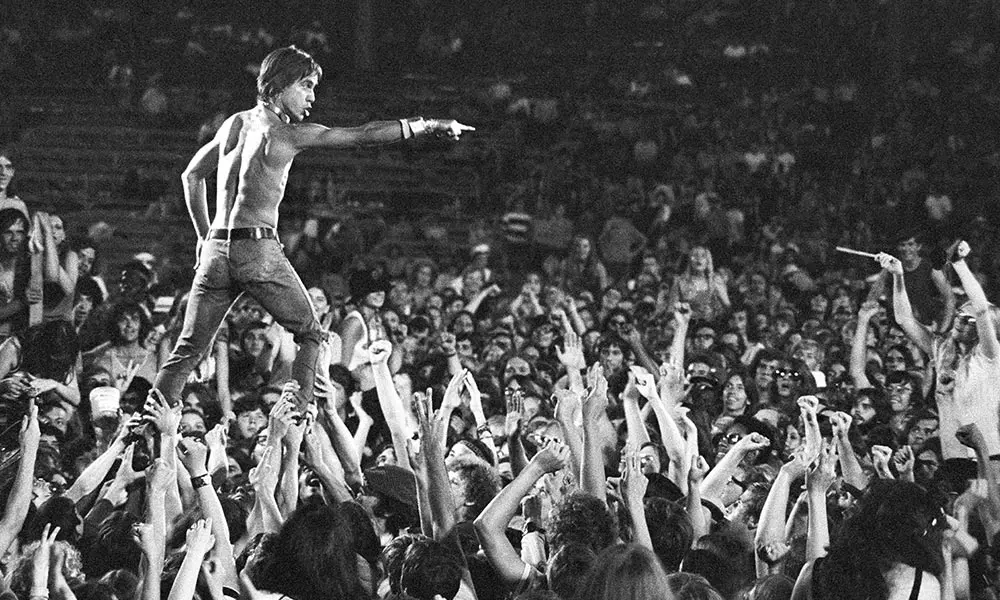 James Jewel Osterberg, aka as Iggy Pop, Iggy Stooge or The Ig, is one of American rock's greatest characters. An innovator with origins in garage punk bands, he saw the light at an early Doors concert where his hero Jim Morrison's stage antics sparked the idea that he could do follow suit. Outrage, theatricality and the sensual side of performance informed his own act from year zero. He made truly seminal albums with The Stooges for Elektra Records before embarking on a long and brilliant solo career that has given us such epics as Lust For Life, The Idiot and TV Eye and chart success with 'Nightclubbing', 'China Girl' and 'The Passenger'. Inducted with The Stooges into the Rock and Roll Hall of Fame in 2010 he has managed to parlay a uniquely anarchic stance into something that flirts with mainstream acceptance but is never diluted by compromise. For all his street credibility and flamboyant image Iggy is no fool. You're just as likely to find him hunkered down with a copy of Edward Gibbon's Decline and Fall of the Roman Empire as you are trashing a backline of amplifiers. If he plays a role then he's perfect for the part he created. He is a one-of-a-kind artist.
Born in suburban Michigan in 1947 the young Osterberg began his musical career as a drummer in various Ann Arbor bands, including The Iguanas (from whence his stage name) and at first, he immersed himself in traditional urban blues, inspired by Paul Butterfield's skins man Sam Lay. When the less family-friendly groups rolled into town, the MC5, Doors and Sonics, Jimmy would be stage front, sucking up the energy. Ever willing to push the boundaries back and smash down the walls his tenure in the mighty Stooges ran from the psychedelic sixties to the beginning of the glam seventies, both eras reflecting in his music. The Stooges had notoriety rather than sales but in 1971 Iggy hooked up with David Bowie who brought him to London to make the classic Raw Power and play his debut English date at the King's Cross Scala – those who were lucky enough to be there (including yours truly) cite this show as one of the most riveting rock concerts ever. After reuniting The Stooges, no small achievement considering the various member's personal habits, Iggy got, as they say, his act together. Relatively cleaned up and always spectacularly fit, he proceeded to attend to a sequence of superb albums. Which is where we come in. After touring with Bowie on his Station to Station tour, Iggy Pop, as he now was, adopted a similar template for The Idiot (1977) which is widely regarded as the kick-start for Bowie's own Berlin period. Recording in Paris, Munich and Berlin, Iggy and Bowie worked up a futuristic sound without relying too heavily on synthesisers and electronica, rather adapting those elements sparsely and lashing them to Ig's trademark hard rock. Using champion players like Carlos Alomar on guitar and the rhythm section of Dennis Davis and George Murray, the songs also had a hard soulful funk edge. Every track here is a winner, starting with 'Sister Midnight', the strutting 'Nightclubbing' and throwback 'Funtime', it's amazing to count the notches of excellence. 'China Girl', 'Dum Dum Boys' and the monumental rock of 'Mass Production' were no slouches either and the resulting album became Ig's first major chart entry in the UK and America. The Idiot was a huge influence on forthcoming acts like Joy Division, Siouxsie and the Banshees, Depeche Mode and the alt. American rock movement of the '80s.
Continuing the theme Iggy returned to the Hansa Studio by the Wall, Berlin to record Lust For Life, another five-star extravaganza. The fast recording process (Bowie notoriously hates overdubbing and unnecessary takes) gave LFL a spontaneously combusting live feel. New guitarist Ricky Gardiner composed the haunting, cinematic 'The Passenger', which Iggy set to lyrics inspired by a Jim Morrison poem. Bowie provided the title track's urgent stop-start riffs, while Mr Pop looked into his own dark soul to pen 'Turn Blue', the confessional 'Some Weird Sin' and the affecting 'Fall In Love With Me' which revealed a side to him hitherto not deemed possible to locate. Again the hold the album exerted on other bands suggested that Iggy doesn't have peers, he has acolytes. When other rated musicians are in thrall to you, then you must be doing something right.
Having turned the dangerous age of 30, Iggy did the decent thing and released TV Eye: Live 1977, assembled swiftly from dates on an American tour, including heartland venues in Kansas City, Chicago and Cleveland – hotbeds of hard rock. Mixing up a few choice Stooges classics like 'I Wanna Be Your Dog' and the resurrected title track with vital moments from his recent discs all crunched into gear by Tony and Hunt Sales, Bowie and Scott Thurston.
After a couple of label switches, Iggy zooms back onto our radar with Brick by Brick (1990). Produced now by Don Was, this album garnered Pop fulsome praise. A carefully constructed set of songs, many dealing with America's imminent cultural decay, struck a nerve with listeners and the huge sound provided by Slash and Duff McKagan from Guns N'Roses were the perfect backdrop to urgent pieces like 'Butt Town', 'Main Street Eyes' and 'The Undefeated'. Don Was also brought some choice guests to the party, including B-52's vocalist Kate Pierson whose duet with the artist on 'Candy' gave Ig his first MTV hit. Elsewhere John Hiatt, Sweet Pea Atkinson and Sir Harry Bowers lend a gritty R&B edge to an album that is well worth rediscovery today.
On a roll again, American Caesar (1993) continued the theme of examining social upheaval and is a very strong disc. Amongst the standout cuts is a terrific reworking of The Kingsmen punk nugget 'Louie Louie', hilariously adapted by Iggy to give it an astonishing twist. This time Iggy works with Malcolm Burn in New Orleans and Bearsville, NY State and they concoct a sprawling 70 minutes plus of contemporary Iggy gems like 'Plastic & Concrete' and 'Perforation Problems'. Despite the subject matter, there is a deal of sly humour to boot and the CD comes with a tongue-in-cheek Parental Warning.
Naughty Little Doggie shows Iggy on the cover wearing an American army helmet and the listener might be advised to take heed since this is another take no prisoners affair performed by Iggy and the F**kups. The likes of 'Knucklehead', the elegiac 'Look Away' (in honour of Johnny Thunders and Sable Starr) and 'Heart Is Saved' are all top-notch and walked into the Ig's then live sets like old friends.
Pop kicked out the jams again on Avenue B, a real New York love affair again produced by Don Was. The extra track 'Hollywood Affair' finds a willing ally in Johnny Depp and there's an incendiary version of Johnny Kidd and the Pirates' 'Shakin' All Over' to thrill over as well as the slinky 'Miss Argentina' and 'Nazi Girlfriend' for those with more outrageous tastes.
Energised by his all-round entertainer acceptance Iggy produced his own Beat 'Em Up in Miami's Hit Factory and went against the grain of everything that was middle of the road in American rock at that time. To warm the heart further Iggy rocked out big style as he confronted the taboo on 'Drink New Blood', 'Death is Certain' and the black humoured 'Go for the Throat'. Calling his four-piece The Trolls showed where his head was at. Not where anyone else's head is at.
Melting the metal again, Skull Ring is outlandishly punk. The Trolls and The Stooges join in on a disc that boasts flaming guitar riffs and stacks of grinding percussion. This ain't for the faint-hearted but Iggy fans lapped it up while the combination of Pop and Green Day on 'Supermarket' was a savvy move that introduced the Ig to a new generation. Lucky those who have never heard him before because a treat is in store. The 2-disc anthology A Million In Prizes is the definitive collection for anyone who wants to dip a toe in and heard why all the fuss. Containing a generous helping of vintage Stooges material, cuts with James Williamson and the solo classics there are 38 moments of magic here including 'I'm Bored', the duets 'Did You Evah!' with Debbie Harry (of Blondie fame) and 'I'll Be Seeing You' with Francoise Hardy and other signature pieces like 'Real Wild Child (Wild One') and the best bits from Raw Power. Unconditionally recommended.
Preliminaires brings our tale to a close for now and, whisper it quietly, but rock is here replaced by French chanson, Brazilian rhythms and Bourbon Street jazz-blues – definitely a weird one but worth checking out for precisely that reason. It's also a great album.
So there you have him. Iggy Pop. How pleased we are to make his acquaintance. They broke the mould when he popped out. We won't see his like again.
Words: Max Bell
Format:
UK English